How to burn your food… in a good way!
We know that light charring, browning or caramelisation – the Maillard Effect – is a great way to unlock flavour from ingredients, but when should you go even further and burn your food? Our food team explain more and share recipes which celebrate burnt food in all its dark glory.
Do you want to know the one thing we home cooks can do that fancy chefs never can? We can focus purely on the flavour of something, without worrying about how it will affect the way it looks. A chef needs to make sure the crackling on their pork is uniformly bronzed and the char marks on their steak are even and distinct. Anything veering beyond dark brown to black is almost always removed before it's eaten. But of course, we all know that the best part of a lasagne is the crunchy bit of pasta that pokes through the sauce and get lightly singed in the oven.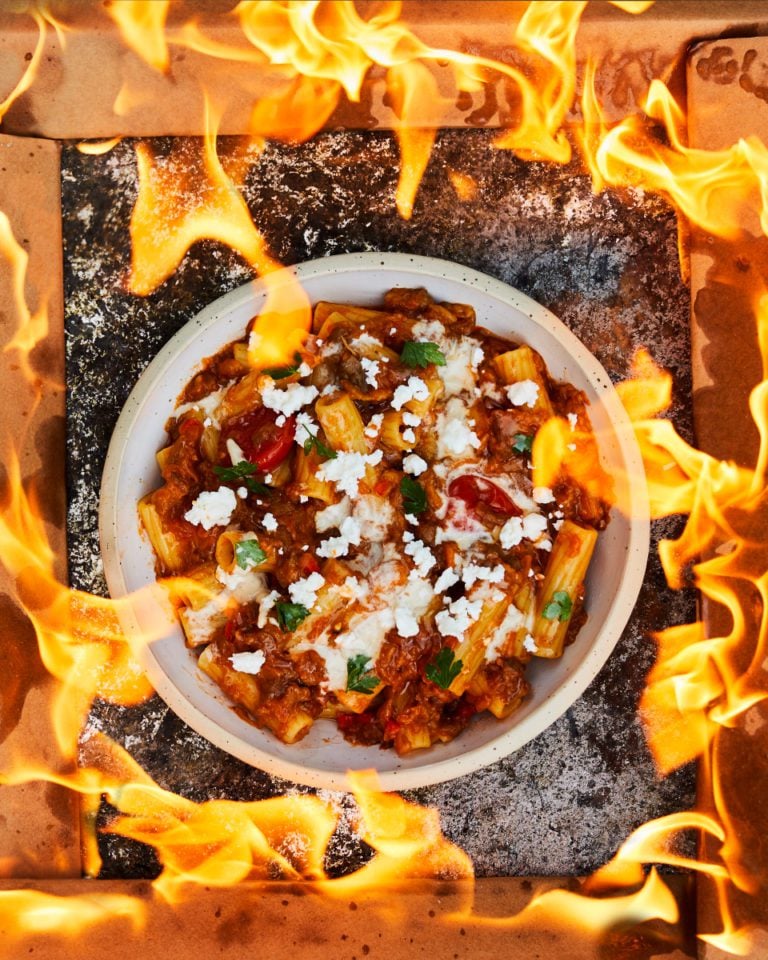 Why do we have a passion for burning?
At home, we have the option to take food just that little bit further when we want to – pushing the boundaries of what caramelisation is and teetering over the brink of burnt while we're at it. Taking a pie out of the oven to find the pastry lid is a solid black isn't ideal, but neither is taking it out to find the pastry is pale and flabby. We'd almost always prefer something slightly burnt than something slightly underdone, so we're all for a little char, a few caught corners and slightly singed sides. It's why barbecue tastes so good, and why some food from perfectly tuned fine dining restaurants can feel a little bland and impersonal.
Sometimes, though, we want to absolutely burn the heck out of things on purpose. A burnt outside often creates a soft, smoky inside – just look at Mexican cuisine where salsas are often created by blackening tomatoes, garlic and onions before removing skins and pounding everything together; or dishes like baba ghanoush. Even those jars of roasted red peppers that have been fiercely cooked until blackened before the skin is peeled away to reveal the tender, smoky-sweet flesh.
Burnt food isn't just about blackening, then peeling away the burnt bits, however. Alliums – specifically onions, spring onions, leeks and calçots – transform when they cross the threshold from golden brown to black. The resulting flavour is smoky, sweet and pleasantly bitter without overwhelming everything else. Because they tend to have many layers, a burnt leek or onion will have deeply savoury, bitter and smoky layers on the outside, but these flavours are counteracted by the softer, sweeter layers within. Eating both at the same time takes you through the full spectrum of flavours.
Ashes as a garnish? Actually, yes!
You can take burning ingredients even further, cooking them until they completely carbonise and turn to ash, which is delicious dusted over dishes that require a little lift (although a little goes a long way). Whatever you decide to burn, try to do it fast – in the embers of a barbecue or on a ripping hot griddle pan – as a long, slow burn in a dry environment like an oven tends to destroy flavour compounds completely.
The following recipes by our food producers Emily and Polly are prime examples of how burnt ingredients – whether peeled or left whole – can take centre stage in dishes, tempered by creaminess, acidity and sweetness. They're all incredible and will give you the confidence to push things and start seeing what happens when you leave things in the pan or on the barbecue just that little bit longer. Embrace the burn!
Burnt – in a good way – recipes to try
Burnt spring onions with ajo blanco and burnt lemons
Burning spring onions mellows the sharpness of their flavour and draws out their sweetness. Serve them on a bed of creamy ajo blanco sauce, inspired by the Spanish chilled soup, and squeeze over caramelised lemon juice for a finishing touch that looks restaurant-like.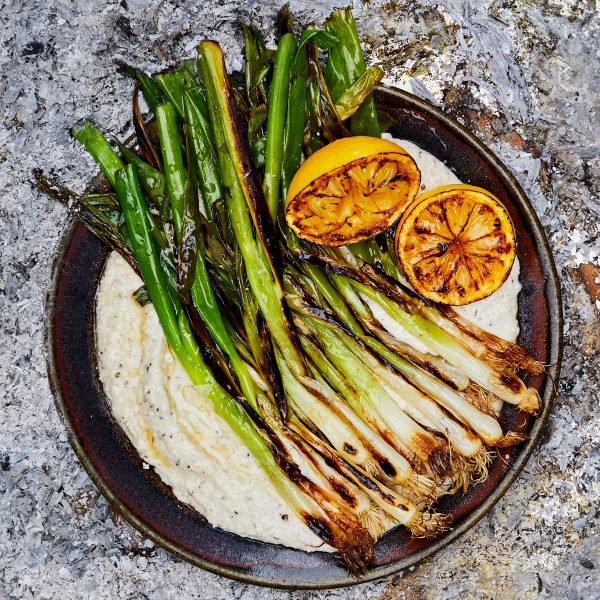 Find the recipe here
Burnt green peppers marinated with mozzarella and sweet pickled shallots
Green pepper has a bitterness and is often the one from the packet of mixed peppers that is left at the back of the fridge. This recipe is especially for the misunderstood (and more bitter) green one. Burning the skins not only adds a smoky flavour but also brings out some of the sweetness of the pepper. Pair with creamy mozzarella and sweet pickled shallots.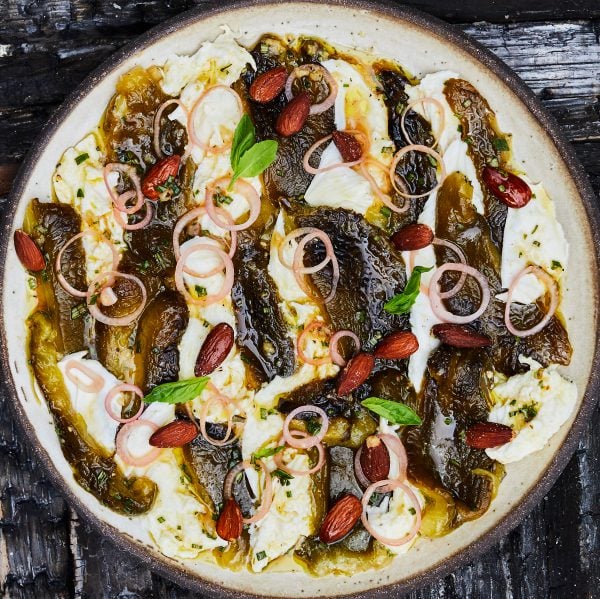 Find the recipe here
Coal-roasted pineapple with spiced rum burnt caramel, limes & cream
If you have the barbecue out this summer, this pineapple with dark caramel is the most sophisticated dessert you'll taste this summer. Roast over coal for a sweet-smoky flavour.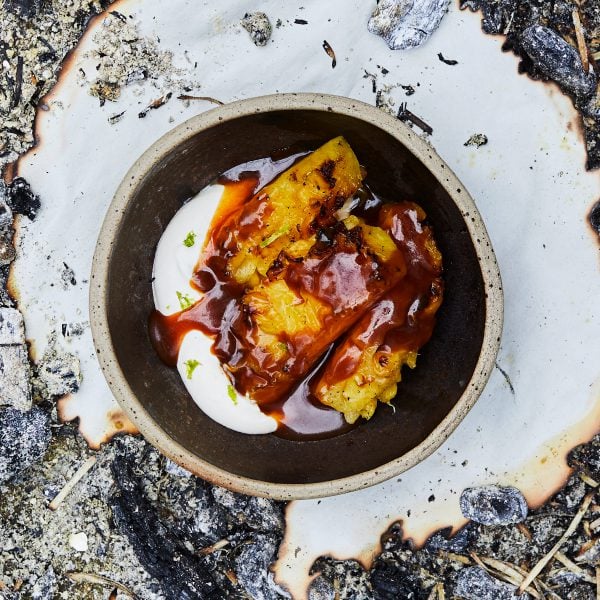 Find the recipe here
Courgette baba ganoush with lamb cutlets
Baba ganoush is a smoky Levantine dip that is made by charring aubergines on the barbecue and slipping the skins off leaving behind the juicy flesh. Here, we've cooked courgettes the same way, and freshened them up with garlic and mint. Served with juicy lamb cutlets cooked with rosemary butter for a summery supper.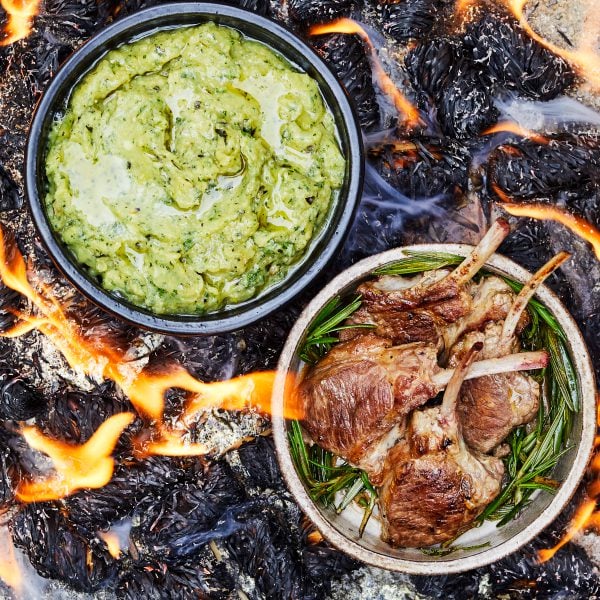 Smoky aubergine and tahini pasta with feta
Aubergines collapse into a juice pile of smoky flavour when cooked directly on a heat source, making a rich sauce with very little else needed. We've added a drizzle of creamy tahini and a crumble of salty feta for contrast.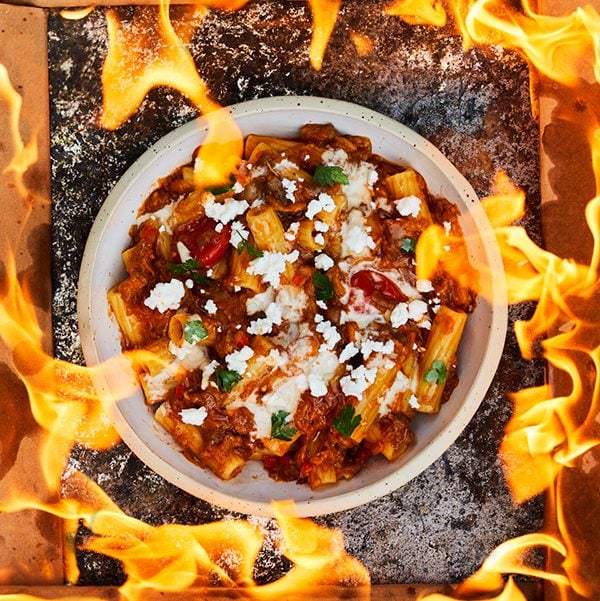 Subscribe to our magazine
Food lovers, treat yourself this Christmas... Enjoy 12 months of magazines for £29.99 – just £2.50 an issue.
Subscribe
Unleash your inner chef
Looking for inspiration? Receive the latest recipes with our newsletter