How to make homemade pizza from scratch: a complete guide
If you're planning a pizza party with friends, want to rustle up some DIY pizzas with the kids or simply have an unwavering craving for stuffed-crust that you can't seem to shift, our ultimate guide to making homemade pizza is here to save the day.
We've got a super simple pizza dough recipe that doesn't take long to prepare and we've even got the recipe for the pizza sauce too, so you can easily make an entire pizza at home from scratch. Once you've created your pizza base to rival all others, dive head-first into our collection of pizza recipes for veggie delights, simple classics and a Hawaiian creation (we're pro pineapple on pizza).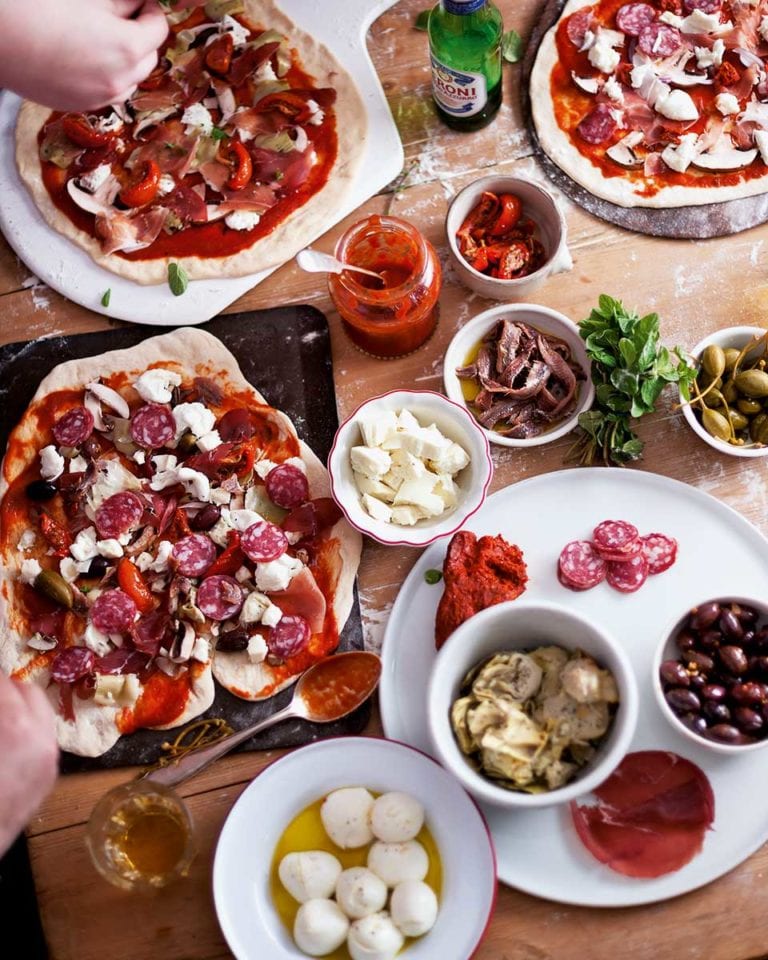 How to make perfect pizza dough
Some handy tips before you get started:
Knocking back the dough releases the large air bubbles that develop when it's proving. Dust your hands with flour, then push the dough down into the bowl before giving it a quick knead.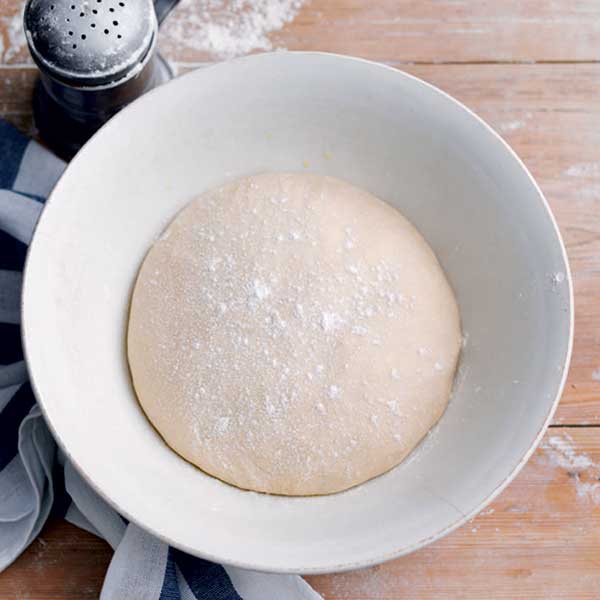 Makes: 8 pizza bases
Takes 30 minutes to make, 10-12 minutes to cook, plus 60-80 minutes proving
Ingredients:
900g plain flour, plus extra for dusting
4 tsp sugar
28g dried fast-action yeast
6 tsp salt
3 tbsp extra-virgin olive oil, plus extra for greasing
600ml tepid water
Method:
 Put the flour, sugar, yeast and salt in a large mixing bowl and make a well in the centre. Add the olive oil and tepid water. Mix to form a rough dough, then tip onto a lightly floured surface and knead for 10-15 minutes, adding a little more flour if needed. When the dough is smooth and elastic (the surface shouldn't look bumpy), shape it into a rough ball and put it in a large oiled bowl. If you don't have any very large bowls, you might find it easier to divide the dough in two to let it rise. Cover with oiled cling film.
Leave the dough to rise in a warm place for 45-60 minutes or until doubled in size, then knock it back (see Know-how) and give it a quick knead. Divide the dough in half, then divide each half into 4 equal parts to give 8 balls of dough. Put the balls on a lightly floured work surface and cover each with an upturned mixing bowl, a damp cloth or foil and leave to rest for 15-20 minutes.
When the dough balls have rested and are soft to the touch but not too springy, they are ready. On a lightly floured surface, roll and/or stretch each ball into a thin pizza base. Make sure the surface underneath stays floury, or the dough will stick. Don't worry about getting perfectly round bases – the misshapen ones look just as beautiful! Spread each base thinly with perfect pizza sauce (below) and scatter over your choice of toppings.
Meanwhile, heat the oven to 220°C/fan200°C/gas 7. Have some floured baking sheets ready to transfer the pizzas onto. When they're ready to go in the oven, slide them onto the baking sheets (a couple of fish slices or spatulas work well here), and cook for 10-12 minutes until crisp.
How to freeze pizza dough: You can freeze the dough after dividing it up (step 2). Wrap in cling film and foil, then store in the freezer for up to 1 month. Defrost at room temperature and continue with the recipe.
For the full recipe and nutritional information, click here.
How to make the ultimate pizza sauce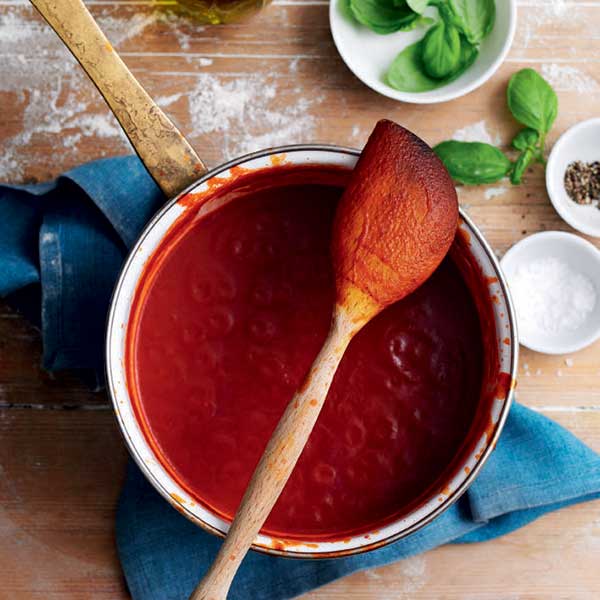 Makes enough for 8 pizzas with leftovers
Takes 15 minutes to make, 45 minutes to cook (that includes pizza cooking time)
Ingredients:
50ml extra- virgin olive oil
1 finely chopped large onion
2 crushed garlic cloves
Large pinch chilli flakes
2 x 400 g tinned tomatoes
Pinch of sugar
Splash of red wine vinegar
Stalks from a bunch of fresh basil (use the leaves as a pizza topping)
Method:
Heat a saucepan and add 50ml extra-virgin olive oil. Gently fry the onion for 10 minutes, until softened and pale golden. Add the crushed garlic cloves and chilli flakes, then cook for another 3 minutes.
Add both tins of chopped tomatoes with a pinch of sugar and a splash of red wine vinegar. Season. Add the stalks from a bunch of fresh basil (use the leaves as a pizza topping), bring to a very gentle simmer and cook for 45 minutes, stirring now and then.
Taste and adjust the seasoning, then blend until smooth. The sauce will keep in the fridge, covered, for 3-4 days or can be frozen for up to 1 month.

 
For the full recipe and nutritional information, click here.
Choose your toppings…
Cheese
Although most pizzas come laden with gorgeously gooey mozzarella, there's no reason why you can't mix things up. Use a combo of whatever you have in the fridge (although avoid cheddar as it can be too oily). As a general guide: opt for anything that goes stringy once melted, including Jarlsberg, Edam or Emmental. A sprinkling of parmesan, pecorino or grana padano adds an extra salty kick, too.
Veggie toppings
If you've got a crowd round, it's always fun to serve up different veggies in bowls and let guests pick their favourites. Diced red onions, sweetcorn, sliced peppers, mushrooms, artichokes and olives all work well. If you're stuck for inspiration, give this pizza bianca with goat's cheese, courgette and olives a go.
Meat toppings
For those who prefer to add meat to their pizza, scatter a selection of cooked cold meats or shredded chicken on top, after you've added the cheese. Our rocket and pancetta pizza is the ultimate meat-lover's dream.
But why take our word for it? Choose your own toppings and take a look at our 53 pizza recipes.
Subscribe to our magazine
Subscribe to delicious. magazine for HALF PRICE
Subscribe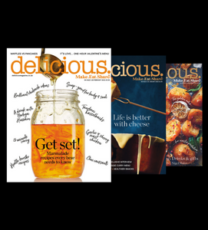 Join our newsletter
Packed with menu ideas, recipes, latest competitions and more...