How to buy poultry and understand ethical eating terms
What do the words on the label mean? Go to the chiller cabinet in any supermarket, and you'll be faced with an array of descriptive words on chicken packaging. But some phrases can give a misleading impression of the conditions a bird has been kept in. Here's how to decipher the words on the packaging.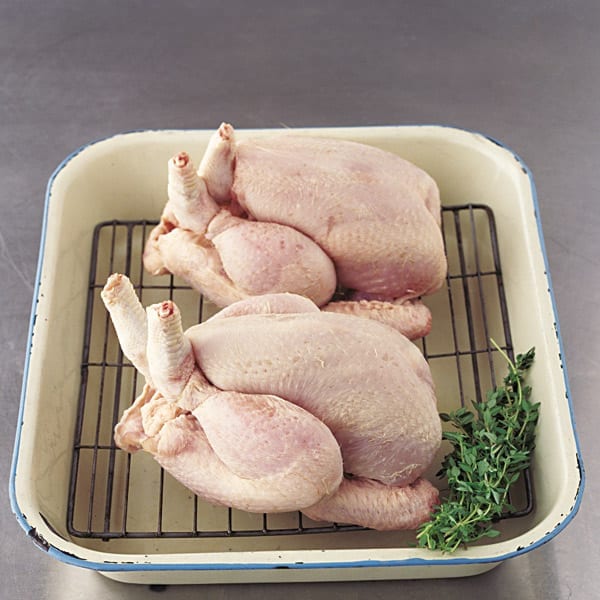 Poultry buying advice
Quite simply, poultry that is worth eating is the result of good breeding, welfare, and the age at slaughter.
If a chicken is labelled as a specific breed or attributed to a specific farm, this usually denotes a good-quality bird. Only small producers rear specific, slow-maturing breeds of bird, and they usually practice good husbandry.
If a bird has a longer, leaner body, it is usually a sign it has been allowed to run around freely, outdoors. The breasts will seem less plump, but the flavour will more than compensate for this.
The skin of a chicken should have substance and be quite dry to the touch. A bird that has been dry-plucked will give the cooked skin a crisper finish.
The meat should also be firm and slightly moist. It should also have an attractive, deep pink colour.
Free-range
The conditions required for this term to be used are sometimes only marginally better than those for the average battery chicken. Yes, they are less cramped and have access to the outside, but in reality the birds are so stressed and confused that it only makes a little difference to their lives. They are often from the breed commonly used as battery chickens, so put on weight – especially over the breast – quickly and easily.
Traditional free-range
There is a small improvement here. The birds are housed in mobile homes that can be wheeled to fresh pasture, they are less densely packed, and there is more outdoor space available per bird. They also have a minimum slaughter age of 81 days rather than the more commercial age of 41-43 days. And because they are allowed more time to mature, the farmers can afford to use slower-growing breeds renowned for having a better flavour and texture.
Organic free-range
These are birds that have been allowed to mature naturally, and have been reared for between 80 and 90 days rather than 41-43 days. They come from small flocks that have been allowed to roam freely outdoors, foraging for insects and scraps as well as being fed on organic feed, grain and fresh water. The best come directly from small producers.
Free-range Total Freedom
These birds are reared in open-air runs of unlimited size so have much more space, and must have continual outdoor access during daylight hours. They are left to mature for between 60 and 80 days.
Corn-fed
Although the label might lead us to think these birds have led a better life, having been fed on grain rather than artificial feed, this is sadly not always the case. Many are still intensively reared.
Poulet de Bresse (available from specialist butchers)
The Rolls-Royce of chickens, this is a unique breed from France, which is reared under very strict regulations and even carries its own 'Appellation Contrôlée', as good wines do. It has a superb flavour, due to its grain-rich diet and careful rearing, and is also left to hang for a short time, much like a game bird, before being sold.
Subscribe to our magazine
Subscribe to delicious. magazine this month for a half price subscription
Subscribe