How to make dumplings
Fried, steamed or boiled dumplings are little parcels of deliciousness – and learning how to make your own dumplings at home is easier than you might think.
Our basic dough is vegan, but you can stuff the dumplings with meat, fish, vegetarian or vegan fillings to fit what you fancy or what ingredients you might have to hand. We've also included other ideas for how to use up dumpling dough and fillings.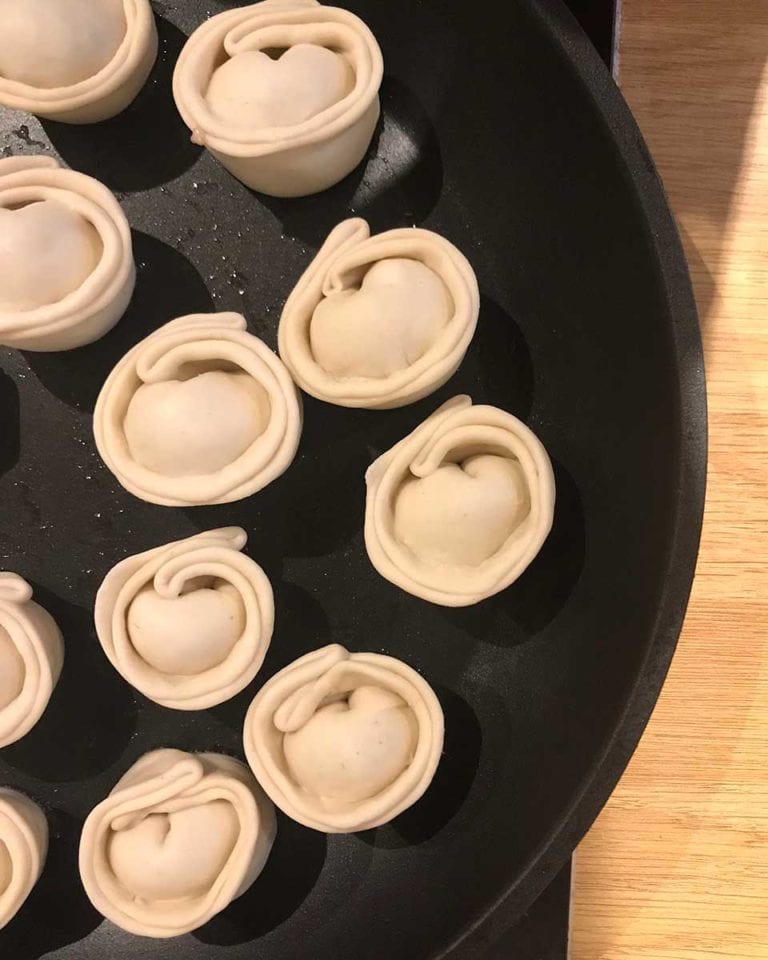 Our food team's tips for making perfect dumplings

The best flour for dumplings
When it comes to choosing the right flour, opt for '00' or very strong bread flour, which both have a high protein content (over 14g per 100g is best). Higher protein levels produce the higher volume of gluten needed to achieve elasticity and chew in the dough.
Should you rest dumpling dough?

Yes. Resting the dough allows the gluten to relax after the mixing process. This makes the dough easier to work with when shaping, as it won't stretch back whilst rolling out. It also prevents the dough shrinking during cooking.
Handy tip: Rolling out the noodles in flavourless oil creates a protective outer layer while the dough rests, without this the dough would dry out and snap when shaping.
How to make dumplings
Makes: 20 dumplings
Hands-on time: 45 min, cooking time 8-10 min, plus resting
Make ahead: Make the dough up to 6 hours ahead, or wrap well and freeze for up to 1 month. Shape the dumplings up to 4 hours ahead of cooking, cover and keep in the fridge until ready to cook. Make the filling up to a day ahead; keep covered and chilled separately. 
Ingredients
For the dough (vegan)

200g '00' or very strong bread flour, plus extra to dust
3/4 tsp fine salt
Sunflower, vegetable or any flavourless oil for greasing
For the filling
250g outdoor reared pork mince or 250g sustainable raw king prawns, finely chopped or 250g firm tofu, crumbled
2-3 spring onions, finely chopped, plus extra to serve
Small handful fresh coriander, leaves picked and stems finely chopped
2 garlic cloves, crushed
3cm piece fresh ginger, grated
1 1/2 tbsp oyster sauce (omit if vegetarian or vegan)
2 tsp soy or tamari sauce, plus extra to serve
1 tsp rice wine vinegar, plus extra to serve
1/2 tsp toasted sesame oil
Sesame seeds to sprinkle
Method:
Put the flour, salt and 100ml water in a bowl and mix with your hands until it forms a rough dough. Tip on to a dry work surface and knead for 5-10 minutes until smooth. Put in a lightly oiled bowl, cover with a clean tea towel and leave to rest for 4-6 hours (see Make Ahead).
Mix all the ingredients for the filling in a mixing bowl, then set aside.
Divide the dough into 20 even pieces, take one and cover the rest with the tea towel to prevent the dough drying out. Scatter a little flour on a work surface and press out to a circle, then use a rolling pin to roll out to a 2-3mm thickness. Put a teaspoon of filling in the centre, then fold in half to make a semi-circle and press the edges tightly with your fingers to seal. You can leave the dumplings like this or twist the edges over to crimp like a pasty or press the corners together to create a tortellini shape. Repeat with remaining dough and filling, then decide how to cook.
3 great ways to cook dumplings
Crispy fried dumplings
Heat a splash of flavourless veg oil in a large heavy based frying pan until medium hot. Add dumplings to the pan, making sure not to overcrowd and fry for 2-3 minutes until the bases are golden and crisp. Pour over enough boiling water to come 0.5cm up the edge of the dumplings and cover with a lid. Cook for 3-4 minutes until cooked through. Serve with chopped spring onion, fresh coriander, sesame seeds and sauces (chilli sauce, soy sauce etc).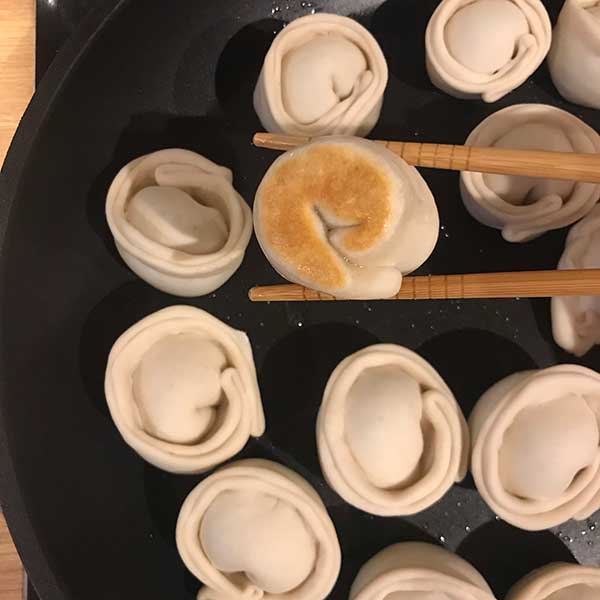 Boiled dumplings
Bring a large pan of lightly salted water to the boil and add about 6-8 dumplings at a time, bring back to a simmer and cook for 5-6 minutes until cooked through. Remove with a slotted spoon and dab dry with kitchen paper. Serve with chopped spring onion, fresh coriander, sesame seeds and sauces.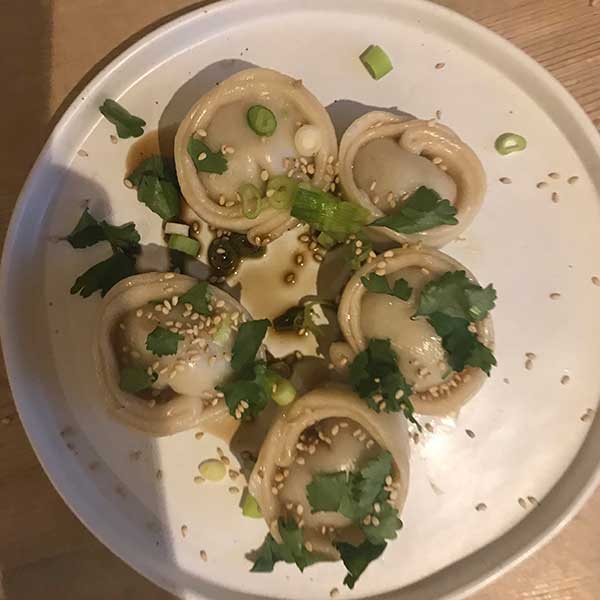 Soup dumplings
Bring 600ml chicken or vegetable/vegan stock to the boil. Add the dumplings and boil for 3-4 minutes until almost cooked through. Add 1/2 shredded chinese leaf cabbage, large handful beansprouts and any other leafy veg you like. Simmer for a further 3-4 minutes, divide among bowls. Serve with chopped spring onion, fresh coriander, sesame seeds and sauces.
For nutritional info, see the bottom of this page.
3 other dumpling ideas
Hand pulled flat noodles
(Vegan)
Divide the dough into 12 pieces, drizzle a little flavourless oil over your work surface, then roll each piece to about a pencil width. Transfer to an airtight container and leave to rest for 6-8 hours. Remove a piece of dough from the container and using a rolling pin, roll to about 25cm long, then take each end and gently stretch and pull the noodles to as long as possible, set aside and repeat with the remaining dough. Bring a pan of water to the boil, lower in the noodles and boil for 1-2 minutes until done to your liking. Drain and run under cold water. Heat through in broths, stir fries or noodle dishes to serve.
Easy saucy stir-fry
(Dairy-free)
Heat a splash of oil in a wok or large frying pan, add the filling and fry for 3-4 minutes until almost cooked through. Add 200g shredded Asian greens and fry for 2-3 minutes more. Pour over 200g stir fry sauce (we like black bean or sweet and sour), rinse out the jar or packet with 200ml water and add to the pan. Stir through 2 x 275g packs straight-to-wok noodles and cook until hot through. Serve with extra chilli, spring onion, coriander and sesame seeds.
Skinny dumplings
(Gluten-free, dairy-free)
Cut 1-2 cucumbers into 4cm lengths, scoop out the seed centre of each length and stuff with the filling. Put in a steamer set over a pan of boiling water and cook for 5-7 minutes until cooked through. Serve sprinkled with fresh coriander, spring onion and dipping sauce.
Nutritional info
Tofu dumplings, per serving (4 dumplings): 320kcals, 11.5g fat (2g saturated), 14.5g protein, 42.5g carbs (1.5g sugars), 1.9g salt, 3.5g fibre
Pork dumplings, per serving (4 dumplings): 350kcals, 13.5g fat (3.5g saturated), 18.5g protein, 42g carbs (1g sugars), 2g salt, 2g fibre
Prawn dumplings, per serving (4 dumplings): 315kcals, 8.5g fat (1g saturated), 20.5g protein, 42g carbs (1.5g sugars), 2g salt, 2.5g fibre