How to make marshmallows
Follow our foolproof step-by-step recipe for marshmallows then pimp them with flavours such as pistachio or bailey and coconut.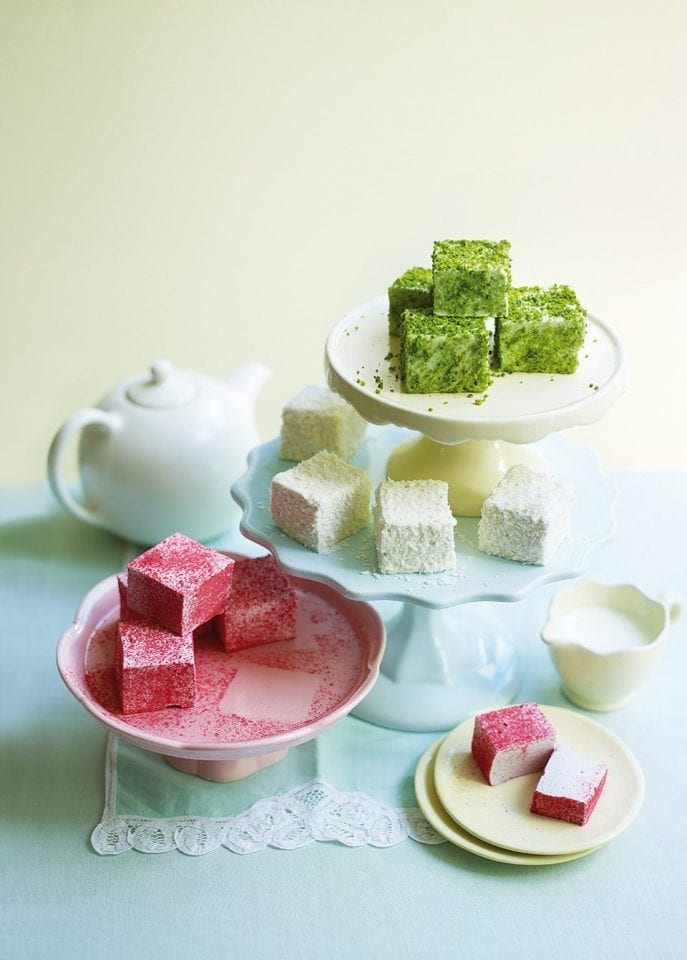 You will need:
120ml liquid, cool (we used Innocent For Kids Strawberries, Blackberries & Raspberries smoothie; for alternative flavours see below)
23g powdered gelatine (we used 2 sachets of Dr Oetker gelatine powder)
440g caster sugar
160ml golden syrup
Vegetable oil for greasing
4-5 tbsp cornflour or a coating of your choice (see below)
A sugar thermometer
Before you start…
Flavours
In step 1, you can use any fruit purée you like, or an infusion made with tea or spices, or just plain water if you want a white, unflavoured marshmallow. Alternatively, see other flavours to add below.
Coatings
If you make only one batch, you can vary the coatings. For the step-by-step pictures we coated half with freeze-dried raspberries whizzed to a powder and mixed with cornflour, and the rest with desiccated coconut.
Master recipe
Makes 24 marshmallows
Takes 30 minutes to make, 1-2 hours to set
Pour the liquid into the bowl of a food mixer and sprinkle over the gelatine. Set aside to allow the gelatine to absorb the liquid (this is called sponging).

Meanwhile, put the caster sugar and golden syrup in a saucepan with enough water to cover. Stir thoroughly and brush down any sugar on the sides of the pan with a wet pastry brush (to help prevent crystallisation when heating).
Cook over a low heat until the sugar has dissolved, then turn up the heat to bring it to the boil. Monitor the temperature using a sugar thermometer. Wait for it to reach 130°C (it can go up to 140°C but mustn't be below 130°C or you'll not get a light texture). Once the bubbling mixture reaches the right temperature, take the pan off the heat and let it cool for 1 minute.

Whisk the gelatine/liquid mixture in a food mixer on a medium speed. Add the syrup, slowly pouring it down the side of the mixer bowl. Don't allow it to touch the whisk directly or you'll get needle-like sugar crystals in the marshmallow. The mixture should grow in volume like a very stiff meringue.

Once all the syrup has been added, continue to whisk until the marshmallow mix becomes really thick and cools a bit more. You'll know it's ready when it starts to form stretched bubblegum-like strands on the surface. (If you've used water with the gelatine in step 1 because you want a flavouring that must be added now – see Flavours to Add in Step 5, below – add it and mix briefly to combine, then stop whisking.)
Line a baking or cake tin (the smaller it is, the deeper your marshmallows will be) with cling film, and grease well. Spoon the mix into the tin with a greased spatula, then cover with greased cling film and leave to set in a cool place for at least 1-2 hours, until the top feels firm when pressed.

Once the marshmallow has set, remove from the tray, peel off the cling film and cut into cubes with a lightly greased knife, to prevent sticking (the marshmallow will be very sticky at this point!). Roll in cornflour to dust (or use a coating of your choice). Eat straightaway or serve at a dinner party as eye-catching petits fours. The finished, cornflour-dusted marshmallows will keep in an airtight container in a cool dry place for 2 weeks.
Nutritional Information (per marshmallow) 111kcals, no fat, 0.7g protein, 28.1g carbs,25.1g sugar, no salt.
HOW TO GET YOUR FLAVOURS RIGHT
Use strong flavours that the sugar won't overpower. Spices, coffee, chocolate, nuts, vanilla, liqueurs, berry fruit and citrus work well, but delicate apricot, peach, mango and apple flavours aren't punchy enough.
For fruit-flavoured marshmallows, use purées or fruit juices as the liquid to maximise the colour and flavour.
Spice flavour infusions work well. Use water as the liquid, then add cinnamon, star anise or other spices. Heat gently for 20 minutes, then strain and allow to cool before sponging as in step 1.
Why stick to one flavour when you can have two Flavour combinations we like include cherry and vanilla, raspberry and lemonade, and blueberry and cinnamon.
FLAVOURS TO ADD IN STEP 5
Fatty flavours (such as nuts, cocoa powder or espresso) or alcoholic flavours (such as Baileys, or alcohol-based extracts such as vanilla or almond) reduce the volume of the mixture if added early, so add at step 5 and use water as the liquid in step 1.
Pistachio – follow the master recipe, but use plain water to sponge the gelatine instead of the fruit smoothie. Once you've added the sugary syrup to the gelatine and the mixture has reached the right consistency and volume, add 1 tsp pistachio paste (available from good catering shops or online at oakleaf-european.co.uk) or 2 tsp finely ground pistachios (the colour will not be as vivid as it would be if you used the paste). Once set, coat the marshmallows in finely chopped pistachios. You can buy nibbed green ones from Middle Eastern food shops.
Baileys and coconut – follow the master recipe, but instead of using the fruit smoothie, sponge the gelatine in 70ml water. Once you've added the sugary syrup to the gelatine and the mixture has reached the right consistency and volume, add 50ml Baileys and mix briefly. Coat the set marshmallows in desiccated coconut.
HOW TO GUARANTEE SUCCESS
Make sure the gelatine has fully sponged in cool liquid. If it's warm, you'll end up with lumpy marshmallow that just won't set.
Golden syrup is ideal for making marshmallows as it helps retain moisture and prevent crystallisation. Other sugar syrups to try include liquid glucose, maple syrup or honey, if you like.
Invest in a sugar thermometer. You don't want to do all the work and end up with too wet (or too solid) marshmallows.
Use the whisk attachment for the food mixer in step 4, rather than a paddle, as it will give a lighter marshmallow.
Subscribe to our magazine
Subscribe to delicious. magazine for HALF PRICE
Subscribe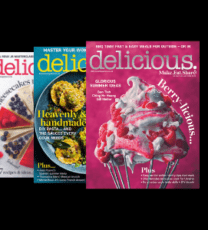 Join our newsletter
Packed with menu ideas, recipes, latest competitions and more...