How to make panettone
Learn how to make perfect panettone with brilliant baker Richard Bertinet. It's a labour of love, but the sweet, fragrant fruity bread is one of Italy's favourite Christmas treats for a reason.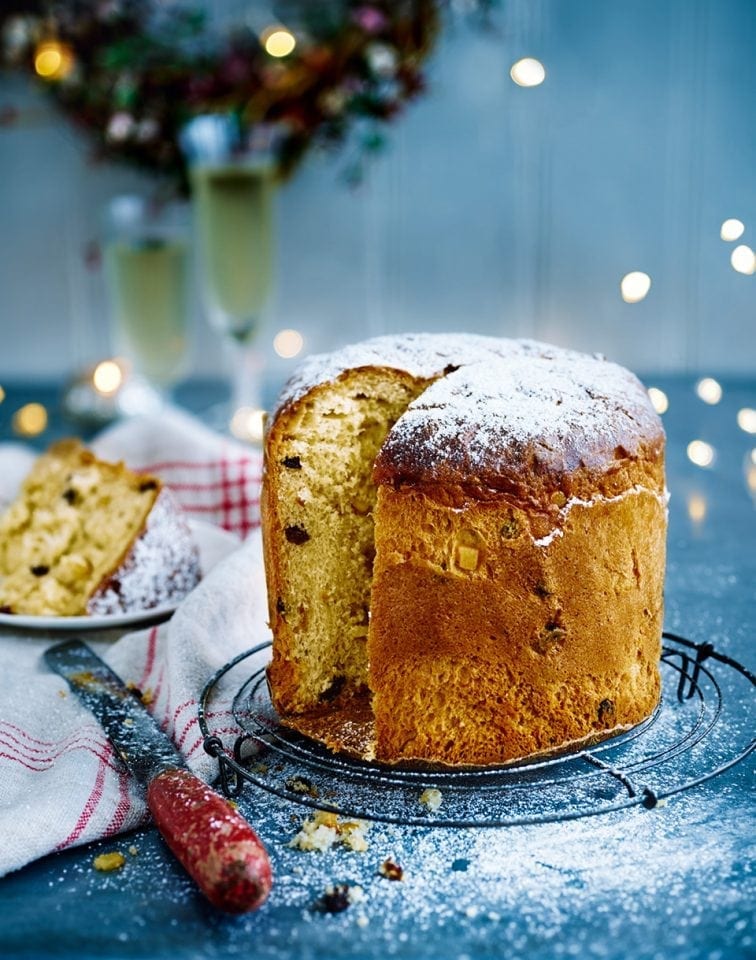 You will need (in total):
20g fresh yeast
545g strong white bread flour, plus extra to dust
155g caster sugar
290g lukewarm water
295g unsalted butter, softened
80g icing sugar, plus extra
4 large free-range egg yolks, plus 1 large free-range egg
7g salt
Zest 2 oranges

1 vanilla pod
200g mixed peel
100g sultanas

1 tsp rum
You'll also need…  

2 panettone cases, unbuttered, or 2 panettone tins, lined with non-stick baking paper and buttered (see Chef's Tips below)
4 long skewers
This recipe makes two panettones. Hands-on time 45 min, oven time 50 min, plus lots of resting time
Make ahead
A panettone will keep, well wrapped in baking paper, in a bread bin for up to 2 weeks.
Freeze for up to 2 months wrapped in cling film, then foil.
Food team's tips
You'll need a full day to make this recipe. If you start at midday, the panettones should have just enough time to prove overnight. Or, you can bake them in a day using a shortcut.
To get the dough to rise more quickly (parts one, two and three, and part six, step 1) and prove quicker (part six, step 2), set the oven to 50°C/30°C fan and leave to rise/prove in the oven for 20-30 minutes each time until risen as in the recipe.
Weighing water on scales is a more accurate way to measure it than using a measuring jug.
Panettone is a soft, airy bread. Hanging the loaves upside-down, straight after they come out of the oven, stops them collapsing in on themselves while they're still warm and soft.
Chef's tips
You need a stand mixer to make panettone. You can keep the dough in the mixer bowl to minimise washing up.
Buy panettone cases at cakecraftshop.co.uk, or butter and line panettone tins (Lakeland sell 16cm springform panettone tins), or butter and line 13cm or 15cm cake tins with non-stick baking paper to extend about 10cm above the top.
Part one
20g fresh yeast
70g strong white bread flour
15g caster sugar
50g lukewarm water (see tips)
Mix the ingredients in a stand mixer on a slow speed using the paddle attachment until combined.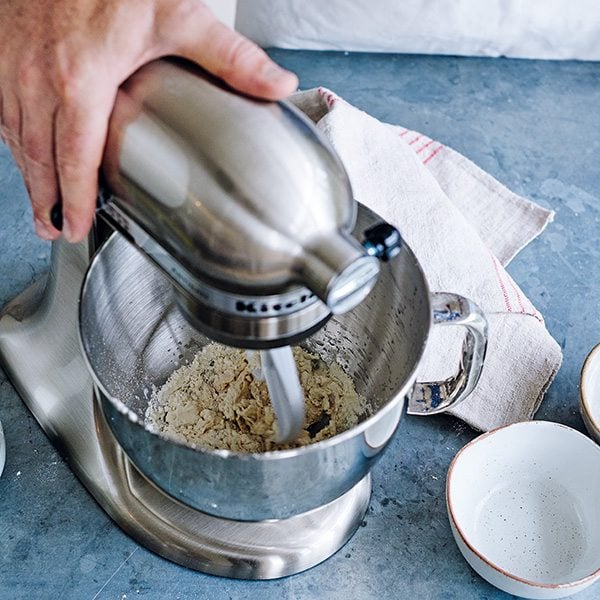 Cover the bowl with cling film and rest at room temperature (see food team's tips) for 1-2 hours until almost doubled in size [I used a glass bowl for photographic clarity].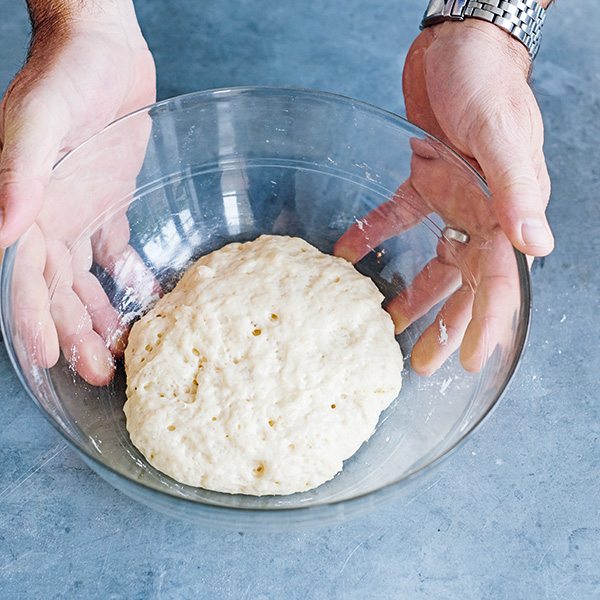 Part two

100g strong white bread flour
30g caster sugar

25g unsalted butter, softened
60g lukewarm water
Add the ingredients to the bowl and mix for 1 minute on a low speed, then cover and rest for 1 hour until almost doubled in size.
Part Three
125g strong white bread flour
50g caster sugar
30g unsalted butter, softened

60g lukewarm water
Add the ingredients to the bowl and mix for 5 minutes on a low speed until soft and shiny. Cover and rest for 1½ hours until almost doubled in size.
Part Four

200g cold unsalted butter
80g icing sugar
Meanwhile put the butter between 2 pieces of baking paper and beat with a rolling pin to soften, then put in a mixing bowl and add the icing sugar. Beat with a wooden spoon until well combined.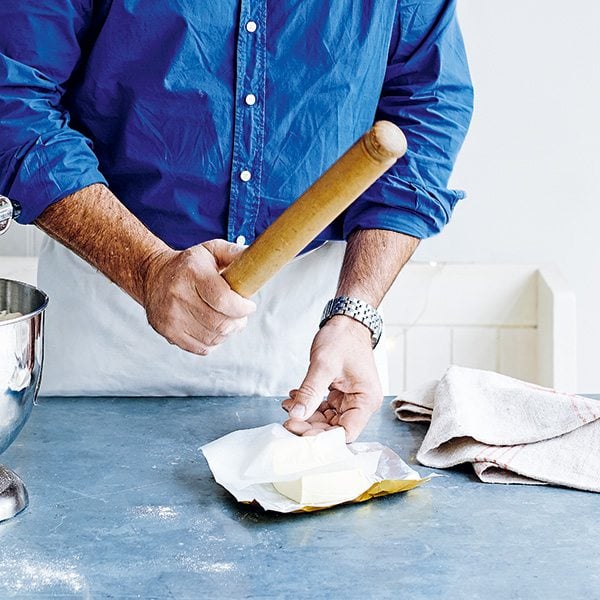 Cover with cling film and set aside.
Part Five
250g strong white bread flour, plus extra to dust
60g caster sugar

40g unsalted butter, softened
4 large free-range egg yolks (about 80g)
7g fine salt
60g lukewarm water
Add all the ingredients to the dough and mix on a low speed for 5 minutes until the dough is soft and shiny, then attach the dough hook to the machine instead of the paddle.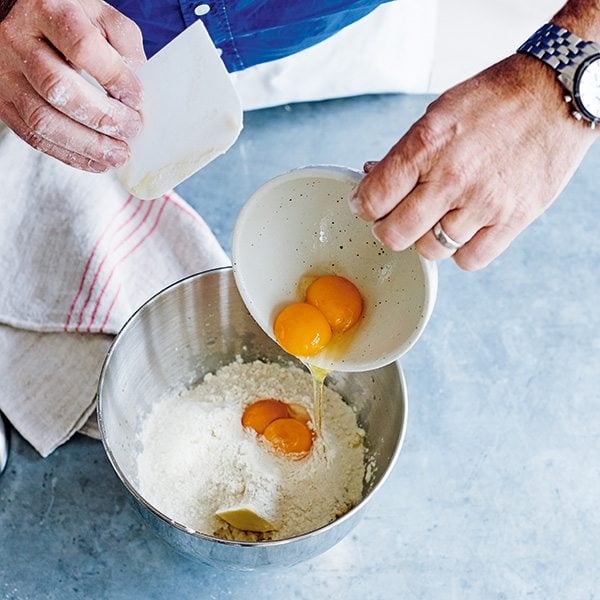 With the motor running, add the sweetened butter bit by bit, waiting until each addition is fully mixed in before adding the next. Once it's all incorporated, turn up the speed slightly and mix for 5-10 minutes until the dough comes clean away from the sides of the bowl.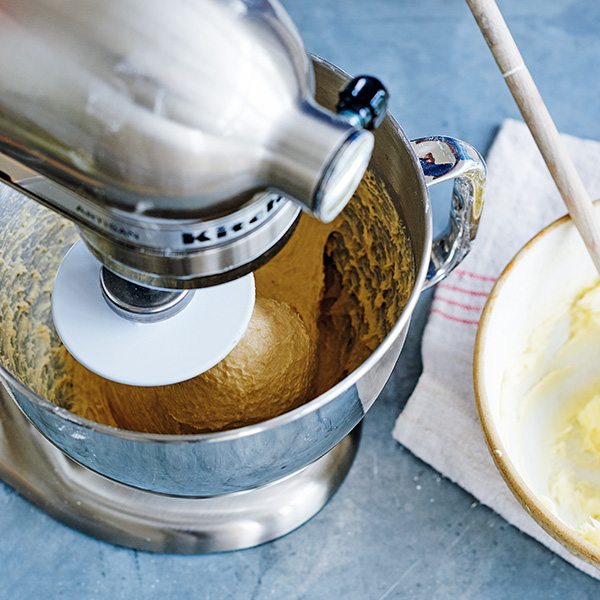 Part Six

Finely grated zest 2 oranges
1 vanilla pod, seeds scraped

200g mixed peel
100g sultanas
1 tsp rum
60g lukewarm water
1 large free-range egg, lightly beaten with2 tbsp milk, to glaze

Icing sugar to serve
1. Add all the ingredients (except the glaze and icing sugar) to the dough and mix on a low speed to combine. Tip out the dough onto a lightly floured work surface.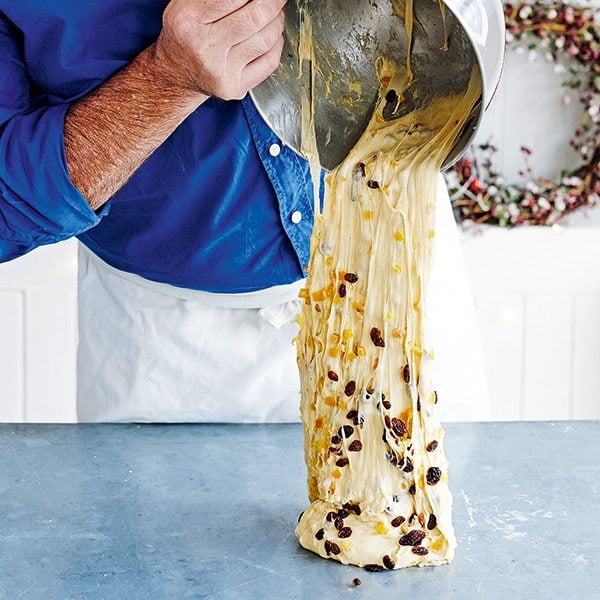 Stretch the dough over on itself a few times.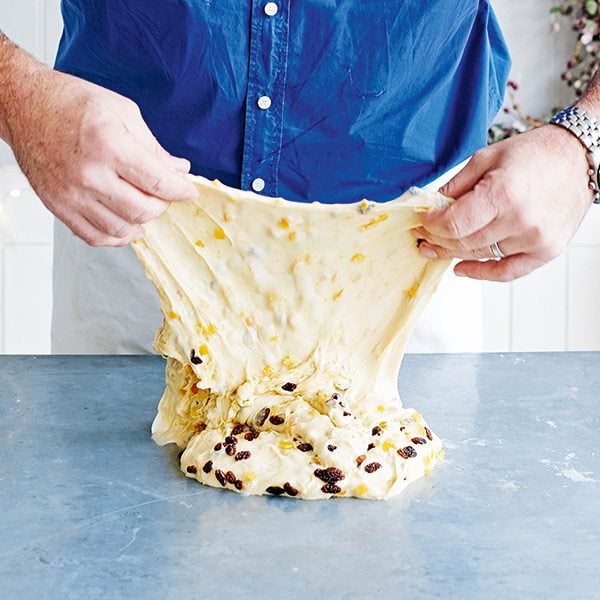 Then put in a clean mixing bowl and cover loosely with a plastic bag or cling film [H].
Rest for 45 minutes. Tip out onto a floured surface, fold it in thirds like a letter.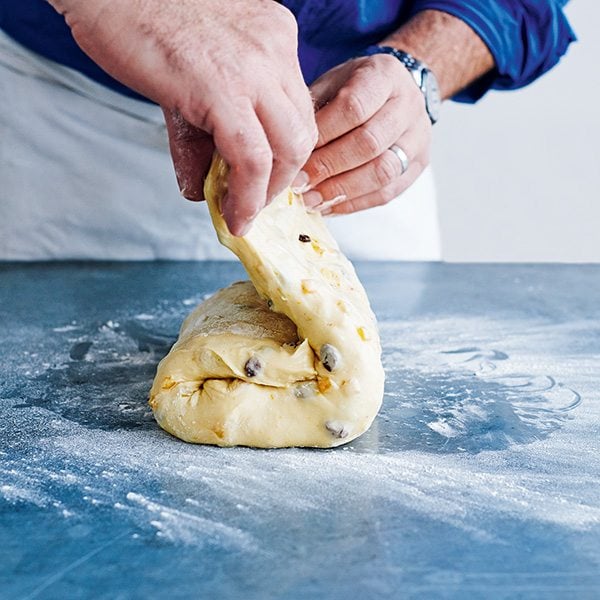 Then put back in the bowl to rest for 30 minutes.
2. Divide the dough in half.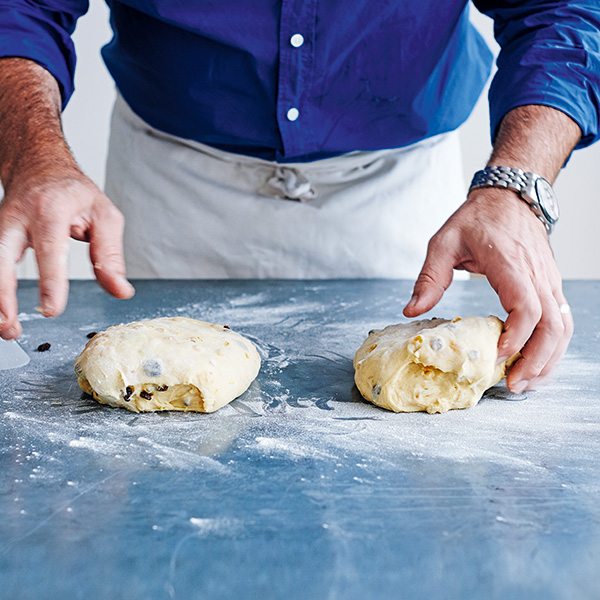 Shape each half into a ball and put into cases [K] or prepared tins.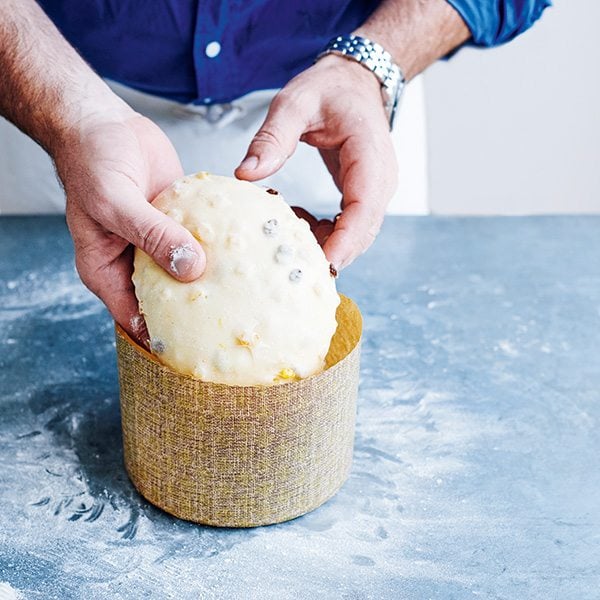 Cover each with a loose sheet of cling film and put in a warm, draft-free place to prove. The timing will depend on the temperature but they need to rise about three quarters of the way up the case. If you leave them to prove in the evening, they should be ready the next morning (see Food Team's Tips).
3. Heat the oven to 170°C/150°C fan/gas 3½. Put the panettones on baking sheets and remove the cling film. Gently brush the tops with the egg glaze; bake for 45-50 minutes.
4. Remove the panettones from the oven and take them out of their tins (if in cases, leave in the cases). Push a skewer through the base of a panettone, about 3cm from the bottom and a quarter of the way across. Repeat with another skewer on the other side so it's parallel. Suspend each panettone upside-down between 2 pans, cans or similar.
Repeat with the other panettone. After at least 2 hours, when cooled and set, sift over icing sugar to serve.
Subscribe to our magazine
Subscribe to delicious. magazine for HALF PRICE
Subscribe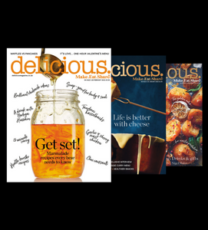 Join our newsletter
Packed with menu ideas, recipes, latest competitions and more...