How to make steamed and fried beef buns
Sifu Fei Wang, head chef at acclaimed Hutong restaurant in London's Shard, teaches us how to make barbecue beef steamed and fried buns. Find out Fei's top tips and tricks with his step-by-step guide.
"Dim sum is a traditional Chinese cuisine that originated in southern China, but each region now has its own distinct variety of dishes. Traditionally eaten in the morning or at lunchtime, dim sum has been hailed as the original brunch and is an important part of the menu at Hutong restaurant, where I'm head chef. These delicate buns are first steamed, then fried to create the contrast between crisp and soft, with an aromatic and flavourful beef filling –
I urge you to try them at home for Chinese New Year" – Sifu Fei Wang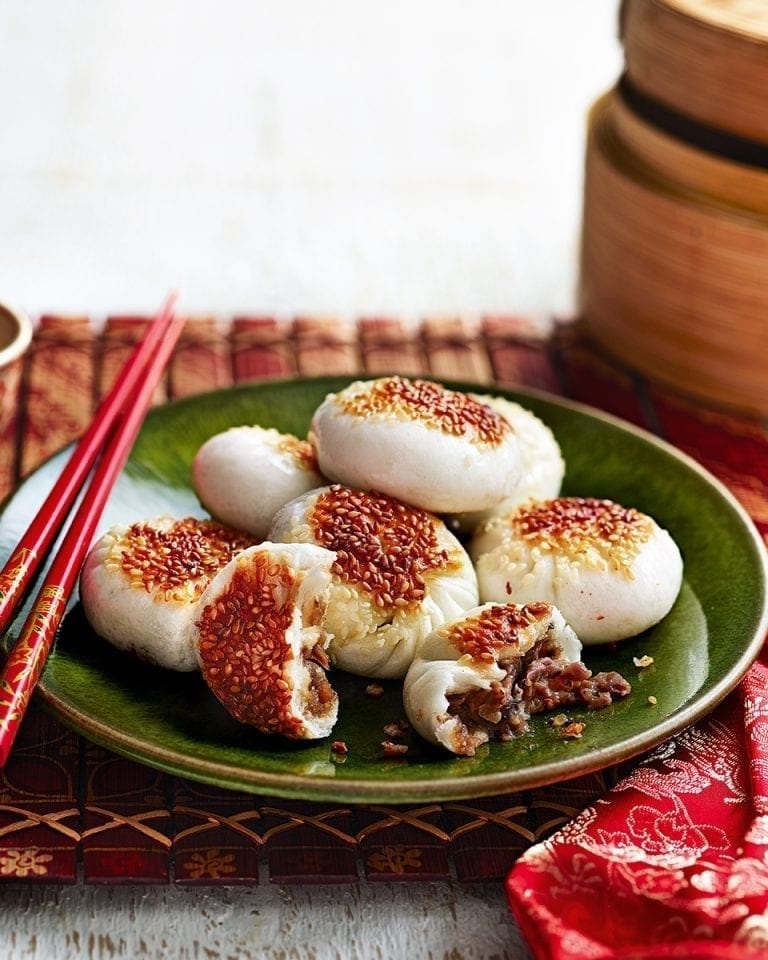 A bit about Fei
In Chinese culture, the term 'sifu' (master) is given to those who've earned a wealth of experience in a skilled trade. Fei's cuisine draws inspiration from across China. He began cooking professionally at just 16 before studying at the Sichuan Higher Institute of Cuisine in Chengdu, and he joined the acclaimed Hutong restaurant, in London's Shard, as head chef in January 2017. His style blends traditional cooking with modern takes on classic dishes from China's northern regions.
You will need…
For the filling:
150g beef fillet (preferably wagyu, but if you can't stretch to that, use regular fillet or sirloin steak instead)
10g dried porcini mushrooms, soaked in freshly boiled water for 10 minutes, squeezed dry
1 large garlic clove, crushed
2 tbsp crispy onions or shallots (ready-made are fine)
1 tsp chicken powder (or ½ chicken stock cube)
1 tsp crushed black pepper
3 tbsp galbi beef marinade (or use a good barbecue sauce; we like Stubbs)
½ tbsp Maggi liquid seasoning or soy sauce
½ tbsp butter, softened
For the dough
250g plain flour, plus extra to dust
25g sugar
1 tsp baking powder
½ x 7g sachet fast-action dried yeast
100g sesame seeds
1 medium free-range egg yolk, beaten, for brushing
Vegetable oil for frying
You'll also need…
Steamer basket with a lid
This recipe makes 20 buns. Hands-on time 1 hour 10 min, plus marinating and proving.
Make ahead
To freeze the buns, follow the recipe up to the end of step 5, but only steam the buns for 4 minutes. Leave them to cool completely, then wrap well in cling film and freeze for up to 3 months. Defrost the buns at room temperate or in a microwave on low heat, then steam for 4-5 minutes and continue from step 6.
Fei's tips for successful steamed buns: 
Wagyu cattle provide especially tender cuts of beef, but the meat can be expensive. Because it isn't cooked for long, the meat does need to be good quality and tender. Use regular fillet steak or sirloin steak instead.
For an authentic flavour it's worth buying the other bun ingredients from specialist Asian supermarkets and online suppliers, but I've given alternatives where appropriate.
Knead the dough until just becoming smooth and elastic, but no more (step 2). Over-kneading will cause it to become tough once cooked.
Weigh the pieces of dough (step 3) to make sure you have equal portions.
Once made, you can freeze the buns to enjoy at a later date.
1. Slice the beef into thin pieces and chop very finely, then put in a mixing bowl and stir in the rest of the filling ingredients. You can use this straightaway or leave it to marinate in the fridge for up to 12 hours to tenderise the beef and develop a deeper flavour.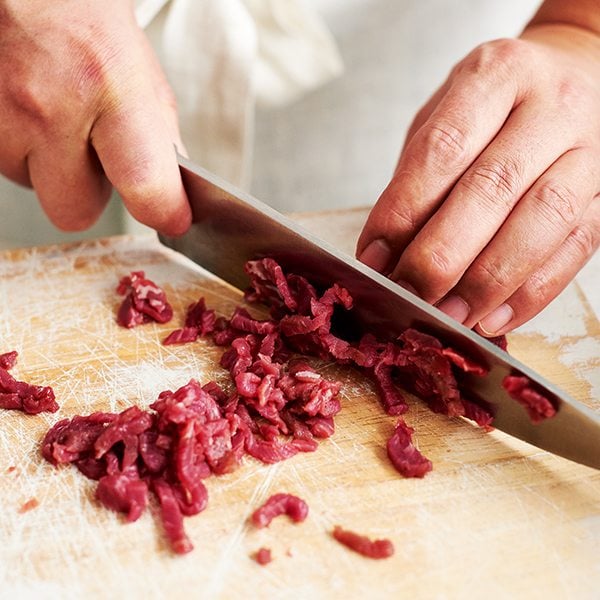 2. For the dough, put the flour, sugar, baking powder and yeast in a large bowl and gradually mix in up to 140ml warm water. Use your hands to bring the dough together (it gets a bit sticky), adding just enough water to bring the dough together. Tip the dough onto a lightly floured work surface and knead for 5 minutes until very smooth and slightly sticky.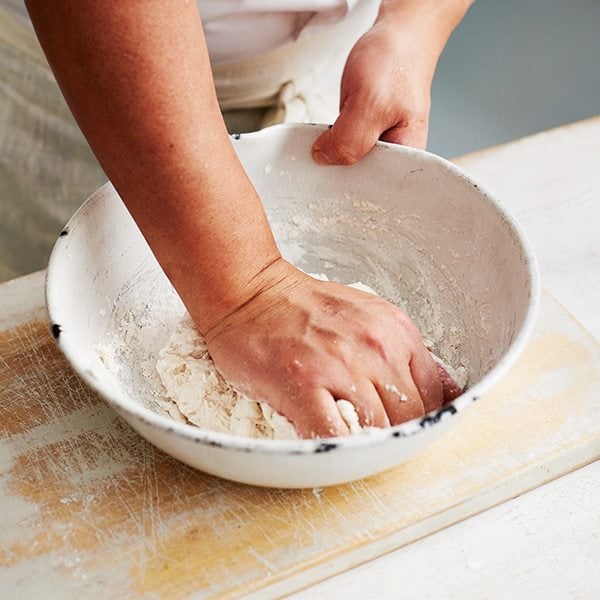 3. On a clean surface roll the dough into a long sausage shape, then divide into 10 equal pieces. Shape each piece into a ball then, using a rolling pin, roll out to 7-8cm discs. Put a tablespoon of the beef filling into the centre of each disc, then make a small fold in the dough border and pinch to crimp it; keeping your thumb in the same position, pull in a bit more of the dough border to make a similar pleat and pinch this into the first pleat; continue pleating/crimping using a folding, pinching motion and work your way round the dough border. The folds will spiral round slightly and the edges will be drawn in to completely seal the filling.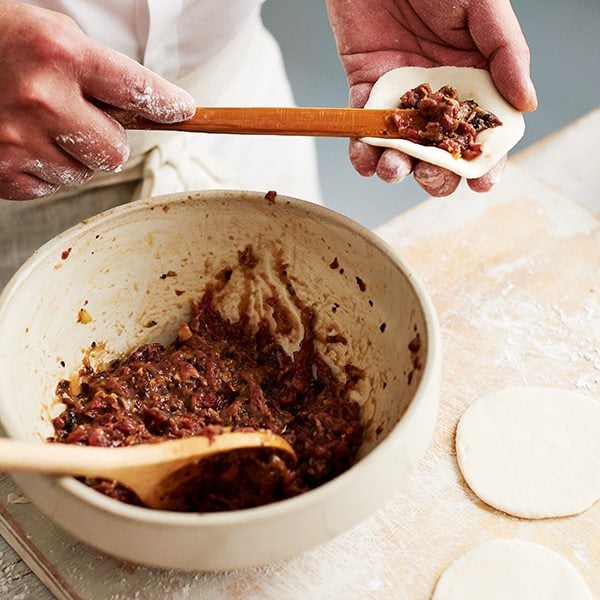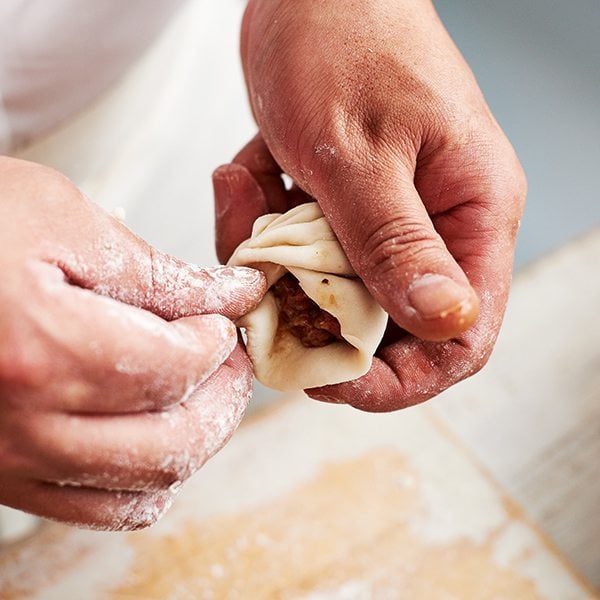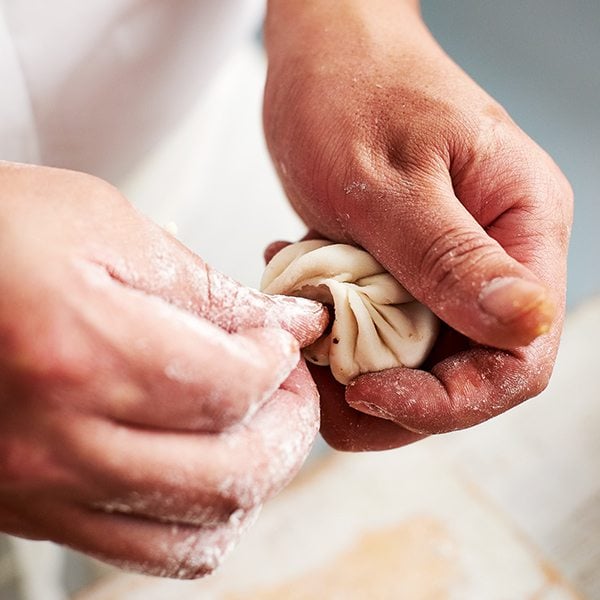 4. Sprinkle the sesame seeds onto a plate, then lightly press the top of each bun with the palm of your hand to flatten a little. Brush the top of each bun (the pleated bit) with a little beaten egg yolk, then dip into the seeds. Set aside to prove for 15 minutes at room temperature.
5. Meanwhile, bring a pan of water to the boil and sit the steamer snugly on top of the pan. Cut 20 x 10cm discs of non-stick baking paper and put each bun onto its own disc. Put a few buns (and discs) at a time in the steamer, cover with the lid and steam for 8 minutes. (You'll need to do this in 4-5 batches depending on the size of your steamer.)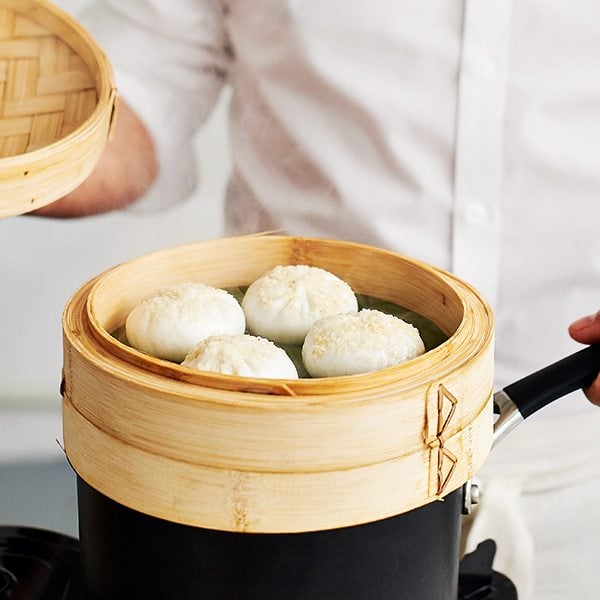 6. Heat a little oil in a large frying pan and fry the steamed buns on a medium heat for a few minutes on each side until lightly golden. Serve straightaway.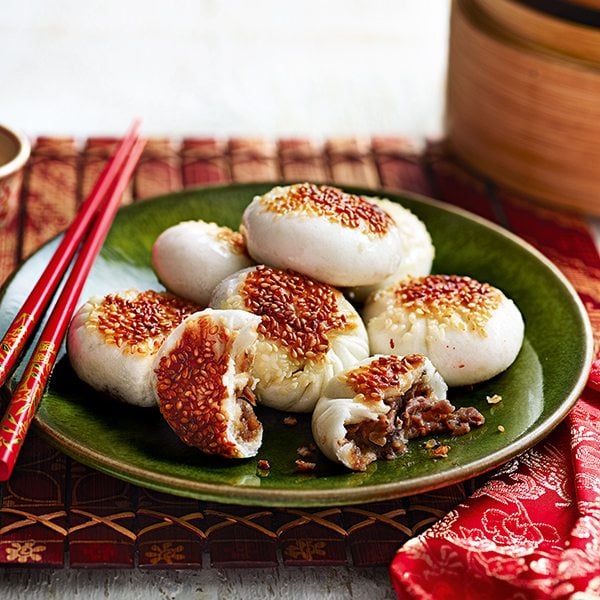 If you find it tricky to fold your own dim sum dough, here's our handy video to help…
Subscribe to our magazine
Food lovers, treat yourself this Christmas... Enjoy 12 months of magazines for £29.99 – just £2.50 an issue.
Subscribe
Unleash your inner chef
Looking for inspiration? Receive the latest recipes with our newsletter