Is eating together better for you?
Almost 90 per cent of us gather around the table with loved ones for Christmas dinner, but only one third of families eat together every night.
Are we missing out on the much-touted benefits of family meals, or is communal eating overrated? Sue Quinn unwraps the truth.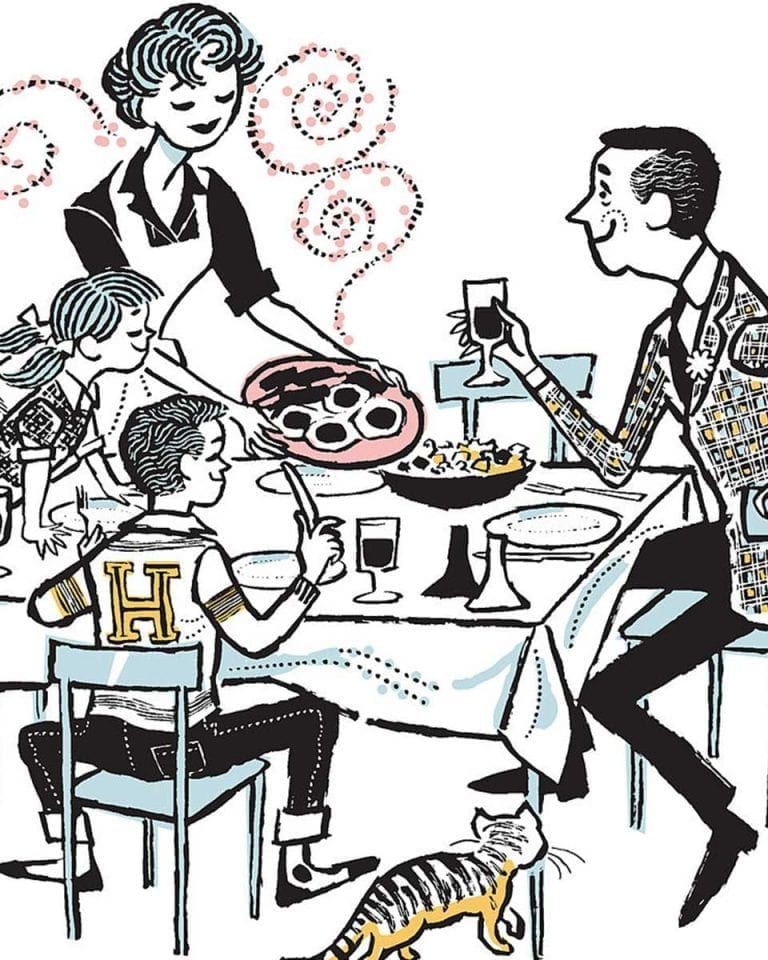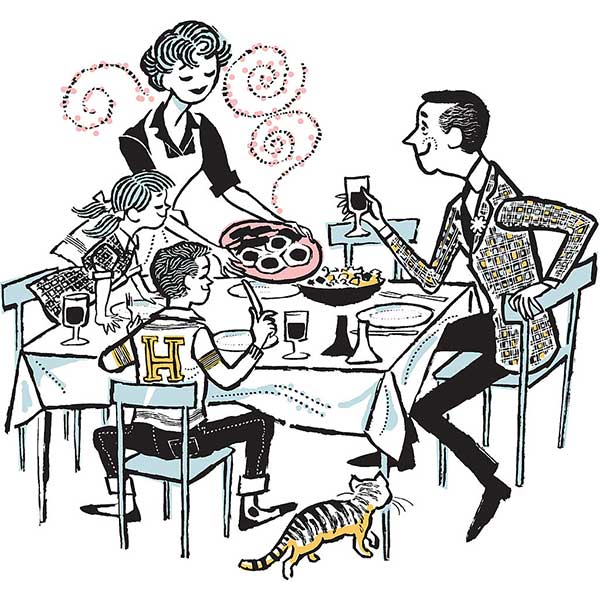 Family meals – eaten with or without festive paper hats – are hailed as the ultimate way to nourish mind, body and spirit. A quick internet search of 'family meals' turns up a slew of research that claims to link communal eating with a range of benefits: reduced risk of childhood obesity, greater chance of happiness for adults, improved exam results for teenagers and even lower incidence of drug use among adolescents are all linked to regular family meals.
No one could seriously challenge that eating together is A Good Thing. A meal enjoyed with our nearest and dearest can be a calming punctuation point in a hectic day, an important chance to share worries, catch up on news, bond and eat well. But are the purported benefits of eating together being exaggerated?
These days, panicky newspaper headlines mourn The Death of the Family Meal and the associated erosion of children's social skills, as if they were catastrophes. So we could all be forgiven for feeling like failures if we don't manage a magical gastronomic get-together every night. However, the millions of people who can't achieve this domestic Holy Grail can take heart. According to researchers and psychologists, the truth is nowhere near as simple as headlines suggest.
The evidence
Sitting down to eat at the table with family is particularly important for children and adolescents, research suggests. Young people consume healthier food – and less fried stuff and fizzy drinks – when they eat as a family under the watchful eye of parents. What's more, these good eating habits seem to have long-lasting positive effects. Teenagers who eat regular family meals are less likely to be obese as young adults, according to a 2014 US study published in The Journal of Pediatrics.
Researchers believe this is because the dinner table offers a supportive environment that allows teens to regulate their own eating. Dozens of other studies suggest that children who regularly eat dinner with their families are healthier, do better at school and have better general knowledge and communication skills than those who don't.
Research also suggests there are benefits for adults; it seems we have better relationships with people when we eat with them. This in turn has a positive effect on our health and happiness. "People who eat regularly with others say they feel happier, are more trusting of the people around them and feel more engaged with their community," says Oxford University Professor of Psychology Robin Dunbar. "Our best guess is that eating socially triggers the endorphins system in the brain. This is part of the pain management system, and it releases an opiate-like chemical. Aside from making us feel happier (a mild opiate high), it seems that opiates 'tune' the immune system and make us more resistant to diseases."
The sceptics' view
But not everyone is convinced. Researchers from Cornell University in the US recently analysed a range of family mealtime studies and concluded that some of the findings were questionable. The Cornell team challenged whether it's possible to isolate the effects of family meals from other potentially crucial factors.
For example, it might not be family meals per se that confer benefits on children and teens, but the resources of the type of family who eats together often: money, time and communication skills. One study had 'overstated' the positive links between family meals and child mental health and drug use, while the protective effects against obesity claimed in another study might not be as long-lasting as stated.
Linda Blair, a clinical psychologist and author of The Key To Calm, agrees that many family meal studies should be taken with a pinch of salt. "I don't believe much of the research," she says. "We don't really know what the links are and a lot of it is just guesswork. I believe in the benefits of family meals but people confuse quality with quantity."
Hold the guilt…
A poll of 2,000 families last year by Harvester Restaurants found that less than one third of UK families sit down to eat together every night, because of work or after-school commitments. But those who simply can't manage frequent family meals have no reason to feel guilty, Blair says. "It doesn't really matter how often you eat together as long as two things happen: that it's regular, twice a week ideally, and at a time when people can actually enjoy it."
Making Sunday night sacrosanct as family pizza night, for example, is better than forcing a shared meal on hectic weeknights. "What kids want to know is that someone is there to listen to them. This is the biggest safety net in the world that you can give children. Family meals are all about communication. And remember, don't force direct eye contact; without this, teens and pre-teens are more likely to talk."
But she stresses that the benefits of family meals can be achieved beyond the dinner table. "Going for a walk or a drive, just like having a family meal, works because you have distractions and aren't all staring at each other," Blair says.
In the end, it's not really about the food, it's about communication. As the man said, "It's good to talk".
How to make the most of family meals
Clinical psychologist Linda Blair has this advice:
Don't force conversation – a bit of silence is fine
Arguments at the table can be healthy – what bonds people is not just happiness, but emotion
Don't overstress about the quality of the meal – food is not the most important aspect of a family dinner
Family mealtimes can be stressful but bonding with one another is important
From the November 2016 issue of delicious. magazine
Subscribe to our magazine
Food lovers, treat yourself this Christmas... Enjoy 12 months of magazines for £29.99 – just £2.50 an issue.
Subscribe
Unleash your inner chef
Looking for inspiration? Receive the latest recipes with our newsletter