Masterclass: How to cook Thai food
Bangkok-born Kay Plunkett-Hogge explains how to master the pillars of Thai cuisine using authentic techniques and ingredients. Find tips on how to make a proper green curry paste, the best way to stir-fry and more.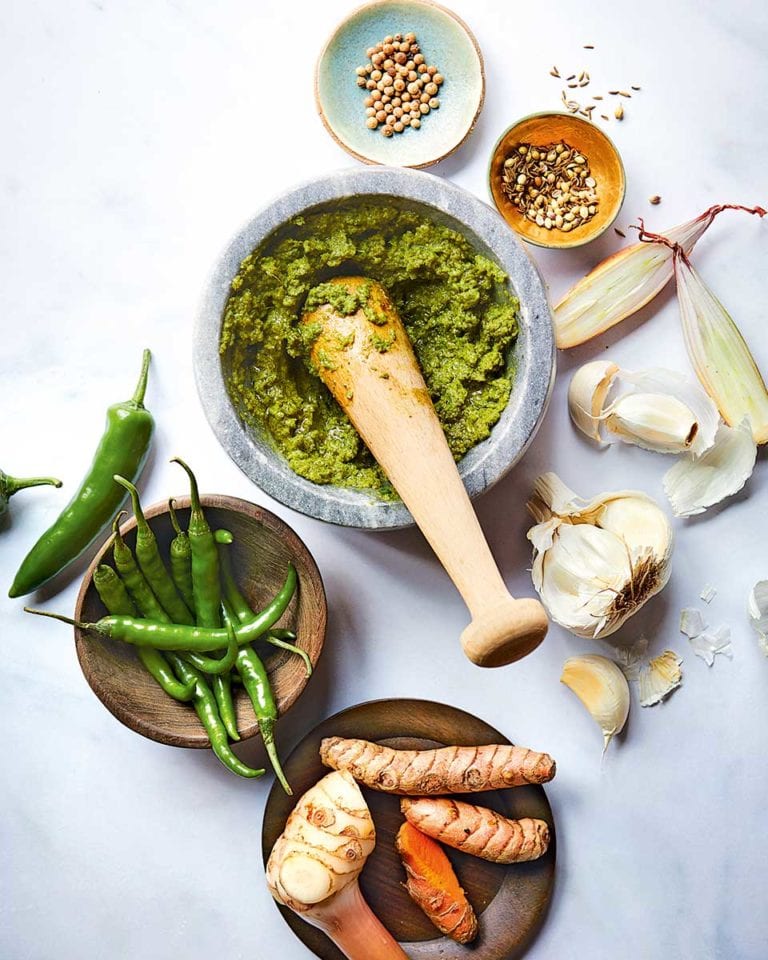 Lesson one: How to make a Thai green curry paste
Get the flavour right…
With most Thai curries it's perfectly acceptable to use a decent ready-made paste. But not this one. The vivid colour of a green curry requires freshness. The longer a green paste sits around, the more it loses that bright chlorophyll colour and fresh flavour. Remember also that this curry is not meant to be sweet or mild – it's brash, bright and spicy.
Special equipment…
A large stone pestle and mortar is what you need here. Wooden ones or those silly little white ones simply won't do. Alternatively, a Nutri-bullet or mini-chopper work brilliantly.
Techniques…
The finer you chop all the herbs and spices initially, the easier it will be to pound them to a smooth paste. Add a little water to bind the paste.
Lesson two: How to master stir-frying
Special equipment…
A wok. A proper one doesn't cost much, yet it will last and last. Make sure you season it correctly before using for the first time (see below).
How to prepare and season a wok
Depending on the brand, before using a new wok you may have to first scrub off a protective layer in hot soapy water, or you may have to burn it off over a flame – check the manufacturer's instructions to see what they advise. Next you have to season the wok: heat it over a high flame until hot, then add a couple of tablespoons of oil, moving it around the wok until the inside has turned completely black. Set aside to cool, then discard the oil, wipe the wok clean with kitchen towel and you're good to go.
Get the flavour right
The key is high heat. Even gas hobs with a wok burner don't give enough of it, but we have to make do with what we have. If possible, try to catch a little of the flame in the wok as you stir-fry. Fae daeng means 'red fire', and this charred aroma, or 'wok breath', is the secret to dishes like the one on the right.
Key techniques
Get the wok hot before you add the oil, then make sure the oil is properly hot before you start cooking.
Keep a mug of water handy to add in: pour a little down the side of the wok (not into the centre) any time the dish looks too dry.
Lesson three: How to master Thai soup
Get the flavour right
No two chillies or limes are created equal, so frequent tasting is an important part of making this soup. It needs to be hot, tart, salty and bright.
Techniques
You don't need any special equipment for creating Thai soup apart from a large pestle and mortar. To get the most juice from your limes, roll them on a hard work surface before you squeeze them. This encourages the limes to release more juice. Always add lime juice off the heat to prevent bitterness and cloudiness in the finished dish.
How to serve and eat
Unless it's noodle-based, it's rare to find Thai soup served as a standalone dish (though my mother used to serve tom yum goong as a course at her dinner parties in the 1980s).
In Thai cuisine, soup forms an integral part of the main meal rather than being a starter, and it performs one of two purposes: to provide a neutral foil to the other dishes, cooling and resetting an over-stimulated palate; or, as in the case of this chilli and lime soup, to give you a good punch in the tastebuds.
Thai soup should be served in small individual bowls alongside the rice, stir-fries, curries and any other dishes shared with the other diners.
Now, put your knowledge into practice and give one of our tasty Thai recipes a go.
Subscribe to our magazine
Food lovers, treat yourself this Christmas... Enjoy 12 months of magazines for £29.99 – just £2.50 an issue.
Subscribe
Unleash your inner chef
Looking for inspiration? Receive the latest recipes with our newsletter