How to make pad Thai
It's the exquisite balance of flavours that makes Pad Thai one of Thailand's best-loved dishes. Learn how to make Pad Thai like a pro with our easy to follow step-by-step guide.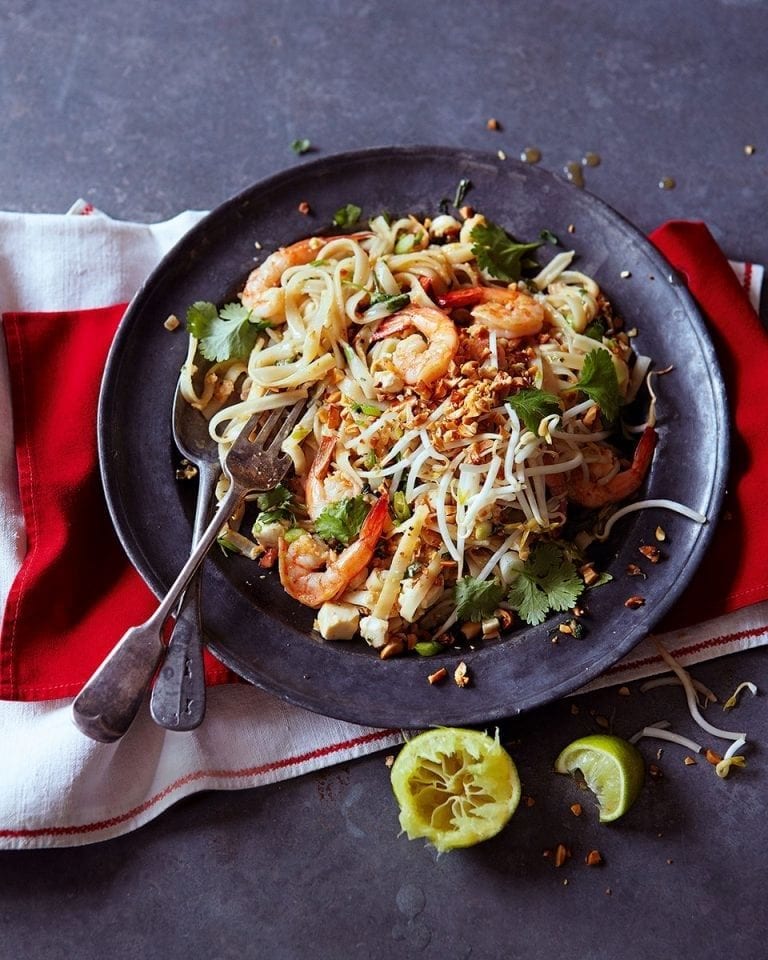 The flavours of a Pad Thai
You can alter the flavours and ingredients of pad Thai – which means 'Thai-style frying' – to suit yourself, but there are four essential elements, which you must include. They're designed to stimulate all the tastebuds, so you can alter the ratio but don't leave one out!
Salt… natural salts in Thai cooking come from fish sauce, soy sauce and dried shrimp.
Sweet… the addition of palm sugar or other sugar is essential to get a good balance.
Sour… from tamarind and lime juice.
Hot…use fresh green or red chillies to taste.
What to serve with a Pad Thai
The perfect accompaniment to the noodles is a tart, crisp green papaya salad. It has a great crunchy texture, which contrasts well with the soft rice noodles.
To make a simple papaya salad: peel a green papaya and cut in half lengthways. Remove the seeds and shred the flesh on a coarse grater. Place in a bowl and toss well with 1 small red chilli, finely chopped, ½ tsp salt, the juice of 1 lime, 1 tbsp fish sauce and 1 tbsp sugar. Just before serving, toss through a small bunch of fresh coriander, chopped, and serve with the pad Thai.
Tips for success…
Small dried shrimps are traditionally used in pad Thai, but after much testing we preferred the taste without them. It's important not to skimp on the fish sauce, though, as it adds the depth of flavour and saltiness that's vital to the finished dish. Season and taste the finished dish just before serving to see if it needs a splash more lime juice or fish sauce.
Cook in a large wok or frying pan with a big surface area so the dish doesn't stew. Keep an eye on the intensity of the heat – everything should be quickly cooked. Use a large, wide hob to control the heat accurately.
Don't put oil on your noodles to prevent them sticking (rinse properly and they won't need it) as it will act as a barrier and stop the noodles absorbing the sauce.
The actual dish takes less than 10 minutes to cook, so there's no time for faffing once you turn on the heat.
Use fresh ingredients for the best flavour – that means no stale peanuts, back-of-the-cupboard oil or old fish sauce. Fish sauce, if exposed to the air, ages quickly and can smell extremely pungent and taste sour.
How to make the perfect Pad Thai
You will need… 
300g flat rice noodles
80g shelled unsalted peanuts
1 large banana shallot
1 large garlic clove
200g sustainable raw peeled prawns
180g firm silken style tofu (see Know-how)
½ small bunch fresh chives
80g tamarind purée
70g soft palm sugar
70ml fish sauce (we like Thai Taste)
Juice ½-1 lime, plus extra wedges
2 large free-range eggs
1 tsp light soy sauce
Pinch hot chilli powder (optional)
4 spring onions, plus extra to serve
Small bunch fresh coriander, plus extra to serve
1½ tbsp groundnut oil
Handful ready-to-eat beansprouts
Method…
Put the noodles in a large bowl, then pour over plenty of cold water to cover and set aside while you prepare the rest of the ingredients. Put the peanuts in a small bowl. Finely chop the shallot and the garlic, then put them in another small bowl. Devein the prawns (see Know-how) and put in a bowl. Cut the tofu into cubes, then transfer to a small bowl and snip in the chives. Put the tamarind, palm sugar, fish sauce and lime juice in a saucepan. In a small bowl or jug, beat the eggs with the soy sauce and chilli powder (if using). Chop the spring onions and coriander and put in a bowl.
Set the bowls of ingredients by the hob in the order you've prepped them. Put the saucepan with the tamarind mixture over a low heat and stir until the sugar has dissolved. Taste and adjust the seasoning. It should be salty, sour and sweet (it may need an extra squeeze of lime). Keep on a low heat.
Bring a medium pan of water to the boil. Heat a large wok with 1 tbsp of the groundnut oil over a medium-high heat. Add the peanuts and cook, tossing regularly, for 2 minutes or until golden. Remove, keeping the oil in the pan, then finely chop or crush the peanuts in a pestle and mortar. Let the wok cool slightly while you do this.

Meanwhile drop the noodles into the pan of boiling water and cook for 3-4 minutes until just tender. Drain in a colander, then rinse well with warm water.
Return the wok to a low-medium heat and add the remaining oil. Stir-fry the shallot and garlic for 2-3 minutes until just soft but not golden. Increase the heat to medium-high, then add the prawns and cook for 2 minutes or until just pink.

Add the tofu and chive mixture and cook for 1 minute. Add the egg and stir gently for 1 minute or until just set.

Turn up the heat under the wok to high, then add the noodles along with the tamarind sauce and toss well.

Add the spring onions, coriander and half the peanuts, then stir. Taste and season.

Divide the pad Thai among 4 bowls and serve scattered with the remaining peanuts, the beansprouts and extra herbs and lime wedges.
We've got lots more Pad Thai recipes to try at home too! Check out our quick and easy Pad Thai with tofu, take a look at this version with chicken or have a go at making a totally vegetarian tofu and mushroom Pad Thai.
Subscribe to our magazine
Subscribe to delicious. magazine for HALF PRICE
Subscribe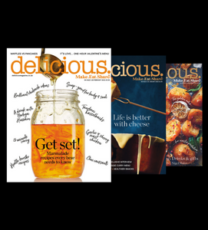 Join our newsletter
Packed with menu ideas, recipes, latest competitions and more...