Notes on oats
Oats are versatile and can be combined in different ways to make a variety of products, from muesli, to granola, to coating fish. Here's a handy guide.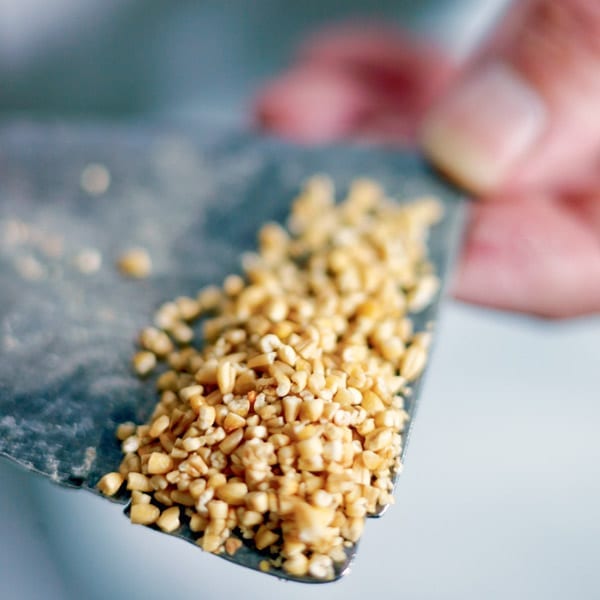 Oatmeal
This is available as ground kernels or groats, in three grades: coarse, medium and fine. Coarse oatmeal requires a lot of soaking before it's palatable and easy to digest. Medium oatmeal is ideal for porridge, oatcakes, as a coating for fish or meat, stuffings and crumble toppings. Fine oatmeal is ideal for smooth milk puddings or for use as a thickening agent for soups, sauces and gravies.
Pinhead oatmeal
This is groats chopped into small pieces. Pinhead oatmeal is nutritious because it still has the bran attached. It can be made into traditional porridge – although it takes nearly an hour to cook – or added to soups, stews and toppings for pies and puddings.
Rolled (porridge oats)
These are rolled and flattened groats. Available as jumbo oats (whole groat) or regular porridge oats. They are often used in baking, muesli and porridge.
Instant
This is pinhead oatmeal that has been steamed for longer and rolled even more finely for quick porridge.
Oat bran
Ground kernel or groats with bran and oat germ separated. It's used for baking.
Oat flour
A fine, smooth-textured flour that makes an ideal thickening agent. It's also recycled for animal feed.
Learn how to make your own granola or check out these oat recipes. 
Subscribe to our magazine
Subscribe to delicious. magazine this month for a half price subscription
Subscribe