The art of making parmesan cheese
It's a workaday ingredient, but are you aware of the months of care and attention that go into making a wheel of parmesan? Sue Quinn travelled to Parma to find out more. Plus, the delicious. food team shares all-new recipes to celebrate Italy's king of cheeses…
Discover all of our tasty parmesan recipes here.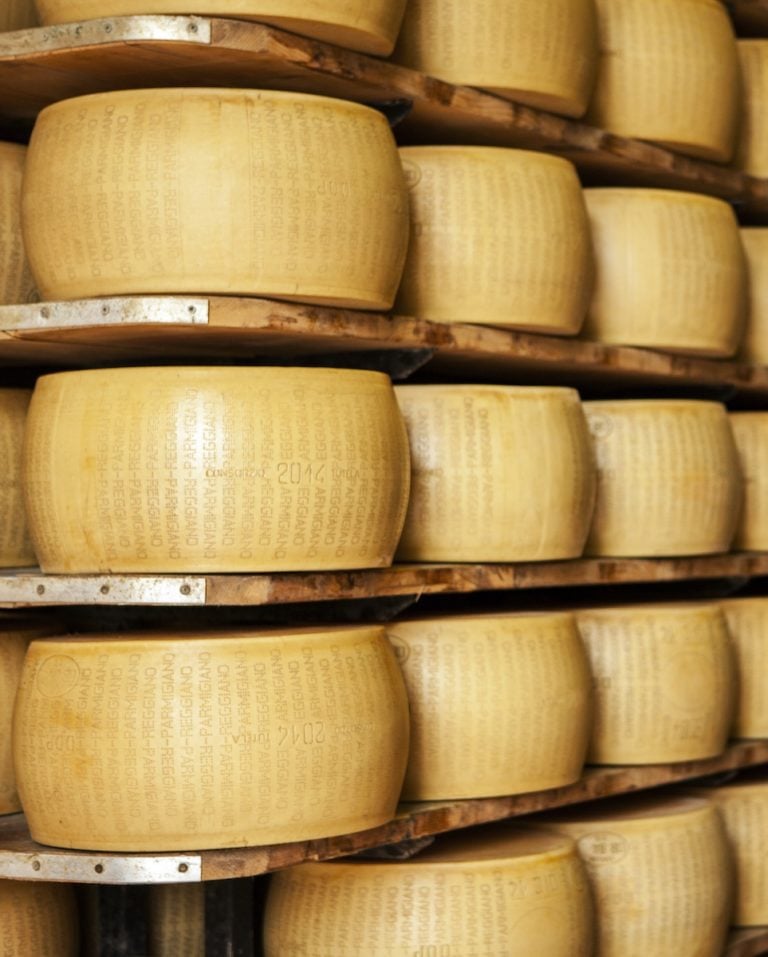 Around the city of Parma in northern Italy, parmigiano reggiano is more than just cheese: it's part of daily life. On average, the locals consume 500g each of the umami-rich stuff every week. "We put parmigiano reggiano in almost everything," Maria Chiara Passani from the Parmigiano Reggiano Consortium (PRC) tells me. "We use it like salt. It's in our DNA."
But parmesan producers have had it tough in the past 10 years. An earthquake, recession, Covid and a series of audacious parmesan robberies (the 40kg wheels of cheese are worth around €700 each) have troubled producers. And now there's another growing problem: counterfeit parmesan.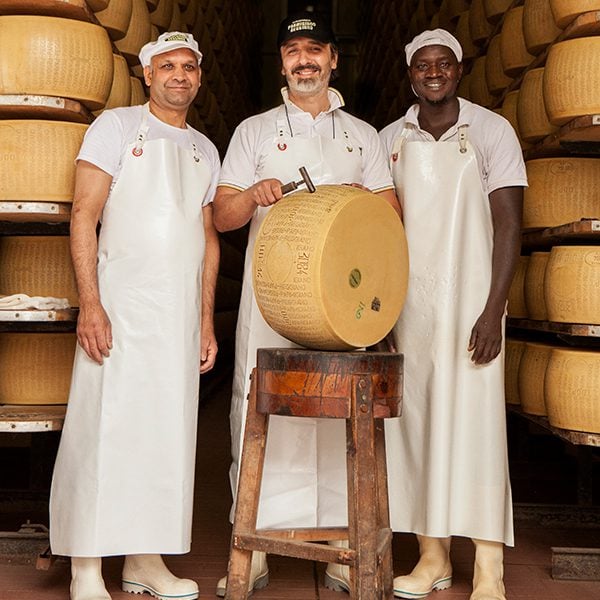 The name parmigiano reggiano is protected under EU law, which means it can only be used for cheese made to the exacting standards demanded by the PRC. But outside Europe, cheap imitations can legally be labelled 'parmesan' – in one case a US version was found to contain wood shavings. "We estimate the total value of counterfeit cheese sold as almost that of the real thing," says the PRC's Igina Morinia. The counterfeit stuff is sold at much lower prices, too, so the total amount sold is more than the real stuff. Igina adds that millions of Euros will be spent this year tackling the problem (they are currently trialling putting microchips into the wheels so they can be identified as genuine cheeses).
We British have a hearty appetite for the real stuff – we're the fourth largest market for it, in fact. Fourth generation cheese maker Damiano Delfante is gratified that British food lovers appreciate parmesan because he literally devotes his life to making it. The father of four works from 5am to 9pm every day, including Christmas, in his small dairy in the foothills of the mountains near Parma.
"I put all the love I've got into the cheese. It's my life." - cheese maker Damiano Delfante
Milk is collected twice a day from 10 small nearby dairy farms. Cows that produce milk for parmigiano reggiano must eat a rich diet of local hay and grains, in accordance with detailed rules set out by the PRC. This means farmers can spend more than €10 per day per cow just on feed. Cows here generally don't graze on open pasture; instead, they're kept in barns with access to outside pens. When I ask about this, farmers explain there's a shortage of open pasture and no tradition of grazing in Italy. Moreover, they say, calves, pregnant cows and 'teenage' cows can be separated within the barn and fed according to their specific needs. It's not quite the bucolic scenes of cows grazing on mountain pastures that I'd imagined.
In the dairy, Damiano uses methods little changed since the Middle Ages, apart from the use of stainless steel and copper vats. He assesses the milk quality by its colour and smell, using a sixth sense passed down by his ancestors. "I put all the love I've got into the cheese – it's my life," he says. "What drives me is the will to make the best cheese possible."
Although demand for parmigiano reggiano worldwide is growing, Damiano is worried about the future. The number of dairies that produce the cheese is dwindling because it's ever more difficult to make a profit. Young Italians are no longer interested in traditional cheese making as a career, and climate change is affecting the seasons, which can have a negative impact on the quality of the milk. So why does he continue to do it? "You have to be a bit crazy," Damiano admits, as he dips his hand into a vat of curds and assesses the 'grains', brow furrowed. "But if you have love for it like I do, you can taste it in the cheese. And that's satisfaction enough for me."
How Parmesan is made: 7 steps from milk to cheese
1. Unpasteurised milk is poured into giant copper pans: 16 litres are used to make just 1kg cheese.
2. Fermented whey from the previous day (the liquid left after the curds are removed) and rennet (an enzyme that curdles milk into curds and whey) are added to the milk.
3. The curds are then cut into tiny grains with a tool called a 'spino'. The mixture of whey and curds is heated and the curds fall to the bottom of the pans.
4. The curds are strained through linen cloth, then transferred to large round moulds where the name of the dairy, date of production and PARMIGIANO REGGIANO are pressed into the still-soft cheese rind in pin dots.
5. After three days, the wheels are transferred to tanks of salty water to soak for 20 days.
6. The wheels are transferred to a warehouse and left to age for 12 months. Officials inspect each wheel, tapping it with a hammer, to gauge whether it's worthy of the official parmigiano reggiano stamp.
7. The wheels are left to mature for another year or more. A silver seal identifies a cheese over 22 months old; a gold seal marks a cheese more than 30 months old.
The recipes
Three delicious new dishes which showcase Parmesan's unique flavour…
Parmesan and smoked paprika custards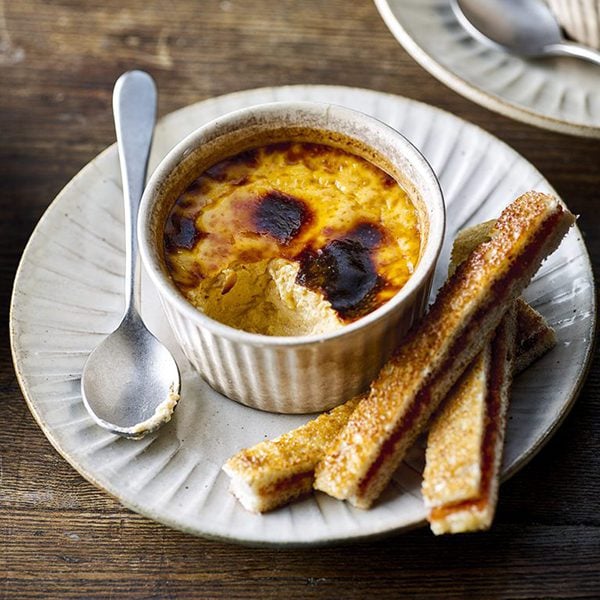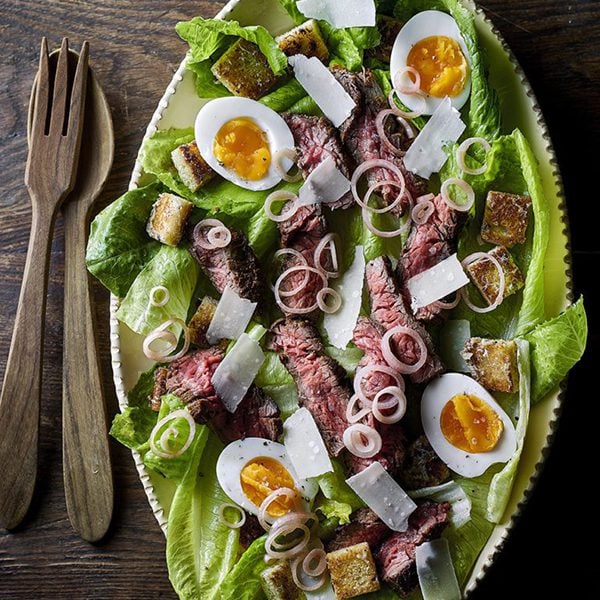 Pork schnitzel with parmesan mayo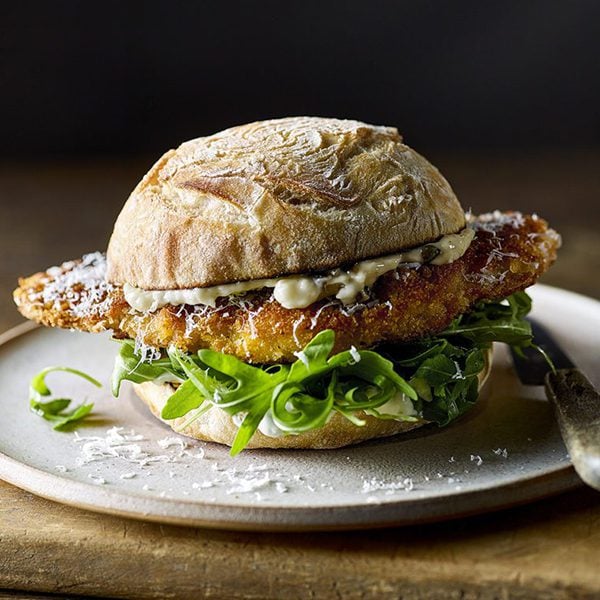 Subscribe to our magazine
Food lovers, treat yourself this Christmas... Enjoy 12 months of magazines for £29.99 – just £2.50 an issue.
Subscribe
Unleash your inner chef
Looking for inspiration? Receive the latest recipes with our newsletter