The best meal kits for Valentine's Day
A Valentine's Day spent in lockdown doesn't have to mean not celebrating in style. We've rounded up the best restaurant boxes available for nationwide delivery in time for the 14th February.
Whether your idea of the perfect Valentine's meal is a steak, lobster, fondue, or pancakes in bed, we've tried and tested every one of these recommendations – so you know they're going to be good.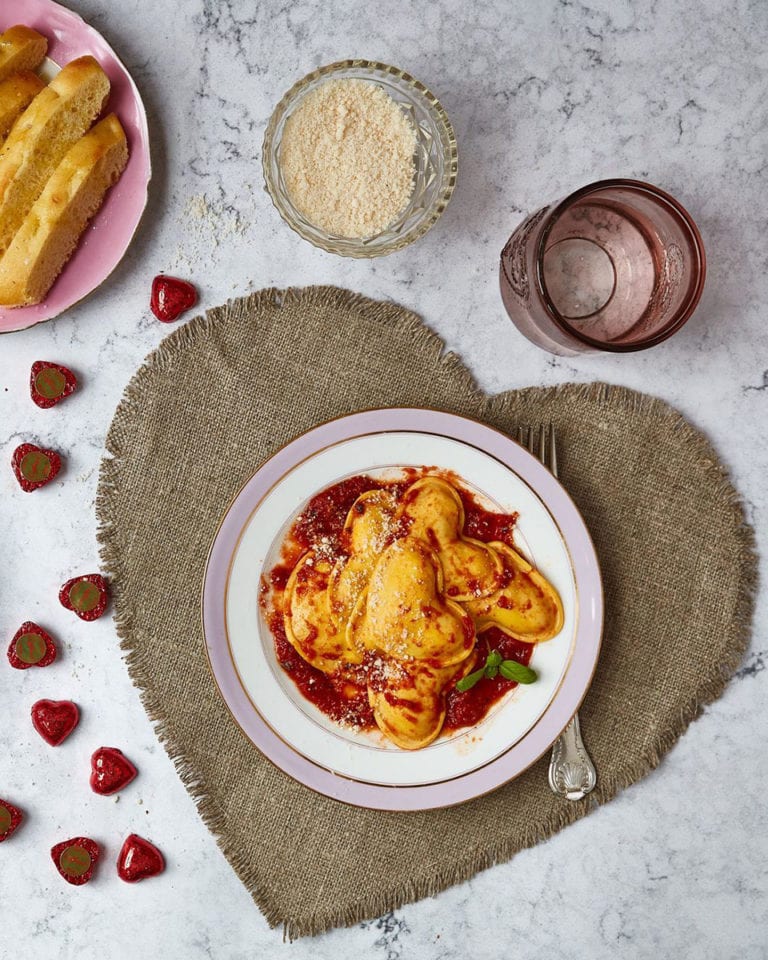 Provisions Fondue Kit
delicious. rating: 9/10
If your lover is a cheese fan, this fondue kit from Provisions has everything you need to make a melted cheese meal of dreams. There's no need to have a cast iron fondue set for this meal – just a pan, three candles and something to sit the pot on is required. There is something very romantic about a meal that takes only 10 minutes to put together, and which can be eaten in such a relaxed manner as this. It's interactive and cheering, and perfect for the cooler weather! Add a glass of white wine and a salad to cut through the moreish cheese for a romantic, stress-free meal. Fondue, we salute you. Available from Provisions (£29).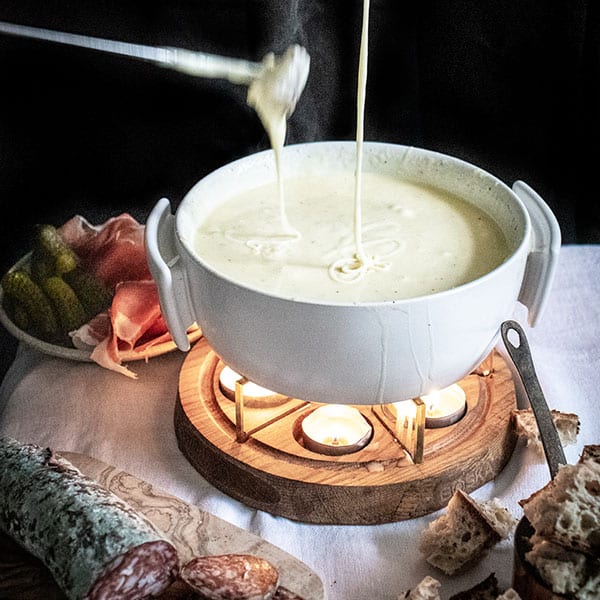 La Tua Pasta
delicious. rating: 8/10
The way to someone's heart is through their stomach – and the Italians sure know how to pull off a romantic dinner in style. La Tua pasta, a small company that started life as a market stall at London's Borough Market, is known for catering exquisitely fresh pasta to some of the UK's most prestigious restaurants and hotels – such as Claridge's. They also offer fresh pasta in the form of meal kits and boxes. Their dedicated San Valentino box contains tomato and mozzarella heart-shaped ravioli with their signature tomato sauce plus fresh bake-at-home focaccia with olive tapenade and Italian chocolates to finish off the meal in style. The cooking required is very minimal and their seamless instructions are a breeze to follow. You'll probably find that there's plenty in the kit – enough to feed you for two meals, or enough for a gigantic Valentine's feast. Now that's amore! Don't feel obliged to stick to their set Valentine's box, as you'll find an abundance of incredible fresh pastas and sauces to pick and mix with on their site (their lamb Romanesco ragù with malfalde egg pasta knocked our socks off). Available from La Tua (£48 for the San Valentino box; £68 with prosecco).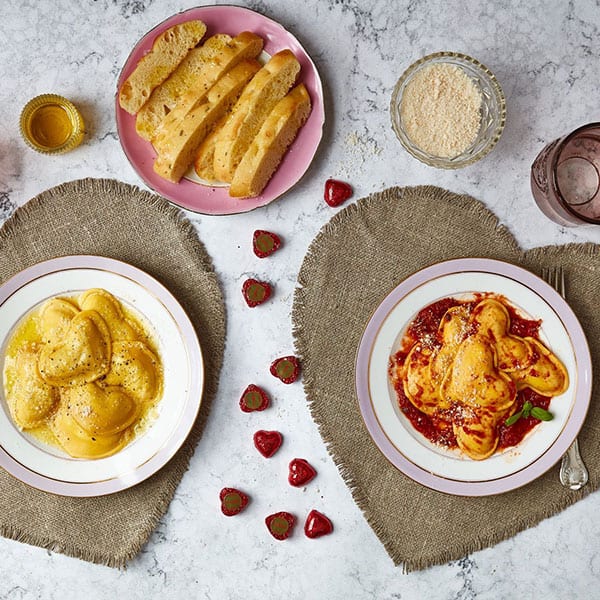 Lyle's Provisions Goose Menu Box
delicious. rating: 8/10
Modern-British east London restaurant Lyle's is a serious, minimalist set-up and their menu boxes are branded with the same care. Unpacking one feels like an event. Each dish is quick to put together and you won't need every pan and utensil in your kitchen to fix up your meal. There are scallops that only need cooking for 1 minute (which might make your nan squeamish), but come out beautifully tender. The Cornish mussels come with a drink-the-dregs-good sauce, and are fat, juicy and, like the scallops, super-fresh. This is a meal that will make you feel like a finalist on MasterChef the Professionals as you bring it to the Valentine's table, with the braised goose leg to share being the main event. Pudding is a rhubarb, blood orange and pistachio tart, bang on season like everything else in the box. There are even delightful petit fours. That £140 price tag might make you think twice, but if you prize pure quality and value the kind of careful attention to detail that Lyle's offers, you're going to have a darned good dinner. Available from Lyles (£140).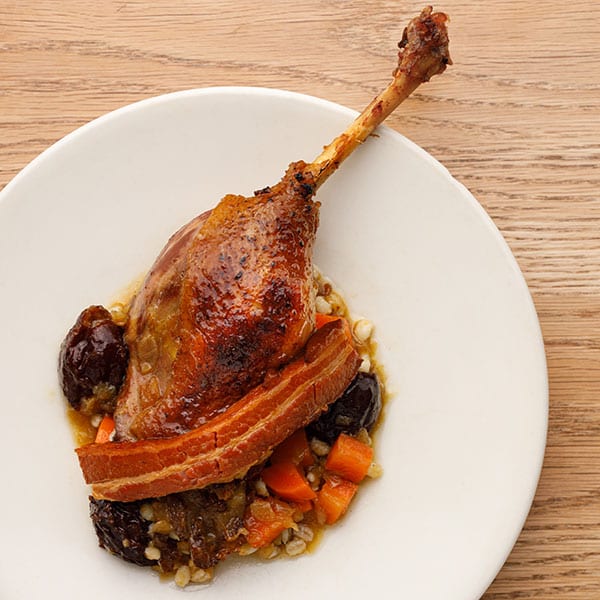 Wright's Brothers Seafood Lover's Box
delicious. rating: 9/10
Wright Brothers at home brings their restaurant-quality seafood to your door with their Valentine's Day Seafood Box. Including lemon sole, king prawns, salmon and crab meat, this is a true fishy feast. If you close your eyes, and add on a bottle of your favourite wine, you may even trick yourself into thinking you're at a restaurant, tucking into the seafood meal of your Valentine's dreams. Please note limited delivery slots are available from the 12th-13th February, and the last order date is midnight 7th February. Luxury seafood and shellfish platters are also on offer. Available from Wright Brothers (from £55).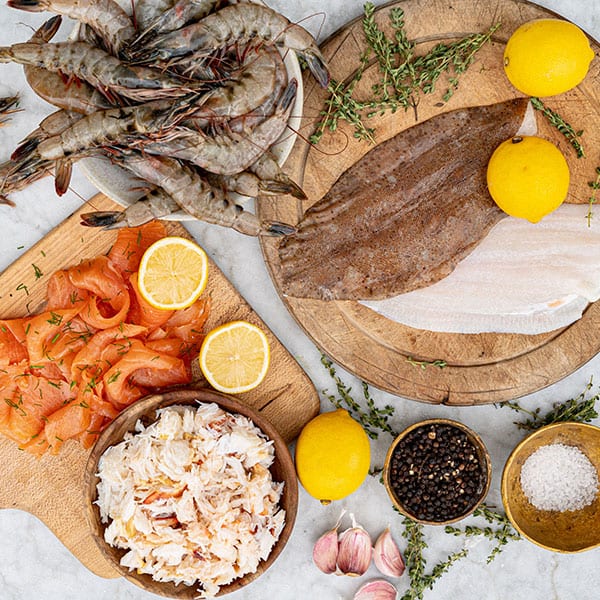 José Pizzaro's Finish at Home Tapas Delight
delicious. rating: 9/10
José Pizzaro is a Spanish chef who made his name on the London restaurant scene, and has written several books on the glorious food of his homeland. We've included José's recipes on delicious. and can vouch for his incredible use of flavours. Included in the Valentine's box are spinach and goat's cheese croquetas, ensaladilla rusa and crab, tortilla de patatas, cod al Pil Pil; confit garlic and extra virgin olive oil, Ibérico pork presa with pear and hazelnuts and choco cake and Spanish orange jam. Everything is packaged beautifully with clearly presented cooking instructions. This is a cheffy step-up for an at-home V day but with very little hands-on time required. You'll need to be confident enough to deep fry the croquetas, but the rest is simply a matter of reheating or serving. Order the Valentine's Day Kit up until midday, on Tuesday 9th Feb. Available from José Nationwide (£75).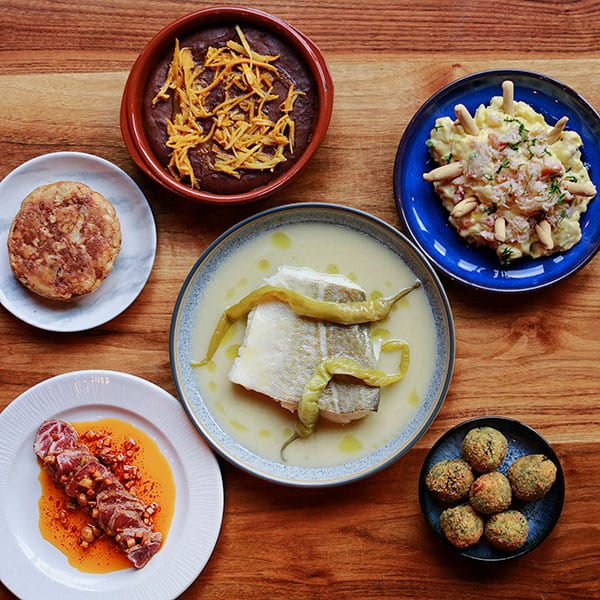 Where The Pancakes Are Big Brunch Box
delicious. rating: 8/10
If you and your beau are more into brunch than a formal dining affair, then this fun kit is here to deliver. Brought to you by pancake royalty Where The Pancakes Are (a London hotspot), the box comes loaded with everything you need to make their famous buttermilk pancakes at home. The ingredients are of the highest quality – from their signature buttermilk pancake flour mix down to the box of carefully wrapped St Ewe's eggs. The pancakes take a little prep to put together, but that's the fun part, right? Plus their instructions come with pictures, to keep you on track. And once your fluffy creations are ready, you've plenty of toppings to choose from – with Swaledale butchers smoked streaky bacon, 100% pure Canadian maple syrup and plenty of fresh fruit to scatter on top. Pop on your favourite Spotify playlist and your best PJs and make this a Valentine's brunch to swoon over. Available from Where The Pancakes Are (£45 including P&P).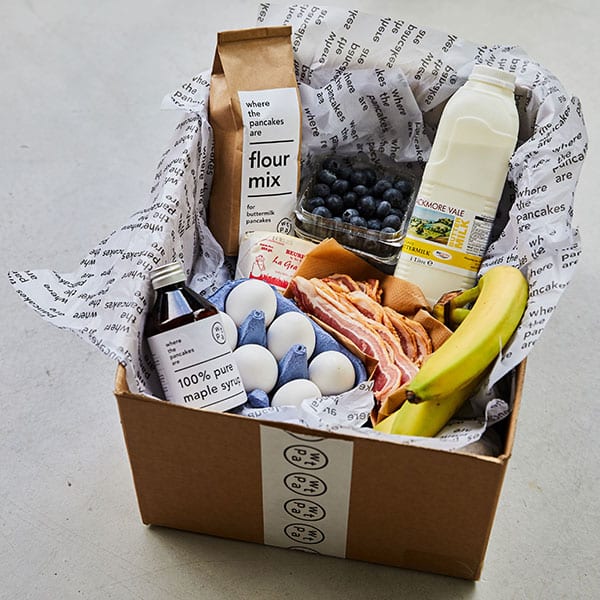 Blacklock Steak Night for Two
delicious. rating: 9/10
This steak box for two has everything you need for a fantastic at home celebration. The detailed notes inside the box are a joy to read, and did a great job at setting the restaurant scene. Look forward to Blacklock's famous salt-and-vinegar dripping chips and kale and parmesan salad, and save room for the white chocolate cheesecake for two: it's restaurant-quality but it tastes like a proper homemade pudding. If your V day meal of choice simply has to be a steak and chips dinner – make it this! Available from Blacklock (£56 for 2).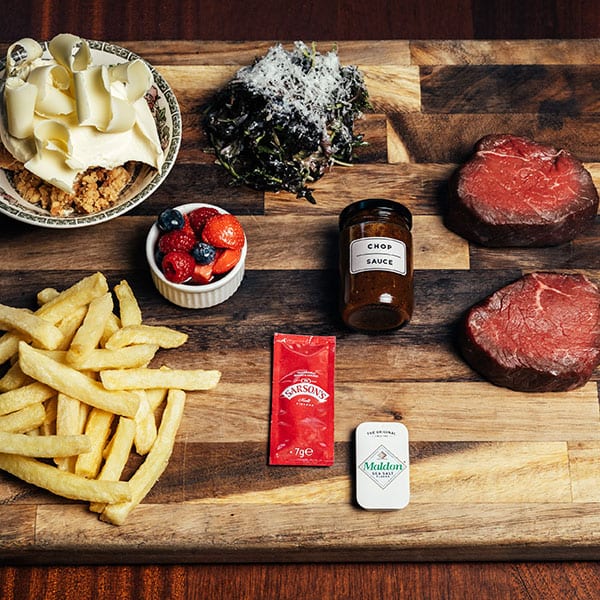 Kolamba Love One Another box
delicious. rating: 8/10
If you are a lover of South Asian food, then what better way to celebrate Valentine's Day than with this wonderful, colourful at-home meal from Sri Lankan restaurant Kolamba. The Love One Another box includes banana blossom pattis to start; followed by a chicken string hopper biriyani – a dish celebrated by Tamil and Ceylon Moor communities which is a popular alternative to the traditional rice biriyani. A cashew and pea curry, limited edition pineapple curry and malay pickle and cucumber and yoghurt raita accompany the main affair. Dessert of a chocolate biscuit pudding hits the sweet spot. This is a meal that's sure to leave you feeling satisfied, and crucially, loved-up. Available from Restokits (£80 for 2).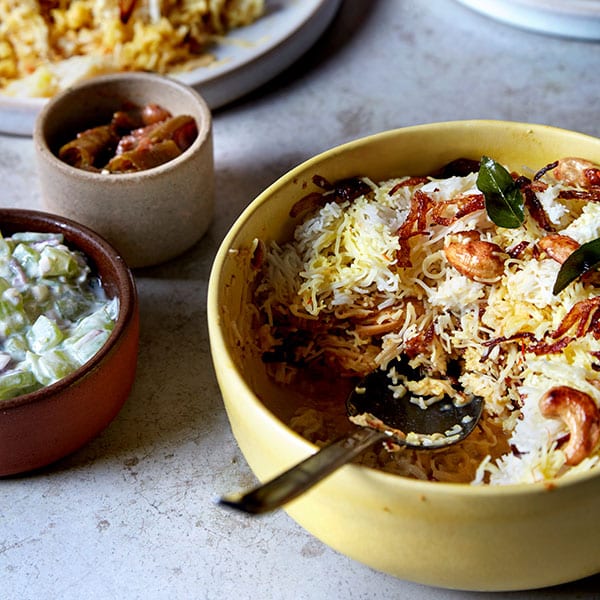 Dirty Bones Brunch Kit
delicious. rating: 8/10
Dirty Bones has teamed up with Sauce Shop and Ketel One Vodka to create this saucy and spicy brunch kit. The Get Dirty Valentine's Brunch kit is the perfect V day breakfast in bed for locked-down lovers. The kit will contain all you need to whip up Dirty Bones' signature brunch dish, the Short Rib Crumpet: 12-hour slow-cooked short rib, hollandaise sauce, crumpets, chives and crispy onions. Even better, a side of Dirty Bones crispy skinny fries with onion and garlic salt, and two Dirty Marys are also part of the deal. The signature spiced tomato juice blend is infused with Ketel One vodka and comes with a mini tub of Sour Cream and Chive Pringles to crush up at home so you can replicate the rim of crushed crisps – hey, don't knock it 'til you've tried it. The ketchup and hot sauce come from Sauce Shop, ideal for dipping those crispy chips into. This can be pre-ordered until midnight on Friday 5th February and will arrive on Friday 12th February. Available from Get Dirty at Home (£37 for 2, including delivery).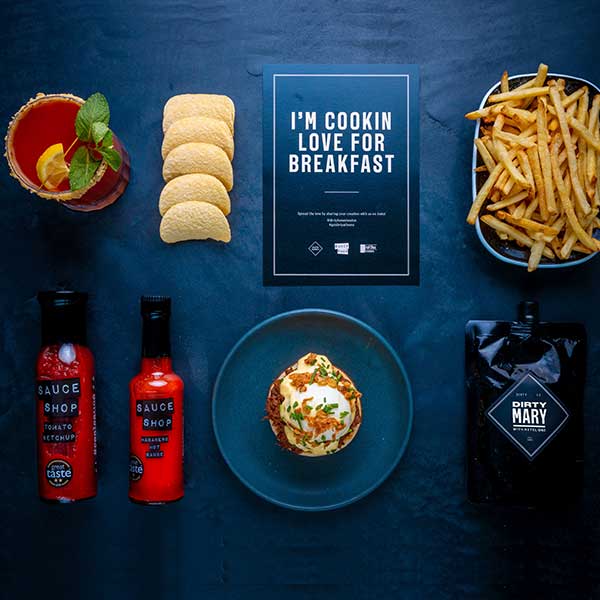 Hoppers x Henderson to Home Crab Kari Kit
delicious. rating: 8/10
To really raise pulses this Valentine's Day, snap up one of the limited edition crab kari kits from Hoppers, in partnership with Henderson to Home. This one-off cook-at-home-kit features their signature LIVE Devon Brown crab, so you can relive your own Annie Hall lobster moment (minus the mishaps!). The kit comes along with everything needed to make the freshest Sri Lankan crab kari, as well as mackerel patties, parlourde clam hodi, samphire sambol and love cake for good measure. Orders are accepted until noon on Monday 8th February (or until sold old) for NATIONWIDE delivery on 12th February, ready to cook anytime over Valentine's Weekend. Available from Hoppers Cash and Kari (£65).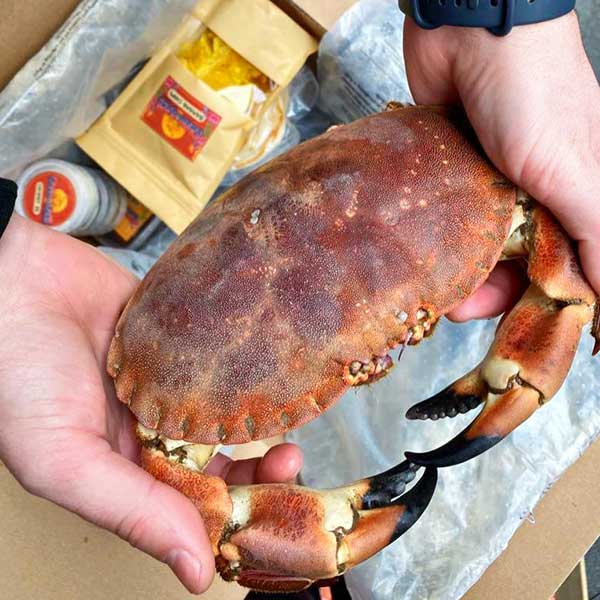 Petersham Nurseries Dine At Home Box
delicious. rating: 9/10
The Petersham Nurseries Valentines Day at-home box comes complete with a bottle of prosecco together with crystallised rose petals and syrup to recreate Petershams' Rose Bellini. The starter of gnocchi alla romana with delica pumpkin, crispy sage, pumpkin seed and shaved parmesan is followed by the choice of tarte tatin with calcot onion, fennel, chicory, gorgonzola and thyme or roasted duck with blood orange, honey and pink peppercorn sauce. Side dishes of potato and porcini gratinati and heritage carrots with spices and chervil are also included. For dessert, there's a forced rhubarb and orange steamed pudding with vanilla custard as well as a cheese course. This is a feast that will have you and your love smiling from ear to ear. Petersham Nurseries Dinner Boxes are available for nationwide delivery with Restokit (£135).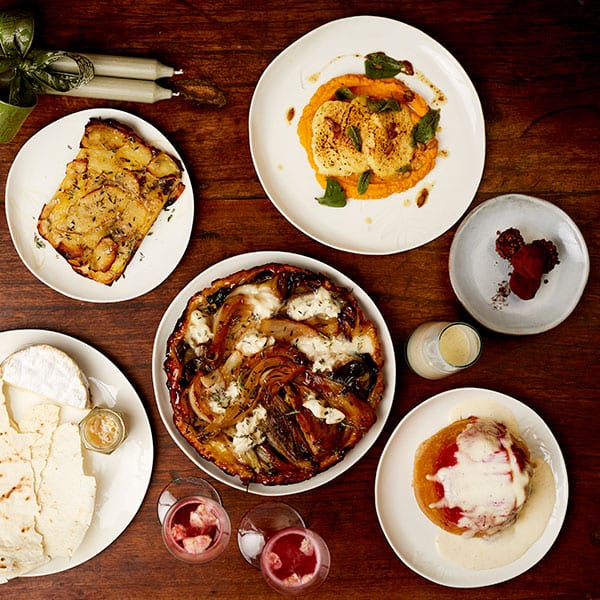 See our Valentine's gift guide, and Valentine's dinner collection, to find more inspiration for romance!