The French connection: how important is French cuisine to chefs today?
Discipline, technique, core values and distinctive ingredients… Classic French cuisine and kitchen protocol have their demands and rewards – and their impact is still felt around the world. How do French culinary training and the brigade system translate in today's culinary landscape? Five chefs at the top of their game – Ravneet Gill, Gregory Marchand, Thuy Pham, Jun Tanaka and Kerth Gumbs – share their perspective, along with a standout recipe.
Interviews: Kerry Fowler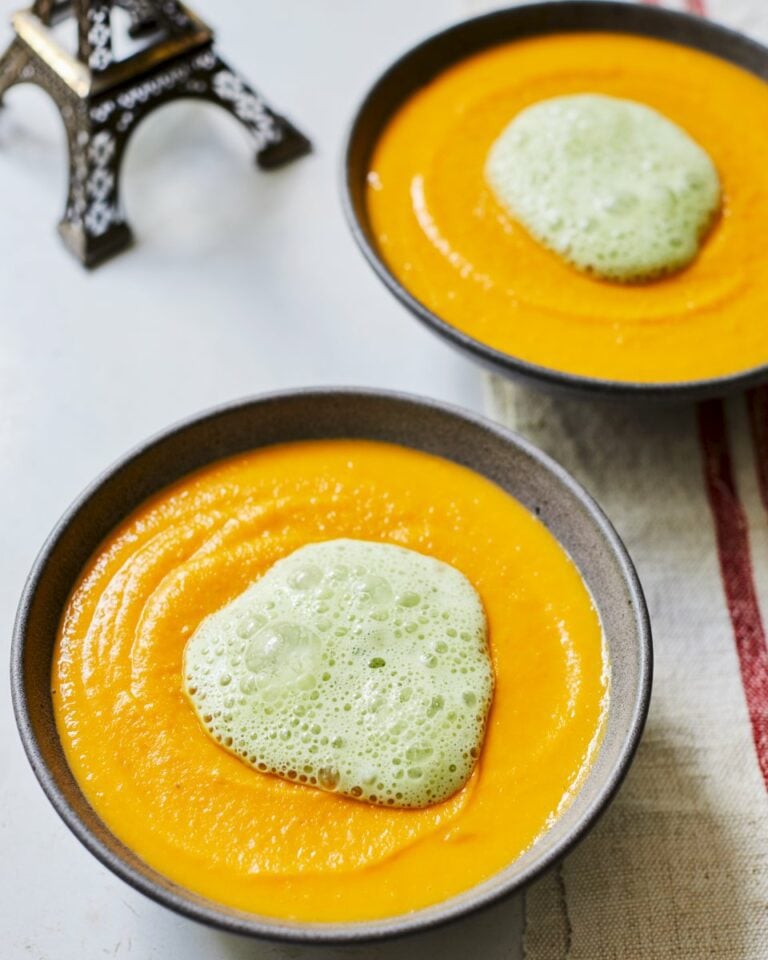 Ravneet Gill
"Technique and discipline are vital, but people skills are crucial too"
Ravneet's story
After doing a degree in psychology, she trained as a chef in London, then built on her pastry skills at restaurants such as St John and Wild By Tart. In 2018 Ravneet set up hospitality platform Countertalk to promote healthy work environments. She's written two cookbooks and is a judge on Junior Bake Off and Five Star Kitchen With Michel Roux Jr.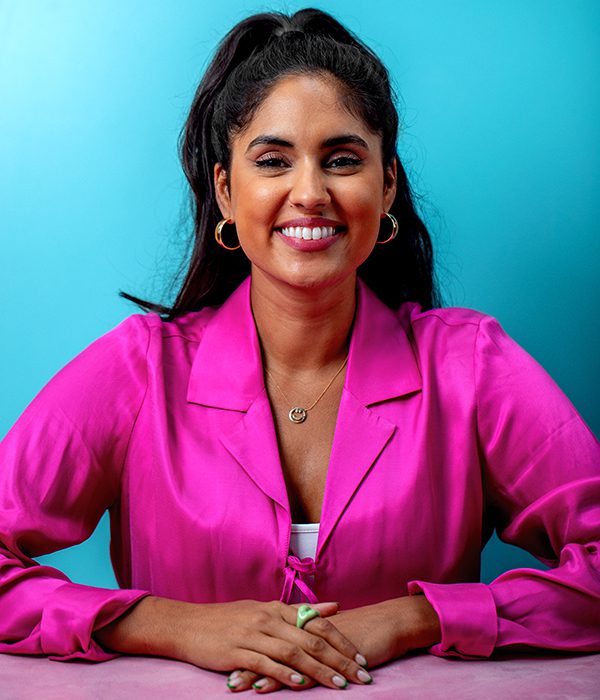 "Going into kitchens run in a French style has been helpful to me. It taught me incredible amounts of discipline and instilled a good work ethic. But it was tough and the part of me that didn't enjoy it was my lazy side!
When I was 20, I went to study at Le Cordon Bleu. It was the benchmark for learning patisserie: sugar temperatures, crème anglaise, pâte sucré. That knowledge allowed me to build my own style. Later, when I went to St John restaurant in London, the head chef Jonathan Woolway was my mentor and made me think I could go somewhere. But after that it took me years to find out which kitchens were good to work in and those that weren't. It was often down to the management and the environment, which were set by those in charge, so I found joy in French-style kitchens but also the total opposite. Technique and discipline are vital but people skills, softer skills, are crucial too, and are often not taught formally.
Five years ago, I set up Countertalk with the intention that anyone, in any position, coming into the food world wouldn't have to work at the bad places and have that experience. I am fascinated by people and dynamics – I remember buying one chef a copy of How To Win Friends And Influence People because he had such bad people skills!"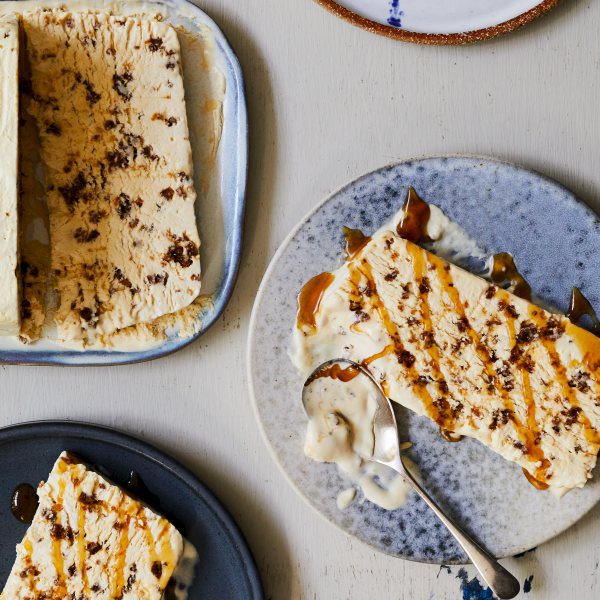 Ravneet's honey and toasted rye parfait
"The foundation of a parfait is wonderfully straightforward. It involves creating a pâte à bombe, where egg yolks are gently cooked with hot sugar, then folded into whipped cream. To add an extra touch, I incorporate crunchy sweetened breadcrumbs."
Find Ravneet Gill's recipe here
Thuy Pham
"French influences have had a significant impact on Vietnamese cuisine"
Thuy's story
She was born in Vietnam and moved to the UK aged eight. Years later she went on to host a successful supper club with her husband, before running award-winning restaurant The Little Viet Kitchen in London's Islington. Her focus now, she says, is on "being Mummy to baby Jacob, writing cookbooks and sharing food in as many ways as possible". Her second cookbook, Vietnamese Made Easy (Quadrille £22), is out
this September.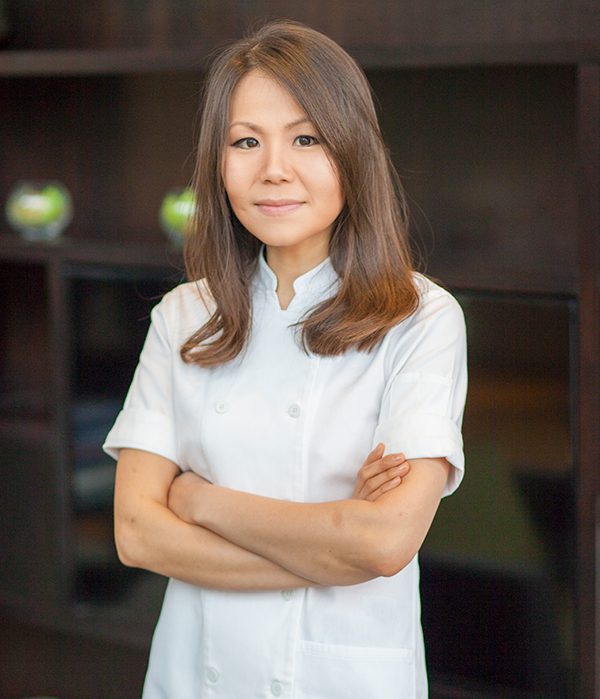 "Growing up in Vietnam on a farm, I watched Grandma and my aunties make the most beautiful meals from home-grown herbs, using meat and fish that weren't good enough to sell at the market. I learned that, as a cook, you're in control of creating the best from what you have. Following Mum around the kitchen, I picked up the secrets of traditional Vietnamese cooking that she learned from her mother.
The French colonisation of the region in the 19th century had a huge impact on Vietnamese cuisine, introducing braising and baking, and ingredients such as butter, cheese and wine. Now fusion dishes have been cooked for generations, such as bo kho, which adds Vietnamese flavours like star anise, lemongrass and fish sauce to French beef stew, and banh flan, a type of crème caramel infused with pandan or coffee.
One of the most notable French contributions is the baguette, which led to the creation of the Vietnamese sandwich banh mi. The baguette was perfect for combining Vietnamese ingredients such as grilled meat, pickled vegetables and fresh herbs with French pâté and mayonnaise. The French also introduced coffee growing to Vietnam, which is now known for its strong coffee. The combination of French-roasted coffee beans and condensed milk creates a unique Vietnamese coffee experience."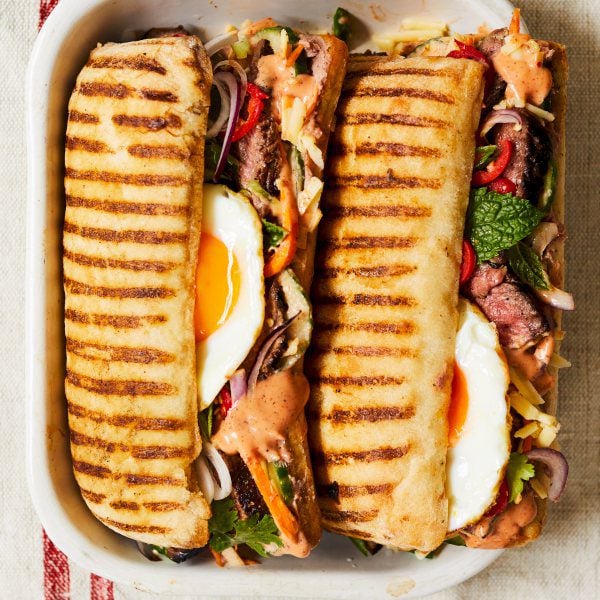 Thuy's rib eye steak banh mi
"French colonisation in Vietnam played a significant role in shaping Vietnamese cuisine, giving rise to fusion dishes such as pho, banh mi, banh xeo and bo kho to name but a few. I've continued this tradition of fusion and created this new and delicious take on banh mi, showcasing the cross-cultural culinary creativity that makes Vietnamese cuisine so unique. I love fusion but feel you should note the key elements of what makes the original so good and make your changes respectful."
Kerth Gumbs
"Once you have the foundations of French cookery, you can transcend them"
Kerth's story
Back in Anguilla his mother was an admired chef who inspired him to study food and nutrition. The Michelin-starred kitchens he's worked in include Tom Aikens' Chelsea flagship and Joel Robuchon's L'Atelier. He was a finalist in Great British Menu 2020 and is now head chef at Fenchurch Restaurant in Sky Garden, on level 37 of London's Walkie-Talkie building.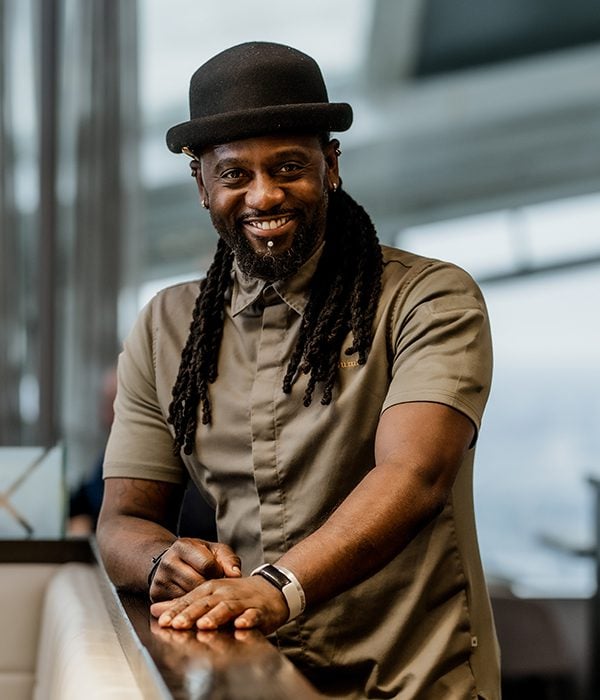 "When I was in my teens, Le Cordon Bleu came to promote their classic training programme at my school in Anguilla. I had a scholarship to be a track and field athlete, but when that got postponed because of some delinquent behaviour on my behalf, I changed path, and in January 2004 I came to study in London at Le Cordon Bleu… I'd never been somewhere so frostbite cold! After learning the classic techniques and sauce terminology – velouté, bechamel, hollandaise – I went on to work in ultra- modern fine dining restaurants.
French cuisine has the ability to stimulate curiosity and I realised that once you have the foundations and have gone through that training, you can transcend or diversify, which is what I'm doing now. Back when I started French chefs were the holy godfathers, and the influence of French cooking is still important around the world.
In Anguilla we had a relationship with French Caribbean islands such as Martinique and Dutch/French Saint Martin – so it was a natural path for me to evolve Caribbean cuisine with reference to classical French. I'm putting my knowledge onto the dishes I grew up eating, shining a light on Caribbean ingredients. When you put your own spin on what you do, it isn't classical any more – it becomes modern."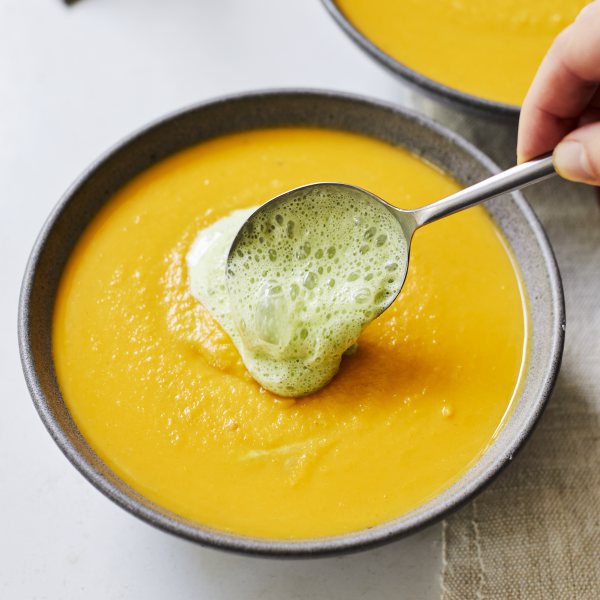 Kerth's butternut squash velouté
"This dish is inspired by classic soups and takes me back to my introduction to French cuisine. At the same time I've brought the memory of my home by cooking the butternuts and pumpkins in coconut milk. I've married my love for spices with sweetness, with an added note of adventure through the green curry aromatics."
Jun Tanaka
"The brigade hierarchy does work but our kitchen isn't very military"
Jun's story
Born in the US, chef Jun grew up in Japan and the UK, and learnt classic French cuisine from Marco Pierre White, Philip Howard and the Roux Brothers – working at Restaurant Marco Pierre White, The Square and Le Gavroche. In 2015 he opened The Ninth in London's Fitzrovia, which holds one Michelin star.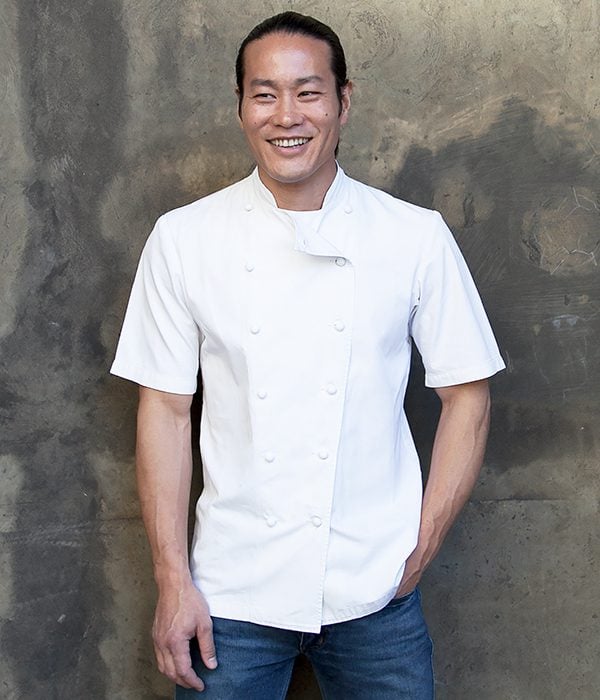 "I started at Le Gavroche in the early 1990s. Walking into that kitchen with no experience was incredibly challenging. With French cuisine there's a lot to learn, and it's difficult. It's the foundation of a lot of different cuisines because of the base recipes for making sauces etc, but every kitchen does things differently. Everything I do at The Ninth is based on classic French cooking in terms of flavour combinations and the way we make our sauces, but we're not classic French at all: we're more Mediterranean. I prefer the fresh, vibrant flavours of that cuisine.
As to the brigade hierarchy, it does work but our kitchen isn't very military. We have head chefs, a junior sous chef and chefs de partie, but everyone does everything; there's a level of respect. I think a kitchen hierarchy is about who's responsible rather than who's in charge. We test recipes as a team and I learn from everyone in the kitchen."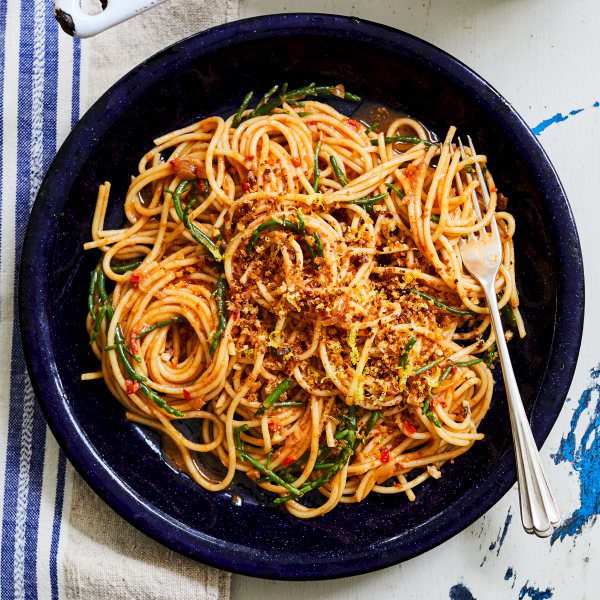 Jun's soupe de poisson spaghetti
"A similar, classic Italian-style recipe would all be cooked in the pan to order. But we do it by making an anchovy sauce separately, using a fish soup recipe from the south of France as a base. This gives a depth of flavour that comes from the classic French knowledge I've acquired over the years. That knowledge is always there."
Find Jun's soupe de poisson spaghetti (anchovy spaghetti with garlic and chilli) here
Gregory Marchand
"My cooking is rooted in France – it's my life story"
Gregory's story
The man behind international restaurant group Frenchie (the nickname given to him by Jamie Oliver), Greg trained in Brittany and went on to work in London, Hong Kong and New York, including a spell as head chef at Jamie's Fifteen. Frenchie has three branches in Paris, including its Michelin-starred flagship, plus outposts in London, Verbier and Biarritz.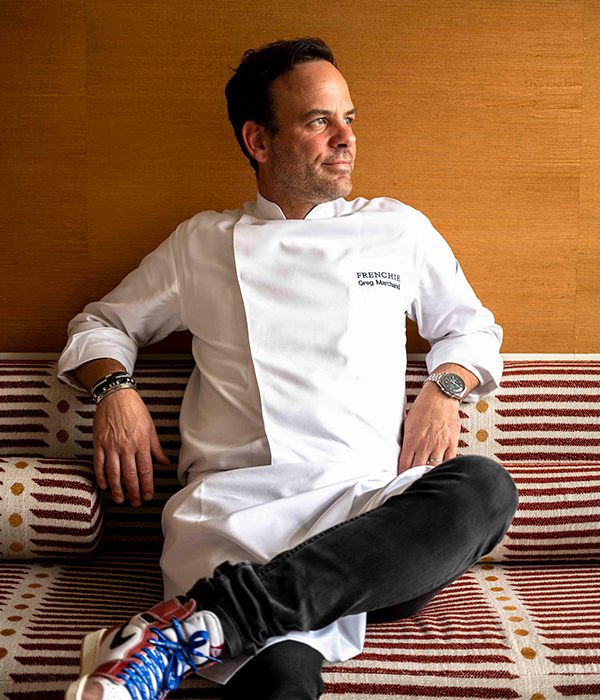 "The first dish I learned to cook was when I was 14: escalopes de veau à la normande, with mushrooms and cream. It was the only recipe I knew and I cooked it for the other children at the orphanage where I grew up (I lost my parents when I was little). At 16 I spent four years at cookery school, learning the basics. The cookbook we used was La Cuisine de Référence by Michel Maincent-Morel, and recently I saw that one of my apprentices is using the same book almost 30 years later! French cuisine is important because it classifies cooking – it's still very relevant and a reference in the world of gastronomy. What has changed is what you do with it, how you make it yours. I had 10 years of travelling the world with my work and it was great to discover new produce and techniques, to see how each country has their own style. But my cooking is rooted in France – it's my life story."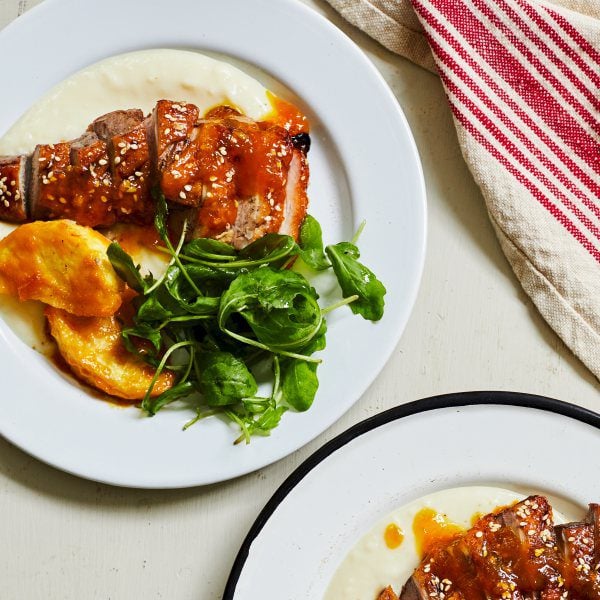 Gregory's duck, orange and sesame
"This is a beautiful dish. We use Challans duck from Madame Burgaud, a well-known French supplier. We dry age it for three weeks, then roast it with honey so the duck goes beautifully crispy. I like celeriac a lot – roasted, puréed, cooked any way. It's a great vegetable."
Subscribe to our magazine
Food lovers, treat yourself this Christmas... Enjoy 12 months of magazines for £29.99 – just £2.50 an issue.
Subscribe
Unleash your inner chef
Looking for inspiration? Receive the latest recipes with our newsletter