Tried and tasted: the best new Easter eggs for 2021
We don't know about you, but Easter this year has us wanting to go all out with the eggs like never before. Maybe it's that being locked down for such a long time has us primed and prepped for celebration at all costs. Who can say…?
So without further ado, here are the best new Easter eggs for 2021. We know that Easter this year might be a little different to the norm so we've tried to include Easter eggs that you can purchase online or from major supermarket chains.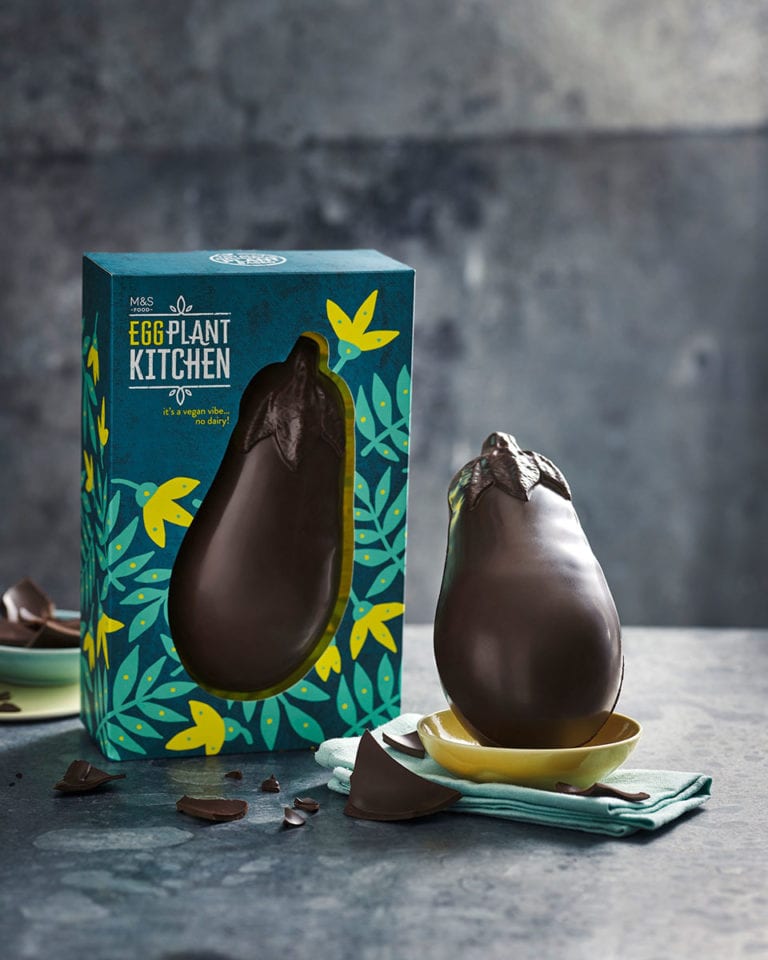 Is this heaven in a nutshell? This ingenious and hefty acorn by London brand Melt Chocolates is half dark chocolate, half milk with crunchy almond pieces, finished with a candied orange stalk. A beautifully boxed (and plastic-free) showstopper you'll want to squirrel away. Available from Melt Chocolates (£34.99).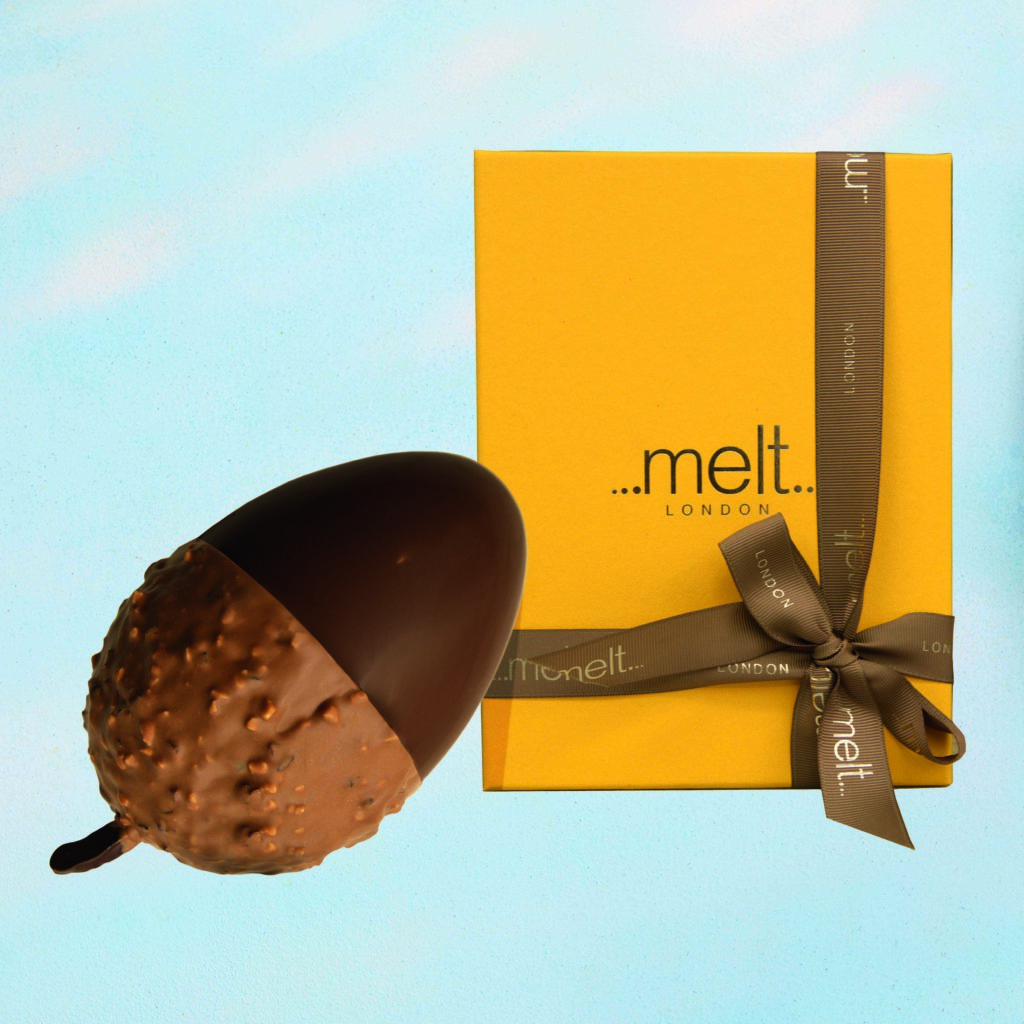 The Chocolate Libertine Blonde Chocolate Crackle Egg with Caramelised Peanut Clusters
The Chocolate Libertine is known for its vibrant cocoa butter-painted creations. This blonde crackle egg looks more low-key but delivers on flavour: inside the buttery, caramelised white chocolate shell are caramelised peanut clusters with a smack of sea salt. Packaged in a compostable bag. Available from The Chocolate Libertine (£12.95).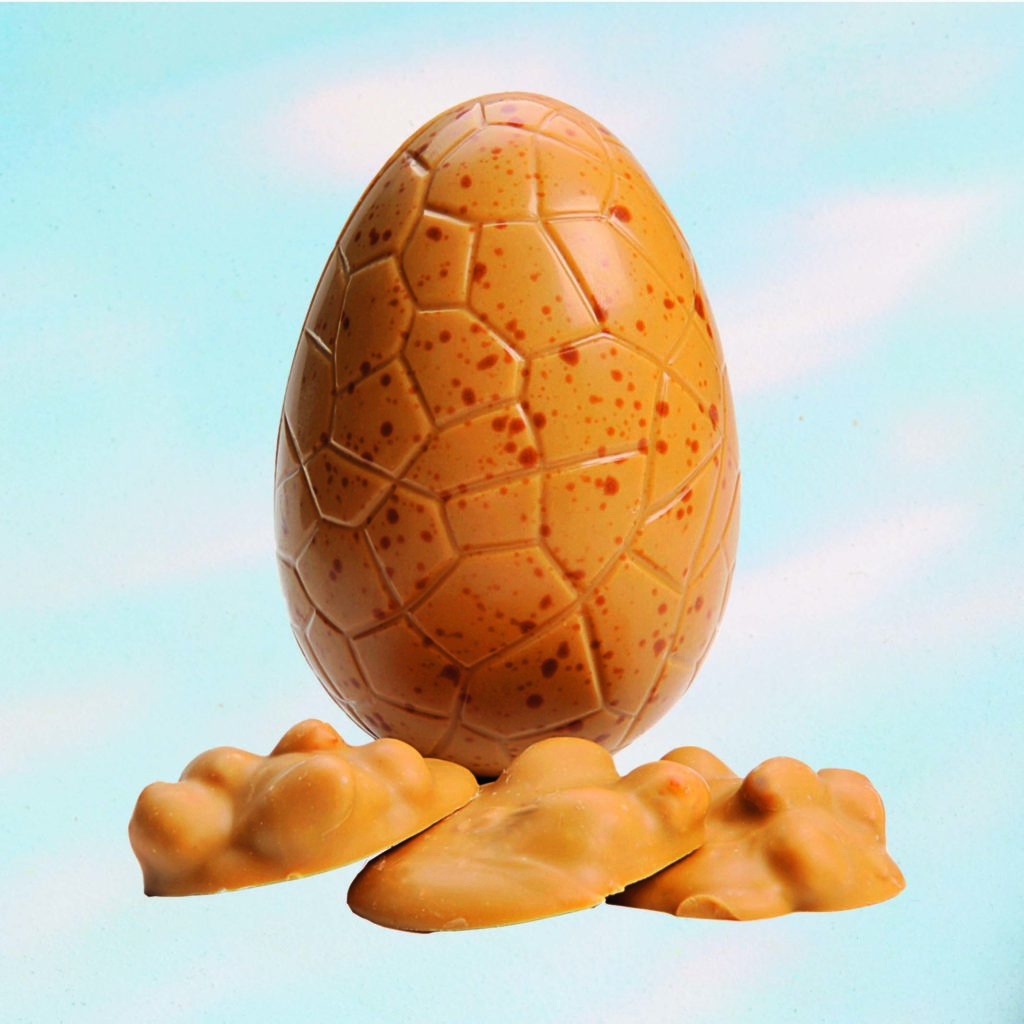 Co-op Irresistible Valencia Orange Crunch
This orange-infused Fairtrade chocolate egg is arguably more irresistible than its famous chocolate orange rival. The creamy milk chocolate has a real orange flavour – not artificial tasting – and the thick-walled Easter egg means there is bang for your buck here. Packaged without plastic for eco-friendly points. Available from the Co-op (£6).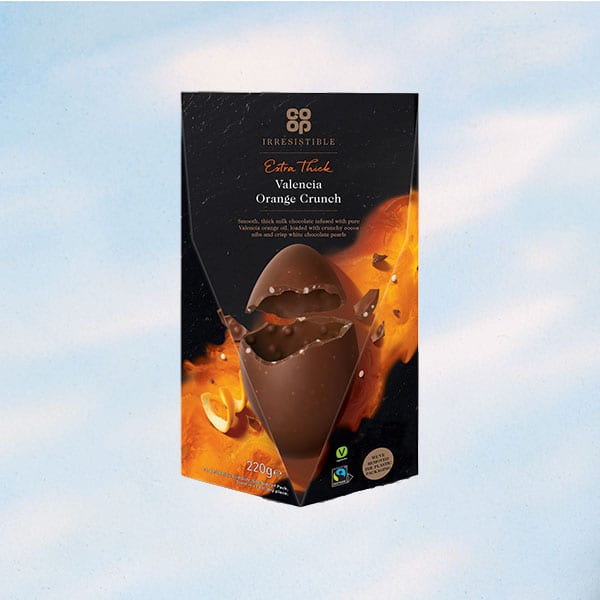 Chocolarder Sail Shipped Arhucaco 67% Dark Chocolate Egg
Chocolarder's toasty Arhuaco 67% dark chocolate tastes great – but it's even better knowing the Falmouth-based bean-to-bar maker pays cocoa farmers fairly and uses plastic-free packaging. The beans even travelled from Colombia to Cornwall by sea instead of being flown. Not a dark choc fan? Try the gorgeous 50% milk with Cornish heather honeycomb instead. Available from Chocolarder (£22).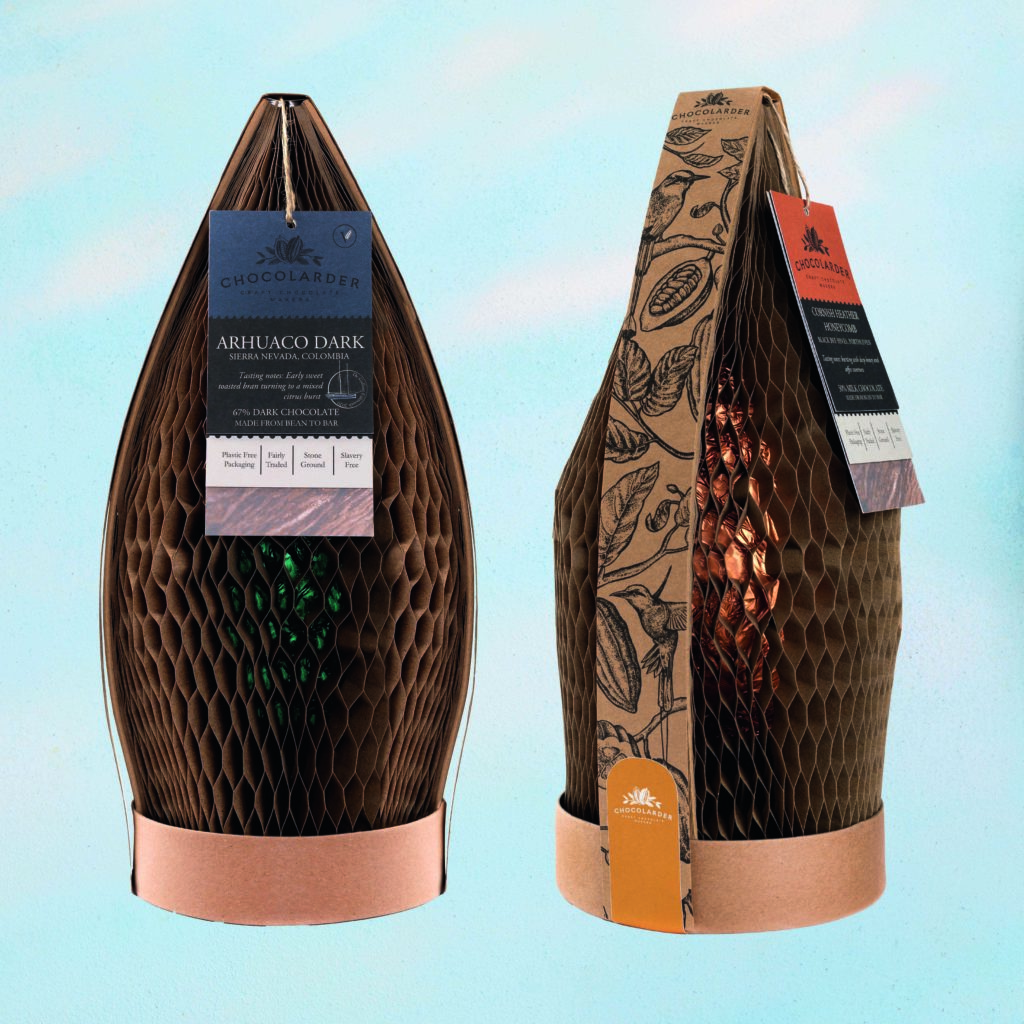 White Chocolate Twix Easter Egg
If you know, you know… the White Chocolate Twix reigns superior over its milk chocolate counterpart. This XL white chocolate egg is super sweet, and super creamy and comes with three full-sized bars of White Chocolate Twix, too. Perfect for tea-dunkers and for those who stand firmly in the white chocolate camp. Available from Tesco (£5).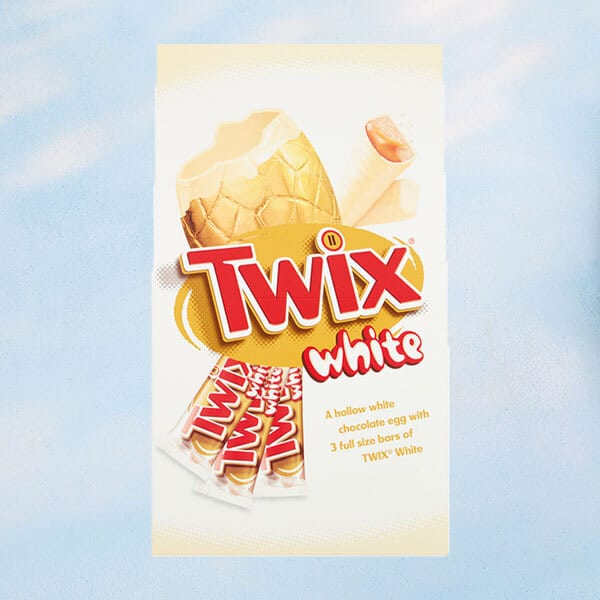 Rococo Chocolates Vegan Milk Chocolate Egg
The beauty is in the presentation with Rococo Chocolates' thick-shelled eggs, tied with a ribbon and boxed in the boutique brand's signature toile. New this year are trendy flavours orange milk and ruby choc, but we rate the outstanding new cashew-based vegan recipe, complete with cocoa-dusted roasted hazelnuts inside. Dreamy. Available from Rococo Chocolates (£32.95).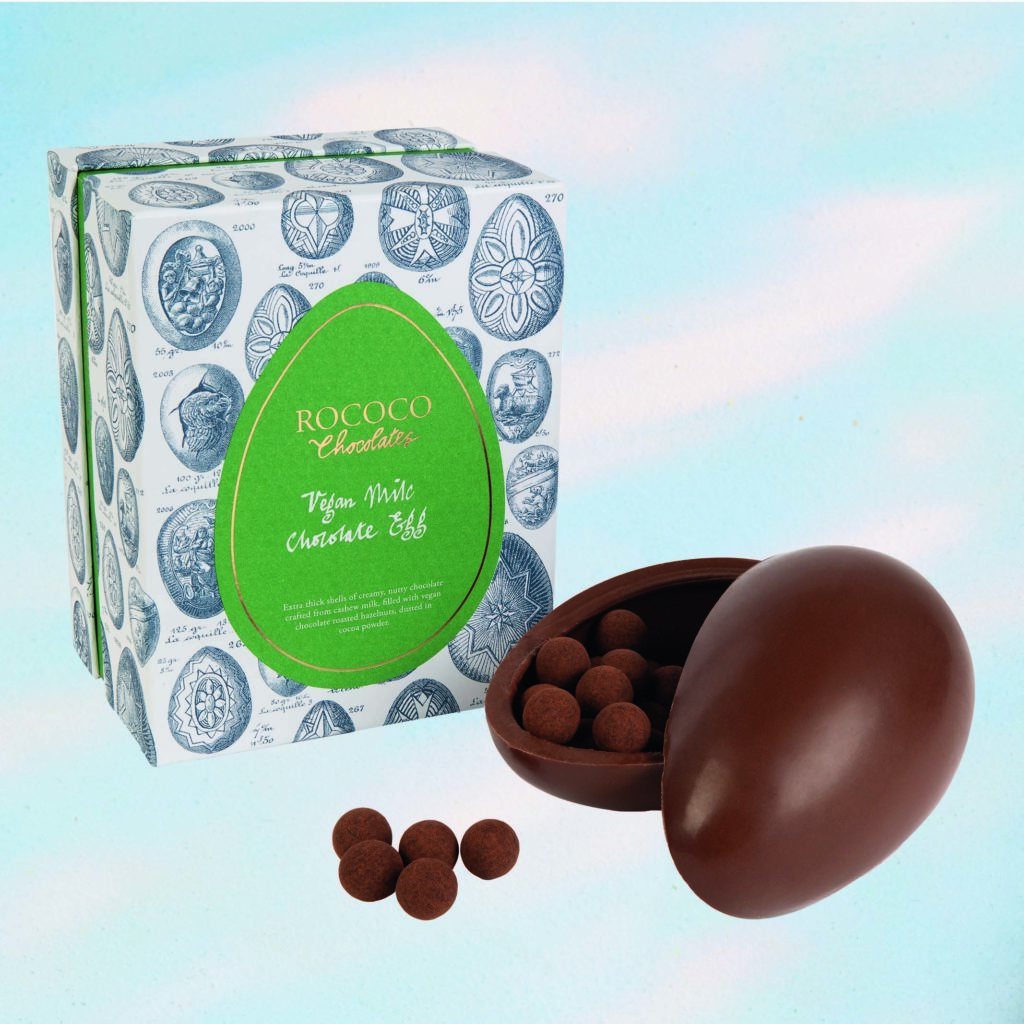 Doisy & Dam Dark Chocolate Almond Nuttercup Egg
The full size Doisy & Dam Nuttercups Easter Egg comes with two packs of their much-loved Almond Nuttercups, each filled with smooth almond butter. The egg itself is rich with a hint of acidity – this taste like an Easter egg for grown-ups. It's so moreish you could easily finish this in one sitting… Not saying we did, or anything… Doisy & Dam's Colombian chocolate is ethically sourced, single-origin and palm oil free. Now that's what we call a good deal. Available from Doisy and Dam (£8).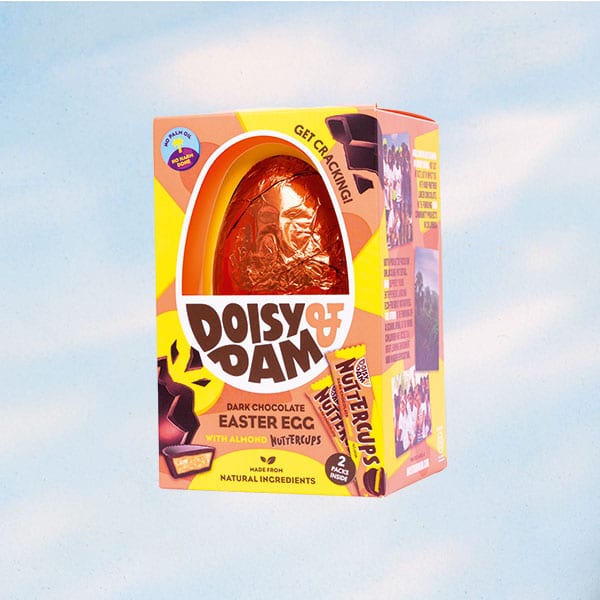 Lakrids by Bülow crispy caramel chocolate coated licorice
Salt liquorice coated in crisp caramel chocolate you say? YES PLEASE! If you think you don't like salt liquorice, these 'Crispy Caramel' pops of flavour could well convince you otherwise, with an indescribably moreish, just-one-more appeal. For fruit lovers, this Danish confectionery brand, Lakrids by Bülow, also has a 'Twisted Banana' version, with creamy white chocolate as the outer. Neither are super-cheap, but a brilliant choice if you're looking for something really different. Available from Lakrids by Bülow (£25).
Divine Tangy Orange Milk Chocolate Easter Egg and Divine Smooth Hazelnut Dark Chocolate Easter Egg
Rococo Chocolates a little out of your price range? Fair trade brand Divine has new eggs in a similar vein: tangy orange milk and a vegan dark chocolate with hazelnut praline that tastes like posh Nutella. The packaging is fully plastic-free, too. Available from Divine Chocolate (£5.50).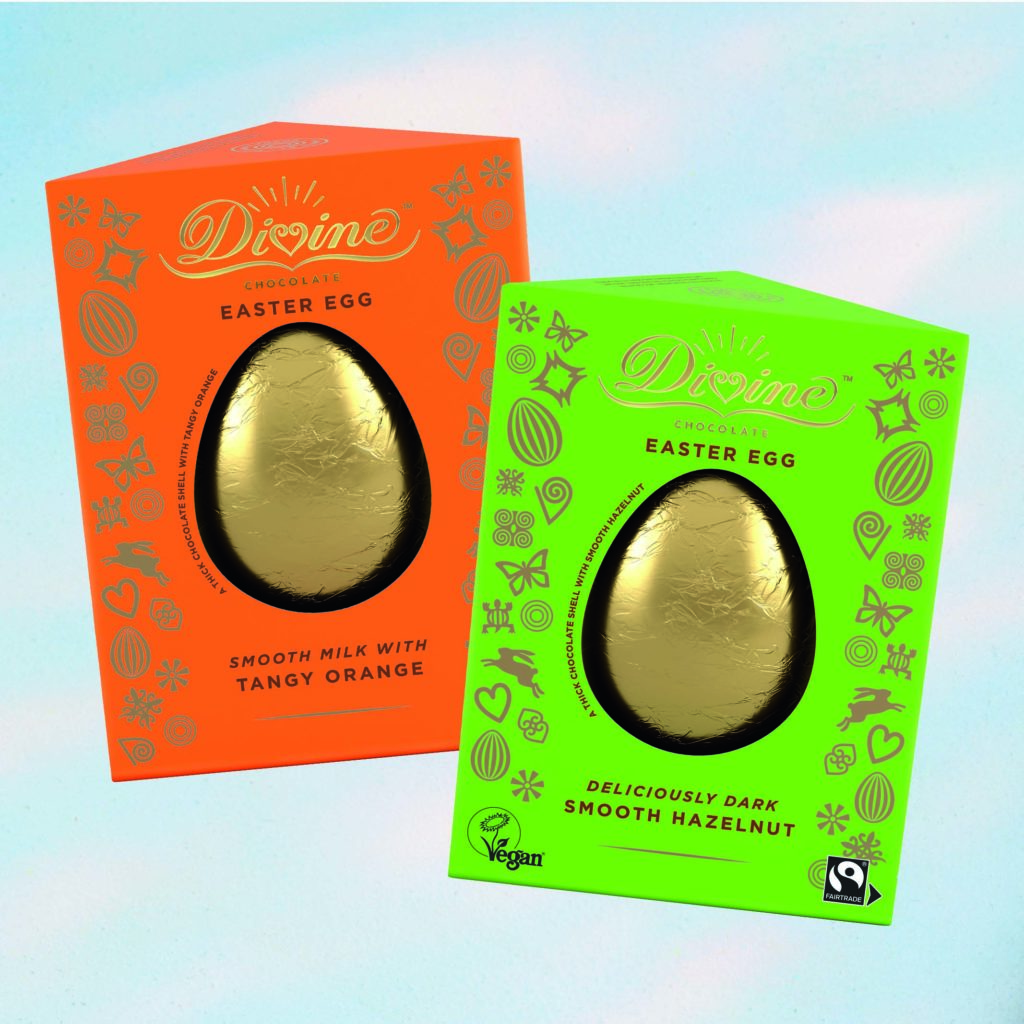 Montezuma's Chocolates Orloff the Milk Chocolate Speckled Hen
Adorably rotund Orloff is made from ethical brand Montezuma's organic milk choc, with white and dark feathery flecks to mimic the real-life speckled breed. Sweet and creamy, this chook is a kid-friendly crowdpleaser and comes in fully recyclable packaging. Boxes of chicks also available… Available from Montezuma's (£9.50).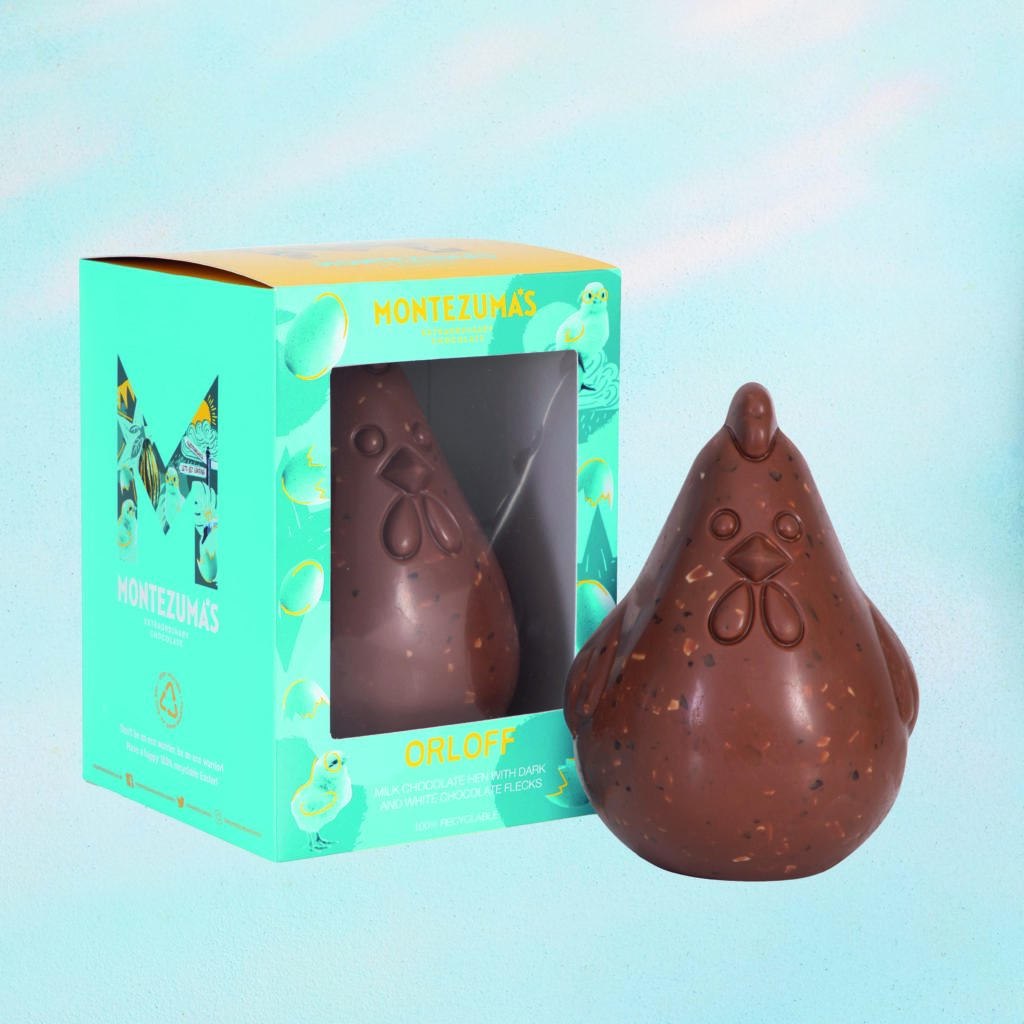 The supermarket's cookies-and-cream and strawberries-and-cream super shakes are undeniably OTT (and on the sweet side) but are child-approved: art director Joss's kids Barney aged eight and Sonny and Jacob, six, gave them a big thumbs up. Available from Aldi (£6.99).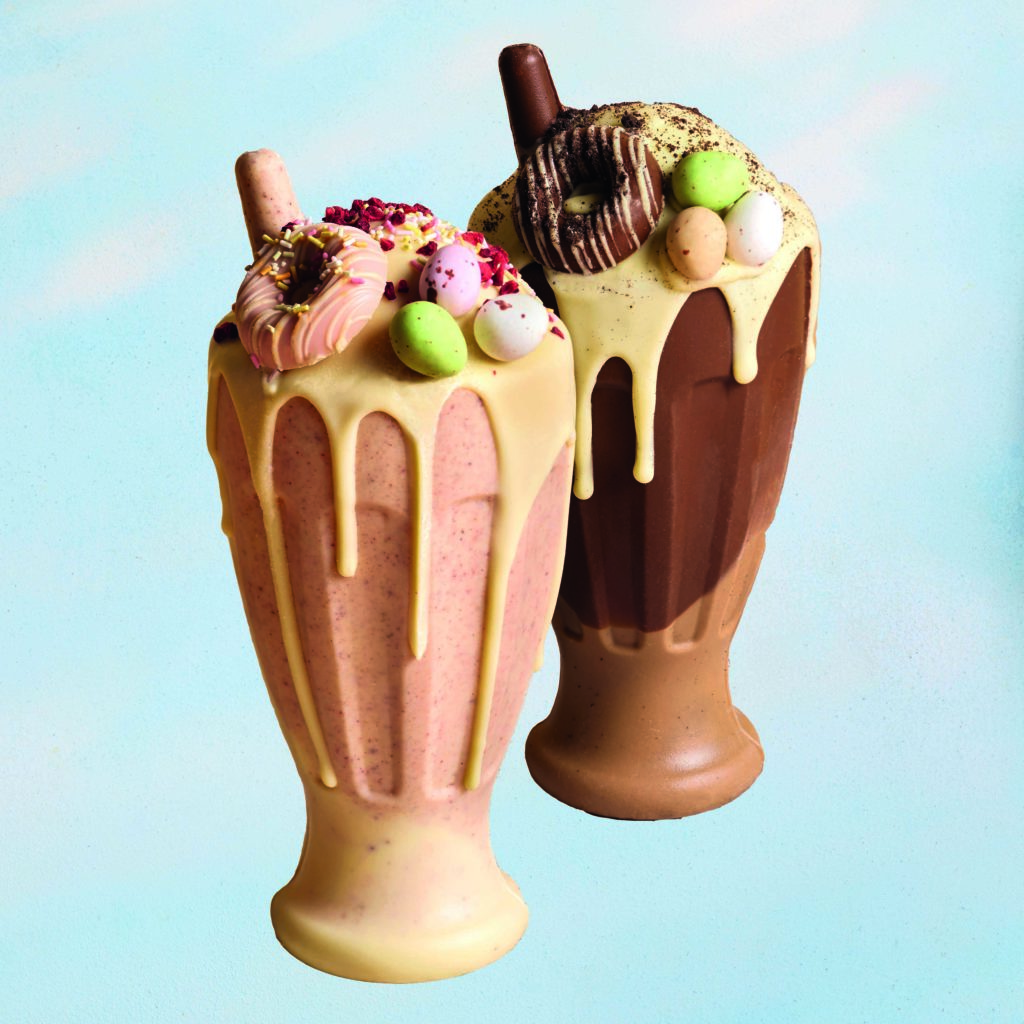 M&S Walter the Sausage Dog and Eggplant Kitchen
After the success of Easter novelty Sid the Sloth last year, M&S has created some more smile-worthy treats for 2021. Our favourites: Walter the adorable sausage dog (sure to be a sell-out) and a vegan dark chocolate aubergine (a play on the supermarket's vegan line, Plant Kitchen), which has an impressive depth of flavour. Available from M&S (£5 and £6 each).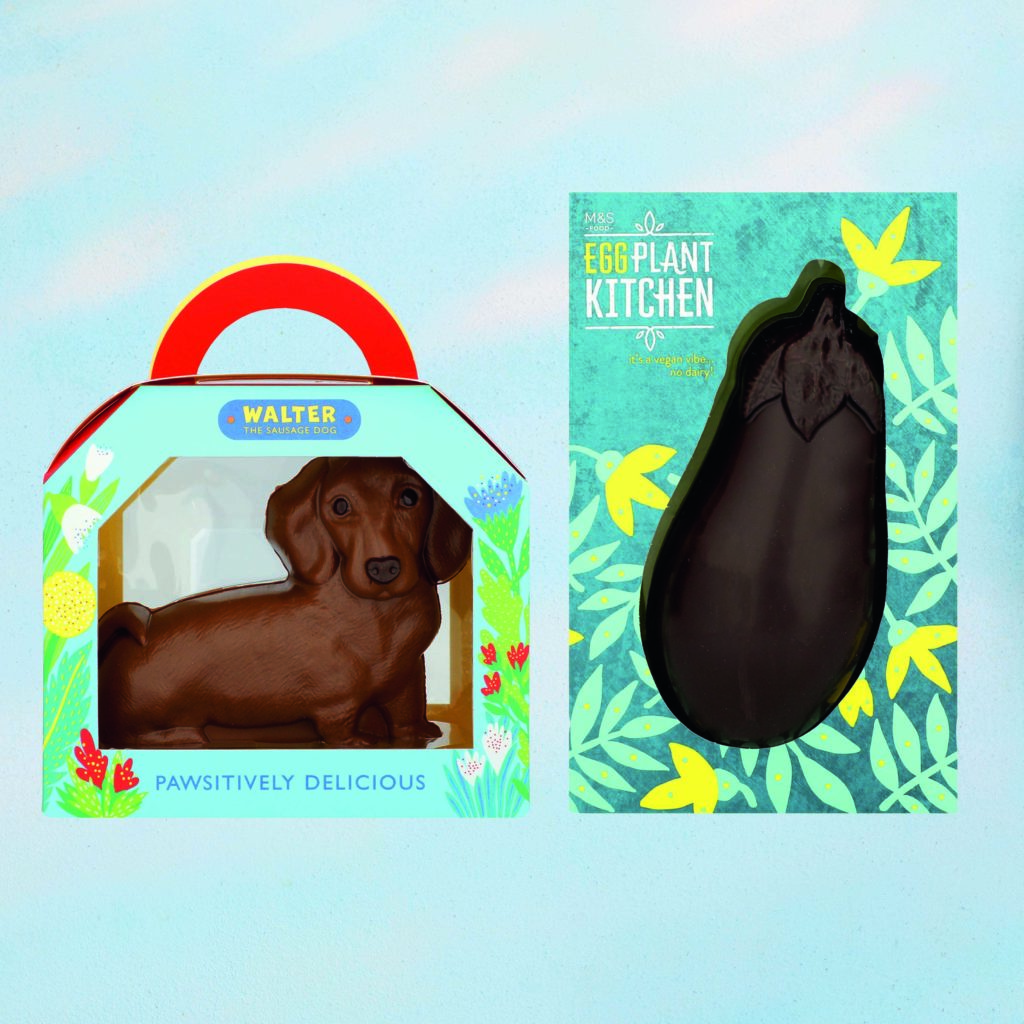 Majani Pistachio and Milk Chocolate Hazlenut Flat Easter Egg
If you're looking for something different, this 2D, giant egg of gentle creamy white chocolate is studded with chunks of pistachios. It's a sophisticated treat for Easter. Plus, you can enjoy it safe in the knowledge that all Majani's chocolate is suitable for vegetarians and comes wrapped in recyclable packaging. Available from Selfridges (£17.99).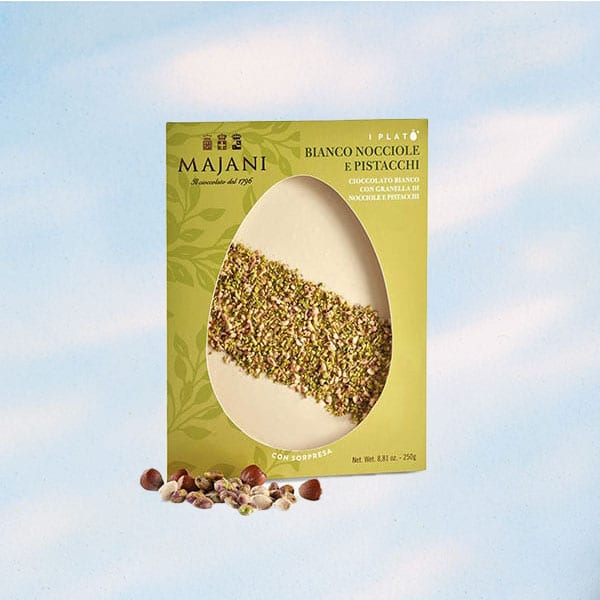 Chocolarder Toasted Oat Milk Gola 60% Easter Egg
Want the intensity of dark chocolate without the bitterness? We understand – and so do Chocolarder. Luckily, their new toasted Gola Oat Milk egg solves the problem perfectly. Made with 60% oat milk, unrefined raw sugar and cocoa beans, the egg replicates the creaminess of milk chocolate without the need for dairy. The cocoa in this egg has been grown in collaboration with Sierra Leone's Gola Rainforest Park, to ensure the cocoa production does not contribute to deforestation. The packaging is plastic-free – so this is a guilt-free treat. Available from Cadbury Gifts Direct (£24.99).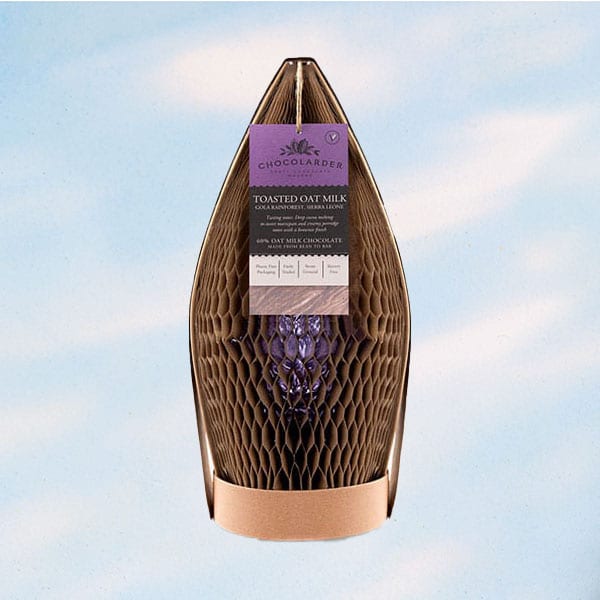 Allpress Bennetts Chocolate Eggs
If coffee-flavoured chocolate is your thing, these perfectly-formed eggs are for you. AllPress have collaborated with New Zealand chocolatier Bennetts for these limited edition eggs, packaged up for Easter in a recyclable classic egg carton. With three eggs of each flavour, the box includes dark chocolate double espresso eggs, and a velvety milk chocolate egg with a double shot of A.R.T espresso roast. Available from AllPress (£15).