Buying a pizza oven: we road test the best
Is there anything more appealing than the idea of cooking restaurant-quality pizza in the comfort of your own garden? During lockdown, sales for pizza ovens went through the roof, making it clear that the appeal for DIY pizza is absolutely there. As the market has a lot to offer, we've done our bit to help out and have reviewed four of the most popular free-standing pizza ovens.
If you're looking to upgrade your al-fresco cooking situation, check out our recommendations. You'll be creating the Neopolitan-style charred-edged pizza of your dreams with your very own hands, in no time.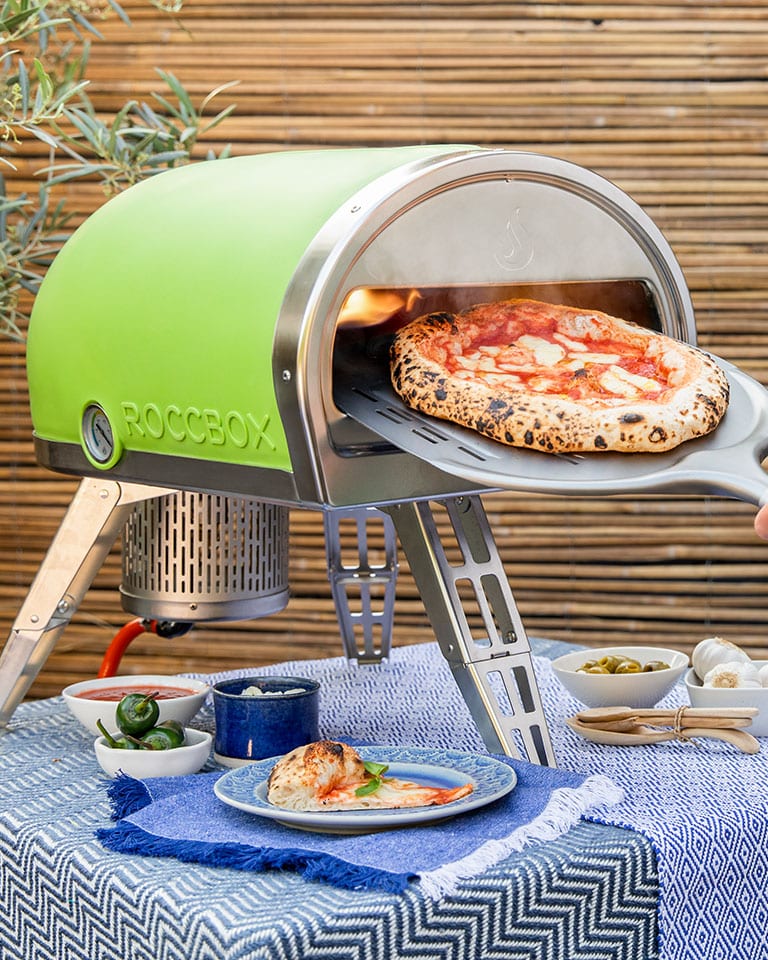 Believe in the hype?
Making pizza at home is always fun, but with conventional ovens, the crust often dries out or goes too crispy by the time the toppings are cooked. Fret no more, friends. With these 3 pizza ovens, you can cook a crispy-edged, chewy crusted pizza, rather quickly (in 90 seconds or less, to be precise).
There's a huge range of sizes, types and costs of ovens, with some coming in at more than £1,000. We've stuck to those that are £500 and under in this review, and have chosen ovens that should work in various sizes of gardens (or even on balconies), and are pretty portable meaning they can be taken on holiday, on camping trips, or just to a picnic.
We highly recommend you make your own pizza dough for a truly authentic pizza experience (plus, it's so satisfying to see the end results). However, should you be short on time or energy, our top product pick would be the Jus Rol sourdough pizza dough, which can you buy from Waitrose for as little as £1.68. It's fluffy, sweet and totally hassle-free.
5 of the most popular portable pizza ovens
The Gozney Roccbox is a restaurant-grade portable pizza oven, which reaches 500°C. Gozney is known in the UK for a successful commercial oven business, and their restaurant-sized pizza ovens are used by the likes of Franco Manca, Homeslice, and Pizza Pilgrims to name but a few. The Roccbox is designed to work like these commercial ovens, with a yellow rolling flame which gives the consistent bake we are all striving for, and the leopard-like spotting along the crust of the pizza.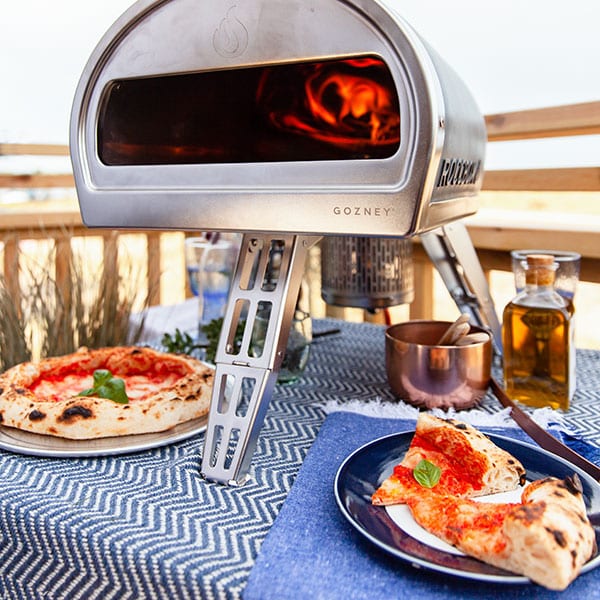 What's special about it?
The Gozney Roccbox uses thicker stone than the other ovens we tested (30mm) which means the oven retains heat and cooks the pizza from the bottom up as well as the top down. This ensures the crust rises evenly and the pizza doesn't end up burnt on the top while soggy on the bottom. It's easy to set up, but you do need to get your hands on patio gas and a canister. You can find this at petrol stations or many suppliers of Calor gas, who will deliver. Then it's just a case of hooking up to your oven, switching it on, and waiting 30 minutes for your Roccbox to reach temperature. The oven comes with a pizza paddle so you have all the tools you need to get cooking.
Once hot, the Roccbox will cook your pizza in 60 SECONDS! We tested Neopolitan style pizzas, as well as pides (best cooked a little lower at 300°C to ensure they don't burn) chicken wings, and peaches (roasted for a salad with ricotta). The Gozney is a revolution in outdoor cooking. The finished pizza tasted like it came from a pizzeria, but better! It was hotter and fresher than any restaurant pizza, and the crust was the perfect level of chewy and crisp. Gozney offer loads of video recipes on their website, from garlic naan breads to lahmacun, so go on – get cooking!
In short
Top marks for design, ease of set-up and use, and the restaurant quality pizza!
Gozney Roccbox is available at gozney.com for £399, with the option of both gas and wood-fired (just scroll to choose your fuel)!
Optima Pizza Express Napoli

The Pizza Express Napoli is an electric tabletop mini version of a professional pizza oven, manufactured near Modena, and has been on the go for over 20 years. It's a very simple construction: pizza stone, two heating elements that reach 450°C (way higher than a domestic oven) and a lid. The cooking surface, made of traditional real fire stone, absorbs moisture from the dough and gives the pizza base a really good chewy crispiness.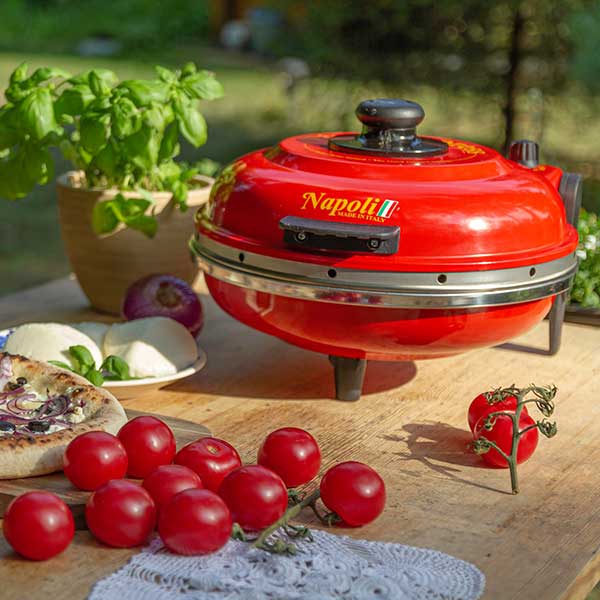 What's special about it?

It's perfect if you don't have outside space for a full-sized wood-fired oven (or even want the faff). The stone base and electric element in the lid reach the heat of a commercial pizza oven in just 10 minutes and another few minutes later you're guaranteed a pizza that's way better than you'd expect. In Vespa red it looks quintessentially Italian and is great for a little party: once you get into the swing you'll be serving up a fresh pizza every 4-5 minutes. And not just pizza – you can make flatbreads, focaccia and the like on this too.
In short
Nothing not to like here – affordable, versatile and will deliver you the perfect pizza every time. It comes with a warning to take care not to allow the topping to spill onto the stone (I can verify it will guarantee lots of smoke!).
The Optima Express pizza oven is available from Pizza United for £159. There's a 10% discount for delicious. readers (quote code 'Delicious') until 7 April 2021.
Ooni Koda pizza oven

Probably the best-known of the at-home pizza oven brands, Ooni co-founders husband-and-wife team Kristian Tapaninaho and Darina Garland were the first to launch a portable wood-pellet-fired pizza oven in 2012. They now have 5 pizza ovens in their family, plus a brilliant range of pizza making accessories to recreate the pizzeria experience at home. The Ooni Koda is the gas-fired version of the entry-level family pizza oven and is designed to make pizzas up to 13 inches (also available is the Ooni Koda 16 that knocks out super-sized pizzas up to 16 inches).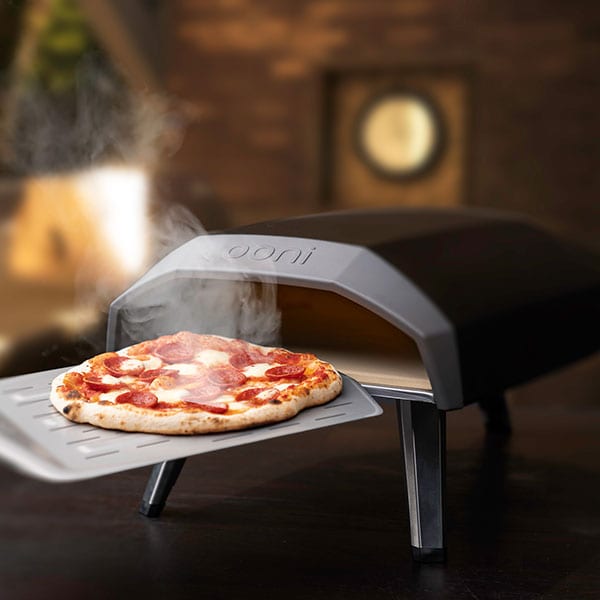 What's special about it?

Compact and portable, the Koda is super quick to set up with no assembly required. It connects to a regular gas barbecue canister and has a built-in gas ignition and temperature dial, which is pretty simple to get the hang of. We loved the size and this model and reckon it's a great buy if you're looking for a fun gadget to take on camping trips. The Koda fired up to over 500ºC in about 15 minutes, and the sourdough pizza recipe we tested baked to crisp blistered perfection in about a minute. The crust (or cornicione as it's professionally known) puffs up wonderfully with the all-important leopard print char. As well as pizzas, the Ooni can be used to roast meat, fish and veggies – which is where the temperature dial comes in handy (no one wants burnt steak). If you really want a smoky flavour – you do get a hint of that with gas, but it's not going to be quite the same as a wood-fired oven.
In short
Top marks for affordability and usability. This oven gets to temperature impressively quickly.
The Ooni Koda gas-fired pizza oven is available from uk.ooni.com and other retailers including lakeland.co.uk and johnlewis.com, starting from £249.
Ooni also offer sourdough pizza dough balls available to buy frozen, and their Pizza Provisions boxes, full of exciting toppings. We have tried and tested and can confirm they make amazing pizzas. £39 for 24 balls, available at ooni.com. The provisions boxes change with the seasons, and are available from £39.99.
Another contender that we urge you to consider within the same league as Ooni and Gozney ovens, is the Ventura Ibrido. Made in Germany, it certainly delivers in terms of German efficiency and promises to achieve restaurant-style pizzas in a matter of minutes. It's also a really beautiful machine, resembling an old steam engine, and is fab for entertaining.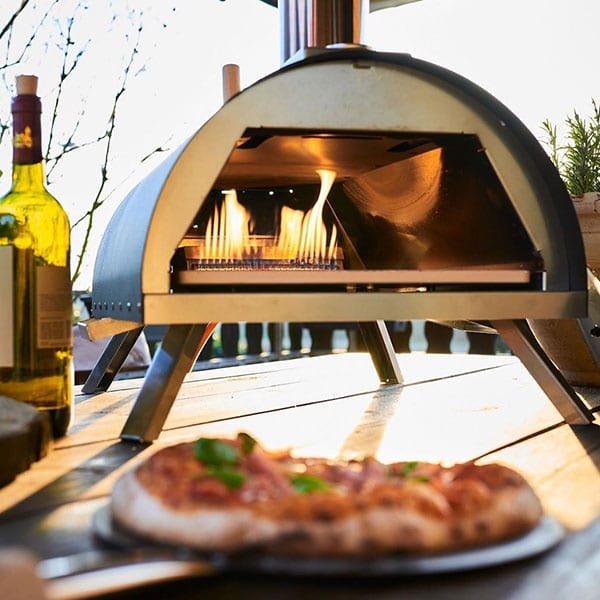 What's special about it?
Consider this a hybrid pizza oven, if you will; not only can you light it up the old fashioned way, with wood and fire starters but you can also hook it up to a gas canister. If you've got guests round, definitely opt to heat it with wood as the flames will beautifully roar away at 400 degree temperatures with smoke billowing out of the chimney and your guests can gaze in awe at their pizza cooking before their eyes. In terms of portability, it's a great option as it has handy foldable legs and the chimney dismantles really easily. We'd recommend it over heavier models if you do plan to take it on the road with you, or perhaps fancy bringing it along on holiday. It cools down relatively quickly afterwards too, meaning you don't have to hang around for long to take it home. One thing to note, is that it's best to get the stone plate absolutely piping hot before firing in your pizza – for optimum results and a speedier cooking time.
In short
Top marks for its billowing chimney, which comes with the added bonus of a theatrical cooking process. We like to think of this as the Thomas the Tank Engine of pizza ovens.
The Ventura Ibrido is available at homepizzaovens for £305.
DeliVita

If James Bond had a pizza oven, this is the model he'd be rocking. Handmade in Yorkshire, this has Aston Martin sleek, with the clay oven covered in a fibreglass shell in a choice of vibrant red, orange, navy, olive green or black. The oven even stays cool underneath, and surprisingly weighs only 30kg so is portable enough to be enjoyed anywhere. The DeliVita is wood-fired, but you can get it to 500°C surprisingly quickly.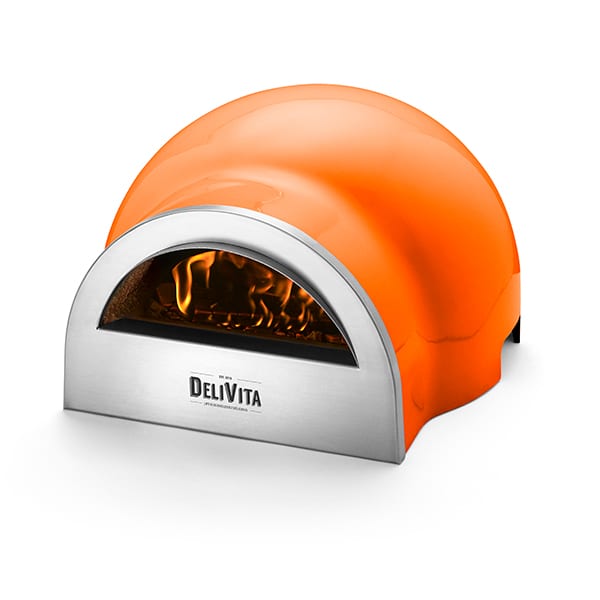 What's special about it?

The completely waterproof shell means this oven can sit outside in all weathers, with its exterior resistant to cracks. And, because of its size, the DelVita is a great vessel to cook meat, fish and roast vegetables in. The oven takes between 20 and 30 minutes to heat up, but with that price tag, you'll need to make an awful lot of pizza before you've earned your money back.
In short
The largest of the ovens we tested, the DeliVita is a hard-wearing, weather resistant traditional clay oven that's perfect for those looking for a classic, wood-fired oven that looks chic.
The DeliVita pizza oven is available from DeliVita for £1295.
Have you taken any pizza ovens for a test drive? Let us know your favourites in the comments below.