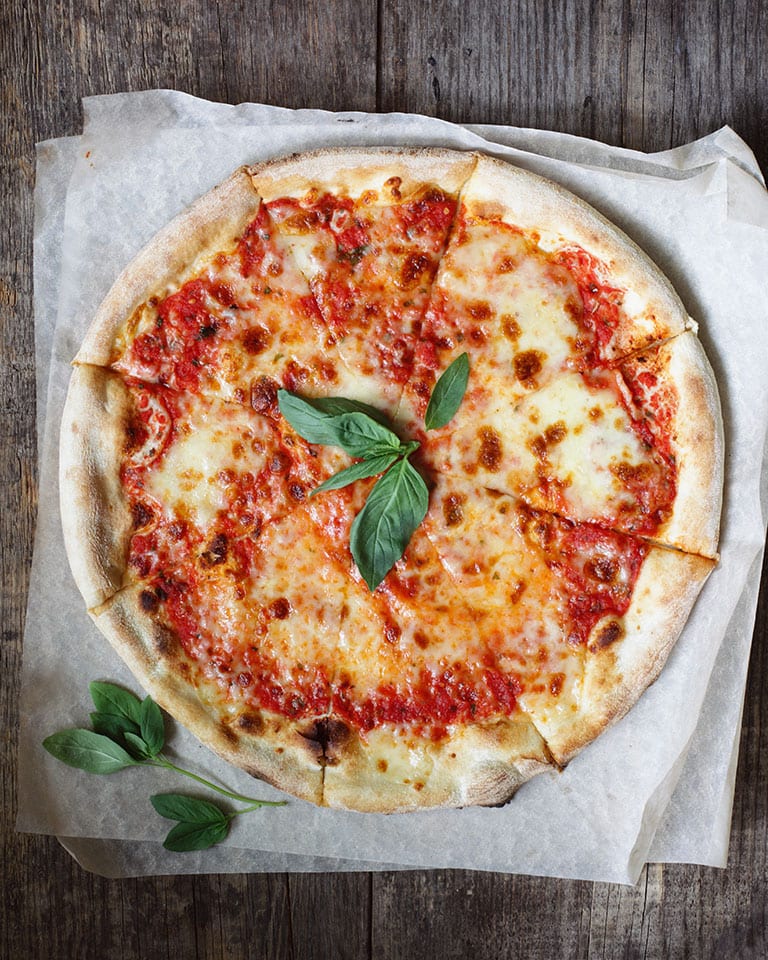 Test kitchen approved
Makes 4 x 22-24cm regular pizzas.

Hands-on time 30 minutes, plus several hours resting and proving.
Sourdough pizza takes a little more time than dough made with instant yeast, but the results are worth it. This recipe is easy to make and doesn't involve much more effort than a little forward planning.
If you're not yet a sourdough fanatic we've given an option for using regular yeast, but recommend a long prove to get maximum flavour in the crust! Bellissimo.
Nutrition: per serving
Calories

692kcals

Fat

28.9g (10.9g saturated)

Protein

26.1g

Carbohydrates

79.2g (4.4g sugars)

Fibre

5.4g

Salt

3.4g
Ingredients
For the pizza dough…
50g lively sourdough starter (see Knowhow)
260g tepid water (plus 25g to feed the starter)
1 tbsp extra-virgin olive oil
350g strong white bread flour (plus 25g to feed the starter and extra for dusting)
25g wholemeal bread flour
8g fine sea salt
400g tin whole plum tomatoes (we used the san marzano variety)
2 fat garlic cloves, sliced
2 tbsp extra-virgin olive oil
½ tsp dried oregano
Handful fresh basil, torn, plus extra leaves to serve
30g parmesan, grated
Dried oregano for sprinkling
200g cooking mozzarella (or buffalo mozzarella patted dry on kitchen paper), roughly chopped
You'll also need…
Pizza oven and pizza peel, or cast iron un-ridged griddle pan/large ovenproof frying pan (depending on how you're cooking the pizzas).
Method
Start the recipe the day before you want to eat the pizza. In the morning, to make sure your starter is lively, discard 50g in weight (or save to make a sourdough loaf – see deliciousmagazine.co.uk for a recipe), then feed with 25g white bread flour and 25g water. Put a plastic band round the container, then leave at room temperature, lid slightly ajar, until the starter is bubbling and has increased in volume (4-6 hours).
In a measuring jug, weigh 50g lively sourdough starter and 260g water, mix until combined, then stir in the 1 tbsp olive oil. In a separate mixing bowl, combine both flours with the salt. Pour the starter mixture into the flour, then mix with a dough scraper, spatula or a wet hand to bring together into a shaggy dough. Cover with a clean tea towel, then leave to rest for 30 minutes.
With floured hands, turning the bowl as you go, stretch and fold the dough over itself, pressing into the middle, until it starts to feel more resistant and firm. Put in an oiled bowl, cover with a plastic bag and leave to rest at room temperature overnight (16-18 hours). The room needs to be quite warm, so if your kitchen is cold it might be best to put the bowl in an airing cupboard.
The next morning, divide the dough into 4 (or 2 large) equal pieces, then shape each into a ball. To do this, first stretch the dough and fold it over itself to form a round shape, then turn the dough ball over and, with cupped hands, pull the dough towards you, turning a few times to create a taught surface. Transfer the dough to a floured baking dish or put in separate lidded containers covered with a plastic bag/cling film, then leave to prove for 2-4 hours at room temperature. If you're not eating until the evening (or the next day or later) put in the fridge to slow-prove – see tips, previous page.
To make the sauce, put all the ingredients (except the basil) in a pan with a generous pinch of salt and freshly ground black pepper. Bring to the boil, then simmer for 20 minutes on a low-medium heat, breaking up the tomatoes with a wooden spoon every so often until reduced and thickened. Set aside to cool, then whizz with a stick blender until smooth. Set aside to cool.
15 minutes before baking, heat/light your pizza oven or heat your grill to hot and have your cast iron/ovenproof frying pan to hand.
On a floured work surface, using floured hands, gently pull and stretch out a doughball to form a circle roughly 22-24cm in diameter for a regular pizza or 32-34cm for a large pizza. Don't let the dough tear – see tips.
Pizza oven method: transfer the base to a well-floured pizza peel. Spread a little tomato sauce on the base, then sprinkle with parmesan and oregano. Top with any extra toppings of your choice. Cook for about 60 seconds, turning with the peel to get an even crust – it takes practice.
Frying pan and grill method: heat the grill to high. Put the base directly
into the griddle/frying pan and arrange the sauce and toppings on top, then cook on the hob over a high heat until the dough starts to puff around the edges and the base is crisp. Transfer the pan to the grill to cook the top – it should only take a few minutes to become golden and oozy, so watch it… Repeat with the remaining pizzas.
delicious. tips
This recipe is wonderful cooked in a pizza oven but the pan and grill method works fine.

Tips from founder of the renowned Ooni pizza ovens:

Can you substitute other flour for bread flour?
Yes, you can use all-purpose plain flour, but you'll need to reduce the amount of water by about 5% (13g less than in the recipe overleaf).

How long can you leave the doughballs to prove (rise) in the fridge?
Once you've shaped your doughballs you can cold-prove them in the fridge for between 8 and 72 hours, then bring the doughballs back up to room temperature (about 2 hours). If the dough isn't at room temperature before you start stretching, it will be too tight to stretch.

Can you freeze leftover dough?
Yes: put the balls in the freezer on baking paper and open-freeze for an hour. Remove and tightly wrap each ball in cling film, then freeze for up to 3 months. To use: unwrap, then thaw at room temperature for 5 hours with the cling film loosely draped over to stop a skin forming.

Tricks for getting a thin, crisp crust
It's best to stretch rather than roll. Once you're ready to stretch, push your fingers into the centre of the dough – don't be afraid to use strength. Push all the way out to the edge so the crust (or cornicione) is filled with air. This ensures the perfect, pillowy crust. Use your knuckles to stretch the dough from underneath and let gravity do the work as you rotate the base. For the perfect thin base, hold up the stretched dough to the light to check how translucent it is. For a Neapolitan-style base, you should be able to see quite a lot of light coming through.

If you don't have a starter (a tangy homemade culture that nurtures wild yeast and adds the sour flavour) it's simple to make one. All you need are three ingredients: strong white bread flour, rye flour and water – plus patience as you need 8-9 days for the starter to develop. If you prefer you can use commercial yeast to make the dough – replace 50g sourdough starter with 5g (1 tsp) fast-action dried yeast.
Subscribe to our magazine
Subscribe to delicious. magazine for HALF PRICE
Subscribe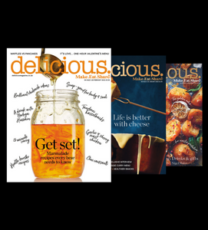 Join our newsletter
Packed with menu ideas, recipes, latest competitions and more...