Where to eat in Bali
In the Indonesian island's lush, peaceful interior, I find vivid green rice terraces, eco-friendly coffee plantations and, despite the pressures of the modern world, people carrying on their lives in a way that respects centuries of tradition.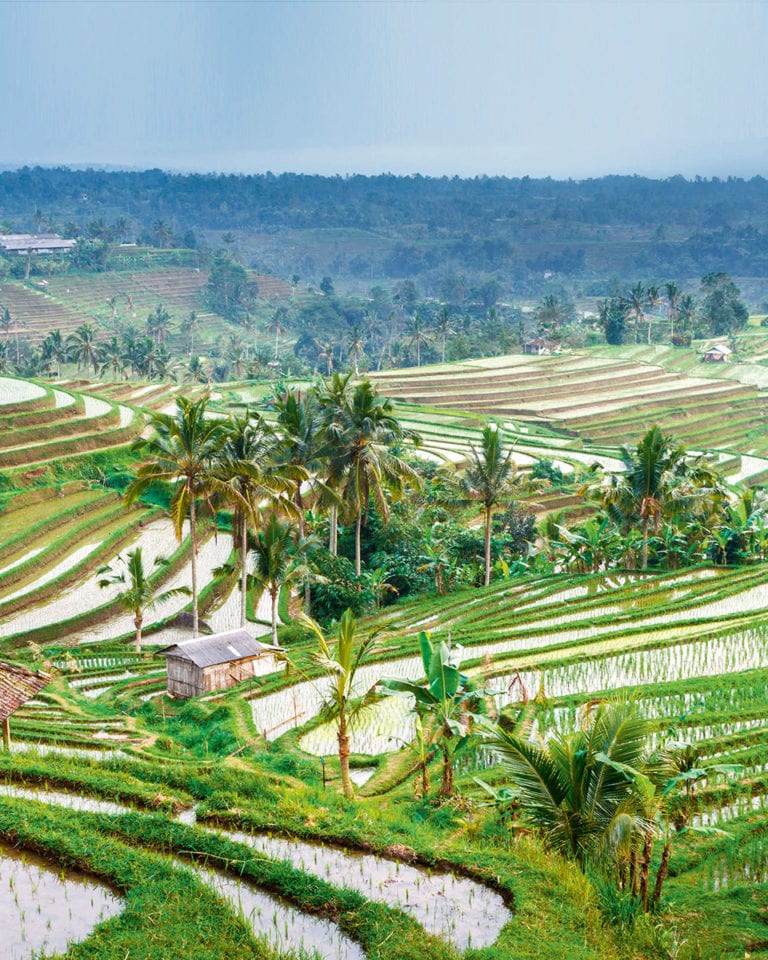 "Real Balinese food isn't readily available to tourists…" Those words, in a travel guide I was reading after I'd booked my family's trip, put a bit of a dampener on my excitement. And a first night amid the tourist hubbub of built-up Kuta Beach, near Bali's airport, seemed to confirm the warning. The smiling, beckoning waiters along the main drag did promise us an "authentic" experience. Unfortunately, it was Mexican, Thai, Chicago pizza…
On day two, after travelling north through an urban sprawl, we emerged into a different Bali. Lush, peaceful, rural. I hesitate to say the 'real' Bali – it's all real, even the bit with a massive Burger King. But it was definitely more like the Bali we'd come to see. And if we were going to discover 'proper' Balinese food anywhere, it was surely here.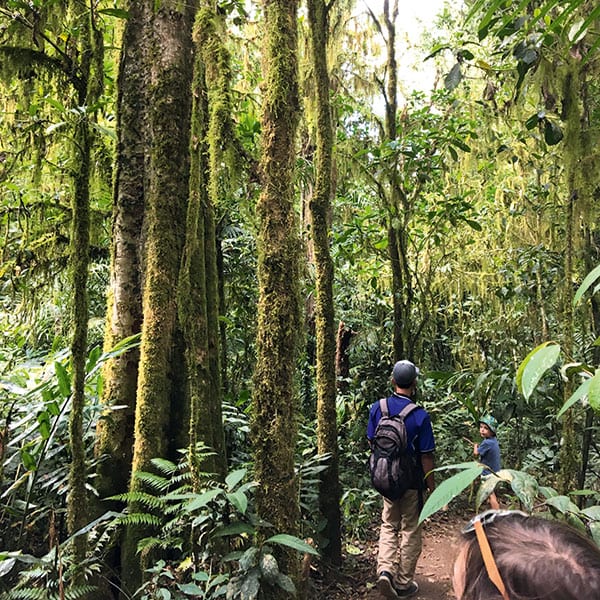 Paddy power
On bikes borrowed from our first hotel, the designer-y Soori Bali on the west coast, we freewheeled through Bali's larder: corn, spinach, tomatillos, chillies and watermelons – and, of course, rice. Nasi, the word for rice, also means meal – a clue to its importance on this island. It comes in white, red (enjoyably nutty) and black (purple) varieties. "A meal without rice," said Mustana, our guide from the hotel, "isn't a meal."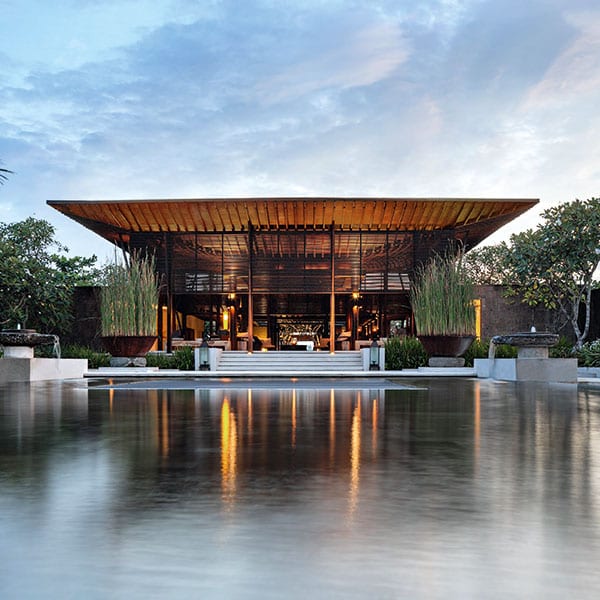 Farming hinges on the thousand-year-old system of rice cultivation and irrigation, called subak, which is a multi-location World Heritage Site. Thousands of small-scale farmers share the water using an intricate series of channels. There are no fences between family fields, Mustana explained. Carved wooden posts mark the boundaries – it's a lot more civilised than barbed wire.
By the sea we watched a fisherman hauling up his lobster pots, finding, to his delight, two whoppers. That night our seafood platter included scallops, prawns, squid, mahi mahi and local lobster – was it those very ones Regardless, they were fat, buttery and delicious.
Soori is a trendy, high-end hotel with an 'antioxidant' section on the breakfast menu. And yet they confound the guidebook and serve proper Balinese food too. We gorged on classic rice dishes, such as nasi goreng (stir-fried, great with a fried egg) and nasi campur with Balinese side dishes: spiced fish and meat, veg, sambols (spicy relishes) and krupuk (superior prawn crackers).
Dragging ourselves away was hard, but our tour guide, Kadek, was eager to show us more of his beautiful island. Heading east, the road climbed up into the famous rice terraces. We stopped to take selfies at Jatiluwih, the most picturesque of the terraces, and though we didn't exactly have it to ourselves, that didn't make it any less beautiful.
Viewing the grounds
We arrived at Munduk Moding, a lofty hotel on a coffee plantation in the north, after dark. This made waking up to its views more jolting than a quadruple espresso: a swathe of green canopy, swiftlets swooping, cloud-fringed volcanic peaks and the sea in the distance. Our phone cameras couldn't do it justice, so we resorted to old-fashioned gawping.
Munduk's take on Balinese grub had a proper home-cooked feel: banana leaf-wrapped steamed fish and marinated meats, as well as satays and fine ikan bakar (grilled fish) with kecap manis (sweet soy sauce). Breakfasts involved delicious rice porridges, fresh pineapple jam and, of course, a pot of the estate's wonderful coffee.
The Dutch/Balinese partnership that owns Munduk Moding have made their enterprise eco-friendly, fair-trade, organic and sustainable. The trees pretty much have haloes. Coffee farmers from neighbouring villages are involved, too, supplying beans for the on-site roastery.
The traditional cultivation system, where trees shade the coffee bushes, encourages wildlife while making the guided walk around the estate that much more delightful, with the jasmine scent of the white coffee flowers and the red blooms of the coral trees and flame trees creating a beguiling world of scent and colour.
In the roastery we learned about coffee production and tried the finished products. They're straight out of the top drawer (or, if you pay a bit more, indirectly out of a civet's backside).
Bali's greatest feast
The Pura Danu Bratan temple, on a lake island in the north of Bali, is an important place of worship of the water goddess. It's touristy though, and we were hungry, so we made a pilgrimage to the nearby Warung Makan Babi Guling Pande restaurant for babi guling, or suckling pig. You won't find it in the rest of Indonesia, but on this Hindu island it's an institution.
It's nose-to-tail eating – and some. We started with a herby, spicy pork broth with little turnips, then the feast proper began. There were two kinds of crackling (puffed versus crispy), served with lemongrassy sambols for dipping. There were marinated pork cuts, chopped deep-fried crispy chitterlings (the first and probably the last time I'll say "Mmm, nice intestines"), homemade sausage, pig's heart… It was a proper pig-out, by turns hot, salty, savoury, umami and altogether wondrous. We hit the road with the beatific smiles of satisfied worshippers.
Ubud: a family affair
The island's traditional spiritual heart, Ubud is hippy central. It also has excellent ice cream shops such as the Gelato Secrets mini-chain and inviting candlelit restaurants. In fashionable Nusantara we enjoyed tropical cocktails and pan-Indonesian sharing plates – although the baby squid was fought over…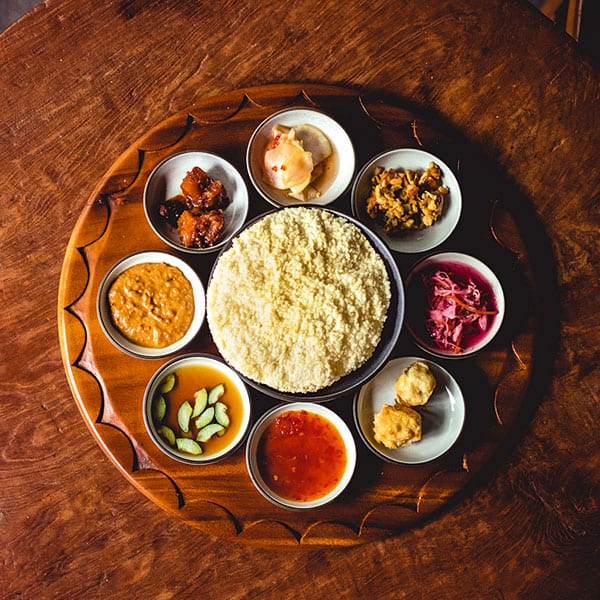 That travel guide I'd read did give one exception: "You'll get real Balinese food if you're invited into a Balinese home." Happily that was part of our plan in Ubud. Dewa, who exuded priestly calm, and his extended family live in an eight-centuries-old compound in a village outside the centre. They observe ancient traditions, killing a chicken every 35 days. "When we do, we apologise for sacrificing life to continue other life," said Dewa. "And when we pick fruit we leave some on the tree for other animals."
With all this care taken, I speculated, the food must turn out wonderfully? "Food is fuel for the body, not delicious," he replied. "It's 40 to 60 per cent medicinal." This didn't sound good. When he added that the family eat insects all summer and that "dragonflies taste like cheddar cheese" I got nervous. But the spread Dewa revealed looked fantastic – and insect-free.
"Enjoy please," he said, walking off. "Oh, won't you eat with us?" we enquired. "The family never eat together," he explained. "If we talk during eating, we believe the food changes to negative energy." (I tucked that away as an excuse for when my wife demands Monday night conversation over dinner.)
It may have felt weird eating on our own, but in the evening cool of the compound, amid fragrant flowers, the food was magnificent: chicken in coconut milk, tofu with palm sugar, corn fritters, tender pulled smoked chicken, ured (mixed veg) and a fantastic fresh green sambol. If all 'medicinal' food were this good, no one would be tempted to eat burgers.
Street food, Bali style
On our last night in Ubud we visited the night market in Gianyar, a short drive away. Most of the stalls offered the same thing: a chicken feast. We balked at how they display the cooked chooks: whole, spatchcocked upright, as though crucified. Kadek was unmoved. "You can tell from the feet it's free range," he said approvingly: "The long claws."
We wandered, smelling the aromas, nibbling this and that: takeaway nasi campurs wrapped in brown paper; deep-fried tofu squares with beansprouts inside; spicy egg sausage wrapped in pig gut. There were sweet things too: seaweed cake served with grated coconut, sweet sticky rice and palm syrup was a crowd puller.
We managed to find a chicken stall that also sold beers. In the low light with the spit of hot fat, the clinking of condensation-dripping bottles and the Balinese bants, we devoured a meal for two for 50,000 IDR (about £2.70). Chicken with its smoky skin and a green bean salad, roast peanuts, shredded fried egg, lots of rice and addictively fiery sambols. It was a world-class street food experience, though so spicy it made my head sweat.
The daily grind
We ended our tour at Surya Shanti Villa hotel in the Sidemen Valley in the east, which has views of Bali's active volcano, Agung. Disconcertingly, it's been periodically puffing out smoke and ash since 2017, but it's easy to put disaster-movie thoughts aside in the hotel's laid-back atmosphere, surrounded by lush tropical gardens.
A highlight of my stay was a cookery lesson with the hotel's stocky chef, Putu Juli, preceded by a morning market visit in the village of Sidemen. Smiling ladies beckoned, making us delicious banana fritters. We loaded up with veg, herbs, tiny limes and a plastic water bottle filled with coconut oil.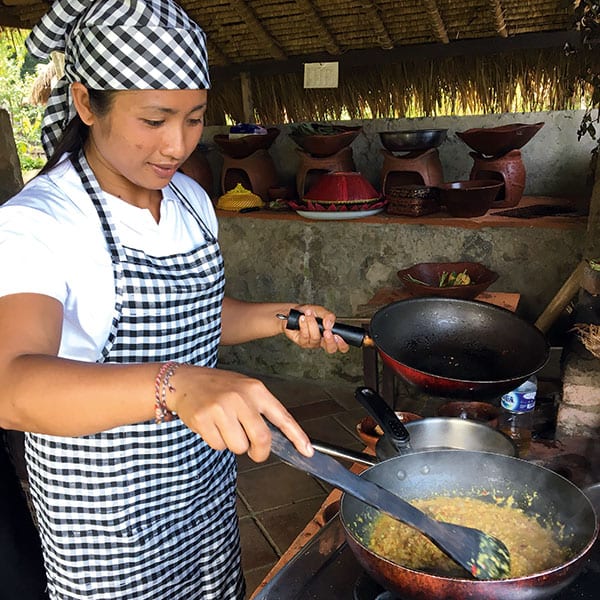 Forget fancy food processors. In this kitchen the only tech is a (very effective) pestle and mortar made of volcanic rock. The spatula was a piece of dried watermelon skin. I chopped shallots and spices, grated toasted coconut on a homemade bamboo grater, fried peanuts in coconut oil for the satay sauce…  All the fresh ingredients that give Balinese food its depth of flavour.
Finally I sat down with my family for a proper feast: green papaya soup with christophene (a knobbly gourd), chicken satay, steamed mahi mahi… And lots of rice (flavoured in a floral, grassy way with a pandan leaf). Yes, I'd found proper Balinese food, all right – and I'd cooked it, too.
Would you like to go?
Les travelled with Asia specialist Experience Travel Group. A 10-night tailored trip including Soori Bali, Munduk, Ubud and Sidemen starts at £2,550pp B&B with transport, activities and Singapore Airlines flights.
Subscribe to our magazine
Food lovers, treat yourself this Christmas... Enjoy 12 months of magazines for £29.99 – just £2.50 an issue.
Subscribe
Unleash your inner chef
Looking for inspiration? Receive the latest recipes with our newsletter