The best picnic hamper deliveries
Dips, sausage rolls, nibbles and cold cuts – what's not to love in a picnic with all the trimmings? If you think that sounds good, you're going to love these 9 preprepared picnic hampers – which offer all of the deliciousness, with none of the labour.
We've tried and tested these 9 picnic boxes, so you can be absolutely sure they're the best of the best. All are available for nationwide delivery. Just head for your favourite picnic spot, and bring some pals.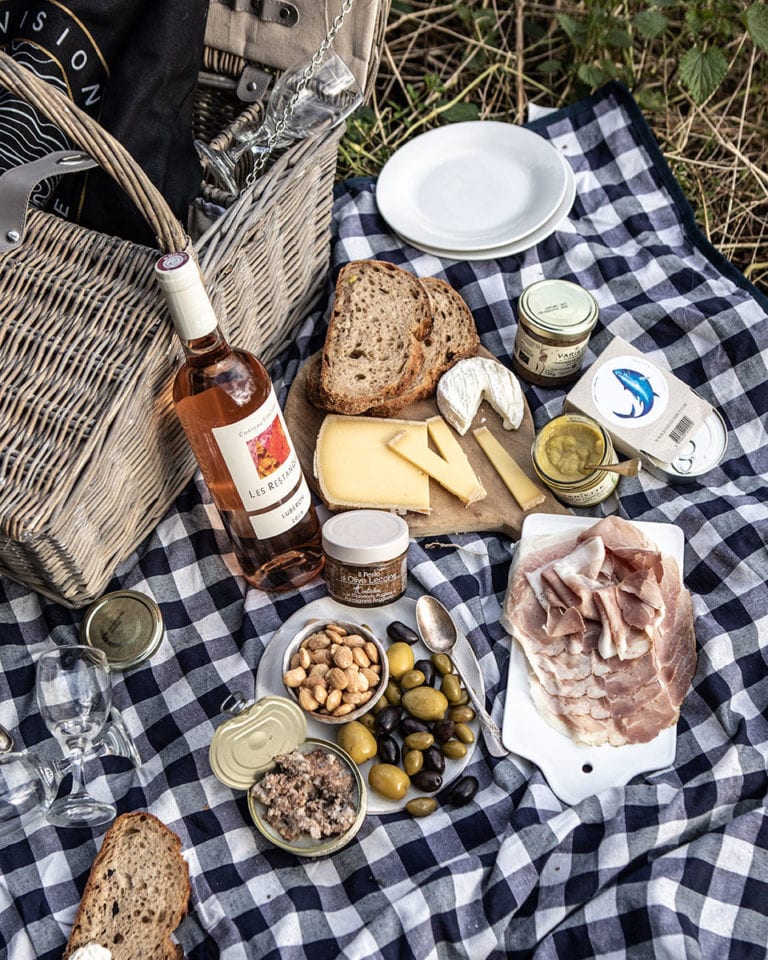 Top tips for picnicking
A picnic should be stress-free, which is exactly what these prepared hamper boxes can offer. All that's left then, is to choose a great location for your picnic, and to remember a few things to bring:
1. A bag for rubbish. Always leave your picnic location as beautiful and unspoilt as you found it.
2. A blanket for sitting on (of course). You can get blankets with a layer of lining underneath that stop damp seeping through.
3. An ice box to keep drinks cool, if you'll be out for a few hours. Use cool bags with proper insulation, and take a few packed with lots of ice blocks. Rucksack-style cool bags are good, especially if you're walking to your magic spot.
4. A sharp knife – you always need one.
5. Large umbrellas – they double as parasols if it's sunny rather than drizzly.
6. The weather being what it is in the UK, it's always good to bring extra socks and a jumper.
7. Vacuum flasks are also good for keeping drinks cool as well as hot. We like to pack one with ice for drinks.
The 9 best picnic boxes
Lina Stores X Della Vite picnic tote
If you're looking for a real chic set-up, get yourself one of Lina Stores' new picnic tote bags, which comes packed with sensational charcuterie, fresh focaccia, a selection of cheeses and nibbles from the iconic Soho delicatessen. What's more, sip on some top-notch Prosecco whilst you're at it – as the picnic tote comes with a bottle of Italy's finest, Della Vite Prosecco Superiore DOCG. Don't worry if you don't finish all your fizz (rare, but it happens) because the hamper also comes with a super classy gold bottle stopper to keep your bubbly fresh. Make sure to save yourself for pudding – there's even a box of fresh cream-filled cannoli inside. Life doesn't get much sweeter than this. A great selection of treats for a birthday celebration in the park. Available from Lina Stores (from £75).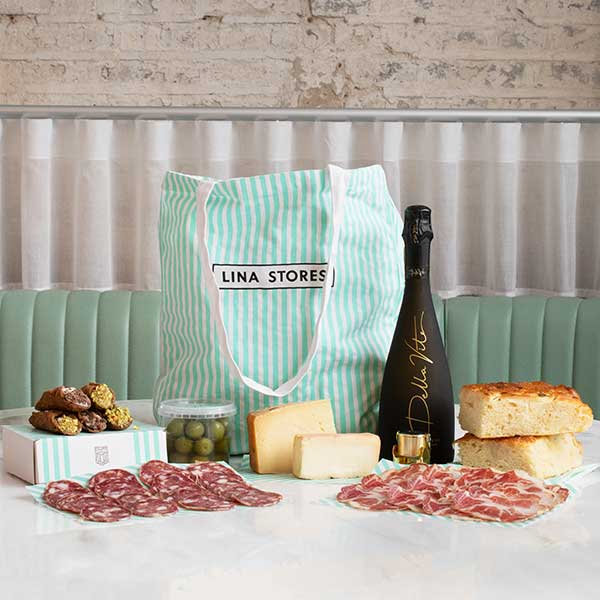 Noble House prepared picnic box
If you have many a mouth to feed, Noble House Prepared's picnic box is our recommendation. It includes ample quantities of charcuterie and smoked salmon, a giant sausage roll, fresh focaccia, cheddar cheese, Nocellara olives and green tomato chutney from Rosebud Preserves. This delightful combination of British and continental treats really hits all the right spots. Also available are a sweet picnic box including scones, rocky roads and cheesecake, or a deluxe combi box of the two – all serve 4 generously. Available from Noble House Prepared (£75).
Iberica picnic hamper with wine or beer
Living up to their name, Iberica's delicatessen picnic hamper offers treats from Spain. Our favourite of the delicacies inside has to be the pan con tomate, a slice of bread which can be toasted before you go, then topped with the tomato and oil goodness as soon as you hit the park. It's refreshing and will make you feel those much-needed holiday vibes. Proper crisps, cooked in olive oil, and Spanish crisp bread are included to make sure the snacking is covered. And there's cured ham, chorizo, and a little cheese selection of 5 full-flavoured Spanish cheeses. You can choose to include wine or beer with your box, and you'll find a hessian bag included to transport everything seamlessly to the park. Available from Iberica (£40-65).
Provisions picnic hamper includes a selection of their best snacking products: think tuna paté, organic houmous, Perello olives, and almonds. Then there's the cheese! A perfectly aged, sweet and nutty comté – which even gets sliced into manageable chunks for you. There's also a crottin de Chavignol, everyone's favourite mini goats cheese. Enjoy alongside Italian smoked ham or green bell pepper spread and other patés, with bread or crackers. As for the wine: you can choose from French red, white, and rosé or Italian sparkling, safe in the knowledge that each wine is perfectly chosen to accompany this mega picnic spread. The hamper also comes with a picnic cloth, hessian bag, as well as sustainable bamboo plates and cutlery. This is a faultless, bargain of a hamper which feeds 3 to 4 people. Available from Provisions (£49 with a bottle of wine).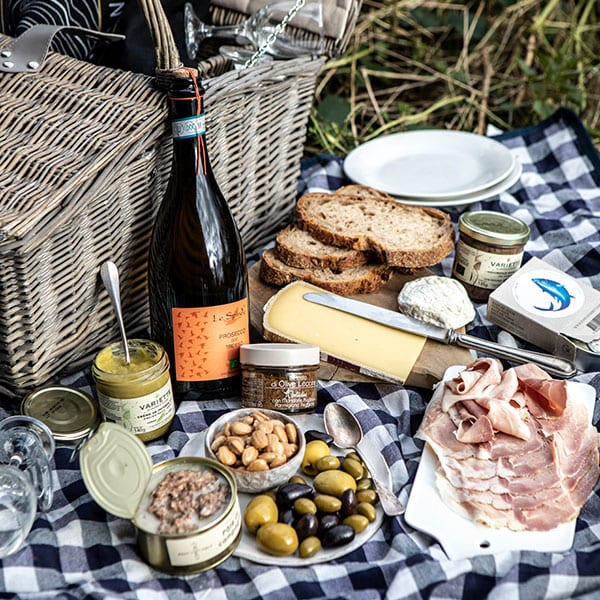 If it's Eastern Mediterranean flavours you favour, the picnic kit from London restaurant Delamina is well worth seeking out. Including hummus, tahini and baba ghanoush dips as well as pitta bread; lettuce cups filled with spicy chicken or vegetables, almonds, barberries and date sauce; olives; quinoa salad and even a chocolate and halva dessert. The kit claims to feed 2-3 but it's generous and could easily stretch to feed 4. Everything is clearly labelled and no prep is needed except to bring cutlery and plates (and you could warm the pitta bread up if you wanted). The crispy za'atar bites were a sure stand-out, cooked on charcoals, they taste like a combination of lemon juice and chicken fat in the best possible way. This is a great selection of treats for an afternoon or celebration in the park. Just bring a blanket to lie down on after your feast! Available from Restokit (£48).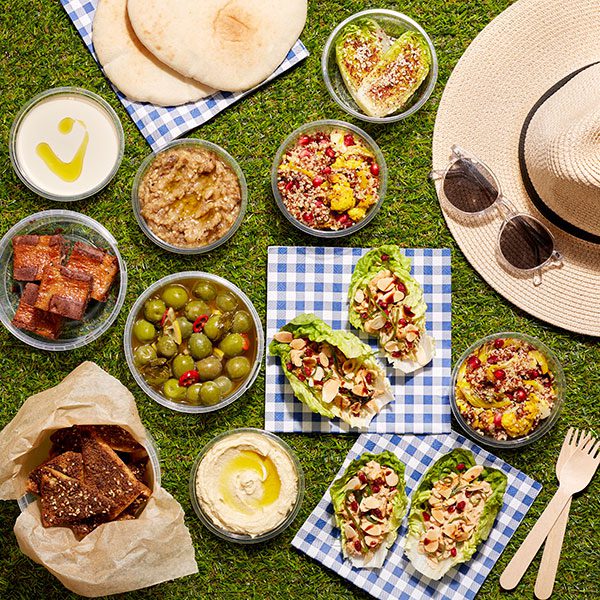 Fortnum & Mason luxury picnic hamper
Okay, we'll admit this one is a little pricier than your average picnic. But if you're looking to go above and beyond for your next special occasion outdoors, read on… This hamper will have you sipping champagne whilst enjoying a truly spectacular selection of "best bits" from the Fortnum & Mason food hall: from smoked salmon and rye bread, to rare roast sirloin beef with horseradish cream. Then there's crab salad, a cheese platter and scotch eggs… and that's before we get to the dessert of almond brownies, and berries and clotted cream. There are a whopping 26 decadent delicacies inside, and this hamper will definitely feed a few more than 2. Available from Fortnum & Mason (£200).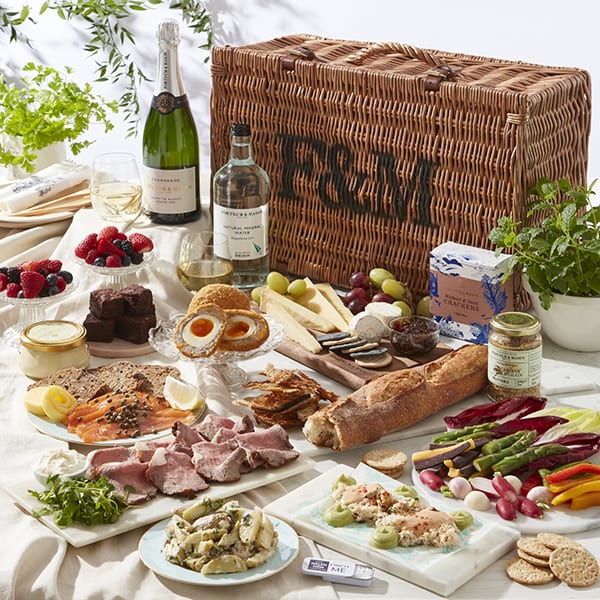 Your park picnic is about to receive a seriously posh upgrade with this epic selection of deli treats from Fitzrovia's Riding House Café. Their picnic box contains a build-your-own-sandwich situation, and inside you'll find a freshly baked french stick baguette with an array of savoury treats to top it with. From salt and sugar-cured salmon, a zesty smashed avo, cheese, chutney and egg mayo, you'll have fun mixing up your toppings as you graze your way through it. There's also a lovely fennel and citrus salad to serve on the side, pork scratchings and beer sticks to graze on and a tasty platter of fresh strawberries and cacao dip for pudding. Keep yourself refreshed throughout with iced lattes and there's even a bottle of Prosecco plus mango tea bellini syrup for a boozy treat. To say this serves two would be an understatement… you'll definitely have leftovers for lunch the next day. Available from Riding House at Home (£55).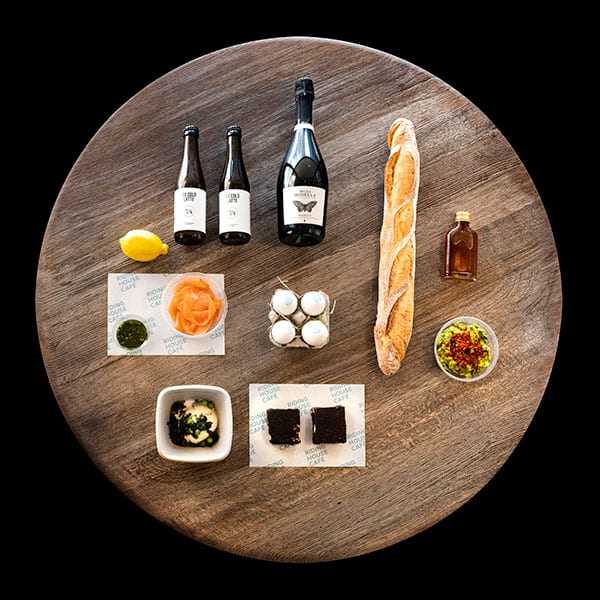 For a great value al fresco lunch for two, this picnic hamper from Shop Cuvée is our pick. It comes parcelled in a reusable crate. Inside are Torres truffle crisps (the cult figure of the crisp world), Perello Manzanilla olives, a salami snack pack, Maison Argaud terrine, 300g Neals Yard Dairy cheese, Sheridans brown bread Crackers, and Top Cuvée tomato chutney. You can choose to have the hamper with or without wine. Available from Shop Cuvée (£22, or £35 with wine).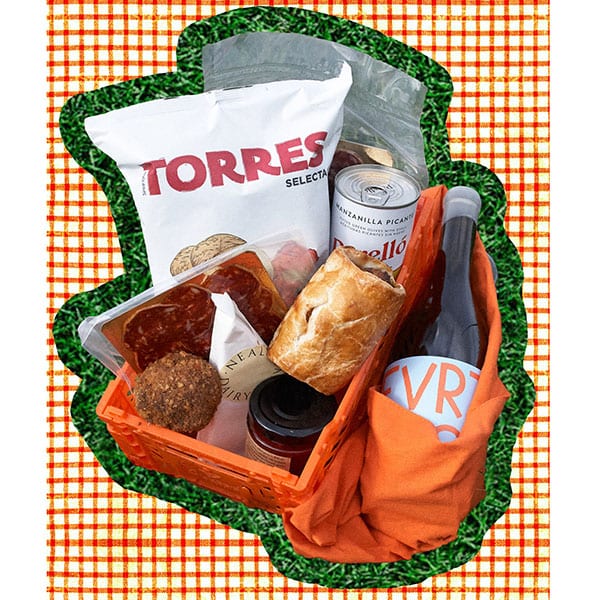 When a delivery arrives with Harvey Nichols' picnic box at the door, you know it's going to be a good day. Their picnic box for two has everything you need to snack your way through an afternoon in the sun, from mini bottles of house champagne, to sharp rhubarb fudges (very sweet indeed) and their own emmental and onion cheese straws. It comes complete with a very good quality black carry bag, with pockets and compartments, so you can pack and go, and reuse it in the future. You could fight over the crisps, but our tester noted that all the sweet stuff was very easily halved. It's a very 'snacky' box, so not one that's going to fill you up, but it would make a luxurious treat for an al-fresco first date or anniversary. Available from Harvey Nichols (£65).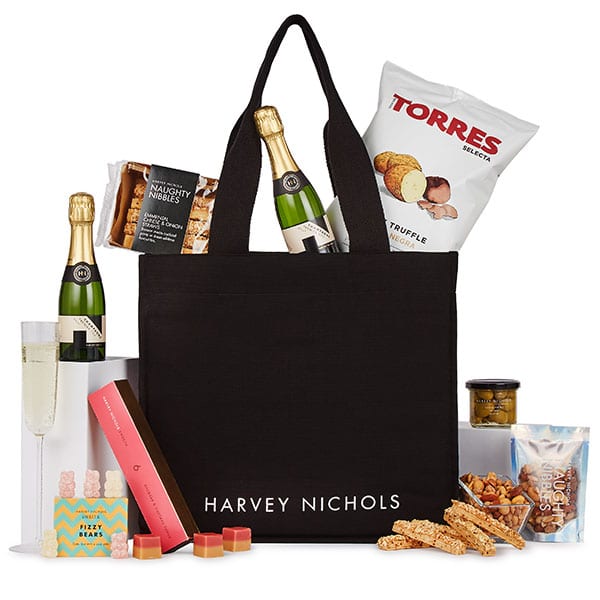 Want something to drink with it? Try our round-up of the best new drinks to take on a picnic.
Subscribe to our magazine
Subscribe to delicious. magazine for HALF PRICE
Subscribe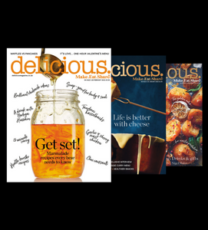 Join our newsletter
Packed with menu ideas, recipes, latest competitions and more...