Big Breakfast Diet
New research suggests that a big breakfast can help you lose weight. Dietician Juliette Kellow suggests some healthy options to get you started in the morning.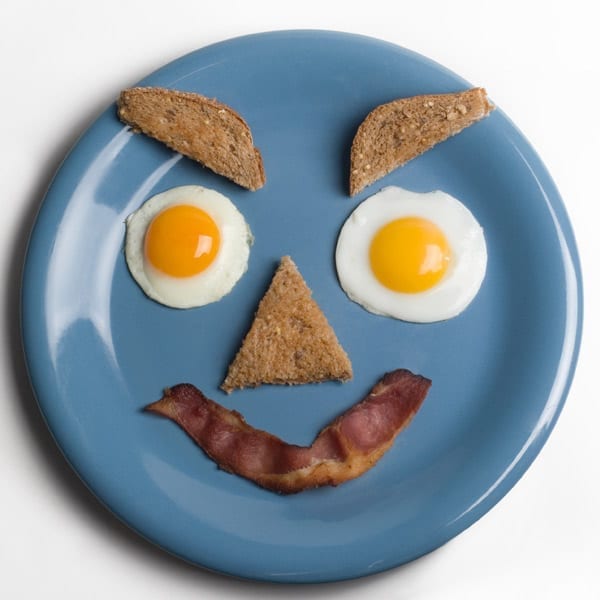 Everyone – from experts to our mums – agrees on the importance of eating breakfast. A new study from Virginia Commonwealth University in the US found that when one group of dieters ate a high-carb, high-protein breakfast, they lost on average three times as much weight as dieters who stuck to a low-carb brekkie.
It worked because those who had the big breakfast felt fuller for longer, which meant they didn't eat as much later on in the day. But with so much choice, it's not easy to know what to have – many breakfasts can be packed with fat, saturates, sugar and salt. Time for delicious. to come to the rescue with the ultimate breakfast guide.
Traditional English fry-up
2 bacon rashers, 1 sausage, 1 egg, 1 tomato, mushrooms, 1 slice white bread – all fried.
831kcals, 67g fat, 17g saturates, 6g sugar, 4.5g salt.
Wake up to it
The mushrooms and tomatoes add to your 5-a-day, but the fry-up contains almost a full day's recommended intake of fat.
2/10
Rise and shine
Grill the bacon, sausage and tomato, poach the mushrooms and make scrambled egg and wholemeal toast for a lower 472kcals, 29g fat and 11g saturates.
Porridge with milk and honey
Bowl of porridge (made with 45g porridge oats and 310ml semi-skimmed milk), topped with 2 teaspoons honey. 326kcals, 9g fat, 4g saturates, 21g sugar, 0.3g salt.
Wake up to it
Oats have a low glycaemic index, meaning they release energy slowly, helping to beat the mid-morning munchies. They're also a good source of fibre.
8/10
Rise and shine
Honey actually contains more calories than sugar, so sweeten your porridge with a sliced banana – you'll add fibre and get one of your 5-a-day.
Croissants and marmalade
2 croissants with 1 tablespoon marmalade. 510kcals, 31g fat, 12g saturates, 23g sugar, 1.3g salt.
Wake up to it
Croissants are high in fat and packed with processed carbs that will send your blood sugar levels soaring, followed by a rapid drop that leaves you low on energy and craving sugary foods.
4/10
Rise and shine
Swap the croissants for toasted crumpets for a brekkie that has 228kcals, 1g fat and virtually no saturates.
Scrambled eggs on toast
2 scrambled eggs, 2 slices wholegrain toast and 2 teaspoons low-fat spread. 373kcals, 19g fat, 5g saturates, 2g sugar, 1.5g salt.
Wake up to it
Eggs are a great start to the day. One study found that an egg-based brekkie, rather than a bread-based one, helped slimmers consume 400 fewer calories over the following 36 hours.
6/10
Rise and shine
Heat up half a can of plum tomatoes to add vitamin C, which helps the body to absorb iron from the eggs and toast.
Muesli with milk
Large bowl of luxury muesli (70g) with nuts, seeds and 100ml semi-skimmed milk. 322kcals, 10g fat, 4g saturates, 23g sugar, 0.3g salt.
Wake up to it
Muesli can be high in fat if it contains a lot of nuts and seeds, but these are heart-healthy unsaturated fats. Some brands also contain added sugars and salt, so check nutritional information on the packet. It's also easy to eat twice the normal 40-50g portion.
7/10
Rise and shine
The best way to guarantee no added sugar and salt is to make your own muesli.
Bacon sandwich
2 slices white bread, 2 teaspoons butter, 3 fried bacon rashers, ketchup. 690kcals, 48g fat, 23g saturates, 8g sugar, 5.6g salt.
Wake up to it
This fat-laden breakfast contains 3g more saturates than an adult woman should have in an entire day.
3/10
Rise and shine
Ditch the butter, grill the bacon, and use wholemeal bread. Add a large tomato to get one of your 5-a-day. The bacon sarnie now contains 409kcals, 19g fat and 7g saturates!
Bagel with cream cheese
1 toasted bagel with cream cheese. 364kcals, 16g fat, 9g saturates, 6g sugar, 1.4g salt.
Wake up to it
This popular American on-the-go breakfast is low in fibre, so you'll quickly feel hungry again.
5/10
Rise and shine
Use a wholegrain bagel (it will more than double the fibre), low-fat cream cheese and a tomato.
Muffin and latte
1 blueberry muffin, 1 large full-fat latte. 814kcals, 45g fat, 10g saturates, 50g sugar, 1.9g salt.
Wake up to it
A muffin and coffee on the way to work may give you an extra 10 minutes in bed, but over a year you'll eat enough calories to gain 27kg (60lb)!
1/10
Rise and shine
A low-sugar cereal bar and a skinny latte made with skimmed milk contains just 26kcals, 4g fat, 2g saturates, 30g sugar and 0.7g salt.
Wholegrain cereal with milk
30g bowl of branflakes with 100ml semi-skimmed milk. 144kcals, 2g fat, 1g saturates, 11g sugar, 0.5g salt.
Wake up to it
The protein from the milk and fibre from the cereal will keep you full until lunchtime. Wholegrains can help keep the digestive system healthy, and many cereals are fortified with extra vitamins and minerals. Check the label, though, for additives.
10/10
Rise and shine
Try less sugary cereals and add fruit like berries or bananas.
Fruit salad and yogurt
1 bowl of fruit salad with 1 small pot low-fat natural yogurt. 168kcals, 2g fat, 1g saturates, 31g sugar, 0.2g salt.
Wake up to it
Yogurt is a good source of calcium and protein, while fruit is low in fat and calories but packed with fibre, vitamins and minerals.
9/10
Rise and shine
Add a few tablespoons of oats for a more substantial meal.
For the recommended daily nutritional requirements, click
here