Five minutes with Dom Taylor
Dom Taylor is the winning chef of Channel 4's Five Star Kitchen: Britain's Next Great Chef, judged by Michel Roux Jr, alongside pastry queen Ravneet Gill and chef/TV presenter Mike Reid. Dom's prize sees him now heading up The Good Front Room inside The Langham in London's Portland Place, where he's offering up a menu of Caribbean flavours from jerk chicken to jackfruit patties and banana leaf baked sea bream.
The restaurant brings a refreshing change to the hotel's restaurant portfolio and Dom's menu is exquisite, with the green banana gratin and jerk chicken being real highlights. We caught up with Dom to talk about his connection with South East London, what it was like filming the show and what is next on the horizon for him.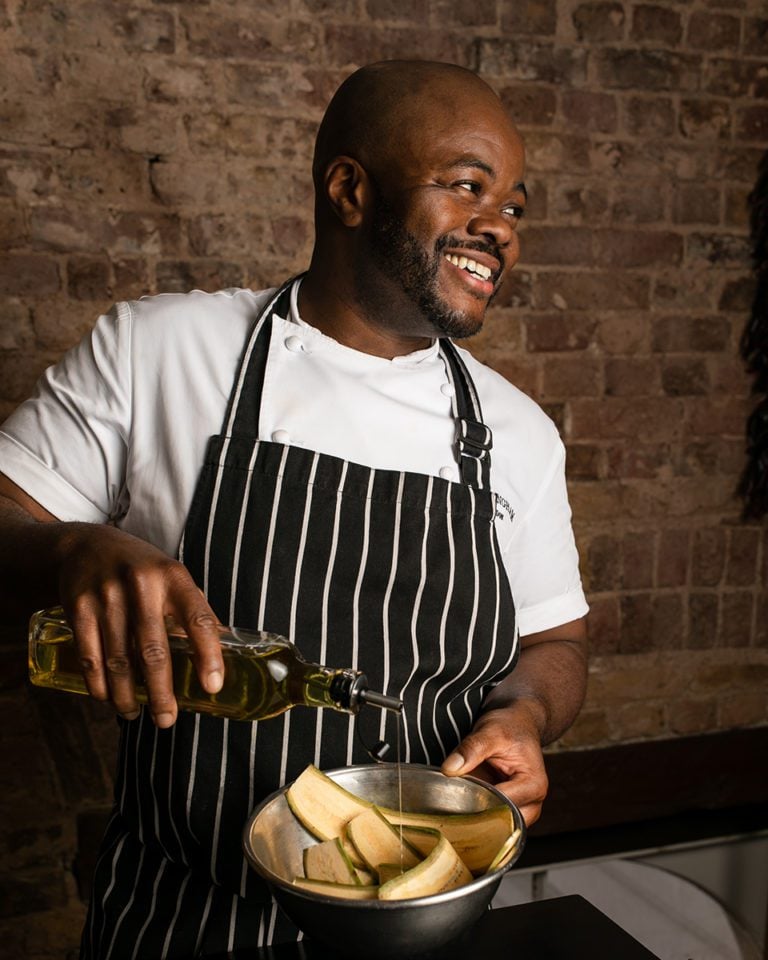 What's your very first memory of food?
My first food memory would have to be cake. My mum had many cookbooks and I recall flicking through them and marking the pages of things I wanted to make. It seems quite odd, but I recall being quite young and feeling mind blown that these things you saw on supermarket shelves could be recreated in your house just like that. I am still a cake man to be fair. I never turn down cake. Ever.
What's the one dish you couldn't live without?
The Caribbean staple: Rice and peas. I could never tire of eating that dish.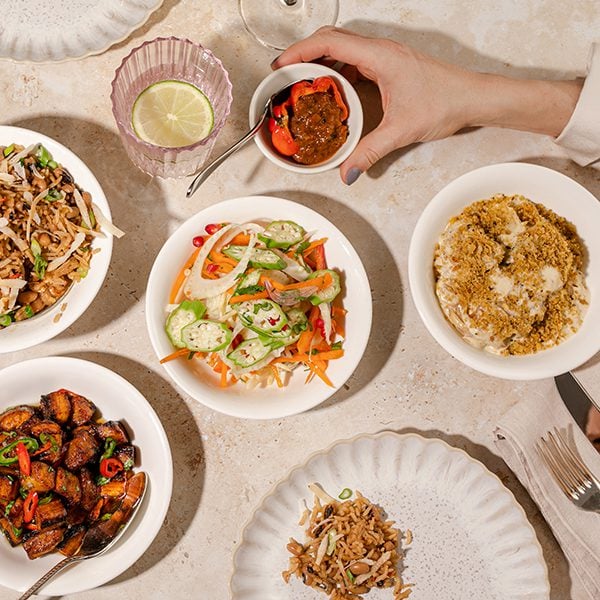 What do you do to relax?
Yoga is definitely my thing. I love many styles of yoga. I'd go 7 days per week time allowing.
Can you tell us about what South East London means to you? How was it studying at Lewisham college and starting your career in the borough?
Ever since we moved to the capital when I was about 4 years old, we've lived in South East London. I feel a deep connection to my side of the river. I guess it's some kind of weird localised patriotism!
Lewisham college was absolutely fantastic. I learnt so much. I was like a sponge. Front of the class geek type. Working at The George pub in Catford at the same time.
Where did you eat in Catford? And are there any Caribbean restaurants or takeaways you'd recommend?
I used to always eat at Joy's Health Sanctuary, as it was then, which was a vegan Caribbean offering. Joy has since retired and moved back to the Caribbean and her children have taken over. It is now called Vegan Flavours. I also enjoy the monthly food market in Catford run by a lady called Deborah Efemini. Plenty of Caribbean food there.
What ingredient would you take to a desert island with you?
Can I please bring 2 items please. It's a little cheffy perhaps. But, celery salt and dijon mustard. They can make anything taste better!
You can have a one-off dinner party on your island… who would you invite?
My mum (she has life-and-soul-of-the-party energy), Barack and Michelle Obama, Graham Norton (he's insanely funny) and the rapper/poet Akala (his knowledge is second to none).
Is there anything about the food industry that bugs you? We'd like to hear your thoughts…
Skill set is at an all-time low. Everybody is struggling for well-trained staff. Customers still have such a high expectation, however, managers are really struggling. It's harder than ever to recruit.
What has been the most formative experience of your career so far?
My time spent at The Belgraves Hotel (now called The Hari) really gave me a lot of confidence. As I reflect so much was instilled in me during this time working under various people. It was a crucial stepping stone. However, that said, I gained a lot of knowledge running my own brand and having my residency at Fourteen87 in Catford. I fine-tuned a lot of my Caribbean dishes there.
Who is your culinary inspiration?
My mum, my aunts, Michel Roux Jr, Rick Stein, Delia Smith, Jamie Oliver, Rusty Lee, Gordon Ramsay. Too many to count. I am like a sponge in terms of the way I learn. I'm an observer.
What do you think of classic French cookery? What other cuisines are your favourites?
Classic French cookery is definitely my foundation. All of the Caribbean food I cook today I've adapted using techniques rooted in French cookery. I love South East Asian food and Middle Eastern food too.
What was your favourite thing about taking part in Five Star Kitchen: Britain's Next Great Chef?
I didn't expect my creativity to catch fire in the way it did. I was sitting in a creative space and my mind just went berserk. It was insane. I loved who I became. It was my new favourite version of myself.
What menu item at The Good Front Room are you most excited about?
The dessert named 'Bun and Cheese'. Truthfully, it's only a small menu, so everything feels like it is dear to my heart. A signature if you will. However, I feel like this dessert is super creative and unexpected. I am getting many great reviews about this dish.


What techniques does someone need to master to get better at making Caribbean food at home?
Trusting your instincts and your palate. Trial and error is encouraged. I don't like food rules. Eat what and how you like.
What is the best food experience you've had in the UK? Something that you think everyone should try before they die…
Food and service at Sketch is so, so good. The service really impressed me. Everybody was just so well informed. From the bus boys to the host – they knew everything about everything. So cool!
Do you have any aspirations and dreams you've yet to fulfil? What's next for you?
I am a bit of a go-with-the-flow type of person. Once upon a time, I absolutely would have answered that I want my own bricks and mortar site. However, I am not sure if that dream has evolved with the times. Is that dream current and relevant for 2023? Who knows? I plan to let the universe guide me on this one. I'm here at The Langham enjoying this moment for now. I would love to write books. An autobiography I've always dreamt of; a cookbook would be fantastic too. Working in TV seems like it could be super cool also. I'm keeping my options and heart open.
Book a table at The Good Front Room to try Dom's wonderful menu here.
Subscribe to our magazine
Food lovers, treat yourself this Christmas... Enjoy 12 months of magazines for £29.99 – just £2.50 an issue.
Subscribe
Unleash your inner chef
Looking for inspiration? Receive the latest recipes with our newsletter