Global cuisine websites
This list is handy for anyone who fancies a taste of foreign climes without venturing beyond their front door – websites that make it possible to order pre-prepared dishes or authentic produce from the UK and abroad at the touch of a button.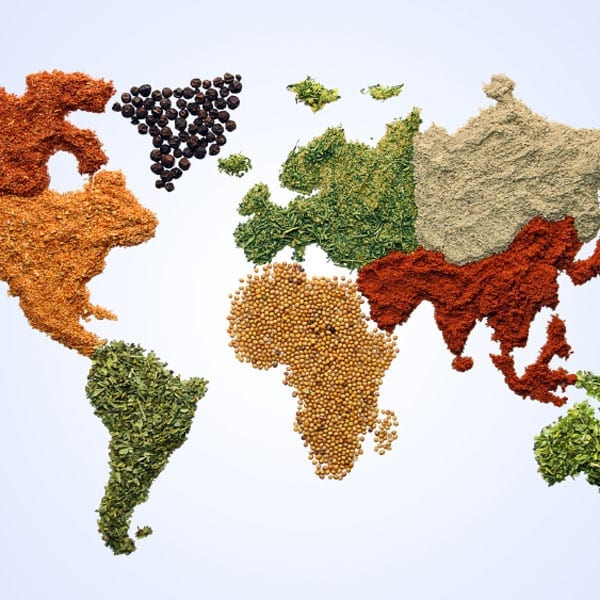 GENERAL
World foods
eFood Depot
:
A wondrous selection of foods from every corner of the world, and they ship to the UK.
Ethnic Grocer
: (Website pending) A fantastic American site with menus, recipes and cooking instructions – along with thousands of products.
: This West Country shop sells online too – there's a wide selection of ethnic foods and recipes on offer.
Natoora
: French, Italian and local produce.
Bread and honey
: Home delivery of set hot and cold meals and catering platters, including delicious breakfasts, sandwiches and mezze.
Banquet in a box
: Suppliers of top quality gourmet food throughout the UK; delivery in 48 hours.
EUROPE
British
Scoff
: Modern British food – hot, healthy and delivered to your door.
Beautiful artisan produce – the very best of British.
Eat Great Meat
High quality beef sourced from mainly from Yorkshire and the surrounding areas.
Forman and Field
Fresh seasonal British food that includes picnic hampers and range of pre-prepared meals from 'The delicatessen'
Independent Gourmet Foods
Supplier of fresh foods such as fish, chicken, beef and vegetarian dishes.
Fish in a box
A fresh fish delivery service that offers a convenient way to incorporate a healthy choice of fresh fish, seafood, and shellfish into your diet.
Loch Fyne
A range of Gourmet Food Boxes chosen for home delivery that are ready to cook; ideal for busy food lovers who want to eat healthily and ethically.
British Corner Shop
6000 popular British food products delivered worldwide. Great for ex-pats hankering after Marmite.
Italian
Gustounico
: Upmarket online Italian deli service based in Italy.
I Love Mangio
: Luxury Italian food direct from Italy.
Mediterranean Direct
: Lots of organic and award-winning products; reasonable delivery charges.
Something Italian
: Gourmet Italian foods, plus ceramics, jewellery, skincare and more.
Machiavelli Food
: Quality Italian food used by top restaurants, including fresh pasta.
Carluccios
: The famous restaurant chain also has a regional online shop.
Veru: Truly Sicilian
: Deli food with a Sicilian edge.
Seeds of Italy:
Italian seeds to grow at home.
French
Market Quarter
: Delivers fine French food from London's Borough Market.
French Flavour
: UK delivery of artisan french food and gift hampers of French food.
Eat French Food
: Gourmet food company that offers free delivery in London and hampers.
Bien Manger
: Interesting site that includes organic French produce and molecular gastronomy kits produced by three Michelin-star restaurant, El Bulli.
French Click
: French food supermarket that delivers nationwide (London delivery free for orders over £35).
Spanish
Flavours of Spain
: Fine foods with a focus on seasonality, sustainability and organic produce.
Tapas in a Box
: Excellent authentic tapas; the Party Box is a great idea for a celebration.
Don Quijote
: Classic Spanish food importers that also sells tableware.
Vila Gourmet
: Online Spanish deli selling wine and customised hampers. Delivers to most of Europe.
Orce Serrano Hams
: Comprehensive deli site selling great quality hams, plus other Spanish produce.
Spanish Food UK
: The Tapas Lunch Company's blog includes Spanish recipes, reviews, buying guides and shop.
German
German deli
: Purveyors of German treats – also have a shop and stall at London's Borough Market.
Backhaus
: German bakers that also sell groceries and frozen food. Delivery in the UK only.
Sausage Man
: Specialists in German sausages.
Scandinavian
iGourmet.com
: A great range of Scandi cheeses, along with tasting notes and facts to impress your mates.
Malmo Nordic Dining
: Unusual speciality foods from Finland, Sweden, Norway, Denmark and Iceland, with recipes and info.
Greek
The Greek Deli
: UK-based online deli that delivers to most UK postcodes.
Odysea
: Greek food and ingredients including fresh dips and yogurt.
Rizos Online
: Greek specialities, wine and foodie wedding favours.
Y
amas Wines
: Quality specialist Greek wines delivered to your door.
Bulgarian
Bulgarian Food
: Order a wide range of Bulgarian products here- including cheeses and meats, plus Russian and Polish goods.
Polish
Bocian
: The translation on this site is sketchy, but there's a nice little range of products and a scrummy cake shop.
AFRICA/MIDDLE EAST
Moroccan
Maroque
: Moroccan online shop that delivers food and spices.
Turkish
Turkish Supermarket
: Turkish cuisine and kitchenware.
Middle Eastern
Arabica Food & Spice Co.
: Fabulous and unusual meze, spice blends and rubs, roasted nuts, vinegars, condiments and more besides.
African
African Foods
: Extremely comprehensive site, with in-depth info and advice and a wealth of products to order online.
South African
South African Shop Online
: A serious collection of goodies from biltong to all manner of weird and wonderful tinned goodies.
Sanza
: Covers Saffa, Aussie and Kiwi foods- with a huge range of each.
The South African Shop
: Visit different online 'shops' within this site to buy fish, meat, fruit & veg, pantry items and booze.
SA e-Shop
: Lots of food bits and bobs to buy, with folklore and info on South African culinary history and methodology.
AUSTRALIA
Australian
Australia Shop Online
: The online home of the iconic Covent Garden store- check out the unusual condiments and sauces, along with Aussie pies!
Great Aussie Food
: Offers 'the tantalising taste' of Australian cuisine- everything from biscuits to baking ingredients and storecupboard items.
FAR EAST
Asian
Gourmet Oriental
Sells Chinese, Thai, and Malaysian cuisine; order online and choose day and time of delivery within London.
Japanese
Japan Centre
: Online facility of the fab Piccadilly shop, stocking over 800 food products- not to mention drink, gadgets and books.
Mount Fuji
: Japanese food, drink, books and cookware- and a range of recipes to try it all out with!
Japanese Kitchen
: Everything you need to cook Japanese food, plus dishes to serve it all up in, and cookbooks for inspiration.
Ukai
Offers contemporary Japanese cuisine and sushi – provides a home delivery service and catering.
Thai
Thai Food
: All you could ever need to create an authentic Thai banquet, including fresh produce, tableware and even flowers!
Chinese
Wing Yip
: A mind-boggling range of Chinese and other Oriental goodies, with a huge recipe library and online forum to boot.
Hoo Hing
: The online store of London's largest Chinese supermarket network is another goldmine- there's not much you won't find here.
Korean
Korea Foods
: No online shopping, but info on their UK shops and lots on food, tradition and etiquette in the 'culture' section.
Indian
Trishul Tiffin
Homemade packs of Indian vegetarian food, delivered to your door step. Weekly menu available.
Spices of India
: Indian food, spices, sweets, cooking ingredients, utensils and recipes.
Natco
: Spice kits, condiments, beverages, pulses, recipes and tonnes more.
AMERICAS
American
American Soda
: Bills itself as 'The Real Taste of America in the UK'. Heavy emphasis on candy, but there's baking goods and groceries, too.
Let's Eat Direct
: Great for hard-to-find American ingredients like liquid smoke, corn syrup (essential for the best pecan pie) and Old Bay seasoning.
Mexican
Mex Grocer
: Many Mexican ingredients are notoriously elusive- this site's got everything you've struggled to source.
Cool Chile Co.
:The online store of the Borough Market stall. All things chilli, plus everything else for a South American feast.
Caribbean
Caribbean Food Emporium
: A thorough guide to Caribbean food and drink, with plentiful online shop, recipes and resources.
Yabba
: Sauces, marinades and chutneys from the family company- along with their own recipes.
Malik Online
: Great resource with fresh produce galore and a huge range of all things tropical for mail order.
Smokey Joe
: Caribbean marinades and sauces – made in Devon.
Do you know of any good produce websites?
Debra, the web editor with your recommendation.