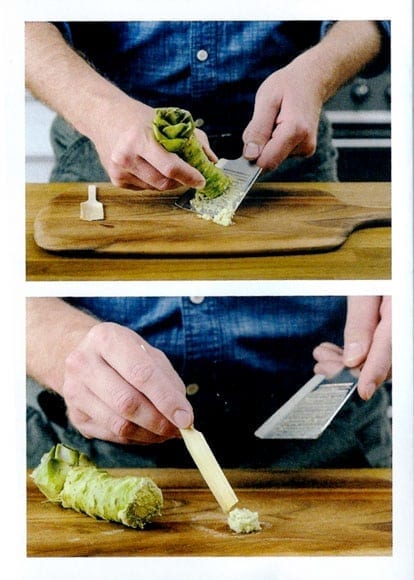 An interesting little package from The Wasabi Company fell into my lap the other day. Self-contained and tidy, in typical Japanese style, it consisted of a fresh wasabi root, a simple metal grater and a tiny bamboo tool to 'sweep' the grated wasabi into a ball.
About 10 years ago I spent an enjoyable summer putting together a book on sushi – and eating it by the bucket load. At the time fresh wasabi root was almost impossible for the home cook to get hold of, so we referred to the powdered stuff. Needless to say I was very excited to get hold of the real thing. Suddenly I felt a craving for sushi coming on.
Pack of shop-bought sushi (sorry it's a midweek feast) on the plate and bottle of wine (well, why not?) in the fridge, I got grating. Apparently the finest sushi chefs grate it on shark skin, but having forgotten to pick up a shark on the way home I'm stuck with the little metal grater. Finally I'm ready to taste test the real thing against shop-bought wasabi.
First off, the little sachet of pre-prepared wasabi hits like spray of mace to the face – straight up the nostrils, acrid and burning. It numbs the taste buds. That's not a good thing. I check the ingredients: horseradish, vinegar, corn syrup, mustard, wasabi, citric acid… The vinegar, warmed in the mouth, acts as a propellant and shoots the fiery mustard fumes up your nasal passages.
The freshly grated wasabi (it loses a lot of pungency after around 20 minutes), on the other hand, is completely different. It's not a lurid green – in fact it's not green at all, but maybe I peeled it overmuch. In the mouth, the heat comes on slower with a cleaner, sharper taste – it has more bite, but less heat and a sweeter finish. It is wonderful and complex and doesn't overpower the senses. And seconds later after swallowing the sushi, your mouth is back to normal. I suspect it's also addictive.
Wasabi root is expensive at £30 for 100g but it will keep for a 2 weeks and would be nice for that extra-special occasion. It would be great in many all sorts of recipes to make it go further – wasabi mash, wasabi mayonnaise, wasabi and smoked fish pâté etc. As the wine is swiftly downed, I feel a wasabi bloody mary cocktail may be required tomorrow.
Subscribe to our magazine
Subscribe to delicious. magazine for HALF PRICE
Subscribe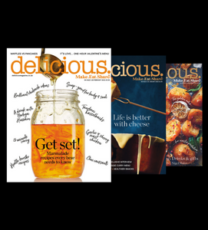 Join our newsletter
Packed with menu ideas, recipes, latest competitions and more...