How to cook chestnuts
Learn how to roast chestnuts (no open fire necessary!) in this simple recipe from Debbie Major. Plus, how to boil chestnuts for purées or sweet pastes.
You can also find out how to choose chestnuts, where to find them and discover recipes to use them in.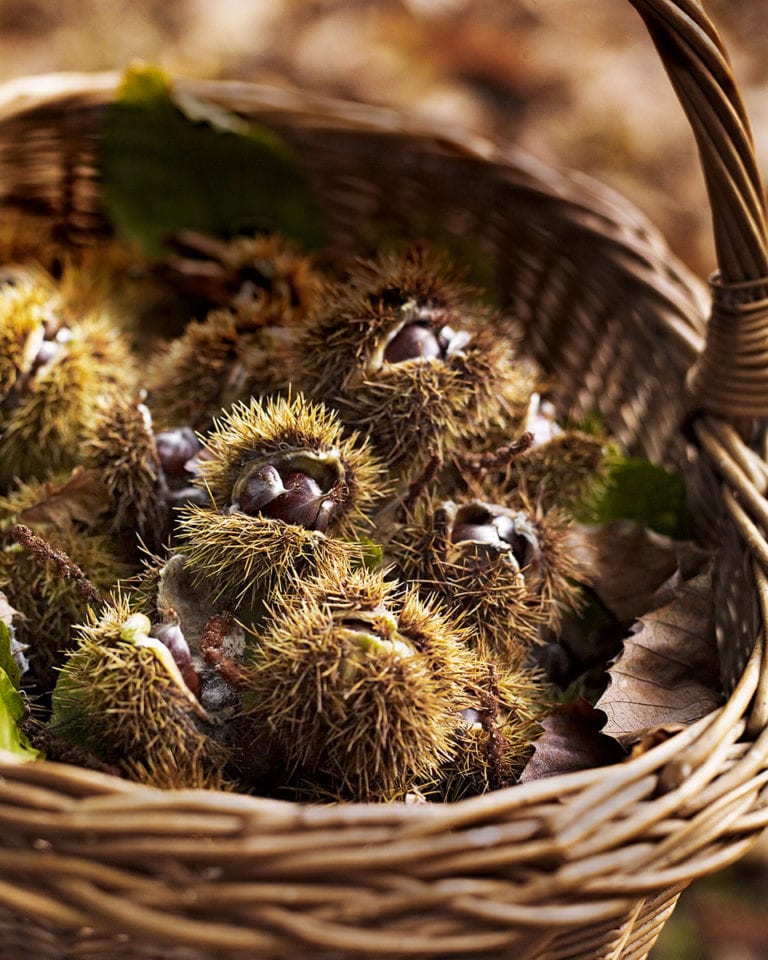 How to choose and prepare chestnuts
Look out for chestnuts that are plump and heavy for 
their size, with taut, shiny brown shells. Give them 
a squeeze. If the shells cave in, they're probably past their best. Cooking and peeling them is a labour of love, but worth the effort 
for the superior flavour.
How to cook chestnuts
Cut a cross in the rounded, shiny side of each nut, then either roast them cut-side up at 220°C/fan200°C/gas 7 for about 15 minutes until the skins start to curl away from the nut inside, or boil in a pan of water for about 10-20 minutes until tender.
Next, break away the shell and remove the papery brown membrane, which is easiest while the nuts are still warm. The boiling method is best if you want to turn them into a purée or sweet paste. The roasting method produces a drier nut and is better for soups, stews, stuffing mixtures, cakes and biscuits.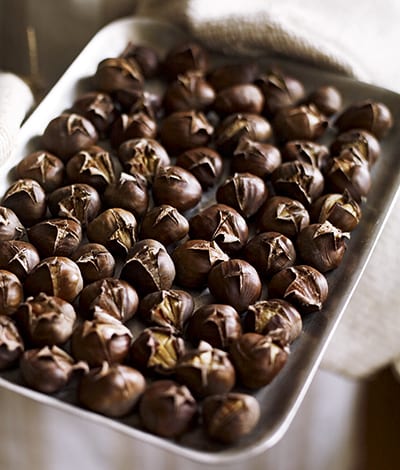 How to make candied chestnuts
Take a look at our recipe to make candied chestnuts, also called marrons glacés , here.
How to forage for chestnuts
Sweet chestnuts, not to be confused with horse chestnuts or conkers, grow wild. They're easily recognisable by their large, elongated, pointed leaves, which are heavily veined on the underside and have coarsely serrated edges. They're one of the first leaves to turn golden as autumn gets underway and the nuts are ready to eat when they fall to the ground.
The actual nuts are protected by 
a spiky outer casing, which you need to remove first. British chestnuts are smaller than their Italian, French or Spanish cousins (which are the ones most widely available 
in our food shops), but in a good year, they're plentiful – if you can get to them before the squirrels do, that 
is – and full of flavour.
When to eat chestnuts
Chestnuts are usually in season from October to December. Eat them soon after harvesting, before they have 
a chance to dry out. If you can, gather your own for the makings 
of a foraged feast.
Recipes with chestnuts
Maple-glazed roast chicken with chestnut and apple stuffing balls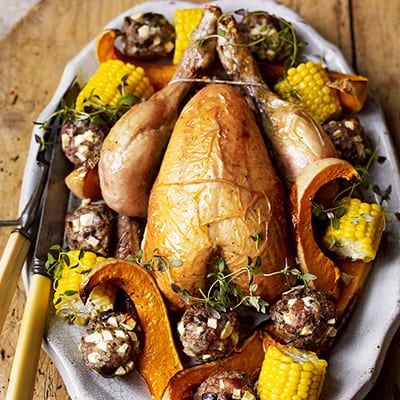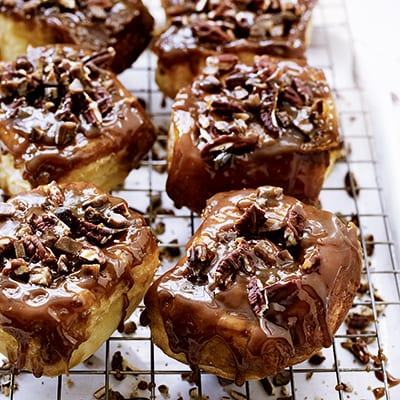 Chestnut meringue roulade with hazelnut liqueur cream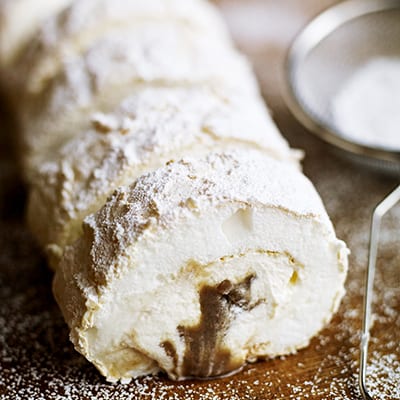 Want more? Take a look at our collection of chestnut recipes.
Subscribe to our magazine
Subscribe to delicious. magazine for HALF PRICE
Subscribe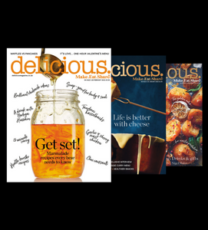 Join our newsletter
Packed with menu ideas, recipes, latest competitions and more...