How to make chicken stock (and poached chicken)
Good chicken stock is the key to many a dish. You could use one or two carcasses instead but this method gives you a whole poached chicken at the end.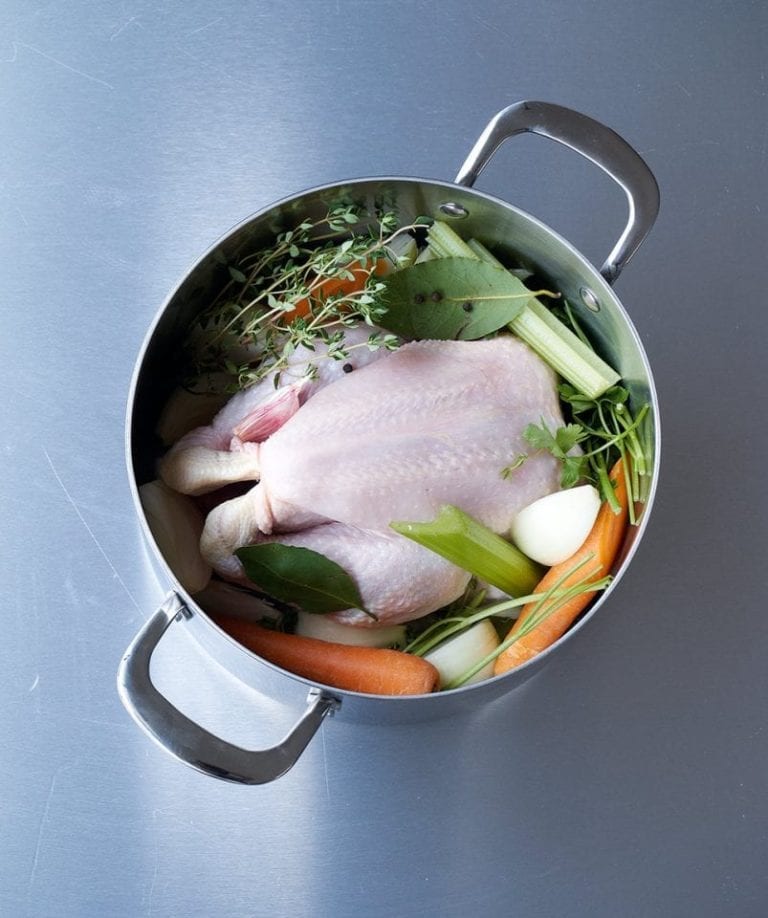 Choose a good quality free-range chicken and trim away any excess fat. Put into a large stockpot (if it won't fit, cut it into pieces). Add 2 chopped carrots, 2 celery sticks, 2 onions, cut into wedges, fresh thyme and parsley stalks, a bay leaf and a few peppercorns.

Cover the chicken and vegetables with cold water, then set the pan over a low heat and bring to a gentle simmer. Use a ladle to skim off any scum from the surface.

Once the water starts to boil, pour in cold water to cool the stock down quickly, causing any fat and scum to solidify slightly. Skim well – you should have a clear(ish) liquid. Bring the stock back to a bare simmer and bubble for 3-4 hours, skimming occasionally.

Strain the stock into a bowl through a clean muslin-lined sieve. Set aside to cool, then skim off any fat that rises to the surface. Pour into sealable freezer bags, then store in the freezer for up to 6 months. Strip the chicken meat from the carcass and use in your dishes (see right).
Once you've made your stock, you can get a bit creative. Try…
Cooking rice, couscous, polenta and pulses in it to add extra flavour.
Braising and glazing vegetables: soften veg such as whole shallots or halved chicory in butter, add a splash of wine, cover with stock and bubble uncovered until tender, reducing the juices to a sticky glaze.
Making pommes boulangères: layer sliced potatoes and softened sliced onions in a gratin dish, cover with stock and bake until most of the liquid has been absorbed and the potatoes are soft and golden brown on top.
Enriching tomato sauces: add it at the beginning of cooking and bubble away until the sauce is thick.
It can also be substituted for vegetable stock in most dishes (unless cooking for vegetarians) – you'll find it adds more depth of flavour and complexity.
How to make concentrated stock…
To save on storage space, reduce your stock right down until you're left with about 100ml per litre of liquid, then freeze in smaller containers and dilute it when you defrost. Write on the bag how much the original volume was. Freeze for up to 3 months.
How to use poached chicken…
Layer shredded poached chicken on good quality bread with homemade mayo, lettuce, parsley and a squeeze of lemon.
Fry potatoes until crisp and serve with poached chicken, wilted greens, fresh herbs, lemon and extra-virgin olive oil.
Add poached chicken to vegetable soups or stews and spiced lentil soups.
Watch the how-to video below…
Subscribe to our magazine
Subscribe to delicious. magazine for HALF PRICE
Subscribe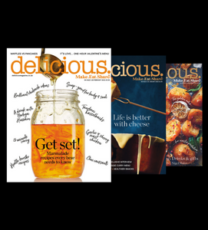 Join our newsletter
Packed with menu ideas, recipes, latest competitions and more...