How to make meat stock
Why make your own stock? Well, there are three good reasons: it's better than anything you can buy; it won't contain salt (shop-bought stocks often contain too much); and it's simple to make.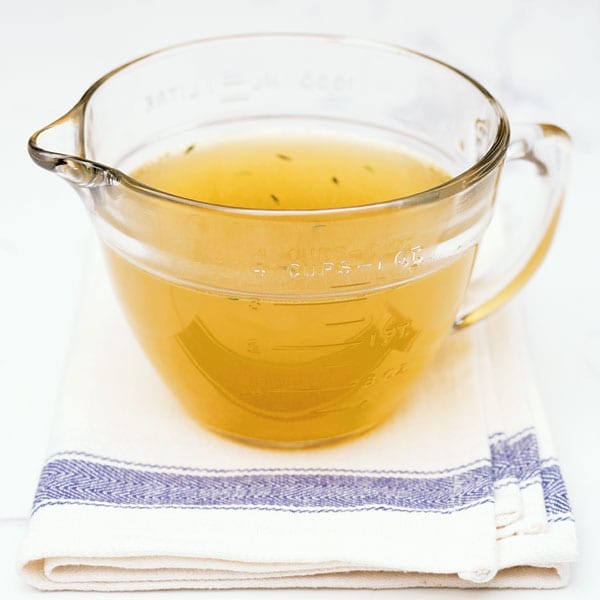 There are good fresh stocks on the market now but, frankly, they cost a fortune, and while stock can be intrinsic to a dish, it's nothing more than well-flavoured water. Here, I've concentrated on meat stocks, including chicken; I will deal with fish in another issue as there are a different set of rules.
For most restaurants, meat stocks are a by-product of the kitchen. A good chef keeps clean vegetable peelings, herb stalks, and, of course, the bones to make stocks. This recipe is a stock made from scratch, but let yours be defined by what you have left over: the carcass of a Sunday roast chicken; vegetable peelings; the stalks from fresh parsley or thyme. In this day and age, you are unlikely to have a surplus of meat bones, so order them for little or nothing from your butcher.
How long you cook the stock depends on the size of the pan and how much water you add. Use as large a pan as possible and cover the bones and vegetables with plenty of water. If you have strained off the stock, discarded the bones and you find the flavour weak, reduce the stock in the cleaned-out pan to intensify the flavour.
Demi-glace is a reduced, rich stock that's brilliant to have to hand and use as a base for pan sauces or gravies. Opinions on making it vary, and every chef has his/her own way of preparing it. This is a simple version for making it at home. Make a big saucepan of good veal stock then continue cooking and reducing the stock by half. Strain off into a smaller saucepan (at this point you can add red wine, about a third of the volume of stock) and reduce to about a third. Strain off into a bowl or freeze in portions in an ice cube tray. It will set like jelly. The next time you pan-fry steaks, pork medallions or chicken breasts or make a gravy, add a few good spoonfuls (or a few ice cubes) of this to the pan to give a lovely rich base to your sauce.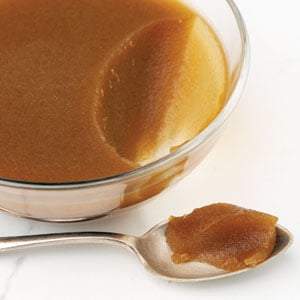 stock2
For brown meat stocks:
Put the bones (veal, beef or lamb) into a large, sturdy roasting tray with 2 unpeeled and halved onions. Roast in a hot oven for an hour until well browned. Put the bones and onions into your largest saucepan and fill the pan with cold water. Add a few peeled and halved carrots, 2 halved celery sticks, a few peppercorns, 2 bay leaves, and a few fresh thyme sprigs and parsley stalks.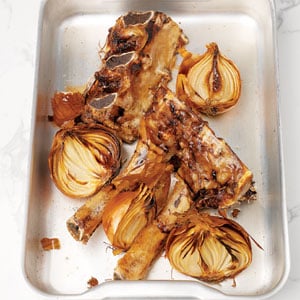 meat4
For chicken stock:
Use a raw carcass and/or other chicken bones or wings. You can also use the carcass from a cooked (roast) chicken. Put into your largest saucepan with a large peeled and halved onion, a few peeled and halved carrots, 2 halved celery sticks, a few black peppercorns, 2 bay leaves, and a few fresh thyme sprigs and parsley stalks.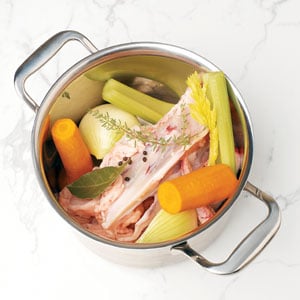 stock1
To cook the stock (meat or chicken):
Bring just to a simmer, not a raging boil – as this encourages the surface scum to boil back into the stock. Using a ladle, skim off the scum (the froth that floats on the surface) as often as you want. Cook for about 2-3 hours. Taste it – and taste it often – until the stock has a good depth of flavour.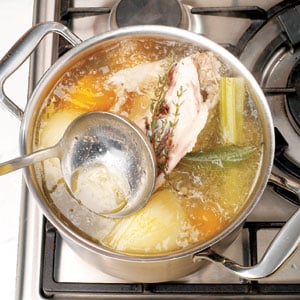 meat5
To strain the stock:
Pour the contents of the pan through a strainer into a large, clean bowl. Skim off any fat from the surface. If you have time, leave the stock to go cold, then chill overnight. The next day, lift off the solidified fat on top. Freeze if not using straightaway – stock freezes very well without harming its flavour.
Subscribe to our magazine
Subscribe to delicious. magazine for HALF PRICE
Subscribe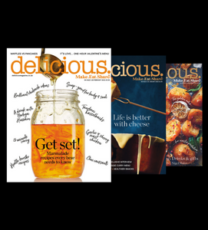 Join our newsletter
Packed with menu ideas, recipes, latest competitions and more...