How to make cinnamon rolls
Cinnamon rolls are a great complement to your morning coffee and ideal for sharing. These Scandi treats take a bit of time to make, but they're so tasty, they're definitely worth the wait.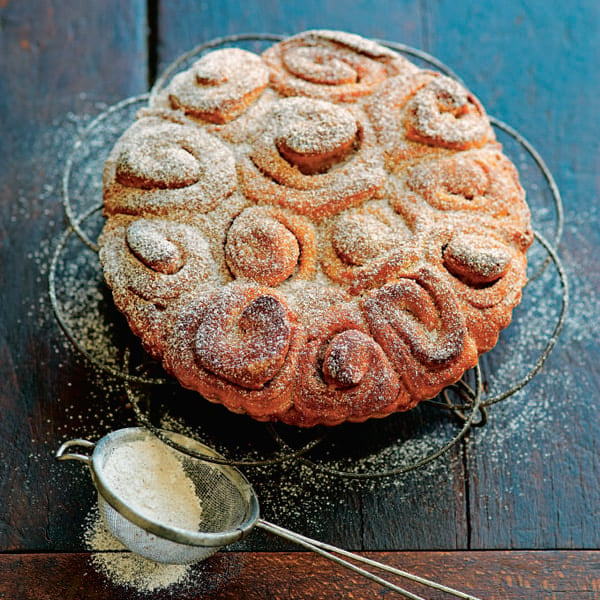 You will need
5g fresh yeast or 1 tsp fast-action dried yeast
20g unrefined caster sugar, plus 3 tbsp extra for sprinkling
70ml warm water
200g strong white flour, plus extra for dusting
¼ tsp fine salt
1 tsp ground cinnamon, plus 2 tsp extra for sprinkling
1 medium free-range egg, lightly beaten (plus another, lightly beaten with a pinch of salt, for the egg wash)
40g softened unsalted butter, plus extra, melted, for brushing
Icing sugar for dusting
PLUS… A 23cm round cake tin, greased with vegetable oil and lightly dusted with flour
Cinnamon rolls
Makes 12-14
Takes 25 minutes to make, 15-20 minutes to cook, plus 3 hours 20 minutes resting and proving
1. Put the yeast in a large mixing bowl. Add the 20g sugar and the water, then stir until the yeast and sugar have dissolved. If you are using fresh yeast, leave the mixture to stand for 10 minutes until it begins to froth. Add 100g of the flour and mix well with a wooden spoon to a soft dough. This is the pre-ferment. Cover and leave the pre-ferment in a warm place for 1 hour until it has doubled in size.
2.  While the pre-ferment rises, in another (smaller) mixing bowl, mix the remaining 100g flour with the fine salt and 1 tsp cinnamon. This is known as the dry mixture.
3.  When the pre-ferment is ready, add the dry mixture and the egg, then mix until it comes together. Mix in the butter with your hands or a wooden spoon until well combined (don't worry if the dough seems very sticky at this stage). Cover and leave to stand for 10 minutes.
4. After 10 minutes, leaving the dough in the bowl, pull a portion of it up from the side and press it into the middle. Turn the bowl slightly and repeat this process with another portion of dough. Repeat another 8 times. The whole process should only take about 10 seconds and the dough should start to resist. Cover the bowl again and leave to stand for 10 minutes.
5. Repeat step 4 three more times. Cover the bowl and leave to rise for 1 hour. When the dough has doubled in volume, punch it down with your fist to release the air.
6. Lightly dust a clean work surface with flour. Put the dough on the work surface. Push the dough out with your fingertips to flatten it and widen it into a rectangle 3mm thick (it should be about 25cm x 30cm).
7. Brush the rectangle of dough all over with the egg wash, then sprinkle over 2 tbsp caster sugar and most of the extra cinnamon. Now roll up the dough from one of the longer sides to make a long log.
8. Cut the log of dough into roughly 2cm slices. You should get about 12-14 slices. Arrange them, cut-side up, inside the prepared cake tin. Cover and leave to rise in a warm place for 45 minutes to 1 hour until slightly less than twice the size.
9. About 20 minutes before baking, preheat the oven to 200°C/fan180°C/gas 6. Put a roasting tin at the bottom of the oven to preheat. Fill a cup with water and set aside. Put the cake tin with the rolls inside into the preheated oven, pour the reserved cupful of water into the hot roasting tin and lower the oven temperature to 180°C/fan160°C/gas 4.
10. Bake the cinnamon rolls for 15-20 minutes until golden brown. Turn the rolls out onto a wire rack to cool a little.
11. Brush melted butter over the still-warm cinnamon rolls, then dust them generously with icing sugar and a little more cinnamon.
PER ROLL (BASED ON 14) 88kcals, 3.5g fat (1.8g saturated), 2.5g protein, 11.7g carbs (1.6g sugars), 0.1g salt, 0.6g fibre
The recipe has been adapted from Emmanuel Hadjiandreou's book 'How to Make Bread' (£19.99; Ryland, Peters & Small)
Subscribe to our magazine
Subscribe to delicious. magazine for HALF PRICE
Subscribe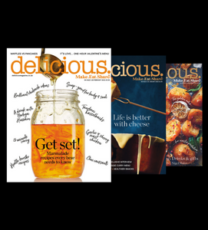 Join our newsletter
Packed with menu ideas, recipes, latest competitions and more...