How to make gravy from scratch
No roast dinner is perfect without a jug of glossy, velvety gravy. Here's how to make superb gravy – even if you're a veggie, and with some problem solving if things have already gone wrong.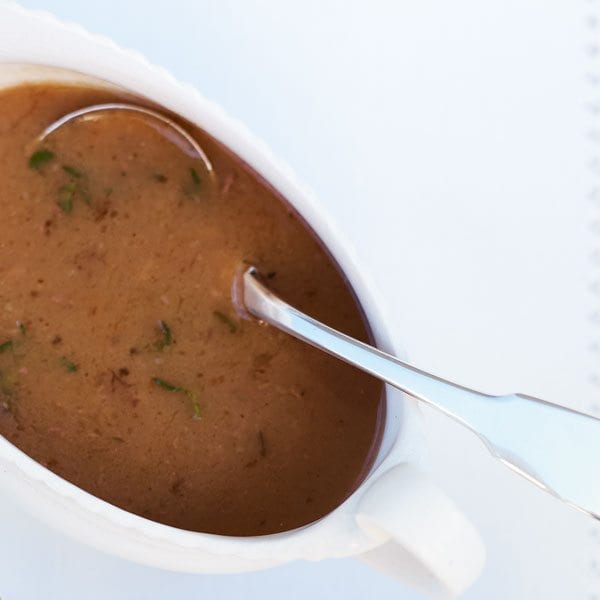 Gravy know-how
What went wrong? If your gravy goes lumpy, strain it into a new pan and heat gently, stirring constantly with a wooden spoon. If it burned, transfer it to a new pan without touching or scraping the blackened bottom. If that fails, then try making our vegetarian gravy instead.
Gravy too thin?
If your finished gravy is too thin, don't add more flour or it will go lumpy and taste 'raw'. Instead, mash equal quantities of flour and softened butter together to make a thick paste called a beurre manié, and whisk in a little at a time until it's the required thickness.
Glossy finish
Add a knob of butter at the end and whisk it in for a glossy gravy.
Handy equipment
A separating jug (pictured) lets you pour off the fat, leaving the meat juices behind.
Saving gravy
It's great added to casseroles, sauces and so on, so don't throw leftovers away! Freeze it in ice cube trays, and you can use a bit at a time.
Thin vs thick
There is no hard and fast rule. We thickened our gravies with a little flour, which helps to bind the fat, but you can add more or less stock to adjust the consistency to your liking.
Stocks
We love Marigold Swiss Vegetable Bouillon, and Knorr Chicken Stock Cubes. If possible, try to use the same stock as your meat, but chicken stock works with all meats.
Vary the flavours
Strength
Some meats release more flavours than others; you may need to dilute yours with water rather than stock.
Herbs
Flavour your meat with pungent herbs before cooking, and the flavour will come out in the gravy. Add more when simmering the gravy, if you like.
Wine and other booze
Add a splash of wine or cider, or even a little Madeira, Marsala or port before adding the stock.
Mustards and jellies
Add a bit of a kick with mustard (great with beef), or sweetness with jelly – redcurrant jelly is a favourite for lamb.
Citrus
A squeeze of lemon or a grating of zest can transform a simple gravy – perfect with roast chicken.
Learn how to make gibblet stock from scratch below…
Subscribe to our magazine
Subscribe to delicious. magazine for HALF PRICE
Subscribe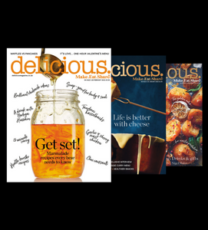 Join our newsletter
Packed with menu ideas, recipes, latest competitions and more...