Where to pick your own this summer
There's something wonderfully nostalgic about picking your own fruit and vegetables. It's an opportunity to truly eat with the seasons and appreciate the provenance of your food, whilst supporting local businesses and reducing air miles. Produce picked yourself will always taste better than shop-bought – it's literally the fruit of your labours. Here is a directory of 'pick your own' locations across the UK. Make a visit to one near you this summer.
2020 Covid-19 update:
Many farms have reopened their gates for summer 2020, but some are operating by advance booking only, with limited hours or restrictions on party sizes. This directory has not been updated to reflect any changes to opening hours or facilities due to the impact of Covid-19. We strongly advise that you call ahead before visiting for full information.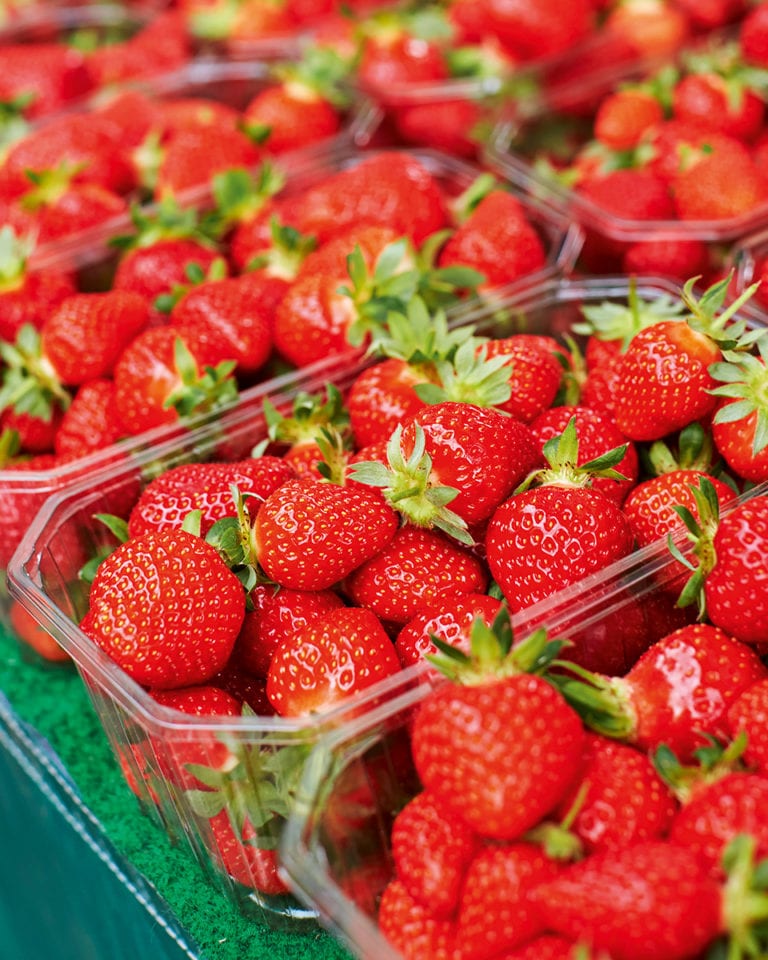 Click on the regions below to quickly jump to each one:
Scotland
North East
North West
East and West Midlands
London and South East
Eastern England
South West
Wales
Northern Ireland
SCOTLAND
Border Berries, Rutherford Farm, Kelso, Scottish Borders
What you can pick: strawberries, gooseberries, raspberries, redcurrants, blackcurrants, tayberries, peas
Open: June-August, everyday 10am-7pm
Also has: a café
01835 823763
Charleton Fruit Farm, Montrose, Angus
What you can pick: strawberries, raspberries, gooseberries, blackberries, tayberries, blueberries, currants
Open: June-August, everyday 10am-4pm
Also has: coffee shop
01674 830226
Craigie's, South Queensferry, Edinburgh
What you can pick: strawberries and raspberries
Open: June-August, everyday 9am-5pm
Also has: café, shop and butchery
0131 319 1048
Cairnie Farming Co., Cupar, Fife
What you can pick: strawberries, raspberries, redcurrants, blackcurrants, gooseberries, tayberries, cherries, blackberries, pumpkins, sunflowers
Open: June-October, everyday 10am-5pm
Also has: farm shop, café and maze
01334 655610
East Yonderton Farm, Renfrew, Renfrewshire
What you can pick: strawberries, gooseberries, raspberries, blackcurrants, redcurrants, blackberries, peas, broccoli, potatoes
Open: April-August, Mon-Fri 10am-8pm, Sat-Sun 9am-5pm
0141 889 3492
Pittormie Fruit Farm, Dairsie, Fife
What you can pick: potatoes, turnips, carrots, asparagus, rhubarb, raspberries, strawberries, currants, tayberries, loganberries, broccoli, cauliflower, cabbage, lettuce, cucumber, beetroot, rhubarb, blueberries
Open: all year, opening hours vary, call to enquire
01334 870233
Wester Hardmuir Fruit Farm, Auldearn, Nairn, Highlands
What you can pick: strawberries, gooseberries, raspberries, blackcurrants, redcurrants, whitecurrants, loganberries, tayberries, blackberries, apples, plums, cherries
Open: June-August, 9am-5pm
Also has: farm shop
01309 641259
NORTH EAST
F W Elgey P.Y.O, Piercebridge, Darlington, Durham
What you can pick: strawberries, raspberries, blackcurrants, redcurrants, gooseberries, blackberries, broad beans, plums, blackberries, apples
Open: June-end of season, everyday 10am-7pm
07789 078874
Brocksbushes Farm, Corbridge, Northumberland
What you can pick: strawberries, raspberries, gooseberries, blackcurrants, redcurrants, plums
Open: June-September, everyday 9.30am-5pm
Also has: farm shop and tea room
01434 633100
Birchfield Family Dairies, Harrogate, North Yorkshire
What you can pick: strawberries
Open: June-July, Tues-Sun 10am-5pm
Also has: café, ice cream parlour and maize maze
01423 781792 or 07763 191458
Now closed until 2021
Bluebell Farm, Askham Bryan, near York, North Yorkshire
What you can pick: strawberries, raspberries and gooseberries
Open: June-August, opening hours vary, call to enquire
01904 798426 or 07831 400 109
Now closed until 2021
The Balloon Tree, Gate Helmsley, North Yorkshire
What you can pick: strawberries, raspberries, gooseberries, red currants, black currants, white currants, blackberries, blueberries, plums, rhubarb, peas, broad beans and runner beans
Open: June-September, Mon-Sun 9am-6pm
Also has: farm shop and café
01759 373023
Hutton Bonville Pick Your Own, Northallerton, North Yorkshire
What you can pick: strawberries, raspberries, gooseberries, blackcurrants, redcurrants, tayberries
Open: June-August, opening hours vary, call to enquire
01609 881266
Pearson's Soft Fruits, Sinnington, North Yorkshire
What you can pick: strawberries, gooseberries, raspberries, blackcurrants, redcurrants
Open: June-August, opening hours vary, call to enquire
Also has: farm shop and seasonal tea garden
01751 433380
Brittain's Berries, Tickhill, Doncaster, South Yorkshire
What you can pick: strawberries, raspberries, blackcurrants, redcurrants, gooseberries
Open: June-August, Mon-Sat 10am-6pm, Sun 10am-5pm
Also has: farm shop
01302 751729
NORTH WEST
Kenyon Hall Farm, Croft, Warrington, Cheshire
What you can pick: strawberries, gooseberries, redcurrants, blackcurrants, raspberries, tayberries, broad beans, garden peas, mangetout peas, sugar snap peas, onions, blackberries, sweetcorn, yellow maize, pumpkins
Open: June-October, everyday 9.30am-5.30pm
Also has: farm shop, café and plant shop
01925 765531 or 01925 763646
Poynton Fruit Farm, Poynton, Stockport, Cheshire
What you can pick: strawberries, raspberries, gooseberry, blackcurrants, redcurrants, rhubarb
Open: June-August, opening hours vary, call to enquire
01625 879401
Now closed until 2021
Rowley's Raspberries, The Rowley Estates, Penrith, Cumbria
What you can pick: raspberries
Open: July-August, Mon-Fri 10am-6pm, Sat-Sun 10am-4pm
01768 870444 or 07738 640 468
Claremont Farm, Bebington, Wirral, Merseyside
What you can pick: strawberries, raspberries, tayberries, redcurrants, blackcurrants, gooseberries
Open: June-July, everyday 10am-6pm
Also has: farm shop, café, cookery school and fishing
01513 341133
Now closed until 2021
Sandhill Strawberry Farm, Prescot, Merseyside
What you can pick: strawberries, raspberries, blackberries
Open: May-August, everyday 10am-6pm
01514 932022
EAST AND WEST MIDLANDS
A Pearson & Sons, Dronfield, Derbyshire
What you can pick: strawberries, raspberries, blackcurrants, gooseberries, rhubarb, broad beans, peas, redcurrants, whitecurrants, french beans, runner beans
Open: June-November, opening hours vary, call to enquire
01142 890225
Scaddows Farm Shop & Pick Your Own, Ticknall, Derbyshire
What you can pick: strawberries, raspberries, gooseberries, redcurrants, blackcurrants
Open: May-August, everyday 9.30am-5.30pm
Also has: farm shop and vineyard
01332 865709
Cattows Farm, Heather, Leicestershire
What you can pick: strawberries, gooseberries, raspberries, blackcurrants, redcurrants, pumpkins, sunflowers
Open: June-October, Mon-Fri 9am-5pm, Sat 9am-6pm, Sun 9am-5pm
Also has: farm shop and tea room
01530 264200
Grange Farm Soft Fruit, Hinckley, Leicestershire
What you can pick: strawberries, raspberries, gooseberries, blueberries, blackberries, blackcurrants, redcurrants
Open: June-August, Tues-Sat 9am-6pm, Sun 9am-5pm
01455 220572
Wymesold Fruit Farm, Wymeswold, Leicestershire
What you can pick: rhubarb, strawberries, raspberries, gooseberries, blackcurrants
Open: every day during the season, 10am-7pm
01509 880230
Galley Hill Farm, Alford, Lincolnshire
What you can pick: strawberries, gooseberries, raspberries, tayberries, blackcurrants, redcurrants, blackberries, apples, pears
Open: June-October, opening hours vary, call to enquire
Also has: campsite
01507 450399
Spinney Farm, Lincoln, Lincolnshire
What you can pick: strawberries and raspberries
Open: June-September, Mon-Thurs 9am-5pm, Fri-Sat 9am-6pm, Sun 10am-4pm
Also has: farm shop
01522 703865
Willows Farm, Chapel St Leonards, Lincolnshire
What you can pick: strawberries, raspberries, redcurrants, blackcurrants, whitecurrants, tayberries, blackberries, gooseberries, plums and cherries
Open: June-August, everyday 9am-6pm
Also has: farm shop and camp site
07771 696001
Goacher's Farm Shop, Retford, Nottinghamshire
What you can pick: apples, blackberries, cherries, redcurrants, blackcurrants, gooseberries, tayberries, worcesterberries, pears, plums, pumpkins, raspberries, strawberries, 
Open: June-November, Mon-Fri 10am-5.30pm, Sat-Sun 10am-5pm
01427 880341
Bearstone Fruit Farm, Knighton, Market Drayton, Shropshire
What you can pick: strawberries, raspberries, gooseberries, tayberries, blackcurrants, redcurrants, blackberries, new potatoes, carrots, peas, broad beans, rhubarb, garlic, beetroot, spinach, kale, spring onions, broccoli, cabbage, cauliflower, sugar snap peas
Open: June-August, Mon-Fri 9.30am-7pm, Sat-Sun 9.30am-6pm
01630 672120
Grange Farm, Bridgnorth, Shropshire
What you can pick: strawberries, gooseberries, raspberries, redcurrants, blackcurrants
Open: June-July, everyday 9am-5pm
Also has: Picnic area, farm animals, clay pigeon shooting and farm shop
01746 716616
Woore Fruit Farm, Woore, Shropshire
What you can pick: strawberries, raspberries, blackcurrants, redcurrants, whitecurrants, gooseberries, blackberries, tayberries, apples, plums, runner beans, onions, beetroot, carrots
Open: May-September, everyday 9.30am-5pm
Also has: picnic area, tea room, shop and day fishing
01630 647042
Canalside Farm shop, Great Haywood, Staffordshire
What you can pick: strawberries, raspberries and blackberries
Open: everyday 9am-4.30pm
Also has: farm shop, café and plant centre
01889 881747
Essington Farm, Essington, Staffordshire
What can you pick: strawberries, raspberries, gooseberries, blueberries, blackcurrants, plums, damsons, rhubarb, runner beans, sweetcorn, pumpkins, squash, courgettes, marrows
Open: June-October, everyday 9am-4pm
Also has: farm shop, butchery, deli and restaurant
01902 735724
Kinver Edge Farm, Kinver, Staffordshire
What you can pick: raspberries, gooseberries, rhubarb, currants
Open: June-end of season, everyday 9.30am-5pm
Also has: shop, café and maize maze
07803 859569
Manor Farm Fruits, Tamworth, Staffordshire
What you can pick: strawberries, raspberries, blackcurrants, blueberries, gooseberries, redcurrants, blackberries
Open: June-September, everyday 10am-6pm
01543 483308
Clive's Fruit Farm, Upton upon Severn, Warwickshire
What you can pick: strawberries, raspberries, cherries, plums, apples and pears
Open: June-August, Mon-Sat 9am-5pm, Sun 10am-4pm
Also has: farm shop, butchery, juice shed and 'glamping' facilities
01684 592664
Lower Clopton Farm Shop, Stratford-upon-Avon, Warwickshire
What you can pick: strawberries
Open: June, Tues-Fri 9am-4.30pm, Sat 8.30am-4pm
Also has: farm shop and farm trail
01386 438236
Summer fruits pick your own now closed until 2021
Malt Kiln Farm Shop, Rugby, Warwickshire
What you can pick: rhubarb, strawberries, gooseberries
Open: Mon-Sat 8.30am-6pm, Sun 10am-4pm
Also has: farm shop, butcher and coffee shop
01788 832640
Red Road Nursey Pick Your Own, Little Kineton, Warwickshire
What you can pick: asparagus, strawberries, pumpkins
Open: May-November, Tues-Sat 10am-5.30pm,
07805 519153, 01926 642297 or 07969 128887
LONDON AND SOUTH EAST
Parkside Farm, Enfield, Greater London
What you can pick: strawberries, raspberries, blackcurrants, blackberries, redcurrants, broad beans, spinach, courgettes, french beans, onions, beetroot, squashes, tomatoes, marrows, sweetcorn
Open: June-October, opening hours vary, call to enquire
020 8367 2035
Crockford Bridge Farm, Weybridge, Surrey
What you can pick: strawberries, blackcurrants, gooseberries, rhubarb, redcurrants, broad beans, asparagus, beetroot, french beans, blackberries, courgettes, pumpkins, raspberries, peas, spinach, carrots, runner beans, marrows, sweetcorn, squashes
Also has: farm shop, tea parlour and ice cream parlour
Open: April-October, Mon-Fri 10am-6pm, Sat 9am-6pm, Sun 10am-5pm
01932 846611
Flower Farm Shop, Godstone, Surrey
What you can pick: strawberries, raspberries, blackberries, plums, asparagus, runner beans, rhubarb and sweetcorn
Open: May-August, everyday 9am-6pm
Also has: butcher, brewery and tea room
01883 743636
Garsons, Esher, Surrey
What you can pick: beetroot, broad beans, broccoli, cabbages, carrots, cauliflowers, courgettes, cucumbers, french beans, marrows, onions, peas, potatoes, pumpkins, runner beans, spinach, squash, sugar snap peas, sweetcorn, apples, blackberries, blackcurrants, cherries, gooseberries, plums, raspberries, redcurrants, strawberries, tomatoes, various flowers
Open: May-October, Mon-Sat 9am-6pm, Sun 10.30am-5pm
Also has: garden centre, farm shop and restaurant
01372 460181
Secretts, Milford, Surrey
What you can pick: strawberries, asparagus, chard, mixed lettuces, rhubarb, broad beans
Open: May-October, Mon-Fri 9am-5pm, Sat-Sun 10am-4pm
Also has: farm shop
01483 520500
Cobbs Farm Shop and Kitchen, Hungerford, Berkshire
What you can pick: strawberries, raspberries, gooseberries, redcurrants, blackcurrants, tayberries, blackberries, runner beans, broad beans, sweet corn
Open: June-September, Mon-Sat 9am-6pm, Sun 10am-5pm
Also has: farm shop, café and vineyard
01488 686770
Copas Farms Pick Your Own, Cookham, Berkshire
What you can pick: asparagus, strawberries, blackcurrants, raspberries, cherries, plums, apples, broad beans, runner beans, peas, sweetcorn
Open: May-September, opening times vary, call to enquire
01628 529511
Grays Farm, Wokingham, Berkshire
What you can pick: broad beans, runner beans, beetroot, broccoli, cabbages, cauliflower, courgettes, blackcurrants, redcurrants, french beans, gooseberries, marrows, onions, parsley, new potatoes, keeping potatoes, raspberries, rhubarb, spinach, sprouts, strawberries, sweetcorn, tomatoes
Open: May-October, Mon-Sat 9am-6pm, closed Sunday
Also has: farm shop
01189 785386
Copas Farms Pick Your Own, Iver, Buckinghamshire
What you can pick: asparagus, strawberries, blackcurrants, raspberries, cherries, plums, apples, broad beans, runner beans, peas, sweetcorn
Open: May-September, opening times vary, call to enquire
01753 652727
Home Cottage Farm, Iver, Buckinghamshire
What you can pick: raspberries, blackberries, apples, plums, pears, damsons
Open: Tues 2pm-5pm, Thurs 2pm-5pm, Sun 11am-5pm
01753 653064
Peterley Manor Farm, Great Missenden, Buckinghamshire
What you can pick: strawberries, gooseberries, raspberries, blackcurrants, whitecurrants, redcurrants, blackberries, plums
Open: June-October, Tues-Fri 8.30am-5.30pm, Sun 9am-1pm
Also has: farm shop, plant nursery and café
01494 863566
Bourne Valley Pick Your Own, St Mary Bourne, Andover, Hampshire
What you can pick: strawberries, gooseberries, rhubarb, raspberries, blackcurrants, redcurrants, courgettes, cabbages, broad beans, potatoes, carrots, beetroot, onions
Open: May-September, Mon-Fri 9am-6pm, Sat-Sun 8.30am-5pm
Also has: farm shop and café
01264 738888
Durleighmarsh Farm, Petersfield, Hampshire
What you can pick: rhubarb, strawberries, raspberries, gooseberries, blueberries, sunberries, tayberries, plums, damsons, sweetcorn, calabrese, broad beans, courgettes, carrots, mange tout, peas, spinach, marrows, runner beans, squash and pumpkins
Open: April-September, opening hours vary, call to enquire
Also has: farm shop
01730 821626
Goodall's Strawberries, Lymington, Hampshire
What you can pick: strawberries, raspberries, cherries and blueberries
Open: May-August, everyday 9am-5pm
Also has: farm shop, play area and café
07967 344008
Steve Harris Pick Your Own, Titchfield, Hampshire
What you can pick: strawberries, raspberries, pumpkins
Open: June-July, everyday 9.30am-5pm
01329 843377
Pickwell Farm Shop, Netley, near Southampton, Hampshire
What you can pick: rhubarb, broad beans, strawberries, peas, gooseberries
Open: April-September, everyday 9am-4.30pm
Also has: a paper craft club with weekly classes
023 8040 4616
West Green Fruits, Hook, Hampshire
What you can pick: rhubarb, strawberries, gooseberries, raspberries, tayberries, tummelberries, redcurrants, blackcurrants, blackberries, sweet peas, sunflowers, sweet william
Open: June-September, opening hours vary, call to enquire
01252 845772
Castle Farm, Sevenoaks, Kent
What you can pick: apples
Open: September, Fri-Sun, 10am-5pm
01959 523219
Chilton Manor Farm, Sittingbourne, Kent
What you can pick: strawberries, gooseberries, loganberries, redcurrants, raspberries, cherries, blackcurrants, blackberries, plums, apples, pears, sweetcorn, greengages, autumn raspberries, apples, pears, pumpkins
Open: May-October, Tues-Sat 10am-5pm, Sun 10am-4pm
Also has: farm shop
01795 425963
Felderland Pick Your Own, Sandwich, Kent
What you can pick: strawberries, cherries, plums, pumpkins
Open: June-September, Tues-Sat 9am-5pm, Sunday 9.30-4.30pm
01304 611820
Foxendown Fruit Farm, Meopham, Kent
What you can pick: strawberries, gooseberries, raspberries, currants, plums, apples, pears, courgettes, marrows, runner beans, tomatoes, pumpkins
Open: June-October, opening hours vary, call to enquire
01474 815080
Hewitts farm, Orpington, Kent
What you can pick: strawberries, gooseberries, spinach, swiss chard, redcurrants, blackcurrants, raspberries, peas, broad beans, salad onions
Open: June-August, everyday 9am-5.30pm
Also has: farm shop
07768 105669
Lower Hardres Farm Shop, Canterbury, Kent
What you can pick: gooseberries, raspberries, tayberries, redcurrants, blackcurrants, plums, blackberries, pears
Open: June-September, Mon & Sat 9am-5.30pm, Tues-Fri 9am-6pm, Sun 10am-4pm
Also has: farm shop and butcher
01227700946
Lower Ladysden Farm, Winchet Hill, Goudhurst, Kent
What you can pick: asparagus, strawberries, raspberries, runner beans, blackberries, pumpkins
Open: April-October, Mon-Sat 9am-5pm, Sun 10am-4pm
Also has: farm shop and maize maze
01580 213529
Stanhill Farm, Dartford, Kent
What you can pick: strawberries, raspberries, sweetcorn, baby sweetcorn, runner beans, tomatoes, pumpkins, black tomatoes, green tomatoes, blackberries, fine beans, beetroot, sunflowers, redcurrants, blackcurrants
Open: June-October, Mon-Sat 9am-5pm, Sun 10am-3.30pm
Also has: farm shop and maize maze
01322 669 711
Stonepitts Farm, Sevenoaks, Kent
What you can pick: strawberries and raspberries
Open: June-August, opening hours vary, call to enquire
01732 762 983 or 07977 487 277
Medley Manor Farm, Binsey, Oxfordshire
What you can pick: asparagus, broad beans, strawberries
Open: Tues 12pm-6.30pm, Thurs 12pm-6.30pm, Sat-Sun 12pm-6.30pm,
01865 241251 or 07887701011
Millets Farm Centre, Frilford, Oxfordshire
What you can pick: Apples, plums, blackberries, blackcurrants, redcurrants, raspberries, strawberries, gooseberries, tayberries, loganberries, broad beans, courgettes, french beans, runner beans, spinach, mange-tout, peas. rhubarb
Open: June-September, everyday 9am-6pm
Also has: farm shop, café, play area, carousel and maize maze
01865 391555
Peach Croft Farm, Abingdon, Oxfordshire
What you can pick: blackberries, gooseberries, loganberries, strawberries, raspberries, tayberries, black/redcurrants, broad beans, mange-tout, peas, mange tout, potatoes, asparagus
Open: June-September, opening hours vary, call to enquire
Also has: Wells Stores farm shop and speciality Christmas free-range turkeys & geese
01235 520094 or 01235 535978
Q Gardens Farm Shop, Steventon, Abingdon, Oxfordshire
What you can pick: strawberries, raspberries, blackberries, cherries, plums, damsons, greengages
Open: April-October, opening hours vary, ring to enquire
Also has: farm shop and tea room
01235 820988
Rectory Farm, Stanton St John, Oxfordshire
What you can pick: asparagus, strawberries, rhubarb, gooseberries, potatoes, raspberries, gladioli, redcurrants, blackcurrants, blackberries, broad beans
Open: April-October, Tues-Sat 10am-5pm, Sun 10am-3.30pm
01865 358309
Hildred's Pick Your Own, Goring, Near Reading
What you can pick: asparagus, rhubarb, strawberries, gooseberries, blackcurrants, redcurrants, raspberries
Open: April-August, opening hours vary, call to enquire
01491 874471
Maynards, Ticehurst, East Sussex
What you can pick: strawberries, gooseberries, rhubarb, apples, apricots, blackberries, blackcurrants, cherries, cobnuts, damsons, loganberries, tayberries, tummelberries, Morello cherries, pears
Open: June-September, Mon-Fri 10am-5.30pm, Sat-Sun 10.30am-6pm
01580 200394
Oast Farm, Buxted, East Sussex
What you can pick: strawberries, raspberries, gooseberries, redcurrants and blackcurrants
Open: Mon-Sat 9am-5pm, Sun 10am-4pm
Also has: café and shop
01825 733592
Sharnfold Farm, Eastbourne, East Sussex
What you can pick: strawberries, raspberries, redcurrants, blackcurrants, blackberries, blueberries, tayberries, loganberries, jostaberries, beetroot, carrots, spinach, courgettes, marrows, cauliflowers, cabbages, leeks, cucumbers, peppers, Romanesco
Open: April-October, opening hours vary, call to enquire
Also has: farm shop, butcher and coffee shop
01323 768490
Tibbs Farm, Rye, East Sussex
What you can pick: blackcurrants, cherries, gooseberries, loganberries, tayberries, raspberries, redcurrants, strawberries, blackberries
Open: June-July, everyday 9am-6pm
07710 246302 or 01797 222009
New House Farm, Faygate, Horsham, West Sussex
What you can pick: strawberries and raspberries
Open: June-July, everyday 10am-5pm
Also has: farm shop and tea room
01293 851890
Paternosters Farm, Haywards Heath, West Sussex
What you can pick: plums, apples and damsons
Open: August-September, opening hours vary, call to enquire
01444 461474
Roundstone Farm, Angmering, Worthing, West Sussex
What you can pick: strawberries, raspberries, blackberries, gooseberries, blackcurrants, redcurrants, plums, Victoria plums, rhubarb, potatoes, sweetcorn, cabbage, broccoli, peas, mange tout, sugar snap peas, broad beans, french beans, runner beans, carrots, beetroot, onions, marrows, courgettes, kohlrabi, pumpkins, squashes
Open: June-September, everyday 9am-5pm
01903 770670 or 01903 501663
EASTERN ENGLAND
Bury Lane Farm Shop, Royston, Cambridgeshire
What you can pick: strawberries
Open: June-September, Mon-Sat 9am-5.30pm, Sun 9am-4pm
Also has: farm shop, gift-shop, café and bakery
01763 260418
Hill Farm PYO, Chesterton, Cambridgeshire
What you can pick: gooseberries, strawberries, raspberries, mixed flowers, blackcurrants, redcurrants, blackberries, sunflowers, plums, sweetcorn, pumpkin and squashes (depending on season)
Open: June-October, Tues-Fri 9am-6pm, Sat-Sun 9am-5pm
Also has: farm shop, picnic area and playground
01733 233270
Lidgate Farm, Ely, Cambridgeshire
What you can pick: redcurrants, blackcurrants, raspberries (red and yellow), strawberries.
Open: June-July, Mon-Fri 10am-7pm, Sat-Sun 9am-5pm
07860 727089
Fairgreen Farms, King's Lynn, Norfolk
What you can pick: blueberries
Open: July-September, Mon-Sat 9am-5.30pm
07928 533846
Hillfield Nursery, Thorpe-next-Haddiscoe, Norfolk
What you can pick: rhubarb, gooseberries, strawberries, redcurrants, tayberries, sunberries, blackcurrants, raspberries, Worcester berries, plums, damsons, blackberries, apples, pears, quinces, medlars
Open: May-October, Mon-Sat 9am-5.30pm
Also has: farm shop and plant nursery
01508 548306
Plumbe & Maufe Farming, Burnham Overy Town, Norfolk
What you can pick: plums, apples, damsons, greengages
Open: July-September, opening hours vary, call to enquire
Also has: caravan site and camp site
07774 996634 or 07760 266064
Swafield Fruit Farm, Swafield, Norfolk
What you can pick: strawberries, gooseberries, raspberries, blackcurrants, redcurrants
Open: June-September, Mon-Sun 9.30am-5.30pm
01692 400838
The Grange Farm Shop, Rollesby, Great Yarmouth, Norfolk
What you can pick: strawberries, gooseberries, raspberries and blackberries
Open: Farm shop, everyday 9am-6pm. PYO, seasonally, daily 10am-4pm
Also has: farm shop
01493 740236
The Orchards PYO, Kings Lynn, Norfolk
What you can pick: strawberries, raspberries, blackberries, gooseberries, redcurrants, blackcurrants, whitecurrants
Open: everyday 8am-7pm
01553 829506
White House Farm, Norwich
What you can pick: strawberries, gooseberries, raspberries, blackcurrants, redcurrants, plums, cherries, apples, pears, potatoes, courgettes, onions, beetroot, sweetcorn, tomatoes, squashes
Open: Tues-Sat 9am-5pm, Sun 10am-4pm
Also has: farm shop, café, and other local stores
07842 192 659
Wiveton Hall, Holt, Norfolk
What you can pick: raspberries
Open: end of May-September, Mon-Fri 10am-4pm, Sat-Sun 9:30am-4pm
Also has: farm shop, café, gardens, art exhibitions and holiday cottages
01263 740525
Goslings Farm Shop, Felixstowe, Suffolk
What you can pick: rhubarb, broad beans, strawberries, gooseberries, raspberries, blueberries, blackberries, runner beans, redcurrants, blackcurrants, cherries, apples, pears, pumpkin, squash
Open: March-October, Mon-Sat 9am-5pm, Sun 10am-4pm
Also has: farm shop, garden café, garden centre and fishing lakes
01394 273361 or 01394 273500
Wheldons Farm Shop, Sudbury, Suffolk
What you can pick: asparagus, strawberries, raspberries, redcurrants, peas, broad beans, lettuces, sweet corn, plums, apples, pumpkins, blackberries, redcurrants
Open: May-October, everyday 10am-5pm
Also has: farm shop
01787 374322
Cammas Hall Fruit Farm, Hatfield Broad Oak, Essex
What you can pick: strawberries, gooseberries, raspberries, cherries, blueberries, blackcurrants, blackberries, onions, sunflowers, sweetcorn, squashes, pumpkins
Open: June-October, Tues-Sun 9am-5pm
Also has: tea barn and farm shop
01279 718777
Lathcoats Farm, Chelmsford, Essex
What you can pick: strawberries, raspberries, blackberries, boysenberries, cherries, currants (red and black), gooseberries, plums
Open: June-August, Mon-Thurs 9am-5pm, Fri 9am-6pm, Sun 10am-4pm
Also has: farm shop and coffee house
01245 353021
McLauchlans of Boxted, Colchester, Essex
What you can pick: strawberries, gooseberries, broad beans, redcurrants, raspberries, blackcurrants, dessert gooseberries
Open: June-August. Mon-Sat 9am-6pm, Sun 9am-4pm
01206 272275
Park Fruit Farm, Frinton on Sea, Essex
What you can pick: apples, blackberries, plums, damsons, pears, raspberries
Open: June-October, Mon-Sat 9am-5pm, Sun 10am-4pm
Also has: farm shop, tearoom and apple press
01255 674621
Spencer's Farm Shop, Wickham St Paul, Essex
What you can pick: strawberries, raspberries, gooseberries, redcurrants, blackcurrants, blackberries, loganberries, tayberries, runner beans, sweetcorn, courgettes, cherries, plums, 18 varieties of apples, asparagus, pumpkins
Open: June-November, Mon-Sat 9am-5.30pm, Sunday 10am-4pm
Also has: farm shop, camp site and coffee shop
01787 269 476
Wash Farm, Halstead, Essex
What you can pick: strawberries, raspberries, gooseberries, blackcurrants, cherries, blueberries
Open: June-August, Mon-Fri 9am-6pm, Sat 9am-5pm, Sun 10am-4pm
01787 461208
Bullscroft Farm, Chorleywood, Hertfordshire
What you can pick: strawberries, raspberries, tayberries, gooseberries, worcesterberries, redcurrants, blackcurrants
Open: June-September, Mon-Sun 9.30am-5pm
07525 741476
Graveley Fruit Farm, Hitchin, Hertfordshire
What you can pick: strawberries, raspberries, gooseberries, blackcurrants, redcurrants
Open: June-July, Mon-Sat 9.30am-4.30pm
Also has: café and play area
01438 727709
Hawkswick Lodge Farm, St Albans, Hertfordshire
What you can pick: strawberries, raspberries, redcurrants, blackcurrants, blackberries and gooseberries
Open: June-August, Tues-Sat 10am-6pm, Sun 9am-6pm
01727 831224
Pearce's Farmshop, Hamels Mead, Buntingford,
What you can pick: strawberries and raspberries
Open: May-July, Mon-Thurs 8.30am-5.30am, Fri 8.30am-6pm, Sat 8.30am-5pm, 8.30am-4pm
Also has: farm shop and café
01920 821246
SOUTH WEST
Chyreen Fruit Farm, Truro, Cornwall
What you can pick: new potatoes, rhubarb, gooseberries, asparagus, raspberries, redcurrants, blackcurrants
Open: April-October, Mon-Sat 10.30am-5pm
Also has: their own honey and free-range eggs
01872 862317
Mitchell Fruit Garden, Mitchell, Newquay, Cornwall
What you can pick: strawberries, raspberries, gooseberries, currants, courgettes, rhubarb
Open: June-September, opening hours vary, call to enquire
01872 510774
Trevaskis Farm, Connor Downs, Cornwall
What can you pick: strawberries, tayberries, loganberries, raspberries, gooseberries, shelling peas, broad beans, redcurrants, whitecurrants, blackcurrants, pumpkins, cherries, mange tout, runner beans, sugar snap peas, sweetcorn, eating apples, cooking apples, blackberries, red gooseberries, plums, tummelberries
Open: June-October, everyday 8am-7pm
Also has: shop and restaurant
01209 713931 or 01209 714009
Shute Fruit and Produce, Teignmouth, Devon
What you can pick: strawberries, potatoes, broad beans, raspberries, courgettes, sunflowers, french beans, runner beans, squashes, sugar snap peas, sweet corn, Indian corn, pumpkins
Open: June-October, opening hours vary, call to enquire
Also has: homemade jams, relishes and cordials
01626 777570
Glen Farm Pick Your Own, Holtwood, Wimborne, Dorset
What you can pick: strawberries, gooseberries, currants, raspberries
Open: June-August, Mon-Sat 10am-4pm. Closed Sunday
01202 883761
Lenctenbury Farm, Wareham, Dorset
What you can pick: strawberries, raspberries, blueberries, blackberries, blackcurrants, gooseberries, broad beans, mange tout, fine beans, runner beans, sweetcorn, squash, pumpkins
Open: June-October, everyday 10am-5pm
07798 743877
Sopley Farm Shop, Christchurch, Dorset
What you can pick: strawberries, raspberries, blackberries, tayberries, gooseberries, blackcurrants, redcurrants, plums, runner beans, broad beans, pumpkins
Open: May & October everyday 10am-4pm, June-September everyday 9am-6pm
Also has: farm shop and camping
01425 672451 or 07587 633111
Trehane Blueberry PYO, Hampreston, Wimborne, Dorset
What you can pick: blueberries
Open: July-August, opening hours vary, call to enquire
07788 267031
Over Farm, Over, Gloucestershire
What you can pick: strawberries, raspberries, blackberries
Open: June-August, Mon-Sat 9am-6pm, Sun 9.30am-5pm
Also has: farm shop
01452 341510
Primrose Vale, Bentham, Cheltenham, Gloucestershire
What you can pick: strawberries, raspberries, gooseberries, blackberries, blackcurrants, loganberries, tayberries, whitecurrants, plums, apples, pears, sweetcorn, runner beans, broad beans, french beans
Open: June-September, Mon-Sat 9am-6pm, Sun 10am-5pm
Also has: farm shop
01452 863359
Thurloxton Fruit Growers, Thurloxton, Taunton, Somerset
What you can pick: strawberries, gooseberries, raspberries, loganberries, redcurrants, blackcurrants, rhubarb, broad beans, potatoes
Open: June-August, opening hours vary, call to enquire
Also has: local honey, meringues and ice cream available to buy
07970 858536
Ansty PYO & Farm Shop, Salisbury, Wiltshire
What you can pick: strawberries, gooseberries, raspberries, tayberries, loganberries, blackcurrants, redcurrants, blackberries, rhubarb, asparagus, potatoes, new potatoes, spinach, broad beans, runner beans, beetroot, sweetcorn, cabbages, leeks, onions, swede, courgettes, squashes, pumpkin
Open: April-October, Tues-Sat 9.30am-5.30pm, Sun 10am-4pm, Mon 10.30am-4pm
Also has: farm shop and tea room
01747 829072
Exmoor Blueberries, Sharcott, Wiltshire
What you can pick: blueberries
Open: August-September, Mon-Sat 10am-6pm, Sun 10am-5pm
07583 187558
Lotmead Farm, Wanborough, Swindon, Wiltshire
What you can pick: strawberries, raspberries, gooseberries, blackcurrants, blackberries, rhubarb, potatoes, runner beans, broad beans, dwarf french beans, sweetcorn, carrots, asparagus, courgettes, beetroot
Open: June-September, opening hours vary, call to enquire
01793 790137
WALES
Bellis Brothers Farm Shop & Garden Centre, Holt Village, Wrexham
What you can pick: strawberries, raspberries, loganberries, tayberries, gooseberries, blackcurrants, redcurrants, rhubarb, peas, broad beans
Open: June-August, Mon-Sat 9am-6pm, Sun 10am-5pm
Also has: farm shop, butcher, garden centre and restaurant
01829 270 302
Brooksgrove Farm, Haverfordwest, Pembrokeshire
What you can pick: strawberries, raspberries, gooseberries
Open: June-July, opening hours vary
Also has: farm shop
07854 212945
Hooton's Homegrown, Brynsiencyn, Anglesey
What you can pick: strawberries
Open: June-August, everyday 10am-4.30pm
Also has: farm shop and café
01248 430322
Hawarden Estate Farm Shop, Hawarden, Flintshire
What you can pick: gooseberries, redcurrants, blackcurrants, apples, pears, plums, pumpkins
Open: June-October, Mon-Fri 9am-6pm, Sat 8.30am-5.30pm, Sun 9.30am-4.30pm
Also has: café and farm shop
01244 533442
Llanvi Farm, Llanvihangel Crucorney, Monmouthshire
What you can pick: strawberries, raspberries, gooseberries, blackcurrants, whitecurrants, redcurrants, tayberries, apples and pears
Open: June-November, opening hours vary, call to enquire
Also has: farm shop
01873890567 or 07973255334
NORTHERN IRELAND
Finlay's Place, Killinchy, County Down
What you can pick: raspberries, gooseberries, blackcurrants and redcurrants
Open: June-August, opening hours vary, call to enquire
Also has: farm shop and plant nursery
02897541221 or 07932 158830
Claggan Pick Your Own, Limavady, County Londonderry
What you can pick: strawberries, raspberries, gooseberries, blackcurrants, redcurrants
Open: June-August, Mon-Sat 10am-8pm
028 7772 2544