How to make jam
Enjoy succulent summer fruits, like strawberries and raspberries, all year long by preserving them as jam.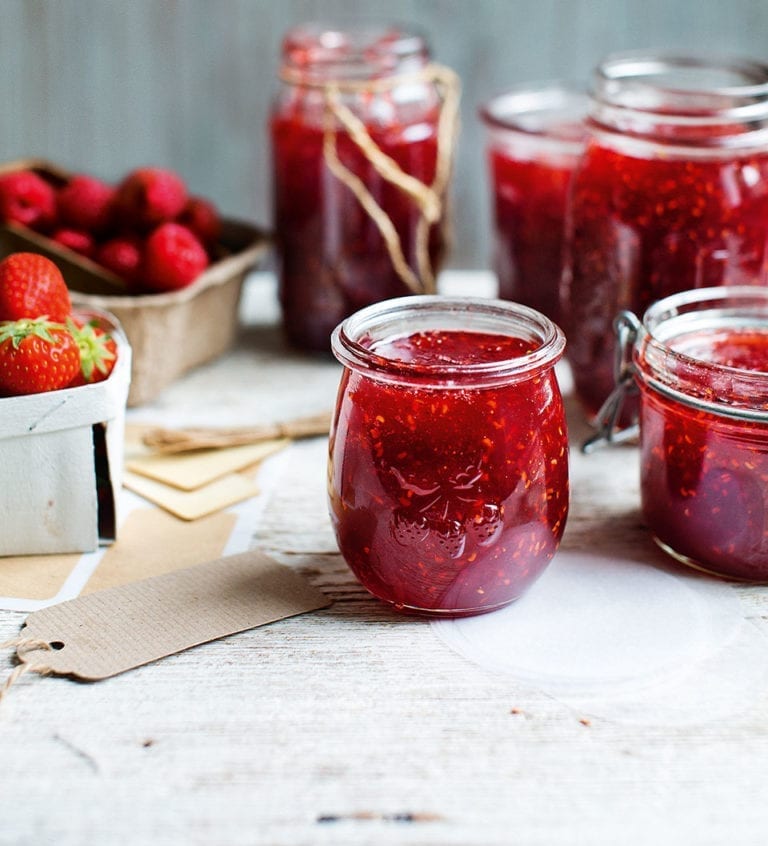 Makes about 1.5 litres
Hands-on time 30 minutes, plus macerating and cooling
You will need:
500g strawberries, hulled and halved if very large
500g raspberries
900g jam sugar (see Tips For Success below)
Juice 1 lemon (see Tips For Success below)
You'll also need:
Large preserving pan
Jam/sugar/digital thermometer
6 sterilised jam jars or small kilner jars
Ladle
Jam funnel or narrow-spout jug
6 wax discs and jam covers or lids to seal the jars, from Lakeland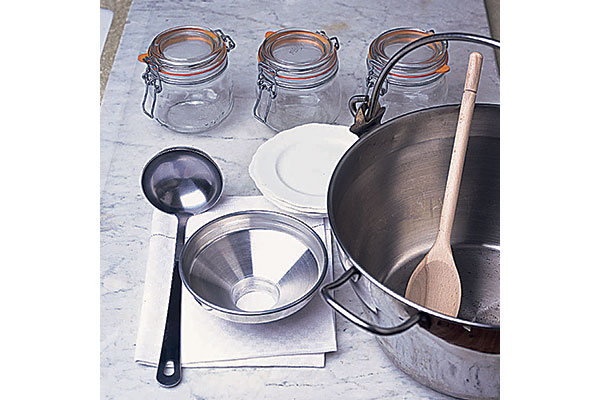 1. Put all the berries in a large preserving pan with the jam sugar and lemon juice. Leave to macerate for at least 15-20 minutes, stirring occasionally with a wooden spoon and gently squashing the berries (see tip). This will help the sugar to dissolve and draw the juices out of the berries. Put a couple of small plates in the freezer ready for testing the set of the jam.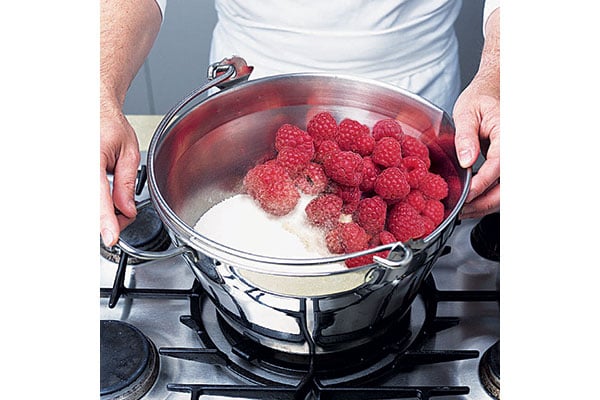 2. Put the preserving pan over a low heat and warm gently until all the sugar has dissolved.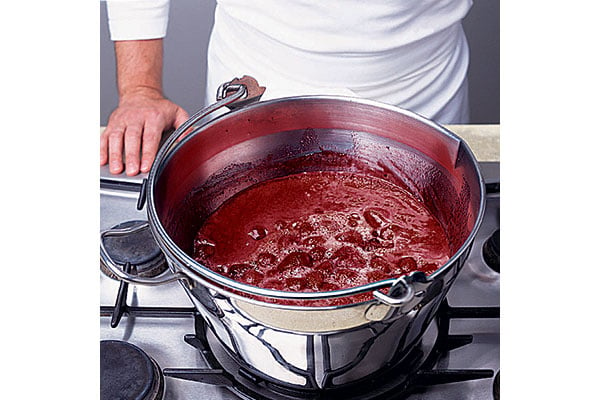 3. Increase the heat and bring the mixture to a vigorous boil. Test the temperature with a jam or digital thermometer – when it reads 105ºC, you can test the set of the jam. (It should only take 3-4 minutes to get there but, depending on how vigorous your boil and the size of your pan, it may take up to 10-15 minutes.) The bubbles should become larger and rise to the surface more slowly and the jam should look a bit thicker.
4. Remove the pan from the heat and spoon a small amount of jam onto a cold plate from the freezer. After a few seconds, push your finger through it – if it wrinkles up around your finger it has reached setting point. If not, return the jam to the heat and boil for a minute more, then repeat the wrinkle test on another cold plate from the freezer.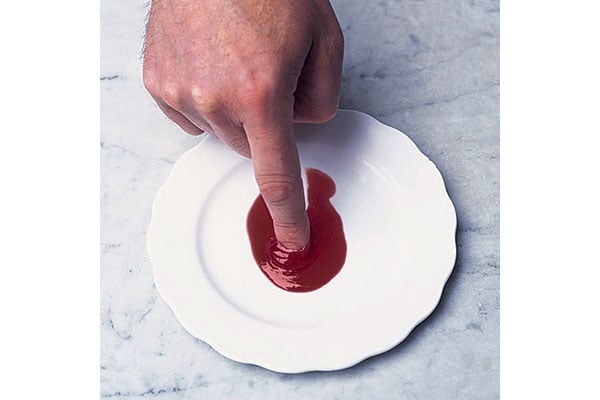 5. Once the jam is ready, leave it in the pan off the heat for 10 minutes, then skim off any scum that rises to the surface.
6. Ladle the hot jam into still-warm sterilised jars using a jam funnel or use a narrow-spout jug. (Take care as the jam will be scalding hot.) Once filled, lay a wax disc (wax-side down) on the surface of the jam, then, while the jars of jam are still hot, seal with a lid or top with a jam cover. Leave to cool completely, then label and store in a cool dark place.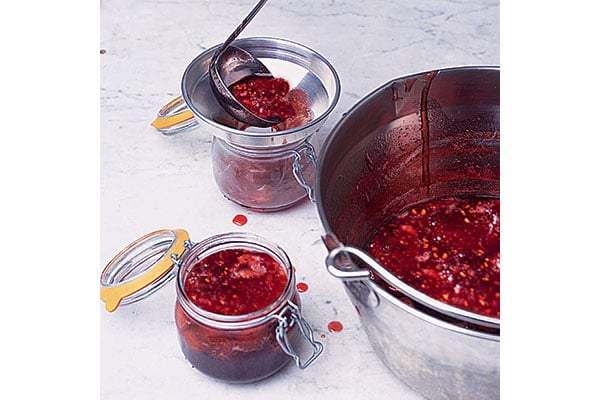 Nutritional serving per teaspoon: 13kcals, no fat, no protein, 3.2g carbs (3.2g sugars), no salt, 0.1g fibre
Make-ahead:
The jam will keep for up to 2 years in sealed sterilised jars. Keep somewhere cool and dry. Once opened, keep in the fridge and use within 2 months.
Food team's tip:
If you'd prefer to have whole berries in your jam, stir gently and don't squash the fruit.
Tips for success:
Strawberries are low in pectin (a natural gelling agent), but raspberries contain a little more. Adding lemon juice, which is high in pectin, helps to turn the jam from runny to thickened. Add a little more if you're worried about the jam not setting properly.
They may sound similar, but jam sugar and preserving sugar are not interchangeable. Unlike preserving sugar, jam sugar has added pectin so is best used when making jam with lower-pectin fruit (such as strawberries and raspberries).
You can vary the berries in the recipe if you like, but make sure you stick to the same total weight. If you're increasing the size of the batch, you'll need to boil the jam for longer.
If you have lots of fresh picked fruit and little time, freeze measured quantities in perfect condition to make jam at a later date.
Check the berries are clean and free of dirt. But avoid washing them if you can – strawberries absorb water easily and excess water in the jam can dilute the pectin, making the set more difficult to achieve. If you must wash them, do so under cold running water but dry thoroughly with kitchen paper before using.
How to sterilise jars:
The jars need to be sterilised before you fill them with jam to prevent mould growing. To do this, wash them well in warm soapy water, rinse, then dry completely in a low oven (about 120°C), upside-down on a clean baking tray. Use a clean tea towel to handle the jars – they'll be hot and you don't want to introduce bacteria from your hands into the clean jars. Sealing the jars while the jam is still warm limits the chance for airborne bacteria to contaminate the jam and ensures a good seal. It's important to make sure the spoons, ladles and funnels you use are very clean, too.
Subscribe to our magazine
Subscribe to delicious. magazine for HALF PRICE
Subscribe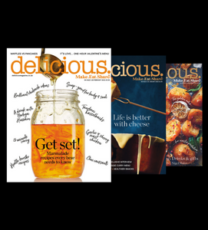 Join our newsletter
Packed with menu ideas, recipes, latest competitions and more...