What is forced rhubarb?
Starting as early as late December and running until the end of March, forced rhubarb season lands. So why do they call it forced rhubarb? Well, the rhubarb is lured out of its natural winter hibernation early by forcing it with warmth and darkness, a little like the white chicory or asparagus so beloved by the French and Belgians.
Long, delicate stems are thrown up quickly, desperately reaching for the light that never comes. The stalk remains rose-pink and never gets the green tinge or big canopy of leaves that photosynthesis would allow, so it has a more delicate flavour and a less fibrous texture than the outdoor kind.
Tom Norrington-Davies celebrates the season of forced rhubarb, which is lured out of its hibernation to be the perfect foil for custard and crumbles.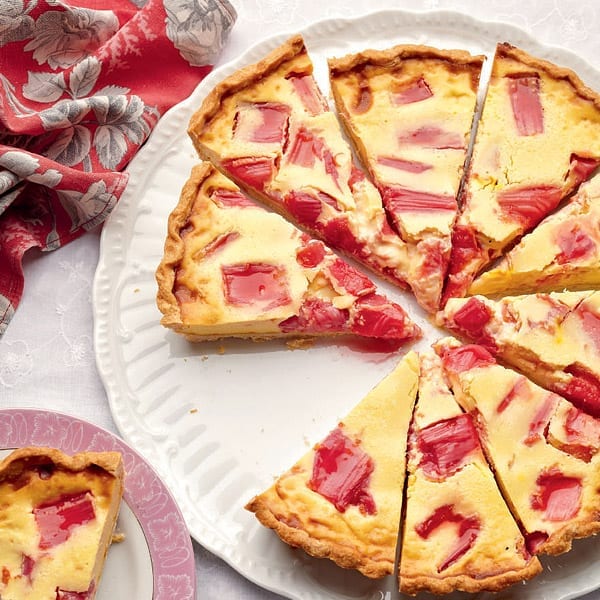 Some words just seem odd together. Blood and orange, for example, sounds a bit gothic, while champagne and rhubarb are hardly two words you would expect to utter in one breath. Unless of course, you were in the know about, well, champagne rhubarb, which is actually more often referred to as forced rhubarb or winter rhubarb.
I've never been quite sure where the champagne tag sprang from. It might be because fanatics regard it as the crème de la crème of its kind, or that winter rhubarb was, until recently, rare and expensive – unlike its semi-feral cousin that lurks at the bottom of the garden.
The area around Wakefield in Yorkshire is famous for its rhubarb forcing sheds: long, low barn-like structures where the rhubarb is grown in darkness and picked by candlelight. And you thought blood oranges sounded spooky!
The season for Yorkshire rhubarb starts tentatively in late December and can last until the end of March, and so fine is this rhubarb that I now think of it as an intrinsically 'winter thing'. I look forward to the season. Rhubarb is one of those strange fruits that never quite suited the summer (strictly speaking, it is a vegetable like a chard or beet). Rhubarb pie is splendid, and crumble is even better – but these are rib-sticking, winter puddings that cry out for jugs of heart-warming custard. I'd rather eat them with a howling gale outside than pass them around the garden with the Pimms.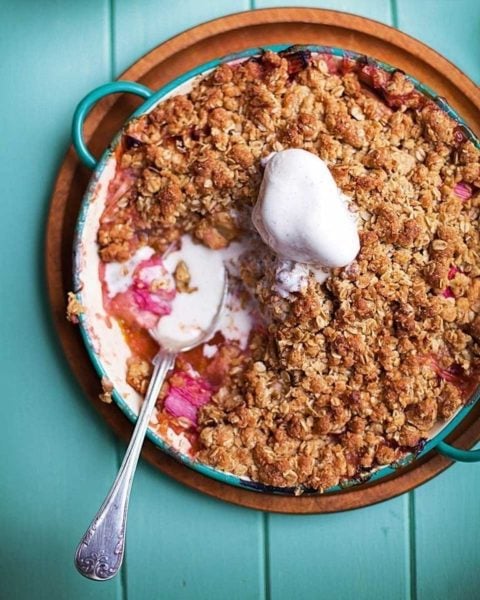 Rhubarb and custard: now there is another odd couple that were actually made for each other. Rhubarb that is cheap as chips, stringy and sour, and the chalky blandness of powdered custard – somehow it just works.
Rhubarb and custard: now there is another odd couple that were actually made for each other.
In fact, if you are generally suspicious of rhubarb, now is the time to try it. For one, it is so pretty pink that it almost looks like candy. This makes it perfect for rather aesthetically pleasing puds.
More importantly, perhaps, it is a beacon of fruitiness in a barren, windswept time of year. Of course, there are stone fruits from the Cape, tropical pineapples or mangoes and shockingly indifferent top fruit from polytunnels anywhere the sun is still showing its face each day. But there is also champagne from Yorkshire.
And for something that combines both champagne and rhubarb in liquid form, here's a rhubarb and apple flapjack crumble.
Subscribe to our magazine
Subscribe to delicious. magazine for HALF PRICE
Subscribe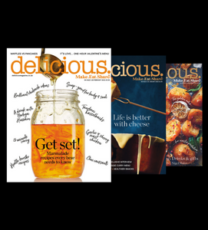 Join our newsletter
Packed with menu ideas, recipes, latest competitions and more...