Your allergy-free Christmas
Dreaming of an allergy-free Christmas? Get help with author Lucinda Bruce-Gardyne's seasonal food survival kit. Plus, where to buy allergy-friendly products.
Christmas can be an anxious time for people prone to allergies. Nuts, gluten-heavy flour, cream, butter and cheese are all foods commonly used in traditional Christmas dishes, which can make this a tricky time for sufferers.
It needn't be so, but you need to be prepared to cook from scratch. The roast turkey itself isn't too much of a problem, but the trimmings are often packed with allergy offenders; and Christmas pudding, Christmas cake and mince pies normally contain butter, wheat flour and nuts.
Don't despair. Home-made versions of all these can easily be adapted to suit your needs – and the good news is they can all be made well before the mad Christmas rush begins.
Replace nuts in…
Stuffing: try replacing chopped nuts and chestnuts with dried cranberries or roughly chopped apricots.
Puddings and pies: chopped nuts – used to add crunch – can be replaced with an equal quantity of roughly chopped apricots or dried figs.
Christmas pudding: substituted ground nuts with an equal quantity of plain flour and another tablespoon of butter or margarine for a little more richness. If you use margarine in your baking, check the label to make sure it does not contain nut-based oils.
Christmas cake: marzipan is made with ground almonds and almond essence, and so, instead, decorate your cake with dried, glazed fruit. Alternatively, brush with apricot jam and cover with home-made or bought fondant icing, rolled to 7mm thick to hide any bumps. Both methods should be done no earlier than a week before Christmas.
Replace gluten in…
Starters: For a gluten-free soup, substitute wheat flour with an equal quantity of rice flour or cornflour for thickening. Replace gluten-rich wheat noodles, pasta or pearl barley in recipes with gluten-free rice, buckwheat noodles or rice and millet pasta, beans, pulses and gluten-free bread.
Stuffing: sausagemeat stuffing usually contains 'rusk' – toasted breadcrumbs. You can make your own sausagemeat using gluten-free breadcrumbs, but these can make the stuffing taste heavy. Instead, try making this brown or white rice-based stuffing as a light, crumbly and delicious alternative.
Gravy: start with a good home-made turkey stock. When you come to thicken the gravy, replace the 25g plain flour with an equal quantity of rice flour or corn flour.
Bread Sauce: substitute traditional white breadcrumbs for an equal quantity of gluten-free white breadcrumbs.
Cakes and puddings: replace plain flour with a gluten-free mixture of 50% rice flour, 25% ground almonds and 25% cornflour. For gluten-free self-raising flour, add 1 teaspoon of gluten-free baking powder for every 110g gluten-free flour. To ensure the cake is moist, light and holds together, use 3 eggs for every 110g flour called for in the recipe. Replace breadcrumbs in Christmas pudding with an equal quantity of gluten-free breadcrumbs.
Find all of our gluten-free Christmas recipes here including nut-, gluten- and dairy-free mince pies, gluten-free Christmas puddings and cakes.
Liquids: watch out for barley wine, stout and ale as these all contain gluten. Gluten-free alternatives include apple or orange juice, rum, brandy, Earl Grey Tea and Grand Marnier.
Replace dairy in…
Starters: for a dairy-free soup, substitute any milk in the recipe with home-made stock, soya milk or rice milk. Thicken with a roux made from 2 tablespoons of neutral-flavoured vegetable oil as a substitute for every 40g butter.
Roast turkey: use olive oil rather than butter to moisten the bird.
Bread Sauce: use soya milk instead of cow's milk and omit butter or cream.
Cakes and puddings: replace butter with an equal quantity of dairy-free margarine, and milk with the same amount of soya or rice milk. Suet, commonly used as the principle fat in Christmas pud, is dairy free.
Brandy butter: this tastes oily if you substitute the butter with margarine. As a dairy-free alternative, make home-made crème anglaise (custard sauce) with soya milk, and flavour it with orange zest and a splash of Grand Marnier.
Allergy-friendly products and producers
Many supermarkets have responded to the demand for more 'free-from' products, i.e. foods without gluten, nuts and dairy. Check out Morrisons' award-winning range, Tesco's cheese crackers and Marks & Spencer's mince pies. Find more information on free-from products here.
The Gluten Free Kitchen
A Yorkshire bakery producing gluten-, wheat- and dairy-free cakes and puds.
St Helen's Farm 
Producers of goat's milk, butter, cheese and cream. More than 70% of people intolerant to cow's milk report an easing of symptoms when substituting goat's milk.
Pure
Dairy-free spread ideal for baking. From leading supermarkets.
Mrs Crimbles 
Great wheat- and gluten-free biscuits for cheese. Available in big supermarkets and some Holland & Barrett stores.
Drossa 
A range of products, including biscuits, crackers and breadcrumbs, suitable for coeliac sufferers.
Bake to Taste
Gluten-free Christmas cake and mince pies. From health food shops, delis or online.
Subscribe to our magazine
Subscribe to delicious. magazine for HALF PRICE
Subscribe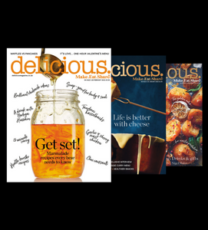 Join our newsletter
Packed with menu ideas, recipes, latest competitions and more...