How to have a zero waste Christmas
It's difficult to get away from the fact that Christmas is a time for excess. More is often more when it comes to food, presents and even the decorations, with so much of it getting binned or wasted once celebrations are over.
We chatted to some of the chefs at Fairmont Hotels to find out what they're doing in their restaurants this year to reduce the amount of food they waste, including take-home ideas that everyone can action, too.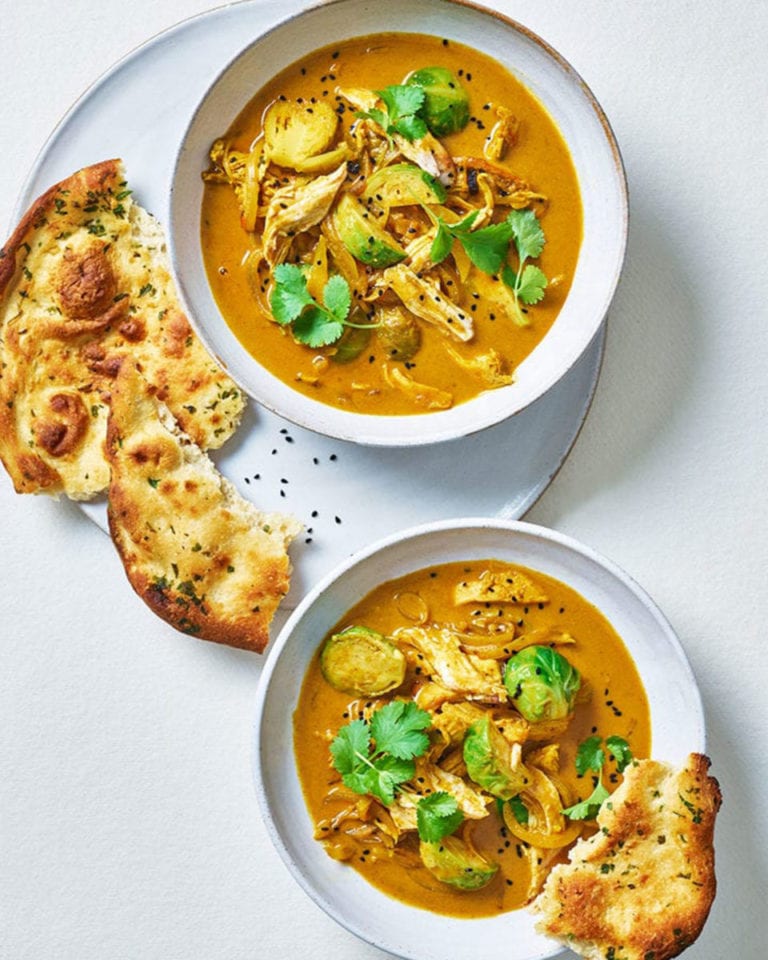 From useful (and surprising) ways to use up odds and ends to homemade Christmas decorations, there are plenty of things you can do to cut down on waste this year.
Love your leftovers
Tip: If you're anything like us, you'll agree that the Christmas leftovers are as good as the main meal itself, so it makes sense to make all those bits and pieces go as far as possible. The bones from your roast turkey (or any other bird) can be turned into stock to make soups, curries, pies and more. Try our leftover turkey curry which uses chicken (or turkey) stock, turkey meat and cooked sprouts in one brilliant use-it-up meal. Plus, we've got plenty of guides explaining how to use up leftover turkey, blue cheese, ham, and Christmas pudding.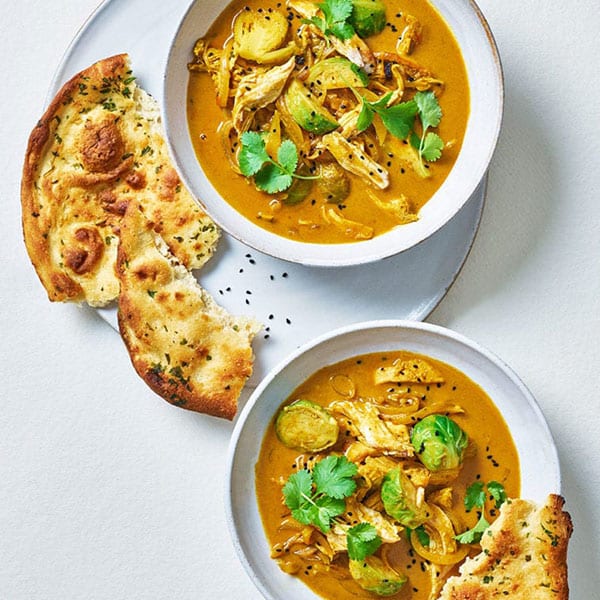 "Instead of throwing out the bones of the meat after a roast dinner, use them to create a delicious stock for soups and sauces. Simply roast the bones until they are nicely brown before boiling with complementary herbs, skimming off the fat, and simmering over a low heat for a number of hours." – Matthaios Tsistrakis, Head Chef – Simpson's in the Strand at The Savoy, London
Use the WHOLE vegetable
Tip: Using the whole vegetable, skins and all, is an easy way to cut back on waste and is much better for you, too (most of the nutrients in vegetables are found just under the skin). With squash, for example, use the flesh and skin to make soups or stews, then rinse the seeds and roast them with spices to make a tasty homemade snack or garnish.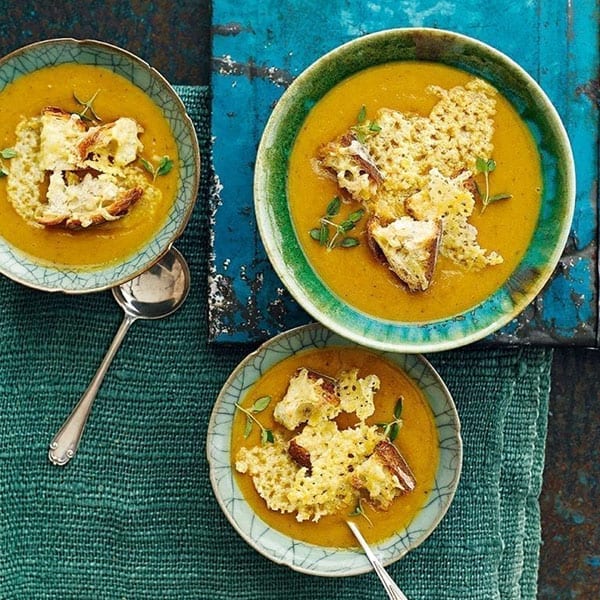 "Eating every edible part of an ingredient not only helps reduce food waste but also ensures we get the most out of its nutrients. Most of a vegetable's nutrients are found within the skin, so I always seek to find different ways to include all of the vegetable in my dishes, from brushing the skin before cooking to incorporating the ends into delicious sauces." – Frederic Breuil, Executive Chef – Fairmont Le Montreux Palace
Stock up on the basics
Tip: Christmas isn't just about the day itself and it can be easy to forget about all those in-between meals. Stay stocked up with basic ingredients such as eggs, cheese, and butter, so you can always prepare a simple meal without having to buy lots of unnecessary food.
Use your freezer
Tip: Although the freezer can be really useful for preparing meals in advance, it's also a great way of storing trimmings, herbs and even some fresh spices (try chilli and root ginger), instead of chucking them straight in the bin. Fresh herbs lose their vibrance quickly if they aren't used straight away, so try chopping and freezing them to add to dishes another day.
"There are so many simple methods we can incorporate into our meal planning to reduce our food waste and make the most of ingredients. From freezing vegetable trimmings to use in vegetable stock and freezing fresh herbs, to pickling leftover vegetables to use in salads, the little things all add up to make an impact on reducing food waste." – Robert Stirrup, Director of Culinary Operations – Fairmont Singapore
Make it yourself
Tip: Add a touch of festive flair to your Christmas table this year by making your own decorations. Utilise fresh herbs and spices for their natural aroma, repurpose winter branches into a minimalist wreath or try drying out fresh fruit, such as oranges and apples.
And make sure to check out our handy guide on how to create a beautiful Christmas table for lots more inventive ideas.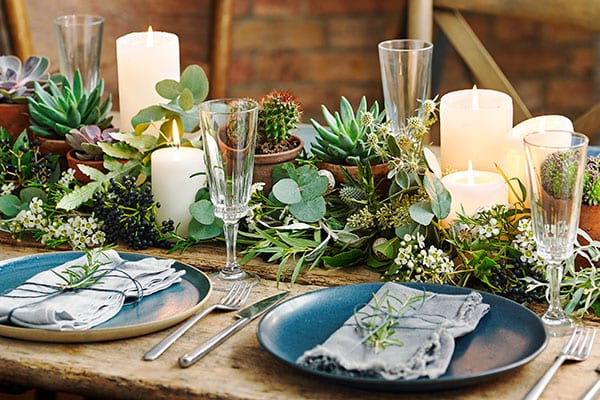 "A simple, yet elegant way of decorating a table is to use petals from flowers. Once your flowers start to wilt remove those petals that still have a vibrancy in them, as these will look best. You can either scatter them on the table that day or, if you want to use them again, dry them in a dark, ventilated space such as an unused cupboard. This works particularly well with roses and is the perfect way to get more out of your flowers, while creating sustainable décor for the table." – Belinda Bowles, Head Designer Florist – The Savoy, London
A tree is for life, not just for Christmas
Tip: Putting up and decorating the tree is an essential part of Christmas for most, but with millions of trees heading to a chipper or landfill, they can be incredibly damaging to the environment. If you can, buy a potted tree that you can use again next year, and the year after that, and the year after that….
"Christmas trees are, of course, the epitome of decorations at this time of year. Many are recycled or disposed of immediately after the festive season, but by buying a potted Christmas tree, you can replant it once all the decorations have come down. It not only uses the tree in a sustainable way but also helps to support the environment. I personally keep mine in a patio plant pot so I can continue to use it very year. It truly gives the tree more life!" – Belinda Bowles, Head Designer Florist – The Savoy, London
Subscribe to our magazine
Subscribe to delicious. magazine for HALF PRICE
Subscribe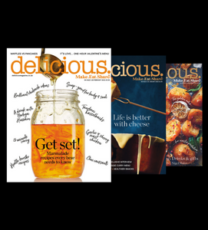 Join our newsletter
Packed with menu ideas, recipes, latest competitions and more...