Barbecuing fish and shellfish
Top tips for how to cook fish and shellfish on your barbecue.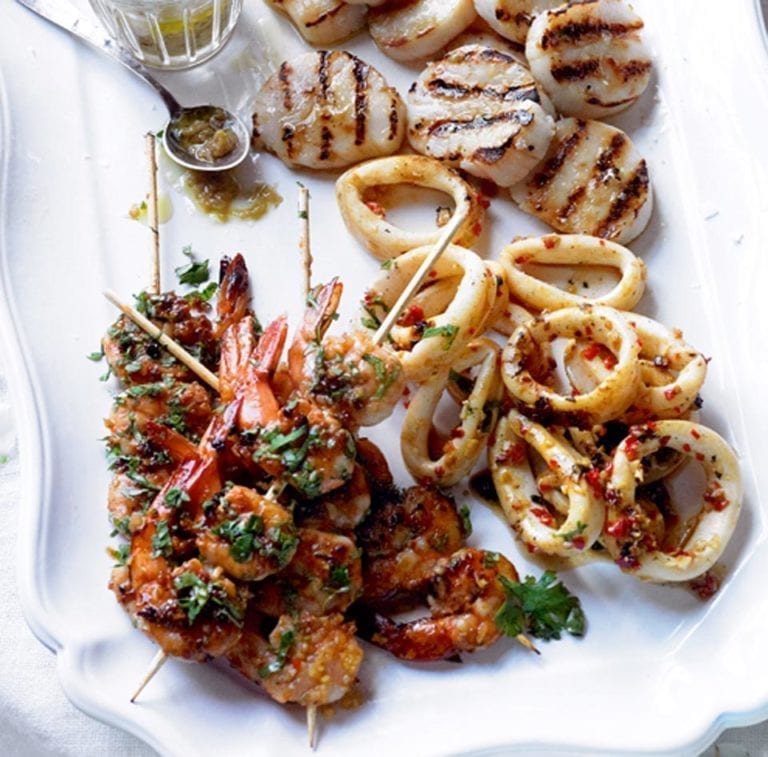 It makes good sense to buy the catch of the day, even if it's not your first choice.
Generally speaking, a side of salmon, small cuts, kebabs and shellfish should be barbecued over a direct heat and whole fish should be cooked over indirect heat.
Unless it's a very firm-fleshed fish like monkfish or tuna, a fillet can break up easily on the grill. Place heavy-duty tin foil under any flaky fish like cod or haddock and bring the foil around the sides of the fish to form a shallow tray. Fish barbecued in this way should not be turned during cooking.
For kebabs, always choose dense fish like monkfish, tuna or turbot, or just use shellfish.
To incorporate flavour, make three or four deep slashes on both sides of a whole fish before marinating or stuffing with lemon or herbs. Flavoured butters can also be stuffed into the slashes but you will need to wrap and seal the fish in foil to keep in the molten butter; this also helps to hold in the juices. Fillets are best marinated or brushed with a sauce or glaze a few minutes before the end of the grilling time.
Grill whole fish with care, or the skin can stick to the cooking grate. Always oil both the cooking grate and the fish well before grilling. A general rule for timing is 4-5 minutes for 1.25cm thick and 8-10 minutes for 2.5cm thick.
Cut a fillet open to check if it is cooked – if it's at the point when the centre is just changing from translucent to opaque, it's perfectly done. Generally the flesh will be firm, with a slight give, when ready.Shellfish normally take just a few minutes on the grill; cook them in their shells, if possible, to retain the juices.
Subscribe to our magazine
Subscribe to delicious. magazine this month for a half price subscription
Subscribe