"The place I love most": a food lover's guide to Cornwall
I have a bias towards this county and it stems from deep roots. My father was born and grew up in a village called Praze-an-Beeble and until my grandparents died they had a house there that to me represented warmth and welcome and good-as-a-hug comfort food. I'm still trying to re-create successfully my grandma's lentil stew with ham hock and dumplings, simmered for hours on the Aga. When I manage it, the recipe will be shared.
This is a guide to the place I love most and return to often, written in the hope it ignites a similar fondness for Cornwall in you. Discover the best beaches to visit, the Cornish tastes you have to try, foodie experiences, delis for local specialities and memorable places to stay while you're there.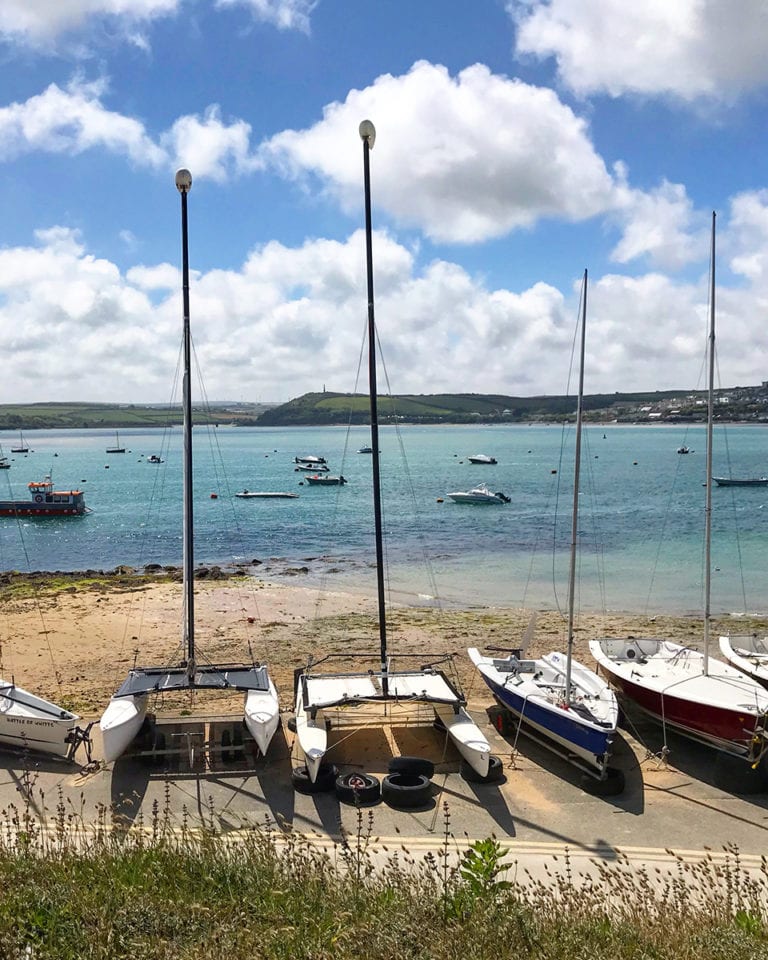 I'd go to Cornwall for weeks at a time in the school holidays, helping in the family village bakery, Bourdeaux's, making pasties, rolling the bread dough to make 'splits' – rolls that were baked nestled together on a tray, becoming joined in the oven so they'd need to be pulled apart – split. I'd watch Pop roll puff pastry back and forth ready to dot with butter before folding and rolling again to make sausage rolls. His madeira cake and saffron loaf were second to none… So many childhood memories.
Here are my recommendations if you've never been to Cornwall or would like to know it better…
STAR BEACHES
Cornwall is legendary for its white powdery-sand beaches, soft and glittery on the feet. On the north coast you'll find, generally, the best waves for surfing; on the south coast, some of it has a softer landscape, particularly around the Fal Estuary, but other parts (especially the Lizard Peninsula, Britain's most southerly point) are wild and rugged. Here are my top beach choices – all sandy:
Godrevy and Gwithian, near Hayle, is miles long and has an abundance of rock pools, the biggest of which is known as The Sheep's Pool – who knows why.  Was it used to dip sheep in days gone by? I've spent so many days on these two joined-together beaches – in sun, wind and drizzle, sometimes looking out at the rain through a car window while eating a cornet, but mostly running around enjoying the feel of sun on skin and the sharp-breath-intake, skin-tingling plunge into the sea. Plus there's a cute little café hidden behind the dunes, where you can get sandwiches, cakes and drinks. Walk up and along the coastal path, around the headland, and you come to Godrevy lighthouse – a fine spot to watch the sun go down. Take a flask and a wrapped-up cinnamon bun , sit among the sea pinks and breathe. Walk further (daylight only – really) and you come to crinkle-cut soaring cliffs and the 300ft Hell's Mouth – spectacularly dramatic. Not a walk for a gusty day.
Kynance, on the Lizard Peninsula in the south, is dramatic, with jagged rocks broken away from the main coastline. At low tide you can walk around to other coves – but make sure you don't get cut off. It gets busy, so visit early in the day or out of season.
Sennen Cove on the road to Land's End, on the north coast: a wild and sometimes (often, in winter) windswept vast expanse of beach. The road to get there is dramatic and stark, the trees (what few there are) shaped by the salty wind. I love to have a good walk along the sand on a blustery day, then finish with a hot chocolate and a bite to eat at chef Ben Tunnicliffe's restaurant, Ben at Sennen, right on the beach.
Prussia Cove: famous not only for its scenery and sand but also for the classical music series in the big house, which draws top class musicians from all over the world.
Other great beaches… The three main ones at St Ives are spectacular, particularly Porthmeor, famed for its light and painted by scores of artists, but prepare for crowds in summer. Harlyn and Daymer Bay, near Padstow, are also stunners, and opposite Padstow is beautiful Rock Beach where you can walk for miles on golden sand – and, if you want to, get the little ferry a hop across to Padstow. Watergate Bay is another beaut. Oh, and I love St Agnes: smaller, quainter, more intimate – and great for surfing.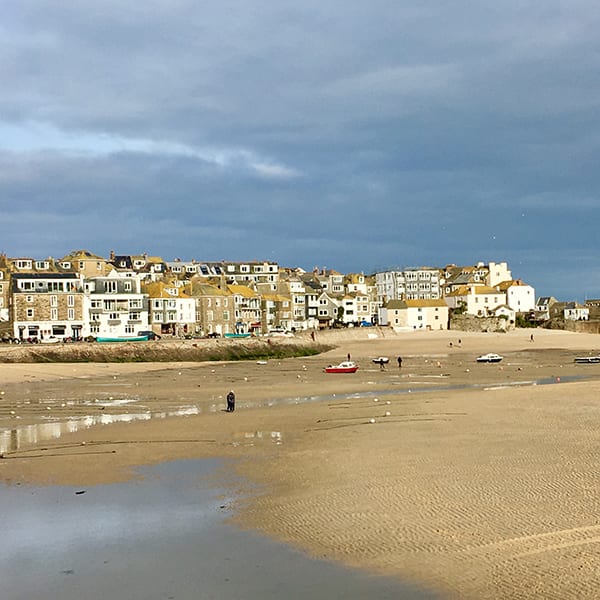 THE FOOD TO TRY WHILE YOU'RE THERE…
Roskilly ice cream: made from milk from the Jersey herd on the Roskilly farm – visitors to the farm are welcome but you can buy the ice cream throughout the county. Try the pear & elderflower and the caramel crunch flavours, but you can't beat unadulterated vanilla.
Fudge: wherever you see Buttermilk Barn fudge for sale, you can be assured of a sweet treat. But the fudge shop we always return to – like stepping back in time – is The Cornish Candy Shoppe, in Fore Street St Ives. So many flavours, but, as with ice cream, you can't go wrong with plain clotted cream fudge, which is a bit crystally but also creamy (the holy grail). Buy some to take home.
Saffron loaves: one of Cornwall's traditional bakes, dating back to the days of the spice traders when saffron was one of the most prized spices. Must-visit: The Chough Bakery in Padstow. I've heard good reports about the saffron buns from the Quay Bakery in Fowey, too.
Cinnamon buns by Da Bara are a marvel – not Cornish in origin, of course, but adopted into the local hall of fame. You can find them in various cafes, such as the excellent Emily's in River Street, Truro, but also from The Ark speciality food store on the A39 near Wadebridge and direct from Da Bara bakery itself, near Truro. There's a new café there now, too – and trust me: it's not just the cinnamon buns that are good. I suggest taking an empty bag and stomach.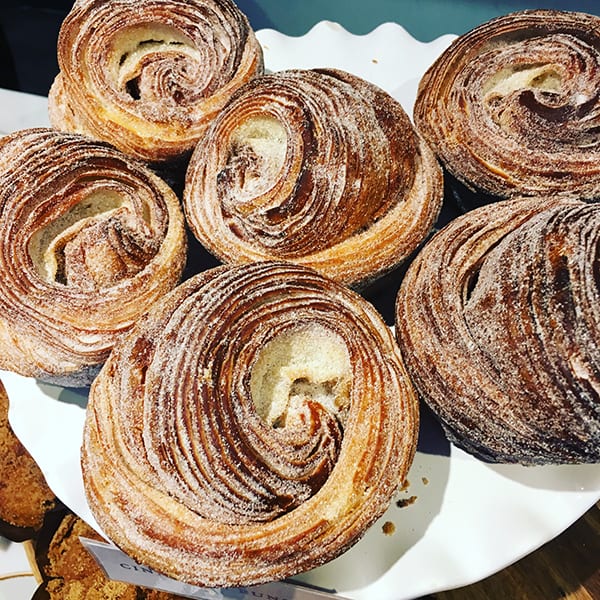 Cornish pasties:  you can't beat a traditional pasty, made the old-fashioned way, warm from Philps in Hayle. There's no pretension here and they're the best fodder to pack and take on a cliff walk – especially as they hold their heat for ages. The queues of locals outside the shop door say it all. Also good: Anne's Pasties on the Lizard Peninsula. And Rick Stein's deli sells all manner of pasty variations, which would have my Pop turning in his grave but are nevertheless excellent. We usually buy a few to take home and freeze.
A crab sandwich: for a down-to-earth, proper doorstep local one, go to the Ship Inn at Porthleven and eat it on the bench outside, overlooking the sea. Or, further up the county in the Port Isaac area, try the Port Gaverne Hotel.
And, of course, clotted cream: you can't go wrong with Rodda's, renowned worldwide for its consistently sublime creaminess with a soft crust on top – exactly as clotted cream should be. Notably, it was Highly Commended in our 2018 Produce Awards. Also good: clotted cream from the smaller Trewithen Dairy.
FOODIE EXPERIENCES TO TRY…
A feast at Nancarrow Farm, at Zelah, near Truro: the family has been farming at Nancarrow for nine generations and specialises in rare breeds. It's not a restaurant, but they host magnificent feasting nights throughout the year. Get on their mailing list to find out when they are. You can stay on the farm, too, in one of the converted barns or have a glamping moment in a bell tent.
The Hidden Hut Café: for outdoor feasting with a view. It's on the coast path near Portscatho on the Roseland Peninsula and used to be Cornwall's best kept secret but, due to the power of social media and a wonderful cookbook published last year, the word is well and truly out – which means you need to get there early as they don't take bookings at lunchtimes. It's open every day in summer, but check timings out of season. And look out for the legendary feast nights (booking essential). You have to park and walk a bit to get there, and it really is hidden – but that's part of the charm.
A Cornish Wine Tour: the county has several vineyards – most notably Bob Lindo's Camel Valley, famous for its sparklers – and a day of touring and tasting includes lunch at one of my favourite restaurants: Appletons at Trevibban Mill vineyard (see link below for a list of my favourite Cornish restaurants).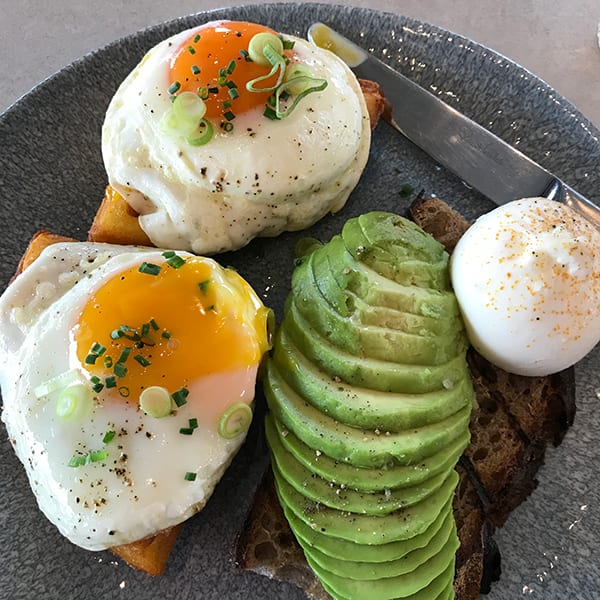 AND A FEW NON-FOODIE EXPERIENCES…
The Minack Theatre: an amphitheatre set into the cliffs near the village of Porthcurno (not far from Land's End). They do open-air plays, some of which are good for families, all summer long. Take a cushion, remember to book (essential) and look out for the kiosk selling food to take away – they've been known to do a good fish curry.
The Eden Project – the world's largest indoor rainforest, with so much more besides, and a top spot to escape to on a rainy day. But you won't be the only one with that idea…
The Lost Gardens of Heligan – restored to their former glory over the past 25 years to become one of the finest gardens in the UK.
The Tate, St Ives, with its jaw-dropping views over beach and sea. Even if you don't go inside, walk up to the top of the steps and feast on the view of Porthmeor Beach through the panoramic window.
Barbara Hepworth museum, St Ives – beautiful sculptures in a centre-of-town garden setting that feels surprisingly intimate and miles away from the crowds beyond the door
Trelissick National Trust property for dappled woodland walks down to the sea and beautiful views. Best time to go: in spring when the rhododendrons and azaleas are out, but it's beautiful in autumn, too – a riot of auburns and golds.
St Michael's Mount: walk over to the castle-topped island at low tide via a causeway. Check tide times to make sure you don't get stranded – but there's a ferry if you do.
Jubilee Pool, Penzance, Cornwall: The Art Deco salt water lido opened in 1935 and was in the process of being renovated when, in the last big storm, it suffered severe damage. It's recently reopened, complete with a separate geothermal pool, and is a blissful spot for a wave-free sea-water swim, with views of St Michael's Mount. The sunsets can be spectacular – and there's a café, too.
GOOD DELIS, FOOD SHOPS AND COFFEE, WITH AN EMPHASIS ON LOCAL…
Great Cornish Food Store has a butcher, fresh fish, a deli counter and an abundance of local produce – and a café. Plus there's good parking and it's easy to get to, on the edge of Truro.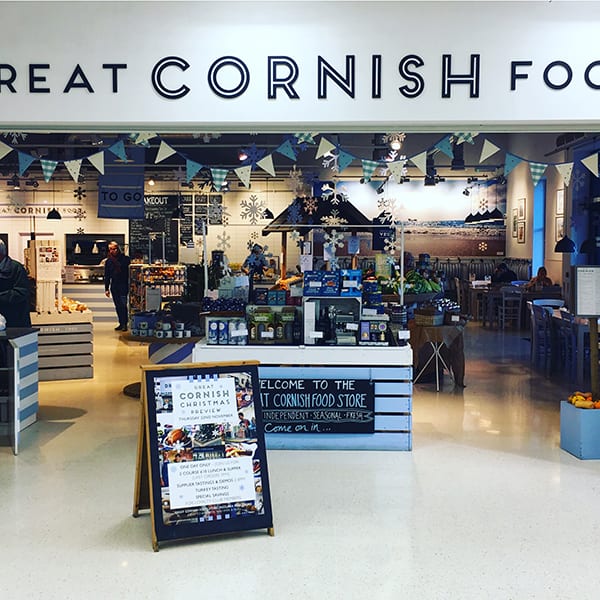 Padstow Farm Shop, in Trethillick, sells meat from the family farm, pasta made from home-grown durum wheat, local cheeses (Yarg, as you'd expect, but also look out for Cornish Smuggler) and charcuterie.
Trevaskis Farm shop near Hayle is famous for its local breed Lop pork and also for beef and fish, straight off the boats at Newlyn, plus all the usual farm shop offerings. There's a café/restaurant, too, and you can pick your own fruit in season.
Curgurrell Farm Shop, at Portscathoe on the Roseland Peninsula, is good for locally grown fruit, veg, eggs, preserves and more, but they're famous for their fresh fish and seafood caught by the family on their own boats. There's nothing like a fresh-from-the-sea sweet Cornish hen crab, cooked within an hour or two of being caught. I'd choose it over lobster any day.
The Arc Food Store, near Padstow: a compact collection of goodies, from near and far. It's a good pitstop, but it doesn't have the breadth of produce (or air of family love) of the best farm shops.
Stones Bakery, Falmouth: a top spot for artisan breads, cakes and excellent coffee sipped out of cups made by a potter just up the road.
Yallah Kiosk, St Ives: single-origin coffee at its finest, right on the waterfront. Wherever you see Yallah being sold, you're in for a treat of a cup. Look out for Origins Coffee, too, roasted and sold in Cornwall with an outpost in London's Southwark.
The Allotment Deli, St Ives: not one to make a detour for as it's right in the centre of town on the main shopping street so parking is a challenge, but if you're staying in St Ives they have a rounded offering, including excellent bread, fresh fruit & veg.
MY FAVOURITE PLACES TO STAY…
For self-catering:
Aspects Holidays has a range of properties of a consistent high standard, with plenty of choice in the sought-after St Ives and Carbis Bay area. I've booked through them innumerable times. On our last visit we stayed in a house called Higher Carthew, a four-double-bedroom, three-bathroom house renovated to the highest standard, with views over the sea towards Porthmeor Beach and the 'St Ives Island' (which is attached to land – odd but true). I'd describe it as a summer house – light and airy with comfortable beds, great bathrooms and a well equipped kitchen. Major plus if you're a music-lover: there's a Sonos sound system and the house has two parking spaces – gold dust in St Ives. It's a brisk but short uphill walk from Porthmeor Beach – useful for working off holiday over-indulgence. Prices from £1,100 for a week in low season.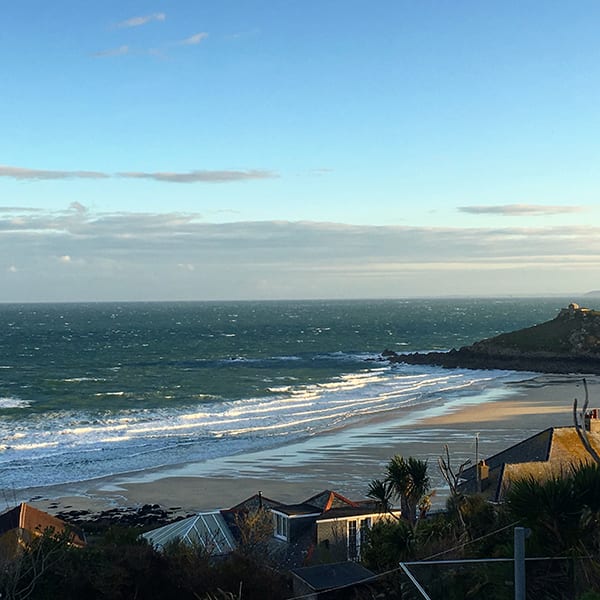 Also good are the Sail Lofts properties, right in the centre of town, a minute's walk from Porthmeor Beach and the many St Ives eateries. I've booked many different apartments over the years, all stylishly decorated, with well equipped kitchens, smart bathrooms and comfy beds – the three essential attributes. Look out for last-minute short-break deals, especially out of season.
Hotels…
High-end choice: The Idle Rocks, overlooking the sea at St Mawes, on Cornwall's calmer south coast, with a terrace right on the water's edge, a wonderful welcoming seaside-cool vibe, uber-stylish rooms and a top-notch fine-dining restaurant headed up by chef Guy Owen.
Mid-range: Mount Haven, Marazion, with spectacular views of St Michael's Mount, just off the coast. There are 20 rooms, many with balconies overlooking the sea (prepare for blissful moments if there's a sunset), plus a terrace for sundowners and a restaurant where head chef Ross Sloan creates on-trend dishes using interesting ingredients, with a strong emphasis on local produce and zero waste. Rooms are well furnished; dining room feels a bit like a smart canteen. Room rates are good value, from around £80 B&B for the smallest room, off season, and look out for deals.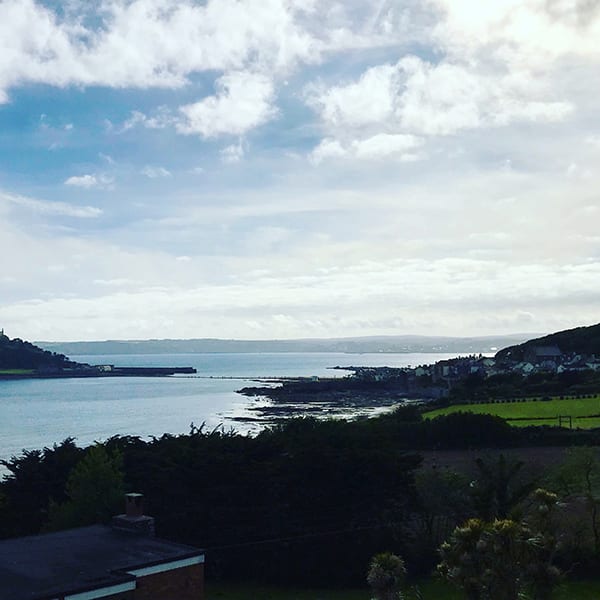 B&Bs…
The Chapel House, Penzance: this is one elegant place to stay, with the style of an artsy boutique hotel and excellent breakfasts. On Fridays and Saturdays you can book in for a shared-table kitchen supper and on Sundays there's a local brunch/lunch to set you up for the journey home if you're on a weekend break. Room rates from £150 a night.
Trevose Harbour House, St Ives: for mid-century style and a fine breakfast, again more like a boutique hotel than a B&B. Owners Olivier and Angela poured their heart, soul and a whole lot of money into restoring the tumbledown building and the result is a haven of blue-and-white calm. It's within stumbling distance of restaurants, beaches and shops, and (major plus) car parking passes are available, too. It's not cheap, but it's worth it, even if only for a one-night treat. B&B from £175 a night.
And relax…
Book in for a treatment at the Watergate Bay Hotel, then meander down to the hotel's new bar, Watchful Mary, to enjoy a few small plates, watch the merriment on the beach below the window and drink a negroni or a glass of chilled wine. Soon all will be well with the world. Incidentally, the hotel does great offers out of season, including Taste of the Bay three-night packages where you can dine at each of Watergate Bay's restaurants in turn (Zacry's, The Beach Hut and Fifteen).
Want to know wonderful places to eat in Cornwall? See Karen's 10 favourite Cornish restaurants (plus 7 more worth a try)
Subscribe to our magazine
Subscribe to delicious. magazine for HALF PRICE
Subscribe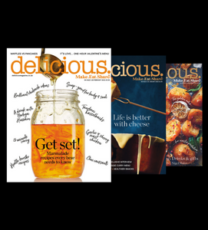 Join our newsletter
Packed with menu ideas, recipes, latest competitions and more...