How to create a cheese cake tower
Is it a cake? Is it cheese? The answer is, both. A 'cake' made from stacked cheeses makes a spectacular centrepiece for a party or a wedding, but which cheeses should you choose?
Any good cheesemonger will be able to guide you through tasting and choosing the right cheeses, but here are the general principles, mapped out by experts in cheese: Paxton & Whitfield.
Choosing the cheeses
Think of this as a giant cheeseboard: make sure the cheeses go together, as they'll be served and eaten together. A selection of hard, blue, semi-soft and soft cheeses is a good start. Add a washed-rind cheese as these bring punchy flavours to the party (a good cheesemonger will let you taste to see which cheeses you like).
Use harder cheeses for the base tiers so they can support the top tiers. Generally, cheeses such as cheddar, shropshire blue, double or single gloucester all work well. If your favourite cheese is something large and soft, like a brie, you could use cake dowelling rods and cardboard cake boards, as you would with a tiered sponge cake, to create a support for the upper tiers.
Washed-rind, semi-soft and soft cheeses are better suited to the upper tiers, so these cheeses should be smaller. You want enough of each cheese for all your guests, though, so you may need to buy extra to serve alongside the main cheese cake stack.
How to serve a bigger variety of cheese
If you want to serve a wider selection of cheeses, create one of the tiers out of two, three or four wedges fitted together like a pie chart to make a full round.
How much cheese is needed per person?
You'll need roughly 80-100g cheese per person if you're serving this as a cheese course, but allow 150-175g per person if you're serving the cheese cake stack instead of pudding.
Can you serve cheese with inedible rinds?
Some cheeses with inedible rinds, such as cloth-bound cheeses, can have a striking visual impact in a stack. Godminster cheddar has a deep-red waxed coating, for example. Other cheeses with attractive rinds include Cornish yarg, which is wrapped in deep green nettle leaves, or soft, washed-rind cheeses – langres has a beautiful wrinkly orange bloom. Guests can trim off the rinds of these cheeses themselves.
You want enough of each cheese for all your guests, though, so you may need to buy extra to serve alongside the main cheese cake stack.
How to decorate a cheese cake tower
Decorate your cheese cake with seasonal fruit or edible flowers (available from Sainsbury's and online at Ocado) for a wow-factor finish. And the perfect accompaniment? Try our homemade rye crackers.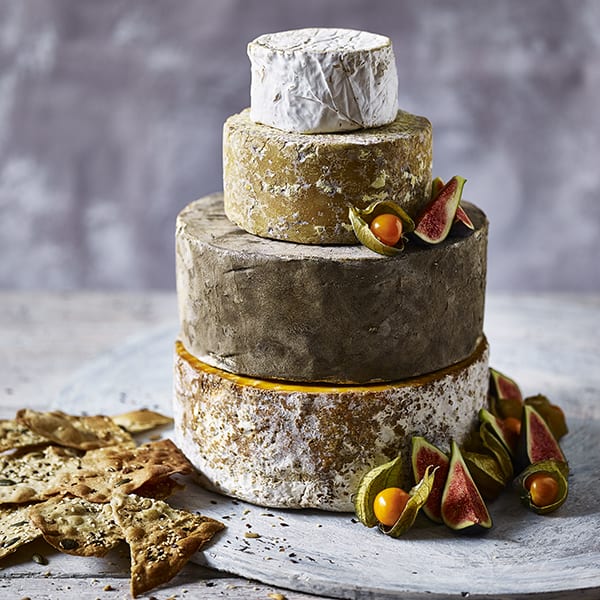 What's in our stacked cheese cake?
Paxton & Whitfield came up with this combination for our picture – an appealing combination of colour, texture and taste. It will serve 50-60 guests.
Top layer: Finn (4 individual rounds: 1 for the cake and 3 others to serve)
This wonderful cheese has a soft, double cream-like texture. It tastes lactic and velvety when it's young, but as it matures it develops complex walnut and mushroom flavours.
Second tier: Sheep rustler
A semi-hard ewe's milk cheese with a medium, mellow flavour that's slightly nutty with a hint of caramel.
Third tier: Single gloucester
A traditional cheese, handmade using the milk of Gloucester cows. Mild, creamy and slightly lactic in flavour, it's best eaten young.
Base layer: Shropshire blue (2kg)
A smooth-textured blue cheese with a rich, rounded flavour and distinctive blue veining throughout the russet interior.
Where to buy
You can buy the whole cheeses to make up this spectacular cheese cake as a set from paxtonandwhitfield.co.uk for £185 (excluding P&P).
Subscribe to our magazine
Subscribe to delicious. magazine for HALF PRICE
Subscribe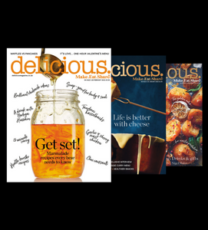 Join our newsletter
Packed with menu ideas, recipes, latest competitions and more...