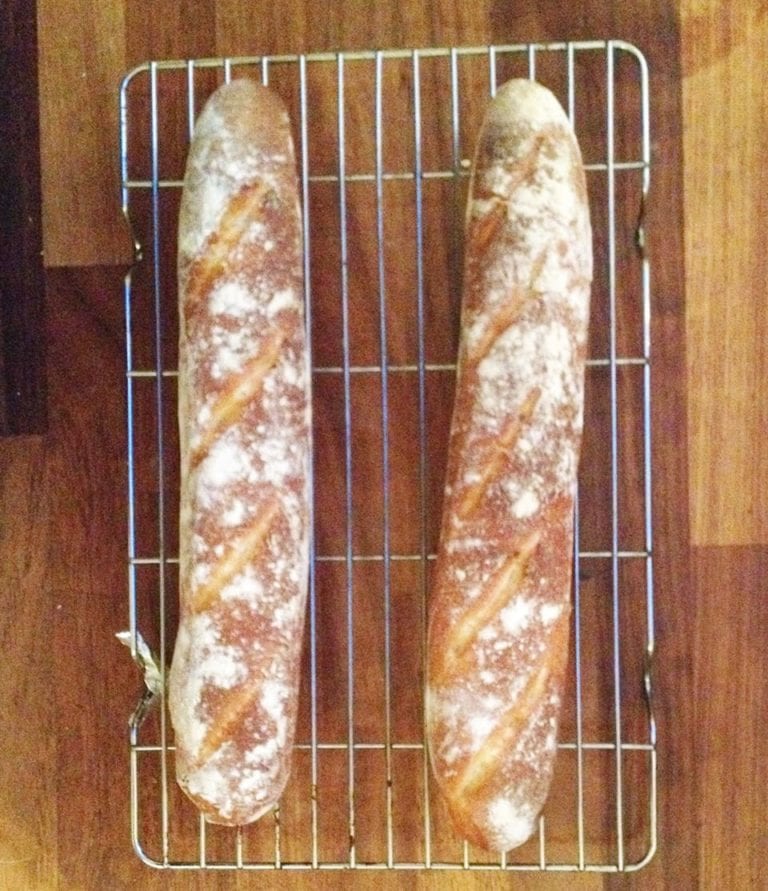 While I consider myself a whizz at whisking up a sponge, I have a rare type of gluten intolerance: I've never been successful making bread in any form. Understandably, I was a bit nervous about taking on baguettes for the delicious. GBBO challenge.
At first glance baguettes look easy. Ingredients: flour, yeast, salt, water. Method: Put the ingredients into a mixer with a dough hook for about 5 minutes. Well, easy if you have a stand mixer with a dough hook, but I don't. It's down to muscle power. I estimated about 10 minutes kneading by hand would do it. The dough was fairly sticky but soon came together, becoming smooth and elastic – and it left a nice sticky patina on my worktop (as you can see below).
On the left is the dough in the oiled tin for its first rise and then, on the right, after an hour in the airing cupboard (where it was about 27ºc).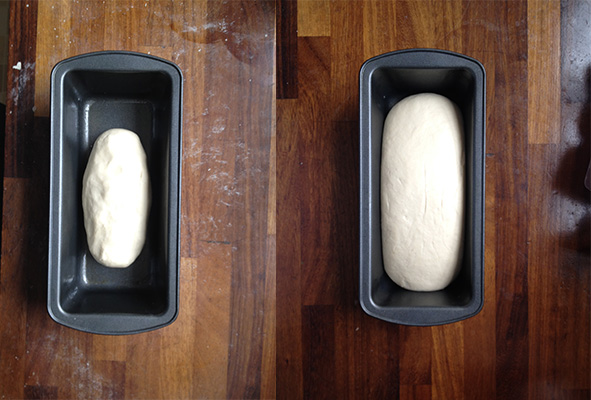 Now the tricky bit. Shaping the baguettes without knocking out too much air. Cut the dough in two (or four for a full batch – I was making a half-batch), then fold the dough over on itself to make a seam along the length. This seems to stretch the outside of dough, making it smooth and rounded. You seal the seam by pressing lightly with your thumbs – it's a little tacky, so it sticks easily. With the seam underneath, gently roll the baguette back and forth, lightly resting your hands on the middle and working them apart to lengthen the baguette. It happens quite naturally, don't force it.
Next you need to put them in a couche – a heavy linen cloth dusted with flour that folds up to support and help the baguettes keep their shape as they prove. Of course, I didn't have one of these but I'd earlier noticed some likely tea towels in airing cupboard and rolled two of them up to support the outsides of the baguettes (they'll be back in the cupboard before they're missed).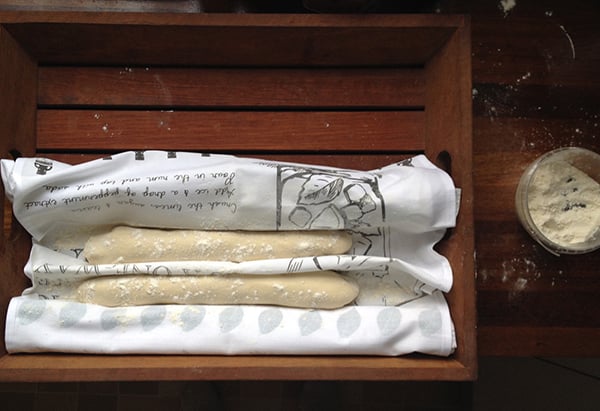 After another hour's proving, they were gently rolled onto a baking tray and slashed four times with a craft knife – mine was a bit blunt so this was harder than I expected and I may have been a bit heavy handed, knocking out a bit too much air. And yes, the one on the left was slashed five times.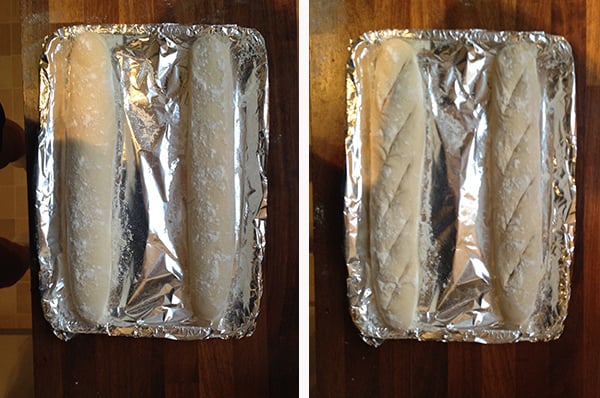 I put them into a hot steam-filled oven – the steam came from a roasting tray filled with freshly boiled water. You need to be careful when opening the oven door as a big gust of scalding steam emerges each time (and dirty water drips onto the floor).
About 25 minutes later the lovely crusty baguettes were ready. I left them in the oven a few minutes too long as I was engrossed watching Murray beat Djokovic on TV, so they were a little over-browned, but they had a splendid, nutty (aka thick) crust.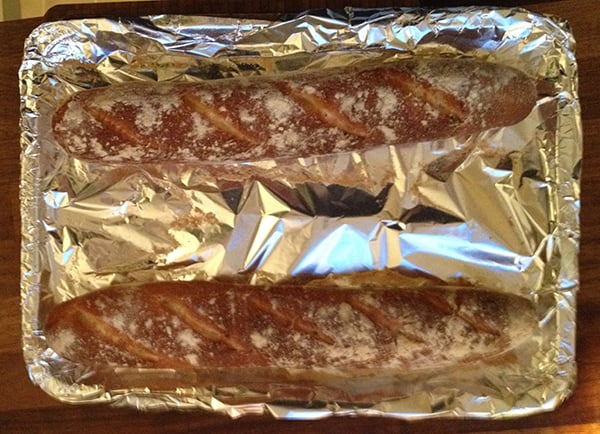 The baguettes were pretty good (I ate mine filled with brie, tomato and crispy pancetta) and not so hard to make. Paul Hollywood would have liked the fact that they were well baked, but he might have pulled me up on the lightness of the bread. Mary Berry might have appreciated their uniformity.
It looks I may no longer be gluten intolerant. Next time, I might let them prove a tad longer, be more delicate with my slashing and bake them for 3-4 minutes less, to get them a little lighter.
Search our website for more bread-making tips, recipes and advice from expert bakers Dan Lepard and Richard Bertinet
Subscribe to our magazine
Subscribe to delicious. magazine for HALF PRICE
Subscribe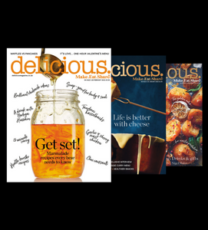 Join our newsletter
Packed with menu ideas, recipes, latest competitions and more...