How to make naan breads
Learn how to make your own naan with this step-by-step guide from chef Cyrus Todiwala OBE.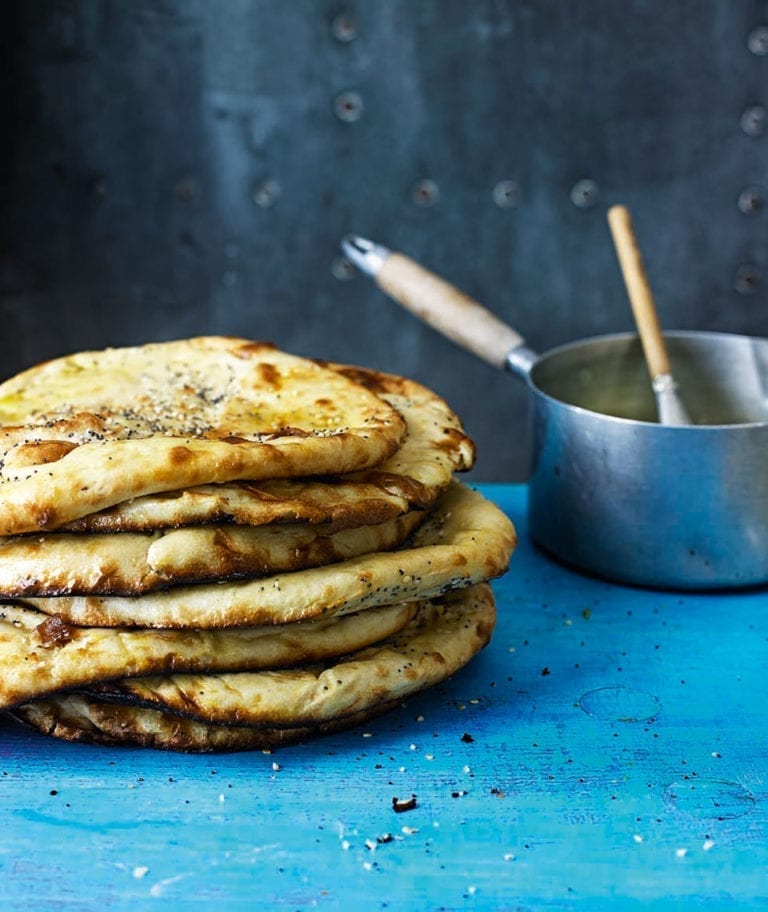 Naan is the bread of choice in northern India, and many chefs have their own closely guarded secrets for getting this stretchy fatbread just right.
Naans are traditionally cooked in the extreme heat of a clay oven, called a tandoor, and are made without using yeast. Because it's impossible to re-create this heat in a home oven, I've added a little yeast to the recipe to help the breads puff up. They have a slightly different texture to the ones you'd be served in an Indian restaurant, but they have the signature charring, stretchiness and favour of the traditional version.
If you have a pizza oven, it's worth using that to bake them – it's not quite as hot as a tandoor but will give you a similar effect.
Simple naan breads
Makes 4-6.
Hands-on time 1 hour, plus resting and 1-2 hours proving
Make ahead
If you don't want to serve the naans right away, you can make them all, then freeze them, well wrapped in cling film and foil, for up to 3 months. Defrost, then warm through in a low oven or in a freezer bag in the microwave to serve.
Food team's tip
If you want to keep the cooked naans warm while you're cooking the rest, put them in a low oven (about 50°C).
Ingredients
100g good quality full-fat live yogurt (see Cyrus's tips), at room temperature
160ml whole milk, at room temperature
½ tsp dried active yeast, dissolved in 5 tbsp tepid water
½ tsp sugar
½ tsp salt
500g stoneground white flour (preferably organic), sifted, plus extra for dusting
3 tbsp extra-virgin rapeseed oil, plus extra for oiling and drizzling (if you can't get any, a good quality olive oil will work well too)
1 heaped tbsp butter
Sea salt, nigella and poppy seeds to scatter (optional)
Method
1. Mix the full-fat yogurt, milk, dissolved yeast, sugar and salt in a jug. Put the flour into a large mixing bowl and make a well in the centre. Pour in 2 tbsp of the rapeseed oil and the liquid, then mix to form a soft dough.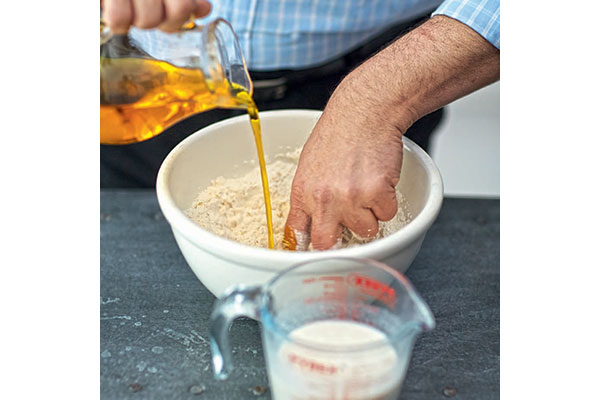 Cyrus's tips:
Make sure the yeast is fully dissolved in the water before adding it to the yogurt mix by stirring with a fork or whisk. It's important to use a yogurt that's thin enough to dollop – a good quality natural live yogurt (but not one that's thickened or strained) is perfect. You'll find that the combination of water and milk in this recipe gives the naan a softness but also a stretchiness – you may need to add a little more liquid to the dough if it feels too dry when you bring it together. An extra splash of milk will do the trick.
2. Knead the dough for a minute or so until it stops looking ragged, then leave in the bowl for 10 minutes, covered with a damp tea towel.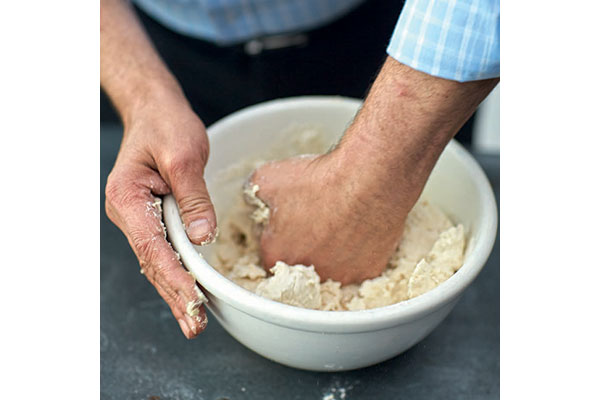 3. Remove the dough from the bowl and knead on a lightly oiled work surface for another minute.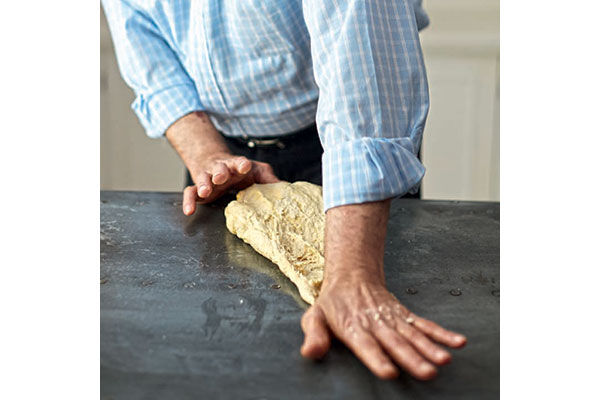 4. Re-cover in the bowl and leave to rise in a warm place for 1-2 hours or until doubled in size.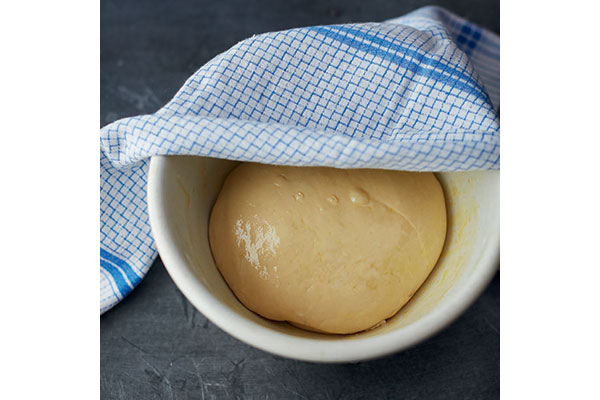 Cyrus's tip: The consistency of the dough will vary depending on the type and age of the flour you use. It shouldn't be too wet or sticky, or too dry and ragged, so add a little more liquid or four as needed.
5.Divide the dough into 4-6 equal-size balls, then heat a large dry frying pan with a tight- fitting lid over a medium heat.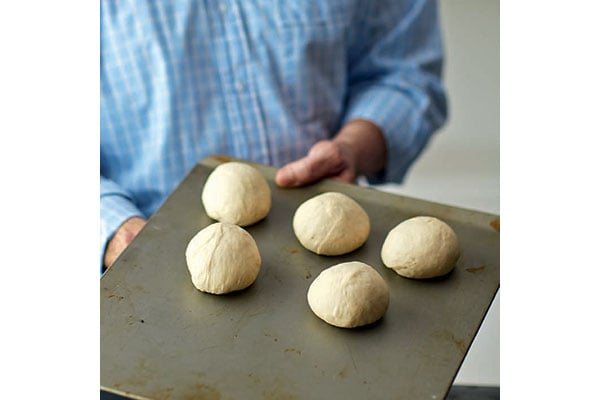 6. On a lightly floured surface, flatten the dough, 1 or 2 balls at a time, then drizzle with a little extra rapeseed oil.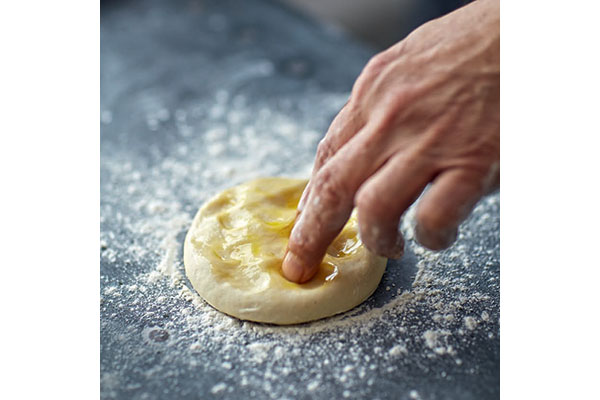 7. Using your fingers or a rolling pin, keep flattening into a round shape, around 1cm thick. Flatten them just before you cook them and keep the rest of the balls of dough under the damp tea towel as you work.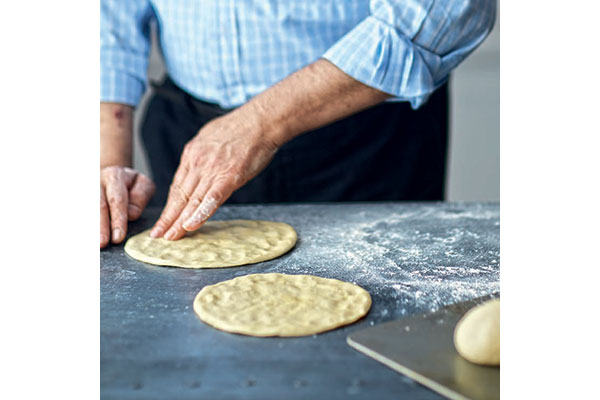 Cyrus's tip: Lightly oiling the top of the naan when shaping the dough stops it sticking to your hands and will give the cooked bread a lovely golden crust.
8. Transfer a flattened disc of dough to the heated frying pan and cover securely with the lid. Cook each naan bread for 3-4 minutes on one side, then, when it's golden brown and puffed, flip it over and cook for 3-4 minutes on the other side.
9. While cooking the naans, melt the butter and mix with the remaining tablespoon of rapeseed oil. As soon as each naan bread is cooked (it should have no visible doughy patches) brush it generously with the melted butter and oil mixture, then scatter with sea salt and nigella and poppy seeds, if you like. Let it sit for 2 minutes, then tear up and eat with curries and dips or enjoy as an indulgent snack.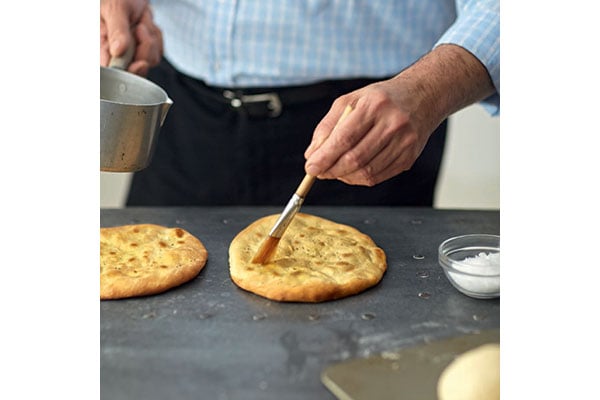 Cyrus's tip: Leaving the cooked naans to sit for a couple of minutes before tearing into them allows the residual heat from cooking to set the dough properly, so you have the perfect consistency.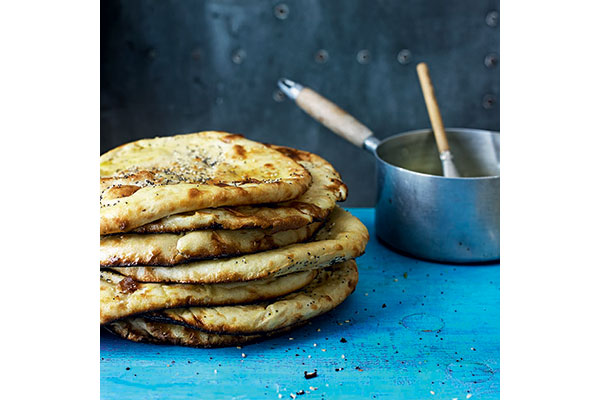 Stuffed naans
You can fill your naans with myriad things, from crushed spiced potato to grated cheese and blanched caulifower. Do some experimenting…
To stuff the naans, fatten the dough balls slightly, put a little bit of flling in the middle, then fold the dough over to cover the stuffng. Form into a ball again, then cover and leave to rest until the dough softens again. Flatten slightly, then cook in the pan as in the recipe and fnish them off for 5 minutes in a hot oven (200°C/fan180°C/gas 6).
To top the naans with cheese, do so after they're cooked, then flash under a hot grill until bubbling.
Subscribe to our magazine
Subscribe to delicious. magazine for HALF PRICE
Subscribe
Join our newsletter
Packed with menu ideas, recipes, latest competitions and more...