Six quick, easy and cheap Christmas table decorations
Add a shimmer of special touches to your festive dining table with these simple decorations that are not only quick and easy but they also make maximum use of bits and pieces that you can find around the house.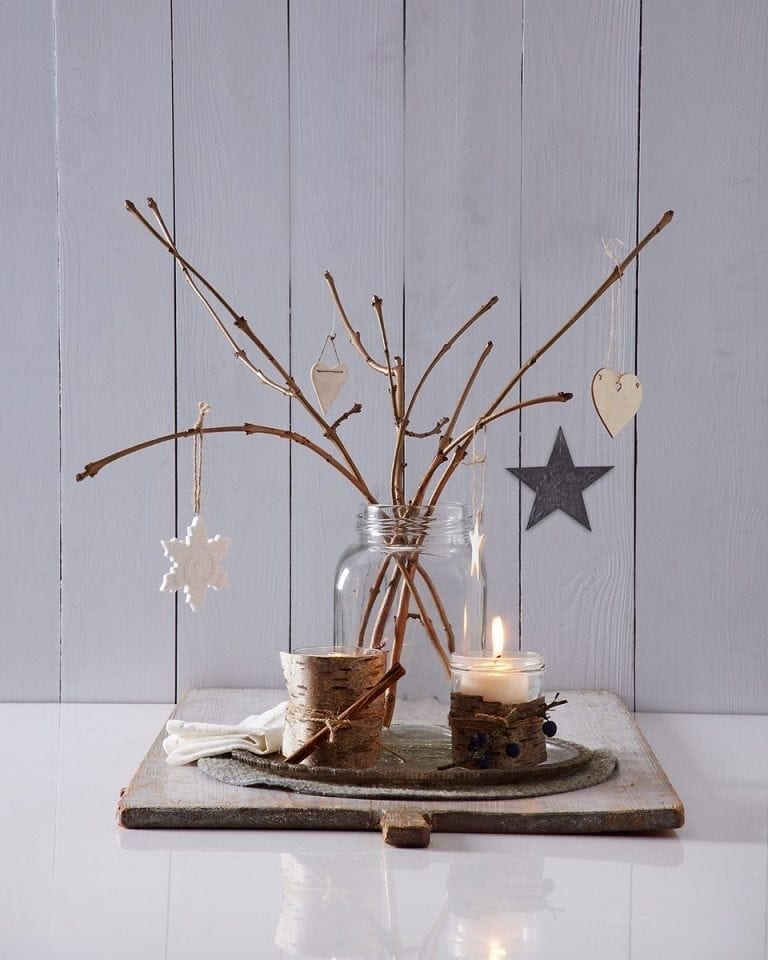 Candle in a carafe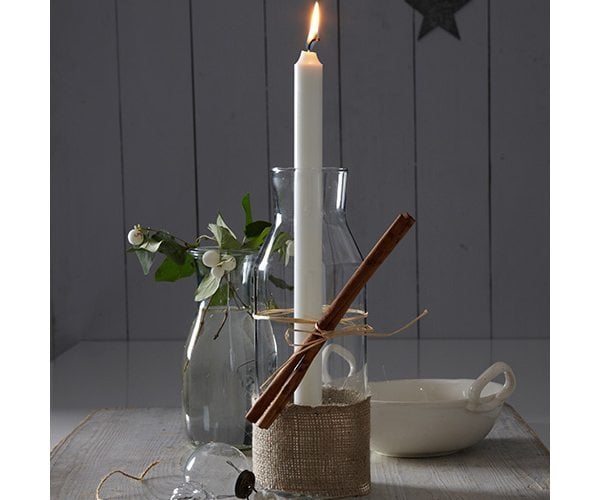 Candles of differing heights are most effective.
You will need:
35cm white tapered candle (we used Jubla Unscented White Candles, £5.50/8 pack, IKEA)
Blue Tac
Hessian trim (the small sacks that artisan coffee beans are supplied in are ideal for this, or you can buy hessian sacking from the fabric department at John Lewis)
Decoration of your choice
How to do it:
Securely fix a candle in an empty wine carafe with Blue Tac. Add a hessian trim then add a decoration of your choice – we chose a cinnamon stick but you could try holly or ivy and secure with raffia.
Bark covered candle jars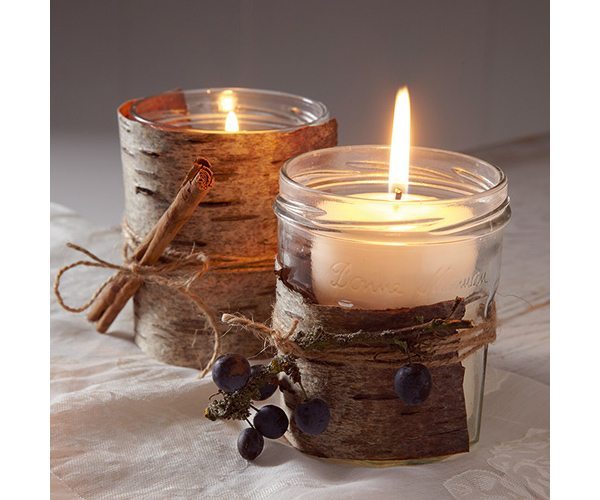 Scandinavian birch forests were the inspiration for this simple lighting idea. Collect bark from piles of sawn logs in the woods or park – birch peels off easily and is pliable, making it ideal for use in craft projects.
You will need:
Birch bark
Newspaper
Jam jars
Glue
Twigs, berries or cinnamon sticks to decorate (we used sloe twigs and cinnamon sticks)
String or twine
Small candles (they need to be big enough to half-fill the jars)
How to do it:
Lay out the bark on newspaper overnight to dry, removing any insects. Wrap the bark around a clean jam jar, using a dot of glue each end to secure. Use string or twine to wrap around the jars and to secure your choice of decoration. Drop candles into the jars.
Paper tree garland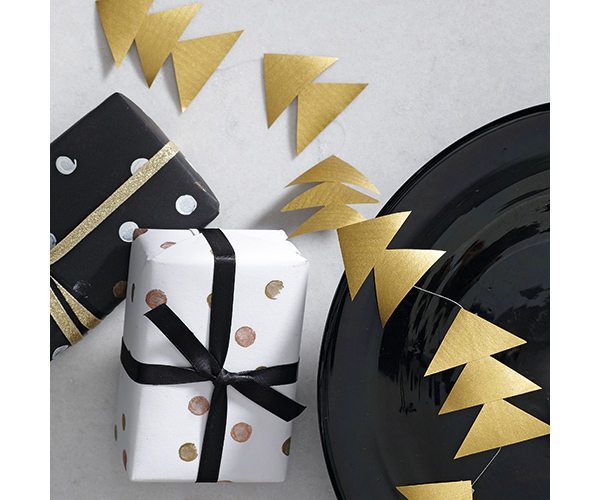 A DIY decoration that takes just a few minutes to make.
You will need:
Large piece of gold wrapping paper
Scissors
String, cut to the desired length of your garland
Sticky tape
How to do it:
Cut out lots of triangles, all the same size, from the gold paper – the ones pictured measured about 7cm x 5cm x 5cm but any size is fine. Tape each end of the string to the edge of a long table. Slide the triangles under the string in groups of two or three, overlapping them slightly to create tree shapes, then tape them to the string.
The twig centerpiece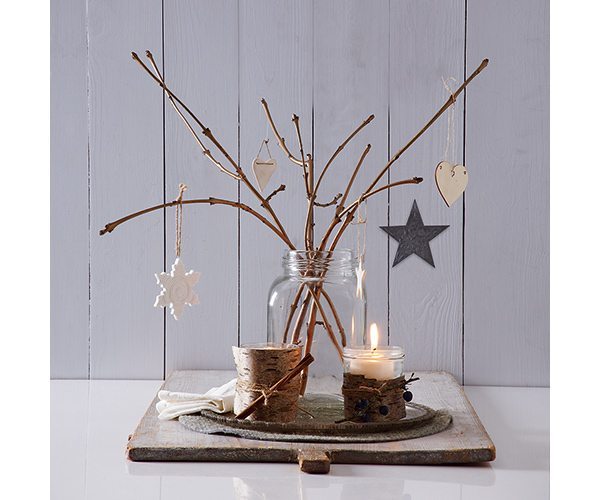 The twig tree is a classic Scandi decoration. Find pliable branches in the garden or woods and sift through your decorations for ornaments in natural colours to decorate the twigs. The resulting look is pared-down and pleasing.
You will need:
Pliable twigs – it looks good if some of them bend slightly when you decorate them
Spray paint (we used Liquitex Spray Paint in Iridescent Antique Gold, £9.95 for 400ml, Cass Art)
Large glass jar
White and metallic Christmas ornaments 
in simple shapes
Natural string
Grey felt mat, or similar
How to do it:
Trim the twigs into attractive shapes and spray-paint them. Arrange in the jar, then hang the ornaments on the twigs with natural string. Group bark-covered candle jars around the twig jar and arrange the whole centrepiece on a grey felt mat.
Doily-wrapped cutlery bundle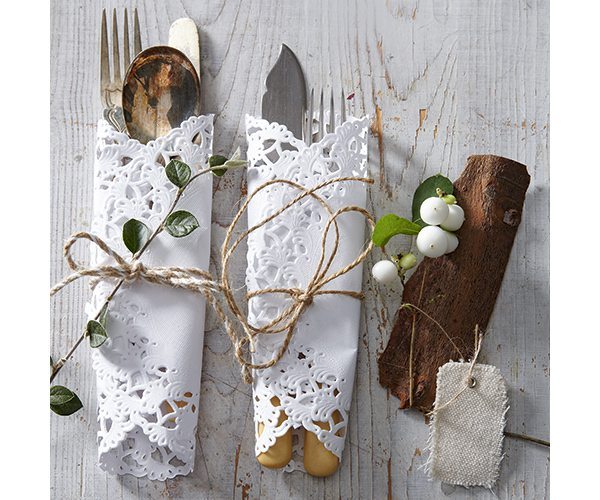 The perfect way to use up old doilies. The lacy edge is reminiscent of snowflakes.
You will need:
Doilies
Twine or string
One peice of evergreen per guest
How to do it:
Tie simple white paper doilies around the cutlery with twine or string. Add a piece of evergreen snipped from the garden to finish.
Bouquet garni place settings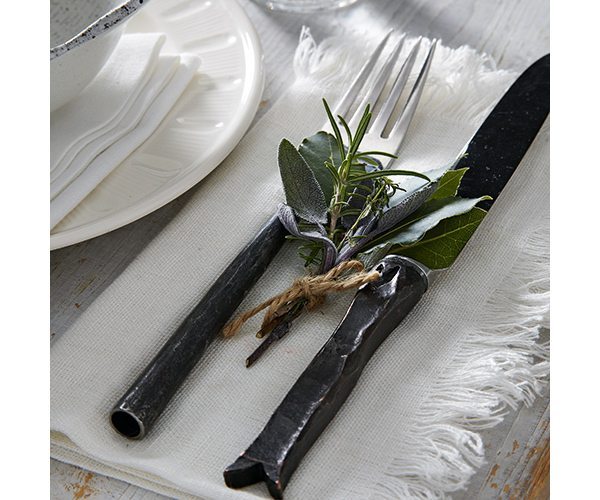 Simple white tableware, rustic-looking cutlery and fringed linen continues the Scandi theme – but it works with any kind of cutlery.
You will need:
Fresh herbs (we used bay,thyme, sage and rosemary)
Twine or string
How to do it:
Use string to tie little bundles of fresh herbs.
Subscribe to our magazine
Subscribe to delicious. magazine this month for a half price subscription
Subscribe