Why we love to infuse our booze
Taking run-of-the-mill spirits and adding your own bespoke flavours is easy – and seriously rewarding. Learn more about the process, follow Head of Food Tom Shingler's advice, then get inspired by six infusions that prove going beyond sloes and other berries is the way forward.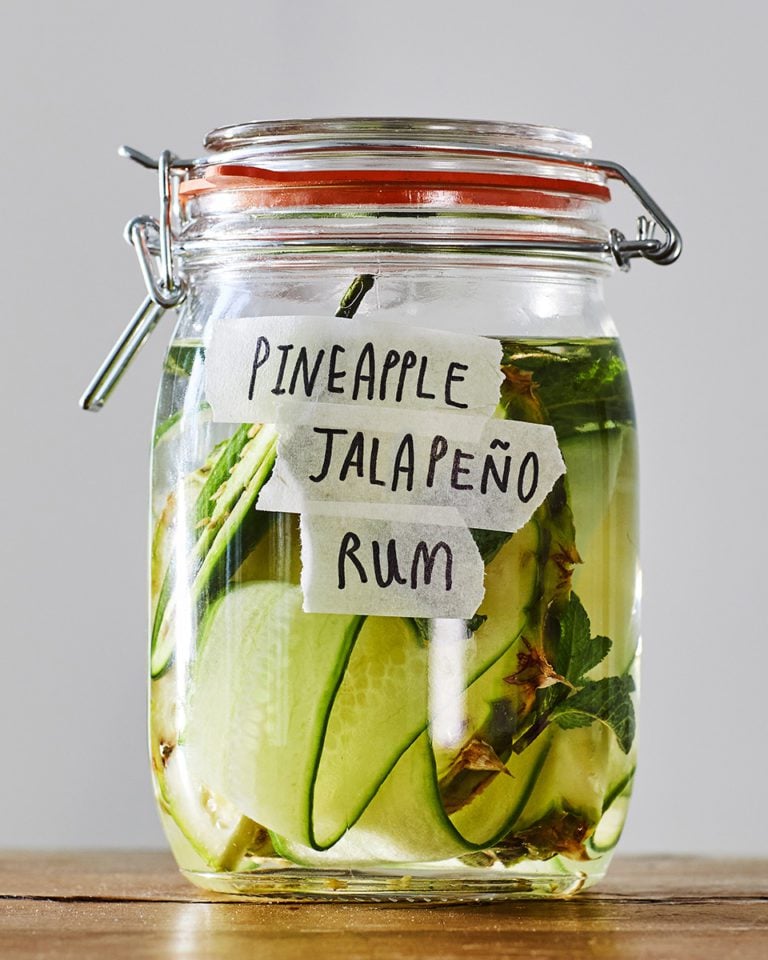 I remember making my first batch of sloe gin. Picking the berries, giving them a good wash, submerging them in the alcohol… then drinking it all long before it was ready. That's the trouble with sloe gin. The recipe itself is easy; being patient is the hard bit.
Luckily, not all infused spirits require months of waiting before they're ready – in fact, most are ready in a week or two (and some need only a day). And, honestly, steeping fruit in them is the tip of the iceberg. Alcoholic spirits (40% ABV and higher) are highly effective at extracting flavour from stuff submerged in them; they also happen to create a sterile environment, making the process safe and difficult to mess up. You can treat a bottle of booze as an empty pot just waiting for ingredients. Vodka in particular works well as a base as it's neutral, providing you with a blank canvas, but other spirits like rum, whisky, gin and tequila can all be combined with other flavours to create something you can't buy off the shelf, that's been tailored and tweaked to your exact specifications.
We all know raspberries steeped in gin or rhubarb in vodka are going to taste good – but the recipes we've included here show how you can go beyond the norm to create spirits that wouldn't be out of place behind the bar in a fancy cocktail spot. Best of all, it's so easy – and quicker than you think. Sloe gin is all well and good, but there's so much out there to explore, and with summer's bountiful produce it seems daft to wait until autumn to get infusing – especially when there's the opportunity to make cocktails in the garden.
The rules of infusing booze
You can do your infusing in any container that's big enough – just make sure it's non-reactive (so no metal) and clean. The alcohol itself should sterilise the container but you don't want anything in there that could impart unwanted flavours.
Make sure your ingredients are fully submerged in the alcohol – some will float, which is fine, but you don't want anything sticking out of the liquid.
Don't be tempted to buy the cheapest spirits possible for infusing – they need to be drinkable in their unflavoured state if you're hoping for good results. Don't use the top-shelf stuff either, though, as you're paying a premium for complexity, filtering and/or ageing that will be overpowered by added flavourings.
If you want to speed up the infusion process, you can finely chop, whizz or bash your ingredients into smaller pieces, creating a larger surface area. Doing that means you have less control over the final flavour, though, because it's a much quicker, intense process, which can turn some spirits cloudy even after straining.
Keep your infusing spirits out of direct sunlight and give them a shake every now and then (helpful when dissolving sugar into them).
When you're happy with the flavour of your infused booze, strain it through a fine sieve – and, if you want to, a coffee filter for extra clarity. Some ingredients will sit in alcohol indefinitely, but not all will and they can start to impart some unpleasantly funky flavours after a while.
Don't waste it!
Any booze-soaked fruit or nuts that get strained out of your jar before the spirit goes back in the bottle aren't necessarily destined for the bin – use in desserts or baking. You can stew them down with plenty of sugar to make a compote or dollop them over ice cream. Vanilla pods can be dried and thrown in a jar of sugar too.
One of the best cocktails I've ever had included bourbon washed with peking duck fat...
What about sugar?
How much sugar (if any) you add to your infused spirits totally depends on your taste. In general, I like less sugar as I find many liqueurs too sweet and cloying; if I want a sweeter drink I'll usually combine the spirit with a sweet mixer or dilute it with sugar syrup later on. Adding sugar alongside your infusion ingredients is the simplest way to sweeten things up, but it does take time to dissolve (sugar isn't soluble in pure alcohol, so it takes a little longer than with water, but it should eventually dissolve).
If you want to do things like a proper mixologist you can make a sugar syrup to mix into the spirit: gently heat two parts sugar to one part water until dissolved, leave to cool, then mix it into your infused spirit until you're happy with the sweetness. This is how I 'balance' my spirits after straining them; it's better to start with a little sugar and add more later rather than going over the top at the beginning and having to dilute the batch with more alcohol to level it out.
If you're a sweet-toothed liqueur lover, however, you can easily turn your spirit into something like the ones you buy by dissolving at least 100g of sugar per litre of spirit (so a 700ml bottle of vodka would need at least 70g of sugar mixed in). Many liqueurs are far sweeter though, so keep going until you're happy.
Finally, don't always reach for the white granulated sugar – brown sugars, honey and syrups can add additional complexity of flavour to your spirit.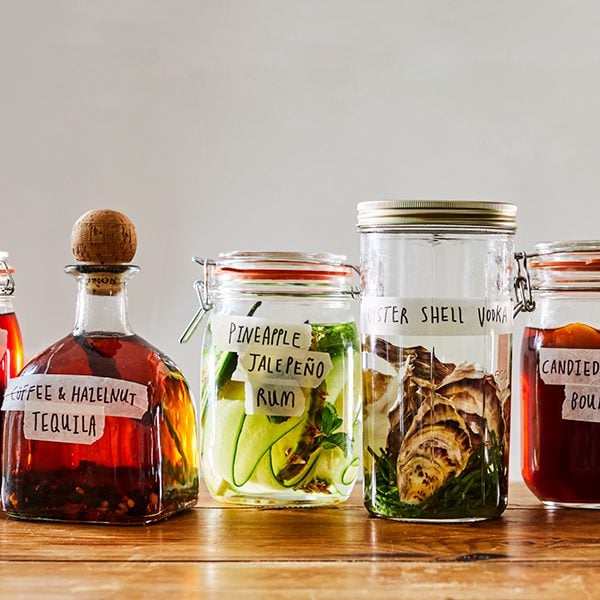 Fat-washing – what it is and how to do it
Want to really push the boat out and blow friends' minds? Get into fat-washing your spirits. It sounds a little leftfield, but it follows the exact same principles as throwing some fruit in a bottle. You take any liquid fat – melted butter, rendered animal fat, cooking oils – add it to your chosen spirit, then freeze it. The fats solidify, making them easy to remove, but they leave behind their flavour and alter the 'mouthfeel' of the drink (I hate that word too, but it does describe it well).
The result is something pretty incredible; a smoother, more rounded spirit which contains the flavours of the fat it was washed with. Don't expect your spirit to taste strongly of bacon or olive oil; it's a more subtle flavouring that adds complexity and a little viscosity to the liquid. But it really does make a difference and is a cool thing to start playing around with at home.
There's a recipe for bourbon infused with fat rendered from smoked bacon here which is a great introduction to what fat-washing can achieve, but other popular choices are rum fat-washed with coconut oil, vodka fat-washed with a peppery olive oil or whisky fat-washed with butter. One of the best cocktails I've ever had included bourbon washed with peking duck fat; you can even infuse spices into the fat first before washing a spirit with it to add even more subtle flavour.
Now try it out with these infused booze recipes
Oyster shell and samphire infused vodka
The citrussy saltiness of samphire is finding its way into trendy cocktails more and more these days – but quickly infusing it into vodka along with oyster shells (yes, really!) creates something that tastes of the salty sea air. As you might imagine, it makes an incredible martini.
If you were ever a fan of the coffee-flavoured tequila Café Patrón XO (now discontinued, RIP), this is a pretty decent replica. Whole coffee beans gently infuse into the tequila over time, while hazelnuts help round out the flavour next to vanilla and sugar. Absolutely delicious over ice in the sun
Pineapple, cucumber and jalapeño rum
White rum is a relatively neutral spirit, which makes it perfect for infusing. Pineapple is a natural bedfellow, but we've taken things further with refreshing cucumber, aromatic mint and a little tickle of chilli – top it up with soda water for a refreshing summer tipple.
Subscribe to our magazine
Food lovers, treat yourself this Christmas... Enjoy 12 months of magazines for £29.99 – just £2.50 an issue.
Subscribe
Unleash your inner chef
Looking for inspiration? Receive the latest recipes with our newsletter