5 alternative spritz recipes for when you're not in the mood for an Aperol
Although it's hard for us to imagine, it's time we faced up to the facts; not everyone likes Aperol spritz. Shocking as that may be to process, we're all about inclusivity over here at delicious. and so, we've got a spritz for everyone!
From rhubarb infusions to a bellini-inspired number, next time you're hosting a get-together, give one of these alternative spritz recipes a go. Who knows, you might forget all about your favourite orange-hued cocktail (unlikely)…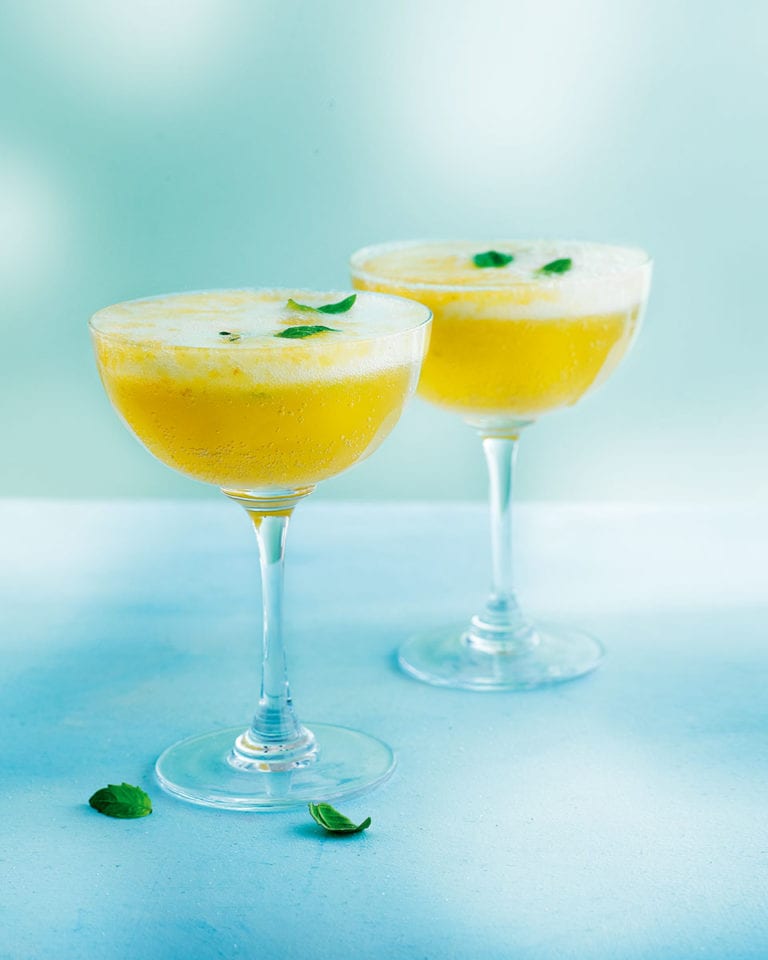 If it's a scorching hot summers' day, there's really no other tipple that will tick all the right boxes quite like our pomegranate spritz.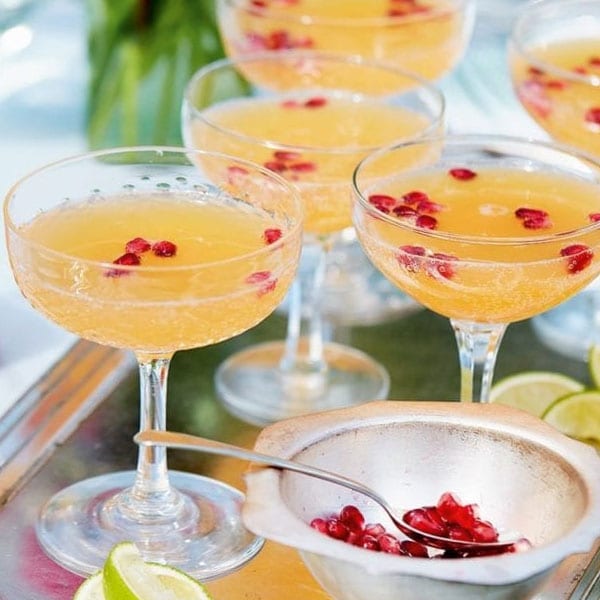 Makes 8 cocktails
Ingredients
200ml orange juice
120ml pomegranate juice
150ml gin
3 limes
75cl bottle prosecco
Pomegranate seeds to serve
Method
Mix together the orange and pomegranate juices, gin and lime juice in a jug.
Pour into glasses, top up with prosecco and sprinkle with pomegranate seeds.
Not everyone likes champagne (gasp!) so an alternative would be to serve this fruity cocktail at your next drinks party.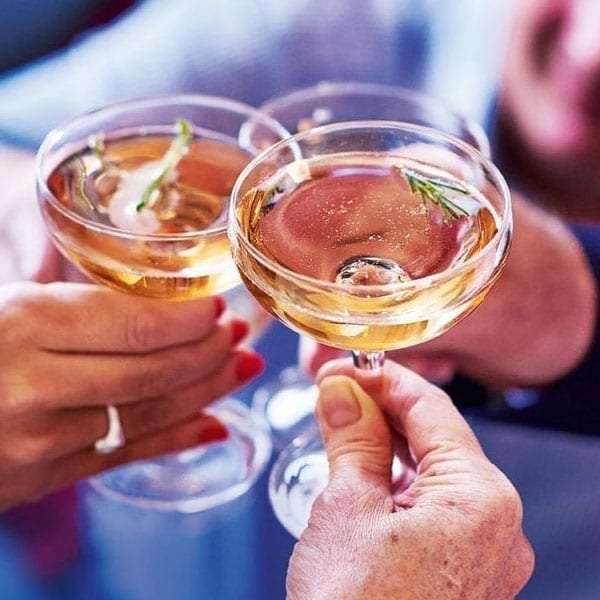 Makes 1 cocktail (scale up or down by multiplying ingredients)
Ingredients
Calvados
Fruit cordial (such as pear and raspberry or apple and plum)
Chilled sparkling wine or champagne
A small fresh rosemary sprig
Method
Pour 1cm calvados into a champagne flute or coupe, with 1cm cordial. Top with chilled sparkling wine or champagne, then garnish with a small fresh rosemary sprig.
For those that find the classic Aperol spritz too bitter, this is a great alternative.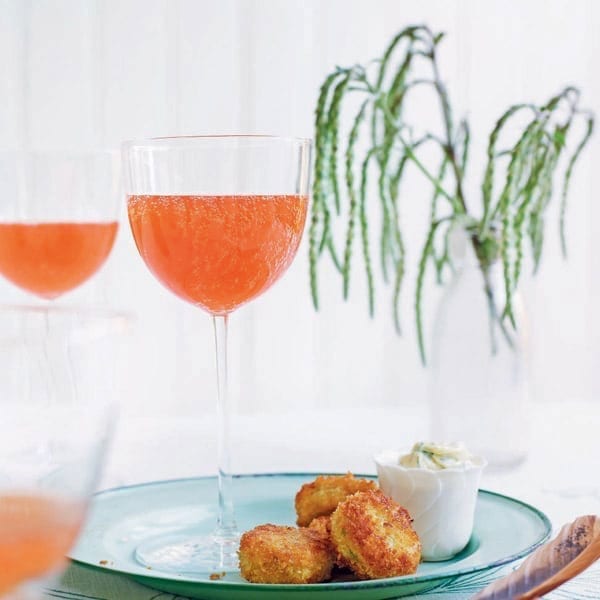 Makes 6 cocktails
Ingredients
600g forced rhubarb
80g caster sugar
150ml clear apple juice
300ml Aperol
Method
Cut the rhubarb into small pieces and place in a pan with 80g caster sugar and 150ml clear apple juice. Bring to the boil, then simmer for 15 minutes.
Strain through a fine sieve, then put back on the heat to reduce to about 200ml. Cool the syrup completely, then chill.
Take 6 wine glasses and, into each, pour 2 measures of Aperol to 1 measure of rhubarb syrup, then top up with chilled prosecco. Stir, then serve.
If you're after a cocktail that'll taste like summer, this seasonal spritz contains blitzed peaches, lemon juice, sugar and of course, a splash of prosecco.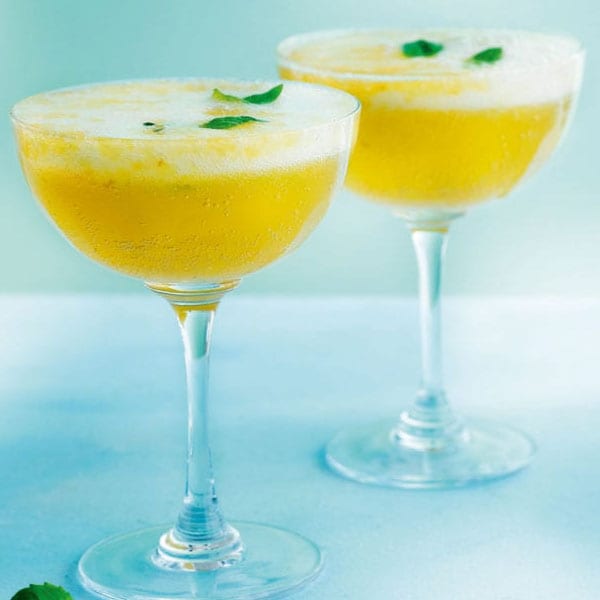 Makes 6 cocktails
Ingredients
2 ripe peaches, stoned and diced
2 tsp lemon juice
1/2 tsp caster sugar
Bottle of prosecco
Handful of fresh basil leaves
Method
Put the peaches, lemon juice and sugar in a food processor or blender and whizz until smooth.
Pass the purée through a sieve (discard the solids), then divide among 6 champagne coupe glasses.
Top up with chilled prosecco and garnish with fresh basil leaves.
The summer has officially *arrived* when a jug of Pimm's appears. We've jazzed-up the classic Pimm's and lemonade by adding in prosecco.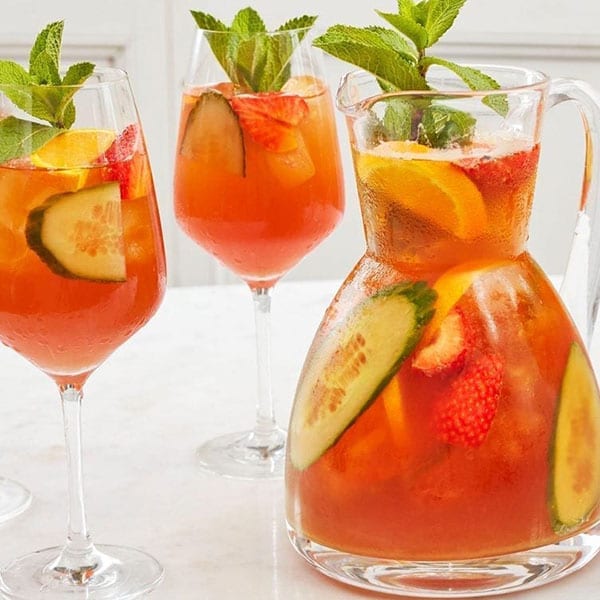 Serves 1 (scale up by multiplying ingredients)
Ingredients
50ml Pimm's No,1 (25% ABV)
75ml lemonade
25ml sparkling wine (12.5% ABV)
1 slice of orange
1 sprig of mint
Method
Fill a large wine glass with ice cubes. Pour in the Pimm's, pour in all the liquid ingredients then garnish with the orange and mint.
Not convinced? Craving nothing other than an Aperol spritz now? Don't worry, here you go.
Subscribe to our magazine
Subscribe to delicious. magazine for HALF PRICE
Subscribe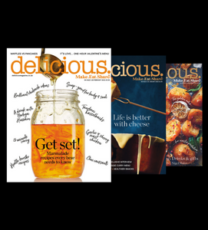 Join our newsletter
Packed with menu ideas, recipes, latest competitions and more...