Father's Day 2020: The coolest boozy gifts you can send to your dad in lockdown
Father's Day isn't cancelled just because we're in lockdown, but granted it might feel a little different this year. He's still guaranteed to find a way to embarrass you with his awful "Dad jokes" (perhaps over Zoom) and you might have to hold on a while longer for one of his legendary bear hugs.
In the meantime, why not send your dad a thoughtful prezzie in the form of booze? From speciality German lagers to the latest blend of gin, here are some great Father's Day gift ideas from brands that really need your support during these testing times – and they're all delivering nationwide in lockdown!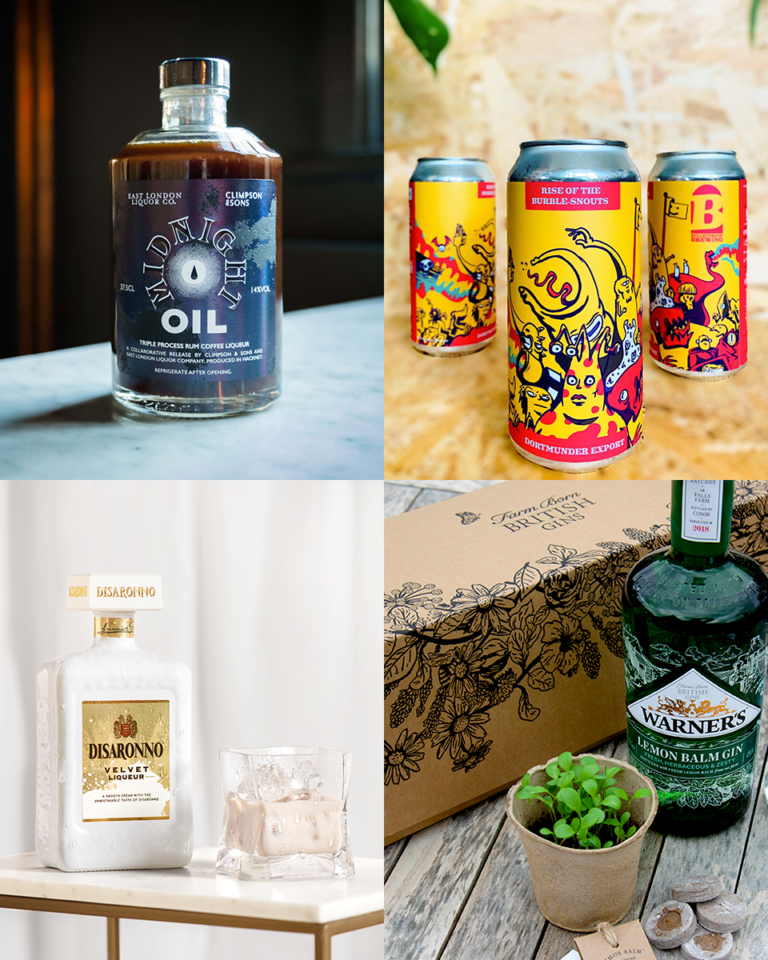 Dortmunder Export lager, Bulletproof Brewing
Bulletproof Brewing is a small, independent craft brewery based in Plymouth, specialising in producing German-style Lagers, all with a twist! Their eye-catching branding and funky beer names lure you in and the beers they produce certainly don't fail to disappoint on flavour. If your dad's into his lagers and you're  looking to send him something unique, go for a case of their Dortmunder Export (comically named "Rise of the Burble-snouts"). This soft-textured, pale lager is a lovely, light beer that delivers fresh citrus notes on the tongue. It's a really easy drink to sip on in the sunshine. £27 for a 6-pack.
Disaronno Velvet Liqueur
If your pops is a fan of the Italian classic Disaronno, then he'll love their brand new creamy liqueur. "Velvet" is the perfect after-dinner tipple, especially when served over ice. It's light yet creamy and tinted with the unmistakable amaretto taste of Disaronno. Available at most major supermarkets, £15.
"Get Growing" gift set, Warners Gin
Northamptonshire-based gin farmers Warner's Gin have launched new 'Get Growing' kits, to help bring the outside indoors during lockdown. The gardening sets, which include coir compost pellets and biodegradable pots along with wildflower and lemon balm seed packets, are complimentary alongside every order of any G&T bundle from their website. This is a lovely present for any green-fingered gardener or for someone who simply loves the outdoors. Our gin recommendation would be their Lemon Balm gin; its unique lemon/herby flavour really is like no other.  Bundle prices start from £22.50.
Blood orange rum, ARLU
It's no longer just the gin industry seeing an influx of unique flavours hitting the shelves. If he's a fan of rum, your dad can now get a variety of different infusions and flavours. Manchester-based ARLU rum specialise in Caribbean-flavoured rums. Keep things simple with  their original spiced rum (which comes with a warming hit of cardamom) or give their tasty blood orange rum a go – it's great served neat with ice or with a splash of Coke. £25 for a 50cl bottle.
Chilli & Lime gin, Sipsmith

From their unique flavour combinations to their striking bottle designs, when it comes to gin, Sipsmith are one of the best in the business. Their latest release, Chilli & Lime gin, is no exception. With its zingy taste and spicy after burn, this gin will go down very well with lovers of all things spice. It's also a great addition to a chilli margarita. Available from Tesco & Waitrose £28.50
Explorer gift pack, Lowlander
For non-drinkers or those who fancy exploring the incredible options that the low/no ABV market now has to offer, this tasting set is a great place to start. The Explorer gift pack from Dutch brand Lowlander includes five botanically brewed beers to take your dad on a beer tasting adventure. £29 for a pack of 5. 
Pre-batched cocktails, Moore House Cocktails Company
Although pre-bottled cocktails can sometimes be a little naff, this new range from Moore House Cocktail Company is nothing of the sort. This tasting trio makes a wonderful gift, not only because the packaging is beautiful but because the cocktails are super high quality. Opt for a tasting trio of Manhattan, Espresso Martini and Negroni or purchase your dad's favourite tipple individually. Trio sets start from £25. 
Virtual whisky tasting experience, Glengoyne

Glengoyne, known for some of the finest single malt Scotch whisky around, has launched a virtual tour and tasting experience. It's ideal for those looking to share an activity with their dad on Father's Day. During the tour, there are opportunities to interact with the distillery team and ahead of the tour, customers will receive a sampling kit delivered straight to their home. The kit contains a whisky glass, 5cl bottles of 10, 12 and 18-year-old malts and a mystery dram that will be revealed during the session. 2x virtual tour tickets and tasting sets costs £70. 

Midnight Oil coffee liqueur, East London Liquor Co.
There's no greater feeling than nailing the perfect homemade espresso martini. This coffee liqueur will help your dad up his game; it's made with ELLC's demerara rum, Climpson & Sons' delicious Brazilian coffee beans, a hint of vanilla and cacao nibs. It's also lovely on its own,  served straight over ice. £21 for a 37.5cl. 
Orange and sea buckthorn gin, Adnams
Back by popular demand after its limited-edition release in 2019, this is the perfect gin for summer. But what is sea buckthorn, we hear you cry? This herby plant grows wild all along the sandy east coast of Britain and can be found among the dunes at Holkham in North Norfolk – local to Adnams distillery. The berries on sea buckthorn release amazingly intense tropical fruit aromas, which work so well alongside the citrus taste of orange in this blend. £29.99 for a 70cl. 
Mule cocktail box, MOOSE
Crafted in Austria and relatively new on the booze scene, MOOSE describes itself as "The Alpine Spirit". MOOSE is a blend of mountain herbs including mint, gentian, nettle and pine, with sweet and spicy aftertastes. You know what that makes it perfect for, right? Mule cocktails. Their limited edition mule cocktail boxes make the perfect gift for the experimental types, plus just look at that packaging! The MOOSE mule cocktail box costs £20.