How to make granola
Bring out your inner earth mother by whipping up a batch of wholesome granola. Many ready-made versions are high in fat and sugar, but a few simple tweaks make ours a healthier but no less special breakfast.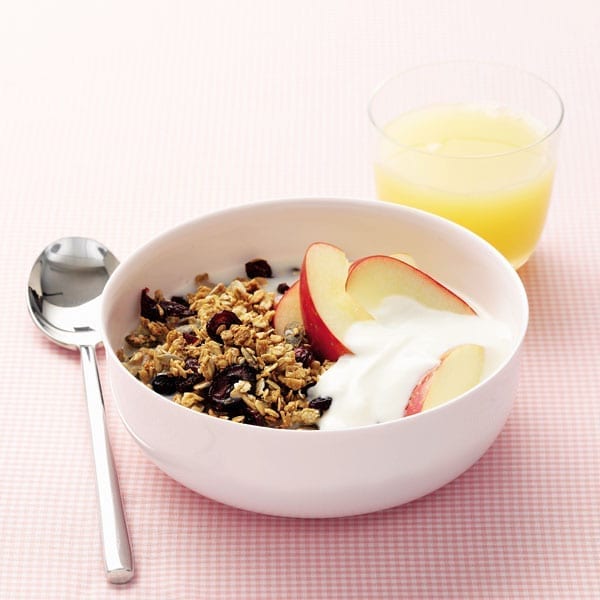 Know-how:
Granola is a crisp wholegrain cereal based on oats. It's slightly sweetened with honey, sugar or maple syrup and usually contains nuts and dried fruit. Muesli, on the other hand, is often unsweetened and not baked, so it has a softer texture.
Oats provide slow-release energy to keep you feeling full and satisfied for longer. We've used natural sources of unrefined sugar – maple syrup, apple juice and dried fruit – to produce a crunchy granola that's full of flavour without being sickly sweet, and there's very little oil, making this lighter than a traditional granola.
Tips for success:
Visit a health food shop and pick up your favourite combination of dried fruits, nuts and seeds. As long as you keep the basic quantities the same, you can make this granola your own by using the ingredients you like best.
To make bircher muesli instead of granola, make the master recipe without the liquid mixture (there's no need to bake either). For one portion, measure out 60g of the dried oats and seeds into a bowl and add 150ml apple juice and 100ml water. Put in the fridge overnight. Serve with extra juice or milk along with some fresh fruit and yogurt.
The liquid added to the oats and seeds before baking softens the oats and helps them to form the characteristic granola clusters. You can squeeze the wet mixture together with your hands before spreading out on the baking sheet to encourage them to form clusters.
Make a tropical granola by adding strips of dried fruit such as coconut, mango, pineapple and papaya to the oats near the end of baking.
Put handfuls of granola in food bags to take to work, or give to the kids to take to school as a crunchy, portable snack.
If you find the granola is too sweet or not sweet enough, adjust the quantity of maple syrup in the recipe to taste.
1. Have all your ingredients ready to mix together.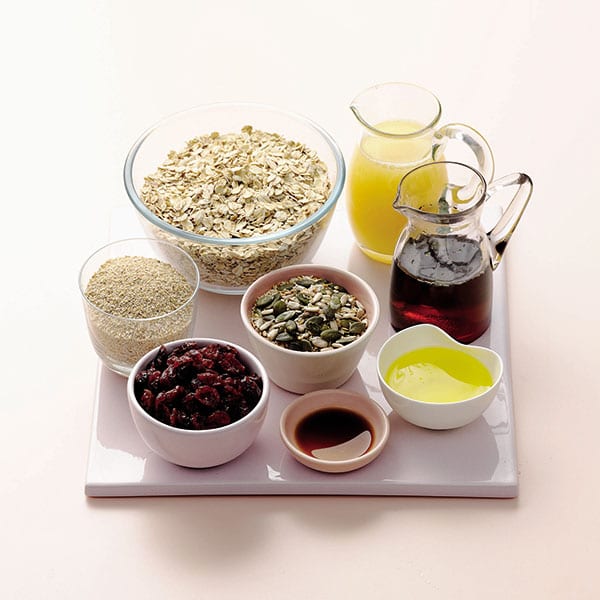 2. Warm the oil, apple juice, maple syrup, vanilla extract and salt. Stir to combine.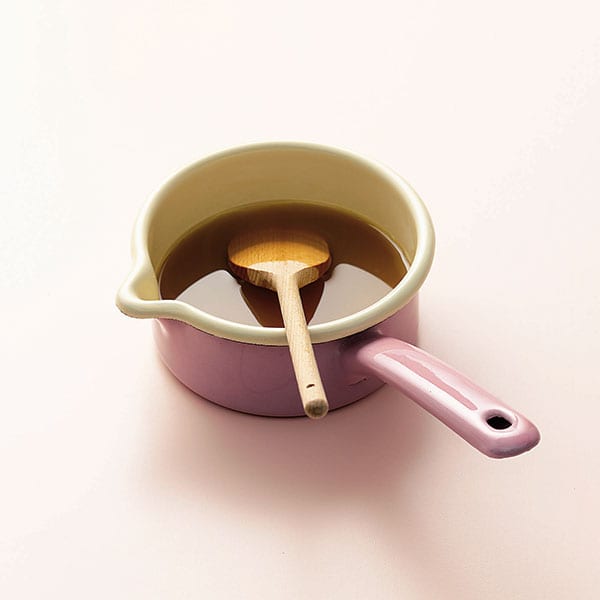 3. Pour the liquid mixture over the oats and seeds and mix well.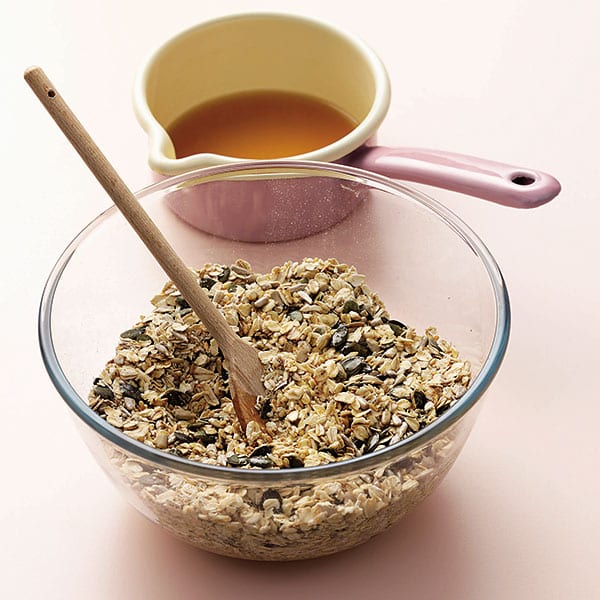 4. Spread the granola out on 1 large or 2 smaller, lined baking trays.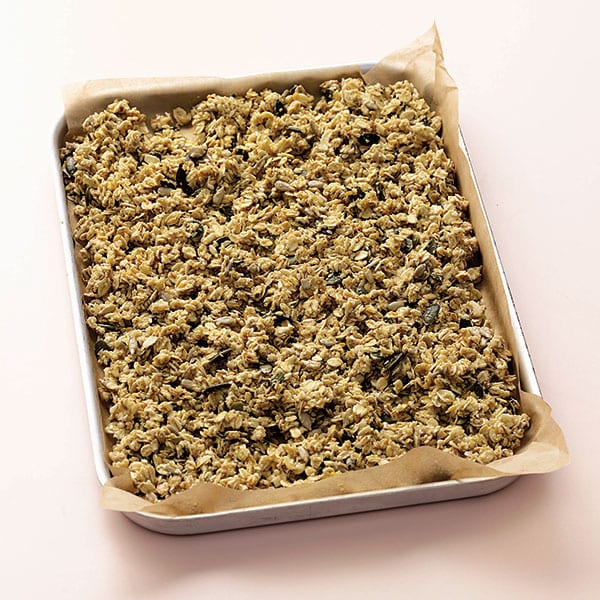 5. Stir in the cranberries or raisins and bake for a further 15 minutes.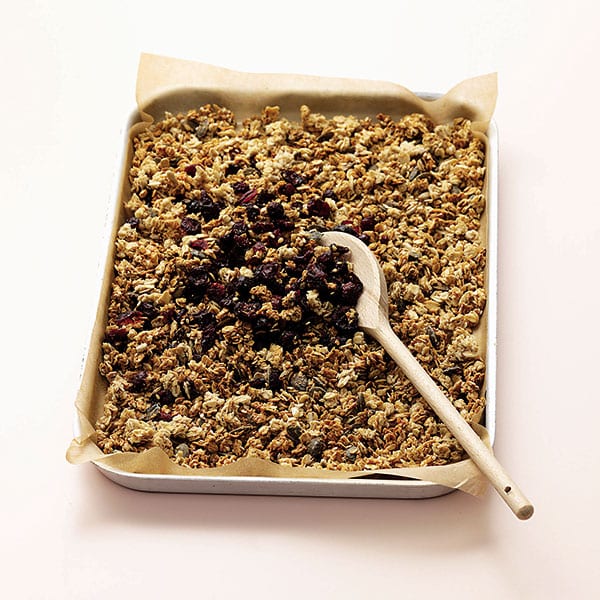 6. Cool, then store in an airtight container for up to 2 weeks.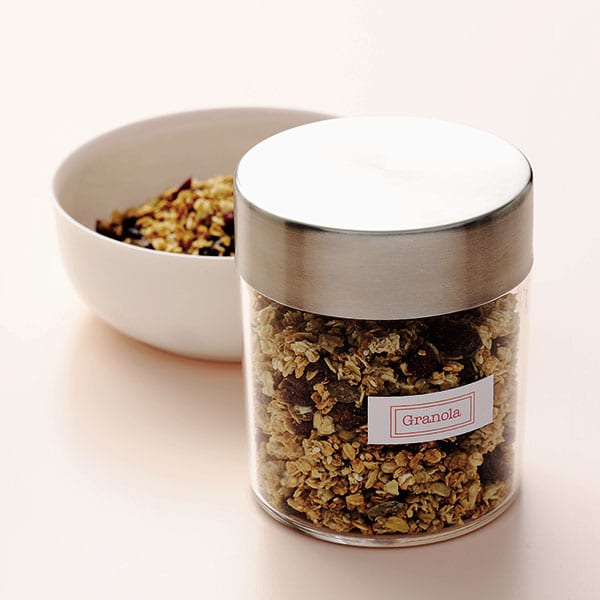 Now make make your own five-seed maple granola at home and serve with yoghurt and fruit for a healthy breakfast.
Try these clever variations
Once you've got the knack, you can mix and match different ingredients and make this delicious trio of treats.
Black cherry and pistachio cereal bars
Hands-on time 15 minutes, oven time 1 hour 30 minutes. Makes 15 bars.
1. Make half the quantity of granola, as per the master recipe, but replace all of the seeds with 100g roughly chopped pistachios.
2. Bake for 45 minutes, then replace the cranberries or raisins with 150g dried black cherries and bake for a further 15 minutes. Remove from the oven (leave the oven on), cool and tip into a large bowl.
3. Mix the cooked granola with 200ml apple sauce (we like bramley apple sauce from Waitrose) and 50g ground almonds. and press into a 23cm square tin lined with baking paper.
4. Bake for a final 25-30 minutes at the same oven temperature, until pale golden. Cool completely in the tin, turn out and cut into 15 bars. These will keep in an airtight container for up to 2 days.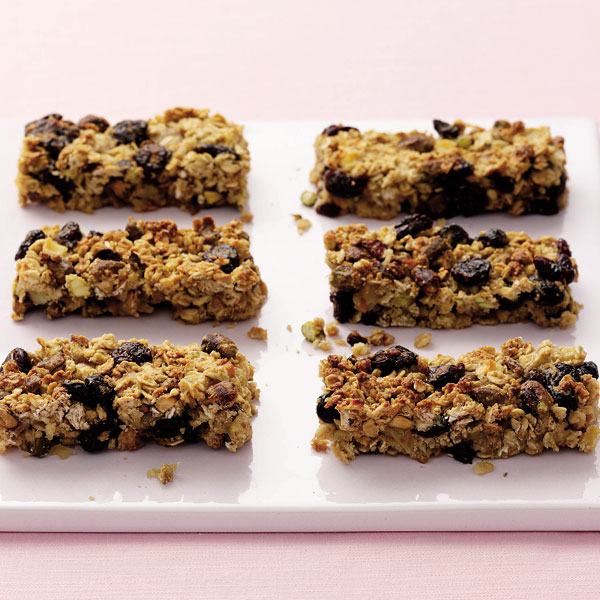 Pear, fig and blueberry oaty crumble
Serves 4. Hands-on time 30 minutes, oven time 30 minutes.
1. Make half the quantity of granola, as per the master recipe, but do not bake, and make the following substitutions: replace the maple syrup with 75g soft brown sugar, substitute 40g melted butter for the olive oil, use 100g flaked almonds instead of all the seeds, add ½ tsp cinnamon in place of the vanilla extract and don't add any cranberries or raisins.
2. Mix together 400g fresh figs, quartered, 500g peeled, cored and roughly chopped ripe pears, 300g frozen blueberries and 3 tablespoons brown sugar. Divide the fruit between 4 x 250ml or 1-litre ovenproof dishes.
3. Preheat the oven to 160°C/fan140°C/gas 3. Sprinkle over the granola topping and bake in the oven for 30 minutes, until golden and crisp. Serve while warm with dollops of thick Greek yogurt.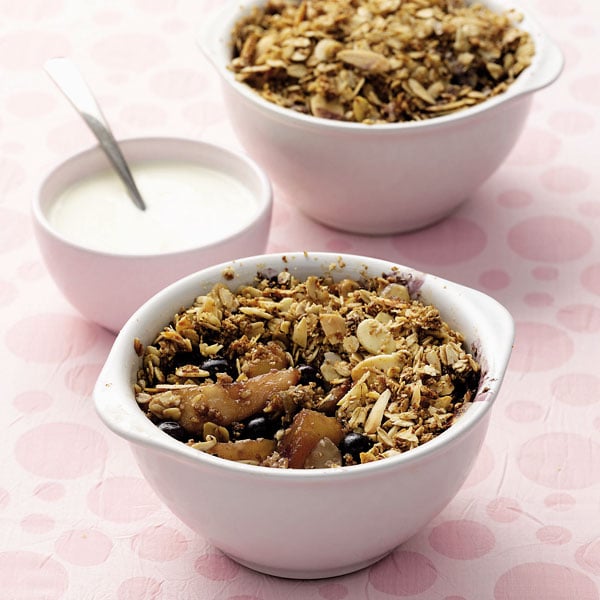 Walnut granola, honey and date cake
Serves 8-10. Hands-on time 40 minutes, oven time 1 hour, plus draining.
1. Preheat the oven to 180°C/fan160°C/gas 4. Grease and line the base of 1kg loaf tin. Make half the quantity of granola, as per the master recipe, but use 50ml mildly flavoured honey (such as acacia honey) instead of maple syrup, 100g walnuts instead of all the seeds and 100g chopped ready-to-eat dates instead of the cranberries or raisins.
2. Cream 150g softened butter with 150ml mildly flavoured honey until light in a mixing bowl. Add 3 beaten eggs, a little at a time, then sift over 400g self-raising flour with ½ tsp baking powder, 200g of the granola (store the remainder) and 200ml milk. Stir to mix well, then pour into the loaf tin and bake for 1 hour, until golden and risen.
3. Turn out onto a wire rack to cool.
4. Make a simple yogurt icing: drain 200g Total 0% Greek yogurt in a sieve lined with muslin and suspended over a bowl. Leave for about 45 minutes. Put the drained yogurt in a mixing bowl and beat in 1 tbsp honey, 50g icing sugar and 1 tsp vanilla extract and swirl over the cake. Sprinkle with chopped walnuts. The un-iced cake will keep in an airtight container for up to 3 days.
Subscribe to our magazine
Subscribe to delicious. magazine this month for a half price subscription
Subscribe