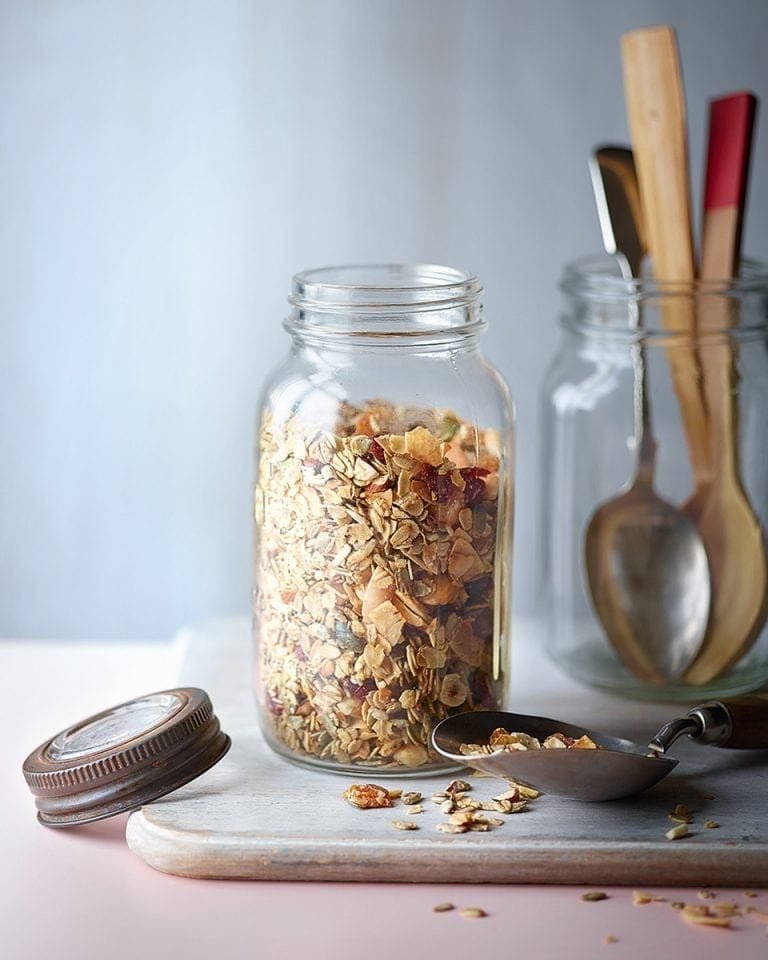 Makes about 900g

Hands-on time 10min, oven time 15 min
While most shop-bought granolas are alarmingly high in sugar, our granola recipe is lower in sugar and made with coconut oil, coconut flakes, mixed fruits, nuts and seeds.
Vegan recipes

Vegetarian recipes
Traditional version (per 25g): 111kcals, 4.4g fat (1.7g saturated) 2.3g protein, 14.7g carbs (7.9g sugars), no salt, 1.9g fibre
delicious. makeover (per 25g): 106kcals, 5.8g fat (2.3g saturated), 2.9g protein, 10.7g carbs (1.3g sugars), no salt, 1.8g fibre
delicious. tips
We used health-boosting coconut oil and maple syrup instead of the more usual sunflower oil and refined sugar. In fact we managed to reduce the amount of sugar by 83 per cent. We also used low-GI ingredients such as mixed grains, nuts and seeds, which help to keep blood sugar levels stable.

The finished granola will keep in an airtight container for up to 4 weeks.

Coconut flakes are large curls of coconut flesh – not to be confused with desiccated coconut. Find them in greengrocers and health food shops.