How to make home-style sushi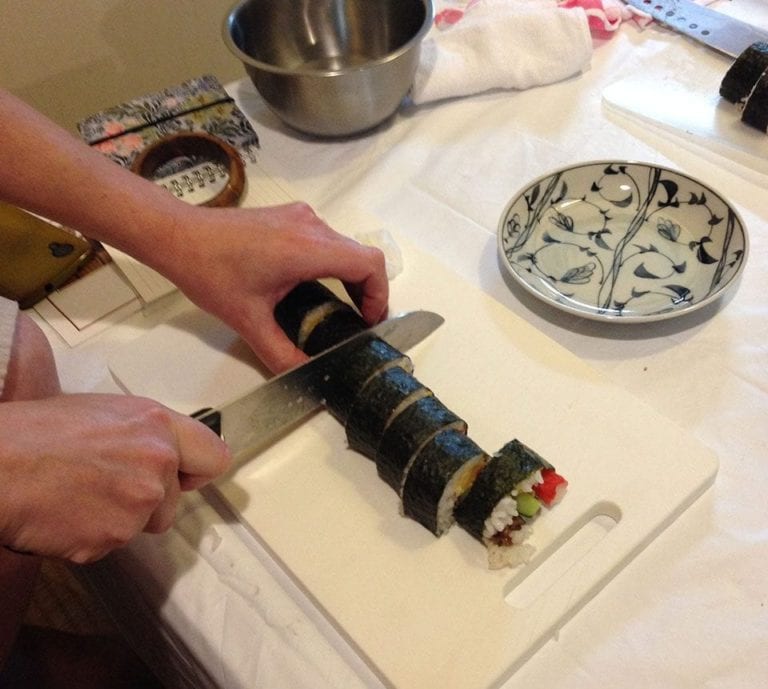 By Leslie Dunn
You may have read about sushi chefs who train for 10 years to carve perfect slices of fish and create impossibly perfect little parcels of food. At the less esoteric end of the scale is the kind of sushi that ordinary Japanese people make at home for their families. A bit more rough and ready, but still wonderfully flavoursome. And that's what I learned how to make at the excellent Women's Association of Kyoto (which has the fantastic acronym WAK…). Here's how to make yourself a midweek dinner, Japanese-style…
Our teacher was the lovely Machiko Kimura. She told us were were going to make sushi roll (nori maki), miso soup and a spinach and sesame seed salad.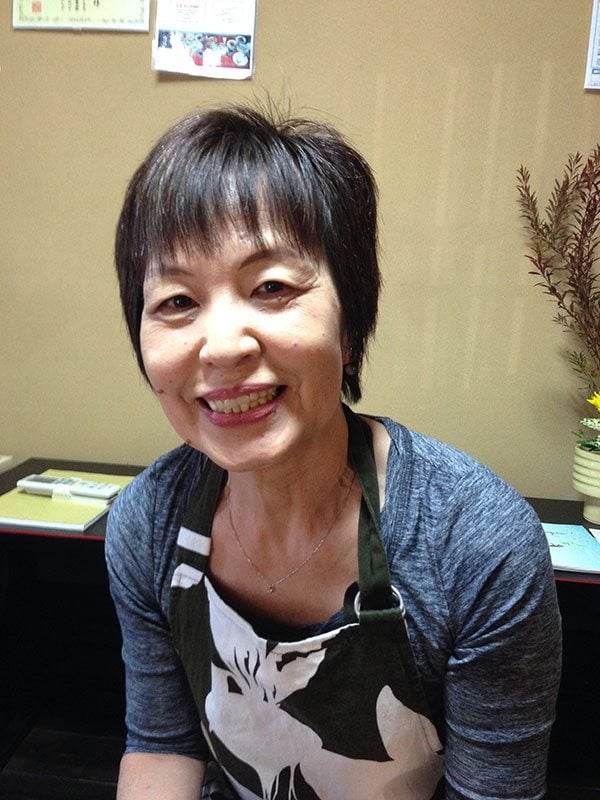 First we made the miso soup. This involves making dashi, the famous Japanese stock flavoured with konbu (kelp) and dried bonito flakes. Lots of people use ready made dashi, said Machiko (you can buy it in Waitrose these days) but we were going to do it from scratch. Handily for us, Machiko had already soaked the 10cm x 10cm piece of kelp in 500ml hot water (enough to make miso for four people) for an hour.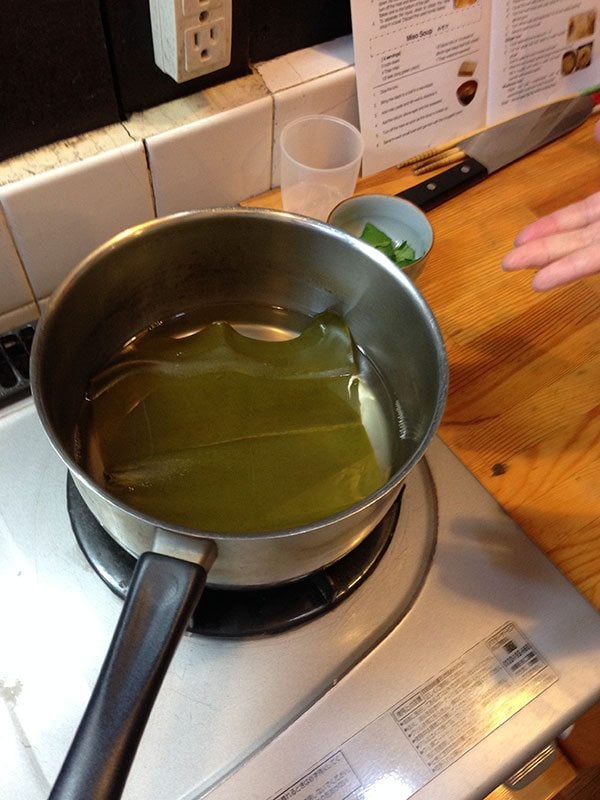 Now we had to add the dried bonito flakes. Bonito is a fish similar to tuna. The steamed, smoked fillet is dried first inside, then in the sun, for 2-3 days. The resulting dried fillet looks and feels like a heavy piece of dark wood and has an amazing smoky-savoury aroma. A familiar sound in Japanese homes is the block of dried bonito being shaved on a traditional bonito plane. And that's what we did to get our 20-30g flakes.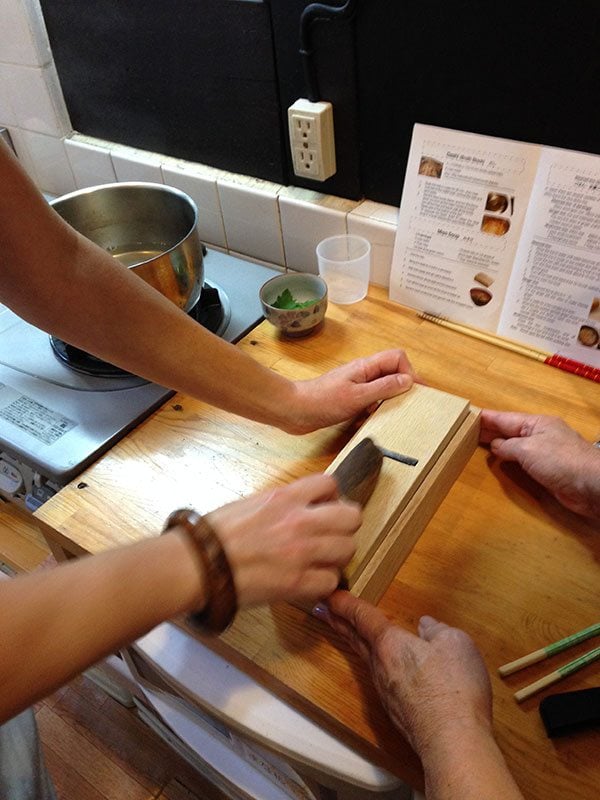 You're unlikely to find a block of dried bonito in the UK but you can buy the bonito flakes (often sold as katsuobushi) from specialist suppliers such as The Japan Centre. They'll last for ages in your storecupboard.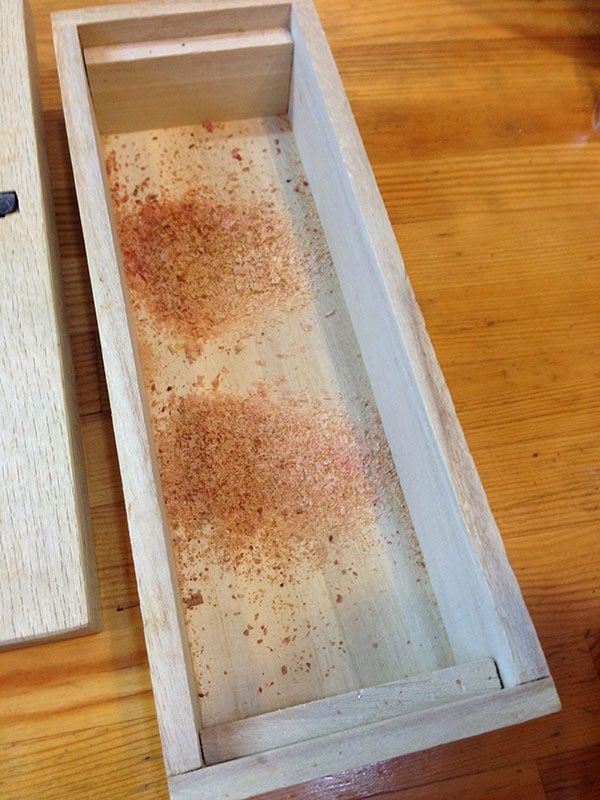 We now heated the water with the kelp until almost boiling, then removed the kelp and discarded it. We added the dried bonito flakes and lowered the flame. As soon as the water came to a boil, we turned off the heat and left the dashi until all the bonito flakes had sunk to the bottom of the pan.
We strained the clear stock into another pan and discarded the used bonito flakes. And that was that – the dashi was ready. Machiko told us that everyone in Japan makes dashi in this way. In posh restaurants, though, they'd use the highest quality bonito flakes and kelp. Later, when we were ready to eat, we'd add the other ingredients to make the miso soup, but now we moved on to the sushi rolls.
First we made the sushi pickling liquid (that's right: sushi is essentially pickled rice – it originated as a portable dish that would last for a while, and that you could take on picnics). In a small pan we combined 3-4 tbsp rice vinegar, 2 tbsp caster sugar and 1 tsp salt. We were a bit shocked at the amount of sugar, but it's key to sushi's flavour (even though it might not be quite as healthy a dish as we'd always imagined…).
Machiko had, conveniently, prepared the rice beforehand. She'd repeatedly washed and drained 400g sushi rice until the water was pretty clear, then put it in a rice cooker with 440ml cold water and a small piece of dried kelp (about 5cm x 5cm). She left it for 30 minutes, then turned the rice cooker on (very handy machines – perfect rice every time). We took the hangiri or 'rice keeper' (a large, shallow wooden bowl used to cool the sushi rice) and rubbed the inside with rice vinegar to kill any bacteria. At home, you can use any large, wide bowl. When the rice was cooked, we put it in the hangiri, then added the pickling mixture and, using a wet wooden spatula, quickly mixed it into the rice in a chopping motion, while cooling the rice with a hand fan (this rapid cooling and mixing of the sushi rice is, apparently, key to it not becoming too sticky).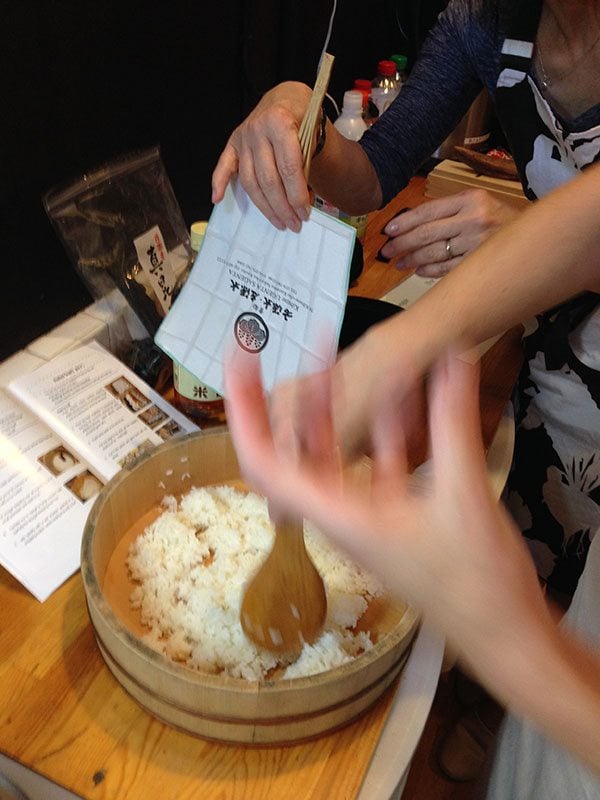 We moved on to the third dish, the spinach and sesame salad. First, my wife ground the sesame seeds in a pestle and mortar (hey, someone had to take the pictures…). She then added 2 tbsp of our dashi, 1 tbsp soy sauce and a pinch of caster sugar, then mixed in a  bunch of wilted, squeezed, chopped spinach. Done.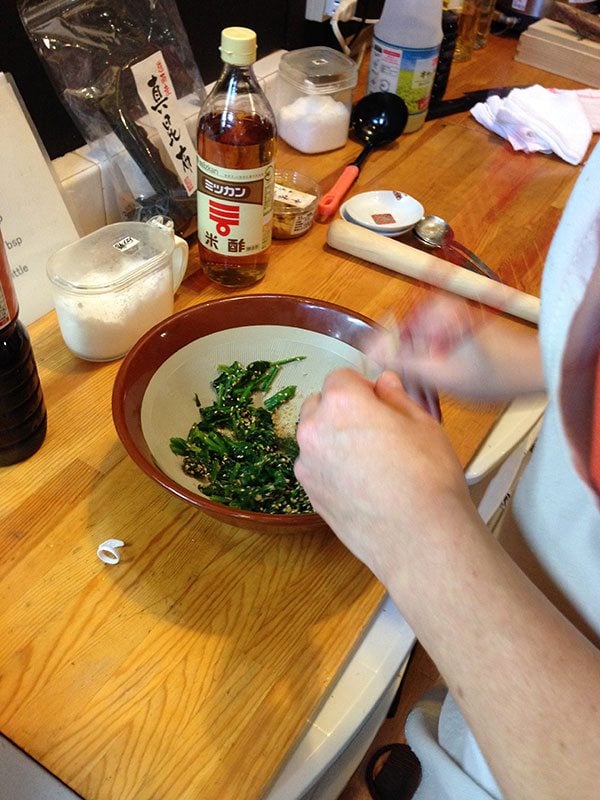 You can put all kinds of things into a maki roll. We had seafood sticks (they're not as looked-down-upon in Japan as they are by food snobs in the UK), cucumber and some dried shiitake mushrooms cooked with soy sauce and a bit of Japanese seasoning to give them a sweetish flavour. Our fourth element was going to be tamago (omelette) which we were about to make ourselves in the traditional rectangular Japanese pan (you can make it at home in a small frying pan).
First we beat four eggs in a bowl with 80ml dashi, 1 tsp mirin (rice wine) and a pinch of sugar. You often add 1 tsp soy sauce to tamago but when it's for sushi you want a nice yellow colour. We coated the pan with oil then, when hot, added a thin layer of beaten egg. You then, using a mini-spatula and your long stirring chopsticks, have to roll up the omelette like a carpet. It sounds tricky but it's actually not that hard. We then added some more egg and, when set, rolled the existing roll over it, then added more egg and repeated, building up the layers of tamago. It's a rather satisfying thing to do, let me tell you. We ended up with two fat tamagos, ready to put in our makis.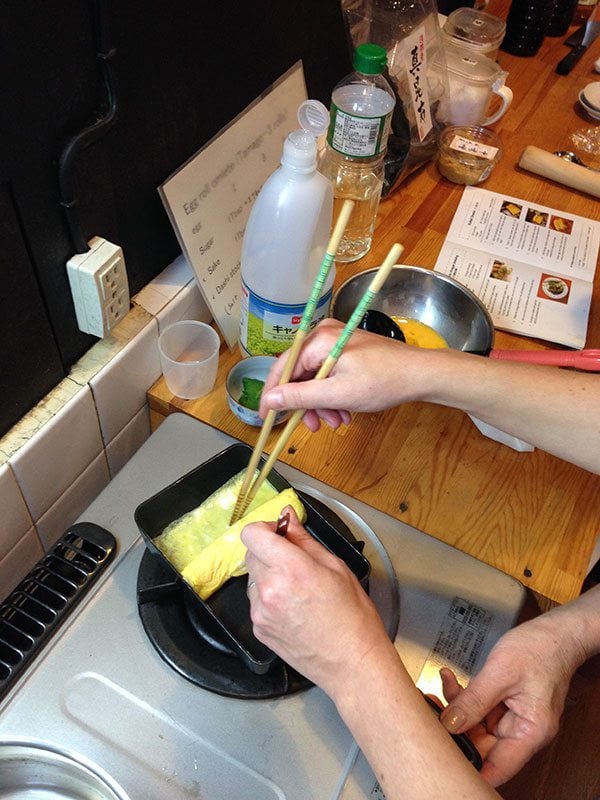 As with all Japanese meals, even train bentos, there's always some extra little element to pique your interest, and to finish this meal off we were going to have a little bit of age (deep-fried tofu). You buy it ready deep-fried, then grill it to brown it, directly on the gas flame. You then slice it and serve with a few bonito flakes.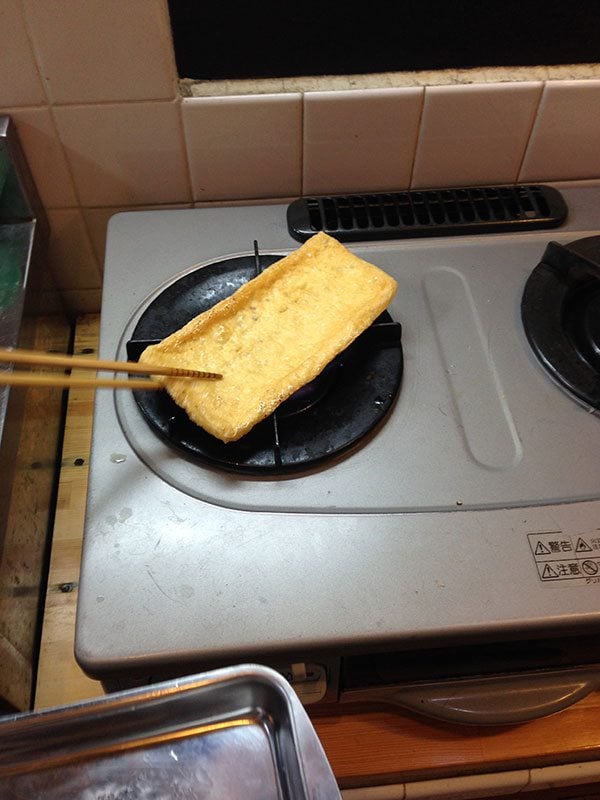 Finally, it was time for my wife and I to assemble our sushi rolls. We had all the stuff laid out ready for us, and placed rice on our squares of nori (dried seaweed). We laid the filling out on top of the rice, then rolled it all up as tightly as possible using bamboo tatami mats.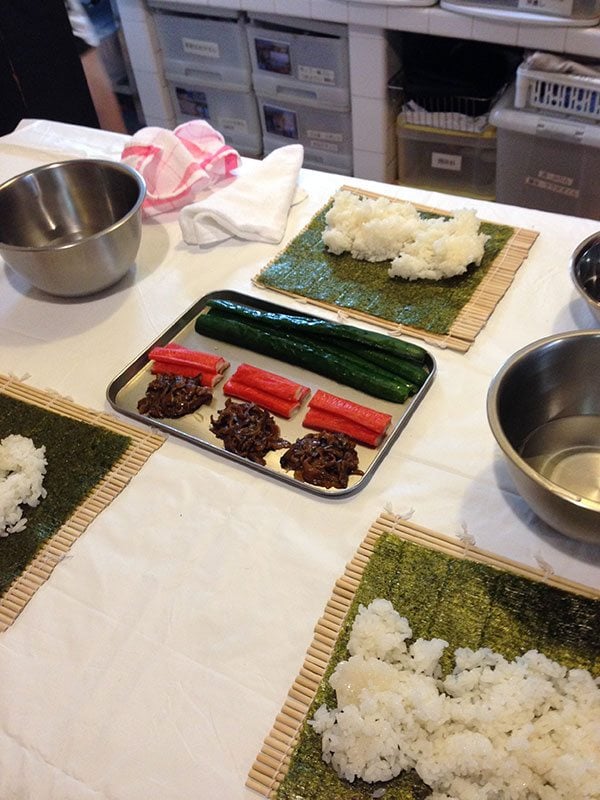 We just had to cut it now, using a sharp knife (I've yet to come across a Japanese knife that wasn't scarily sharp).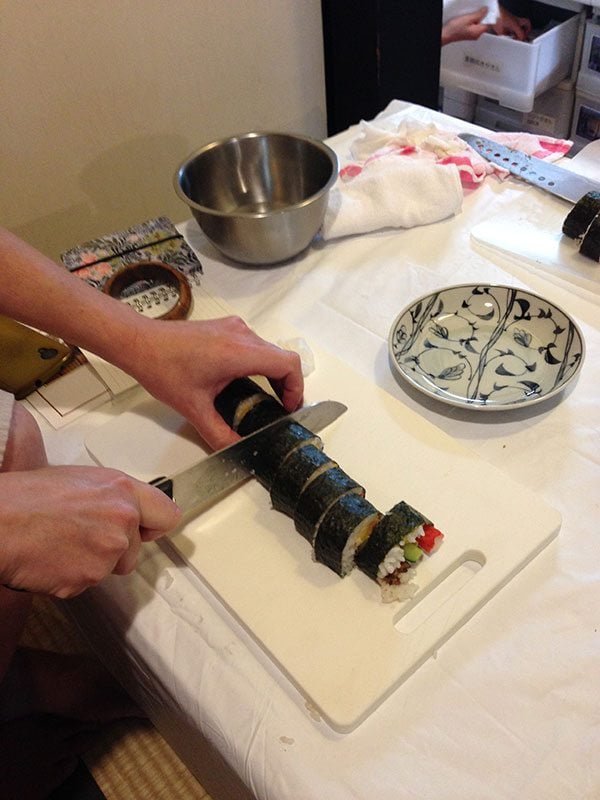 And that was that. Not bad, are they?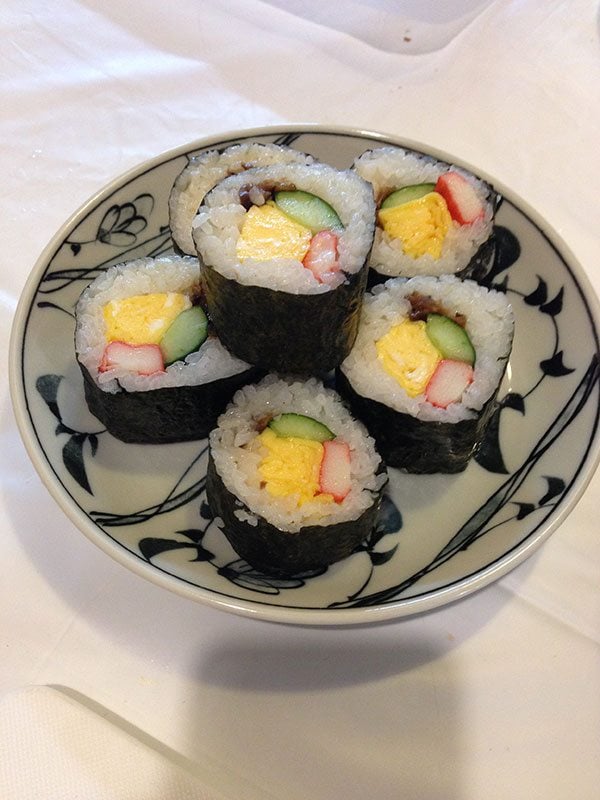 The WAK ladies kindly arranged all the elements into a meal, served overlooking their pretty courtyard garden. They also finished the miso soup, bringing the dashi to a boil and stirring in 4 tbsp miso, then adding 1 tbsp wakame seaweed and some cubed silken tofu, finishing it with a little chopped spring onion.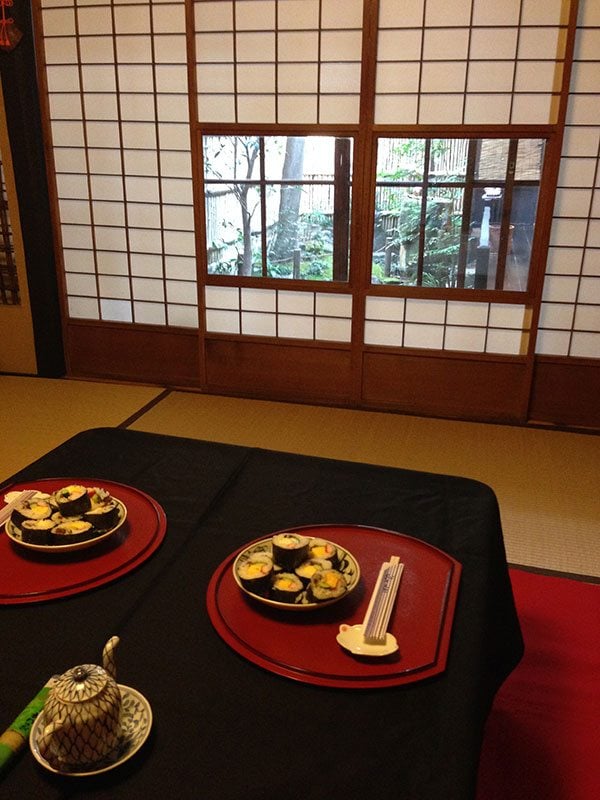 Time to eat it, with a pot of green tea on the side, of course. If I say so myself, it was darned good…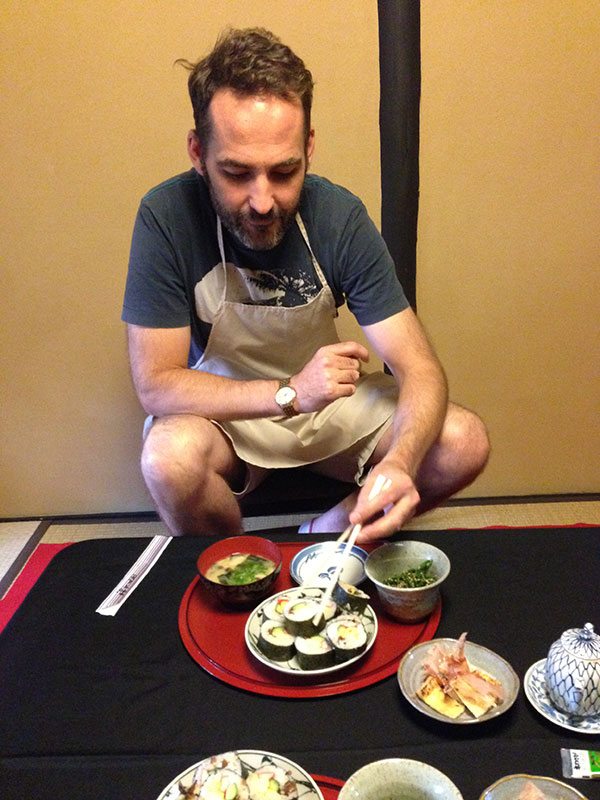 Les's sushi-making lesson at WAK in Kyoto was arranged by Inside Japan Tours.
Subscribe to our magazine
Subscribe to delicious. magazine for HALF PRICE
Subscribe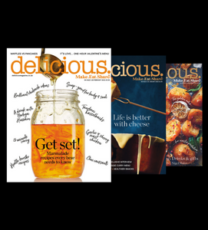 Join our newsletter
Packed with menu ideas, recipes, latest competitions and more...