How to make seville orange marmalade
Toasted sourdough slathered in melted butter and homemade marmalade makes a dreamy breakfast. Follow our step-by-step guide to make it yourself.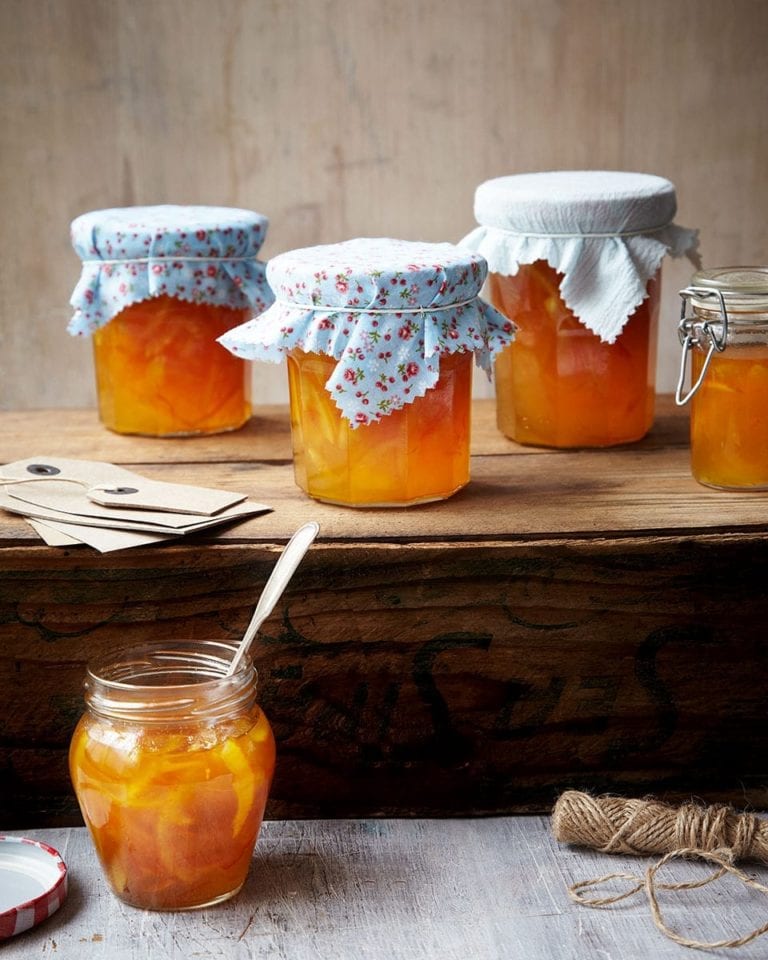 Makes 1.25-1.5kg. Hands-on time 1-1¾ hours, Simmering time 1½-2 hours, plus overnight soaking
Know-how
Seville oranges are smaller than regular oranges and have a bitter flavour. Their skins are dimpled and they have a higher pectin content, perfect for making marmalade as pectin is a setting agent. The season for this type of orange is short (they're only available in January and February), so make as much marmalade as you can while they last, and see Make Ahead, below. This recipe can be easily doubled.
Make ahead
The unopened marmalade will keep in a cool dark place for several years if stored in sterilised jars (see Tips for Success). Once opened, keep in the fridge and use within 1 month. <br> Freeze any leftover seville oranges, whole or halved, to make another batch of marmalade later in the year. Defrost completely before using.
Food team's tips
Keep a close eye on the pan as the marmalade bubbles – it may spill over if your pan is slightly too small. Adjust the heat under the pan, without lowering it too much. This recipe can also be made with regular oranges (you'll only need about 4 large ones).
Ingredients
1kg seville oranges (about 12 – see Know-how)
1.7kg preserving sugar
Juice of 2 large lemons
Method
Halve the oranges and squeeze all the juice into a large bowl (you should have about 650ml), reserving the pips.

Add 2.5 litres cold water to the bowl. Scrape out any remaining orange pulp and pith from the inside of the orange halves with a metal spoon, add to the pips and tie up in a muslin bag. Shred the skin into strips (it's up to you how thin you like the shreds of your marmalade) with a sharp knife.
Add to the bowl with the juice and the muslin bag and submerge the bag in the liquid. Cover with cling film and leave overnight.

Transfer the contents of the bowl to a large preserving pan or large heavy-based saucepan. Bring to the boil, then reduce to a simmer and cook gently for 1½-2 hours until the peel is translucent and tender. Remove the muslin bag and squeeze as much liquid from it as possible back into the pan (wear rubber gloves as it will be hot). Add the sugar and lemon juice and melt the sugar over a low heat. Once melted, increase the heat and boil rapidly for 15 minutes, skimming off any scum that rises to the surface.
After 15 minutes you can start to test for a set. If you have a sugar thermometer, the temperature should read between 106°C and 108°C, but always test for setting point by hand too. To do this, drop a spoonful of the mixture onto a small plate that has been in the freezer for 10 minutes. If, after 30-40 seconds, a thick skin forms on the marmalade and it wrinkles when you push your finger through it, it's ready. If not, continue boiling and test every 5 minutes or so. It can take as long as an hour to reach setting point.
Remove from the heat and leave to stand for 10-20 minutes, skimming off any scum that rises to the surface. Pour the marmalade into sterilised jars, top with a wax disc while still warm, then leave to cool before sealing with a lid. Add fabric tops, secured with string or elastic bands, if you like. Buy them from cookshops or cut out your own with fabric scissors.
Nutritional information
Per tbsp 28kcals, no fat (no saturated), no protein, 7.1g carbs (7.1g sugars), trace salt, 0.1g fibre
Tips for success
Good quality, blemish-free oranges will make good marmalade. Buy them ripe and firm, with a juicy give when lightly squeezed.

Once you add the sugar to the pan the shreds won't soften any further, so make sure they're properly soft before you stir in the sweet stuff. Undercooked shreds will ruin all your hard work.
Once you've stirred in all the ingredients and the mix has reached a rolling boil, leave it. Too much stirring can lead to a cloudy marmalade and it will reach setting point faster if left alone.
Experienced marmalade makers know when the setting point has been reached by looking and listening, but newbies will need a thermometer. It's good to learn to trust your instincts, though, so use the plate test (step 3) as well – partly as a double-check and partly so you get to know what the setting point looks like.
The finished marmalade will set further as it cools, so if you like yours a little runnier you need to stop cooking when the marmalade only just starts to wrinkle on the plate in step 3.
Sterilised jars are essential. Wash the jars and lids in warm soapy water, rinse, then dry in a low oven. Alternatively, put them through a hot dishwasher cycle. Cover the marmalade with a wax disc before sealing as an extra barrier against harmful bacteria.
Subscribe to our magazine
Subscribe to delicious. magazine for HALF PRICE
Subscribe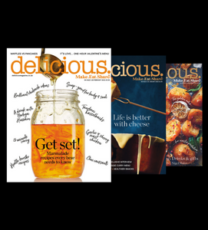 Join our newsletter
Packed with menu ideas, recipes, latest competitions and more...