How to plan an Easter egg hunt
delicious. intern Alexa Gandy has compiled everything you need to plan an extra 'egg-citing' Easter egg hunt, from a list of key things to remember to ideas for themes, games and clues.
Want more? From Easter baking recipes to fun family days out, we have are plenty more ideas to make this your best Easter yet.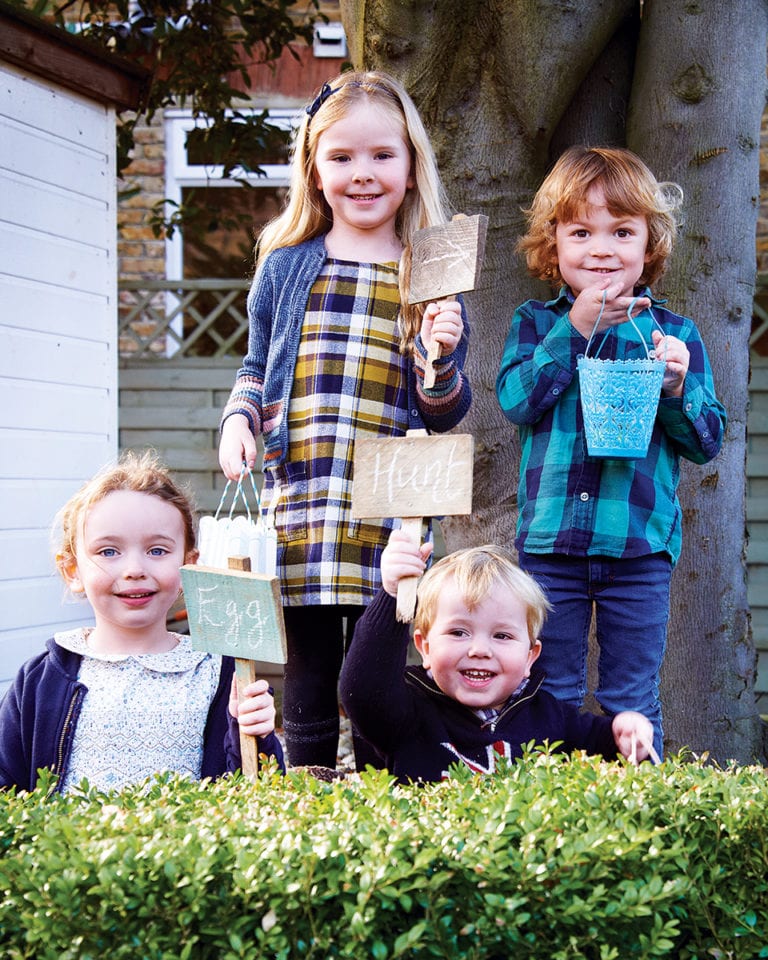 Things to remember
1. Choose an appropriate space
Great British weather can be unpredictable, so if you're planning an egg hunt outdoors, be prepared to relocate inside or postpone it for an hour or two in the event of a spring shower.
For indoor egg hunts, choose a couple of rooms to hide your eggs in – it will be much easier and more effective than filling your whole home.
For outdoor egg hunts, hide your eggs in shady areas, like in the shadow of the garden shed, inside a watering can or underneath a leafy plant to prevent chocolate eggs from melting in the spring sunshine.
2. Buy your eggs
Easter treats come in an ever-greater range of shapes, sizes and flavours, from boxed egg-versions of chocolate bar favourites and novelty treats like foil-wrapped chocolate bunnies to more gourmet and unusual offerings (see our pick here). Choose one larger egg as your main prize, use a clutch of smaller ones or pick and mix for variety. Many supermarkets stock Easter egg hunt kits that contain matching foil-wrapped chocolate eggs, along with stationery and signs for your hunt.
You could supplement your hunt with non-edible decorative eggs or hollow plastic ones, which can be filled with your own chocolate treats, healthier snacks or handmade tokens and reused each year.
3. Count the eggs before you start
It sounds obvious, but make sure to count your eggs before you begin hiding them, so you'll know if there are more still to find at the end.
4. Have baskets or bowls to hand
Juggling eggs is a tricky task. Have some bowls or baskets at the ready before your Easter egg hunt begins, and make sure they are the right size for both the hands that will be holding them and the eggs they'll be collecting.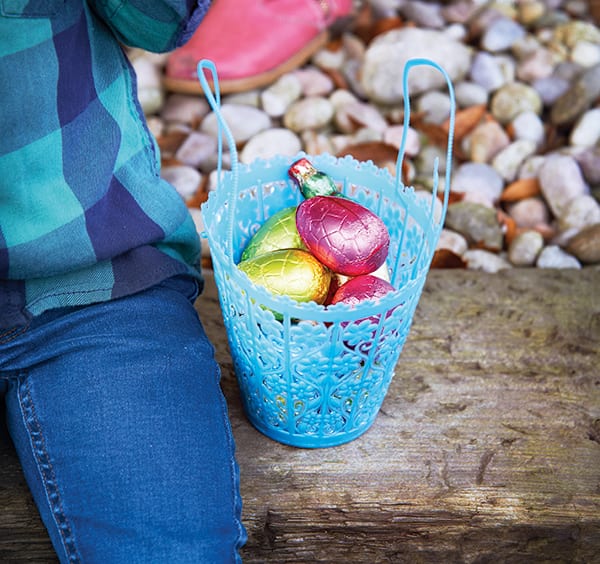 For a fun Easter activity, try decorating your own Easter egg baskets. Hobbycraft have a good selection of plain baskets and decorations available.
5. Remember where you have hidden the eggs
Make a mental note of where you have hidden your Easter eggs, or note it down, so a.) they can all be found and enjoyed and b.) you can help give some pointers if needed. 
6. Have your camera ready
These are the moments you will want to remember, and you can easily capture them on your camera or phone. Don't miss the opportunity!
7. Sharing is caring
To avoid tears at the end of your Easter egg hunt, share out all the eggs found between the children equally. Alternatively, place a number of eggs in each hiding spot for different children to find. For example, if three children are taking part in your Easter egg hunt, hide three eggs in each hiding place, and instruct them to only take one at a time when they encounter them.
8. Consider the children's ages
For younger children, only hide eggs at eye height and below to aid them in their hunting. Older children might enjoy standing on their tip toes or crawling on the floor to spot harder-to-find eggs – but don't place any items too far out of reach, where accessing them might be a hazard.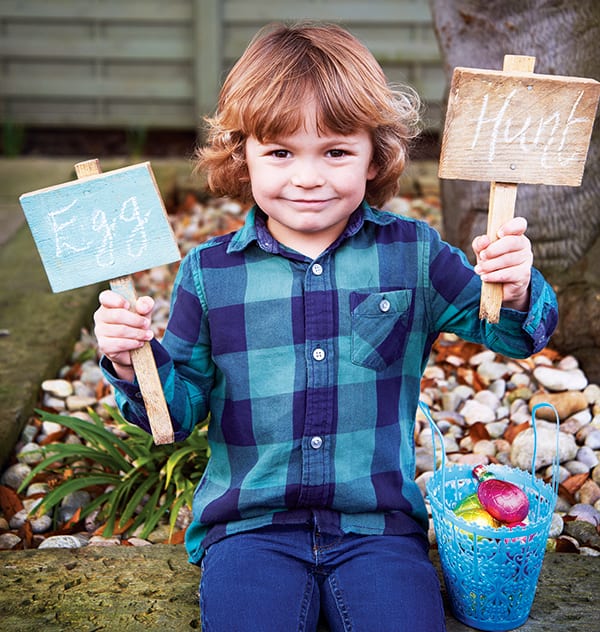 9.Watch your pooch
We could all do without a trip to the vets on the Easter bank holiday weekend. Keep an eye on your dog or any other pets, and make sure they aren't able to nibble at any chocolate eggs.
10. Ideas for themes and extra games 
The Golden Egg
If everyone involved is onboard with a little extra competition, hide a gold-painted egg or a larger chocolate egg covered in gold foil as the ultimate prize. Alternatively, whoever finds the most eggs during your egg hunt or in the quickest time could receive an additional prize.
Hide clues
Prepare 10 or so clues to help guide children around your Easter egg hunting area – see below for some ideas. For a treasure-hunt style challenge, each clue could lead to the next, with one main prize at the end. Leave small eggs, or toy Easter chicks, alongside the clues to collect along the way.
 Role reversal
Have your kids hide a few eggs for you to find and ask them to craft their own clues or give you help finding them.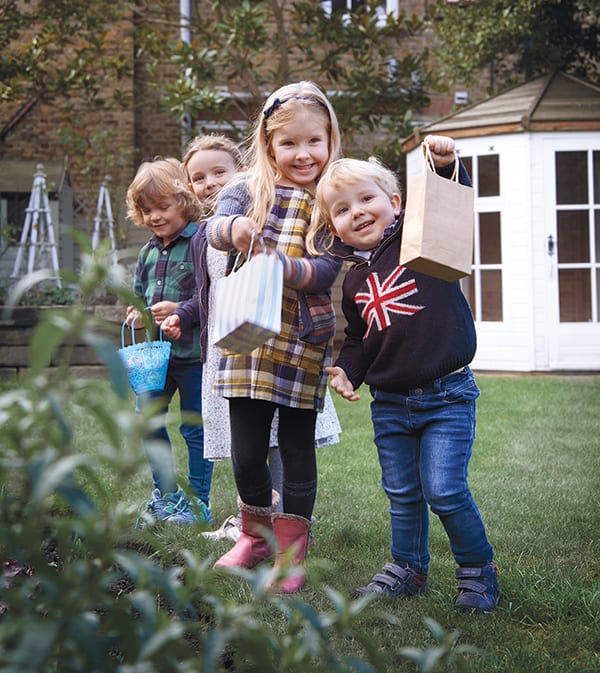 A family day out
If you don't have enough space or the resources to organise your own Easter egg hunt, join one of Cadbury's, taking place at National Trust properties across the country between 1-28 April. Find out more here.
 Pirate-themed egg hunt
For a swash-buckling Easter egg hunt, hide your 'treasure' (a stash of jewel-coloured foil-wrapped eggs or gold chocolate coins) for children to find using an authentic pirate's map. Stain a piece of crumpled paper with cold, well-brewed coffee and leave to dry before drawing on your map in black ink and marking Xs where the booty is hidden. You could even bring out some fancy-dress pirate's eye patches, handkerchiefs or hats to get everyone into character.
Egg and spoon race
After you've finished your hunt, why not set up an egg and spoon race in your garden or a nearby outdoor space to continue the fun. All you need are teaspoons, boiled eggs, a finish line and some good spirit.
DIY eggs
For a sweet challenge, try making your own chocolate Easter eggs – read our step-by-step guide here to creating, sealing and decorating a chocolatier-style showstopper. Children can enjoy decorating their own store-bought eggs with tubes of icing and chocolate buttons, sprinkles and dolly mixtures.
Adults only
Organise an egg hunt with a grown-up, boozy twist. Hide miniatures of favourite spirits for friends to find, alongside cute paper straws, cocktail umbrellas and other drinks accessories, before having a DIY cocktail session and (savoury!) egg-themed brunch. See our brunch recipes for inspiration.
Here are some simple question-and-answer clues for indoor and outdoor scenarios, suitable for younger children
Clues for indoors
Q: Where you lay your head at night A: Pillow
Q:I have a face and hands but no arms A: Clock
Q: Where your books rest A: Bookshelf
Q: I keep you warm in the winter A: Fireplace (or radiator)
Q: I wash your clothes and can be noisy A: Washing machine
Q: Where you watch your favourite show A: Television
Q: Where your clothes hang A: Wardrobe
Q: It has a ring to it A: Telephone
Q: Where you watch the world go by A: Windowsill
Clues for outdoors
Q: Where the plants get their water A: watering can/hosepipe
Q: Where the flowers rest A: Flower beds
Q: I keep the garden tools dry A: The shed
Q: Where you dry your shoes/boots A: Porch/door mat
Q: Where the sausages are sizzled A: Barbecue
Q: Where you sit and eat A: Table and chairs
Q: Where you fly into the sky A: Swing
Q: I go 'vroom vroom' A: The car
Q: Where the birds eat their dinner A: Bird feeder/table
From Easter baking recipes to fun family days out, we have are plenty more ideas to make this your best Easter yet.
Subscribe to our magazine
Subscribe to delicious. magazine for HALF PRICE
Subscribe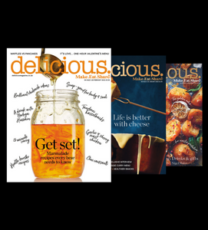 Join our newsletter
Packed with menu ideas, recipes, latest competitions and more...