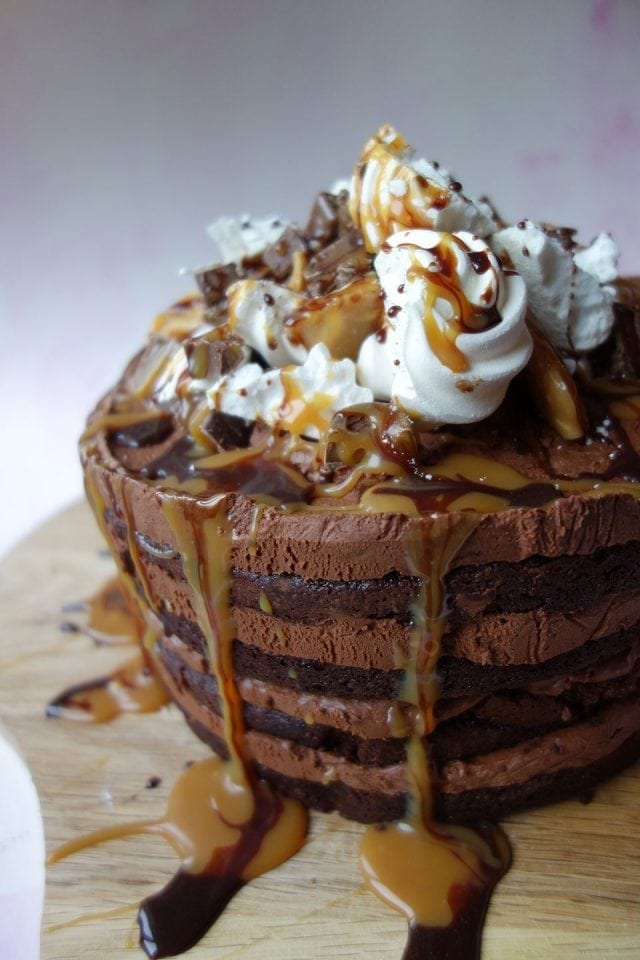 Test kitchen approved
Serves 12-16

Hands-on time 90 mins, cook time 30 mins
An extra special chocolate cake recipe, made with light chocolate sponges sandwiched between a rich chocolate mousse and topped with salted caramel, chocolate sauce, meringues and toffee brittle. Perfect for a celebration or as a centrepiece at a party, there's no doubt Chetna's cake will impress.
If you're a huge chocolate cake fan, take a look at this.
Ingredients
For the cake
150g unsalted butter
250g golden caster sugar
1 tsp vanilla extract
2 large eggs
50g dark chocolate, melted
150g plain flour
100g ground almonds
50g cocoa powder
1 tsp baking powder
1 tsp bicarb of soda
100ml boiling water
100g sour cream
For the chocolate mousse
300g dark chocolate, melted
6 large eggs, separated
100g golden caster sugar
200ml double cream, whisked to soft peaks
For the decoration
Ready-made mini meringues
2 tbsp toffee brittle, broken into shards
Chocolates of your choice, we used Rolos and Munchies
4 tbsp salted caramel sauce
4 tbsp chocolate sauce
Method
Preheat the oven to 180°C/160°C fan/ gas 4 and grease and line 2 x 20cm round cake tins with baking parchment.
Whisk the butter and sugar in a bowl for 2 minutes until light and pale. Add the vanilla and eggs and whisk again. Add the melted chocolate and mix.
Put all the dry ingredients into another bowl and mix well. In a jug mix the water and sour cream. Now add half the dry ingredients to the egg mix, whisk until combined, followed by half the liquid. Then add the rest of the dry ingredients and then the last of the liquid. Whisk it well for 2 minutes until combined well.
Roughly divide the cake mix into the tins, level and bake for 25-30 minutes or until a skewer comes out clean. Leave the cakes to cool completely in the tins.
Meanwhile prepare the chocolate mousse. Whisk the egg yolks with the sugar until pale and creamy. Gently fold in the chocolate, then fold in the whipped cream. Whisk the egg whites until stiff and add to the cream mix a little at a time. You should try and fold it all in without losing too much air from the mousse.
Line a deep 20cm cake tin with cling film. Once the cakes are completely cooled, cut them in half horizontally to make four cakes. Place one of the cakes at the bottom then add a layer of the mousse. Repeat the same with all the layers, cover the cake tin with cling film and leave it to set in the fridge for 2-3 hours or, for best results, leave it overnight.
When you are ready to serve, remove the cake from the tin and peel away the clingfilm. Stack the decoration ingredients on top of the cake and serve with a good drizzle of the salted caramel and chocolate sauces.