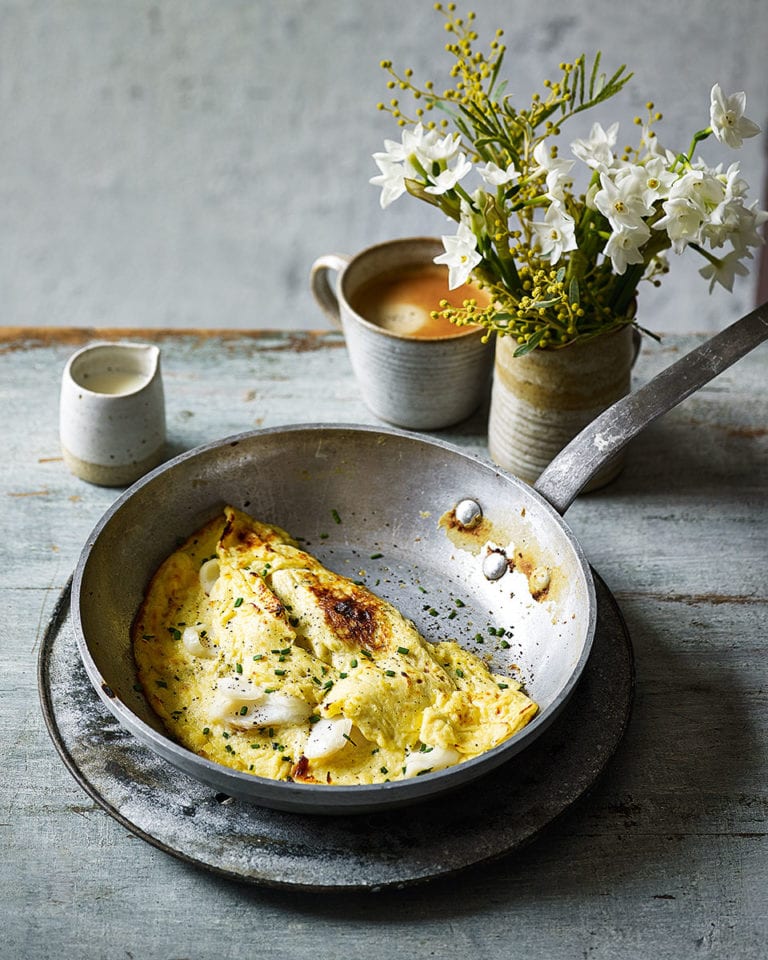 Serves 1

Hands-on time 15 min
Named after writer Arnold Bennett, this is a quicker version of the classic recipe made famous by the Savoy Hotel, who created it for him.
Smoked, haddock, parmesan and chives are the mainstays in the recipe but instead of faffing over a hot stove, this recipe is ready in 15 minutes.
Have time to make the longer version? See our classic Arnold Bennett recipe here.
Ingredients
120ml whole milk
80g sustainable smoked haddock fillet
1 tbsp plain flour
2 large free-range eggs
2 tbsp crème fraîche
2 tbsp freshly grated parmesan
A knob of butter
A handful of chives, chopped
Method
Put the milk in a small pan with the haddock. Cover with a lid and poach over a low heat for 5 minutes until just cooked through.
While the fish poaches, whisk the flour with the eggs, crème fraîche and parmesan until smooth. Scoop the fish out of the pan and set aside, then whisk the poaching liquid into the egg mixture until smooth.
Heat the butter in a non-stick, heavy-based frying pan (about 25cm) and, once foaming, pour in the egg mixture. Cook for 8 minutes, swirling the pan to cook evenly. Once the omelette is almost cooked, scatter over the chives, then flake in the haddock. Using a spatula, fold the omelette in half, then scatter with more chopped chives and black pepper to serve.