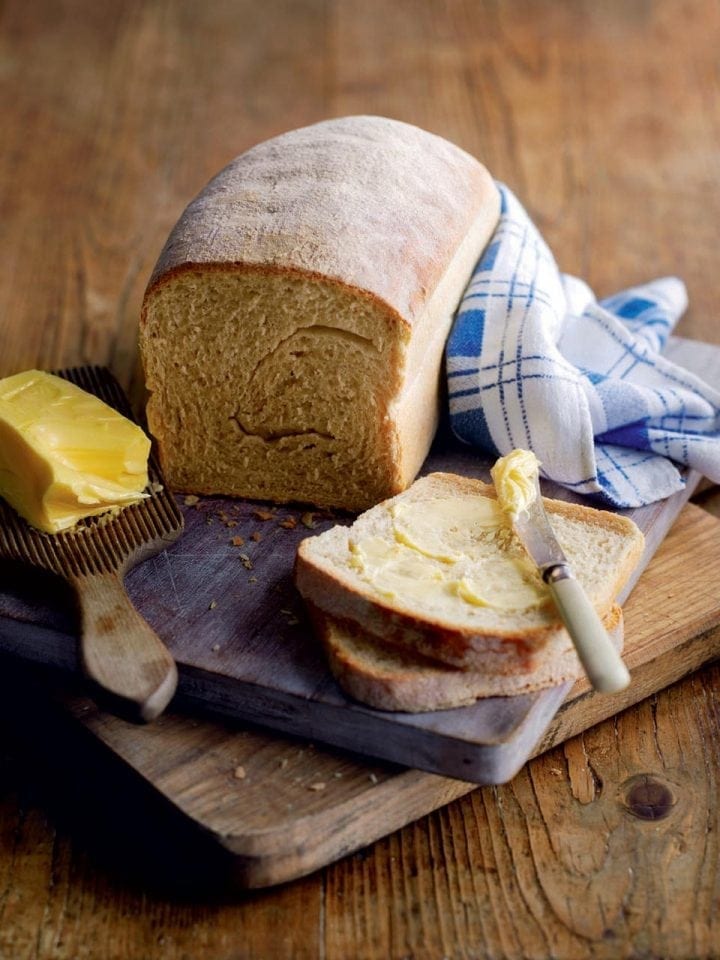 Makes 1 large loaf (12 slices)

Takes 20 minutes to make, 30-35 minutes to cook, plus rising and proving
A home-made farmhouse loaf appeals to all the senses: the aroma that fills the kitchen as it bakes is unbeatable and the flavour knocks the socks off most shop-bought white loaves.
Dairy-free recipes
delicious. tips
To freeze: cool, then wrap in paper and cling film. Freeze for up to 3 months. Defrost at room temperature.
Make it wholemeal… Replace half the flour with strong organic wholemeal. You'll need about 2 tbsp more water. Sprinkle over sunflower, pumpkin and poppy seeds or rolled oats before baking. Or try glazing with whisked egg or milk for a golden crust.
Bake a rustic cottage loaf… Simply shape into an oval or round, then bake on a baking sheet.
Go for a super-crisp crust… Slash the top of the loaf with a sharp knife a few times before baking, and preheat the oven with a roasting tin in the bottom. Throw in a handful of ice cubes when you put the loaf in – the steam gives a crisp crust.
Experiment with flavourings… Try adding flavourings such as nuts, herbs, spices, cheese, softened onion, sun-dried tomatoes or dried fruit. Knead in at the knocking-back stage. Beer also makes a good addition. Simply replace 75ml of the water with your favourite ale.